If you've always admired her hair, this is the perfect opportunity to learn how you too can achieve Jennifer Lopez hair color and rock it with confidence.
As well as being known as a world-famous Latina singer, dancer and actress, Jennifer Lopez is a style icon, and when it comes to her sun-kissed highlighted hair, she is a top choice for hair inspiration across the globe. This article explores her hair history, her hair shades and how you can get the Jennifer Lopez hair color no matter what color you're starting out with.
Take a look on the Internet at an old picture of J-Lo when she arrived in LA for her first dance auditions as a teenager or when she released her first single, and you will see her natural Latin looks and her very dark brown hair.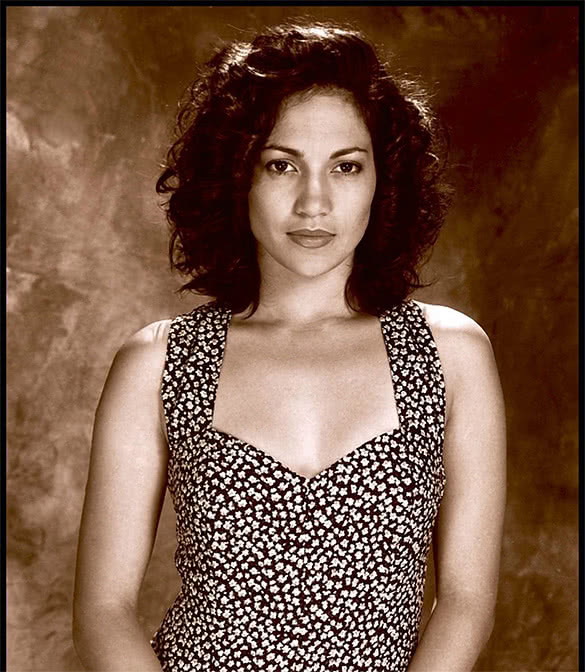 One celebrity stylist and colorist (Rita Hazan) decided that the darkness of her hair came across as harsh against her skin tone and decided to create a honey blonde highlighted hair color for the star, and everybody went crazy for it. It is now her signature look, and with only little variation, she has pretty much stuck to it over the past decade.
Not only that, but women across the globe cut out her picture and take it along to their hair salon and ask for the exact same color. She has become somewhat of a hair color icon. Add the shade to her long, thick locks and her hair is definitely desirable.
Jennifer has a chocolate brown base to her hair and golden or honey blonde highlights. There are so many choices of blondes to go for – from honey to caramel and champagne to white blonde – so make sure you study her look and a color chart to see what the best option for you is.
Her hair color changes slightly between winter and summer – where she tends to go a shade or two lighter or darker with her highlights and this is quite typical of blondes in general. The darker base is always within two shades of her natural hair color – and that is a key consideration if you want to achieve the same J-Lo inspired look.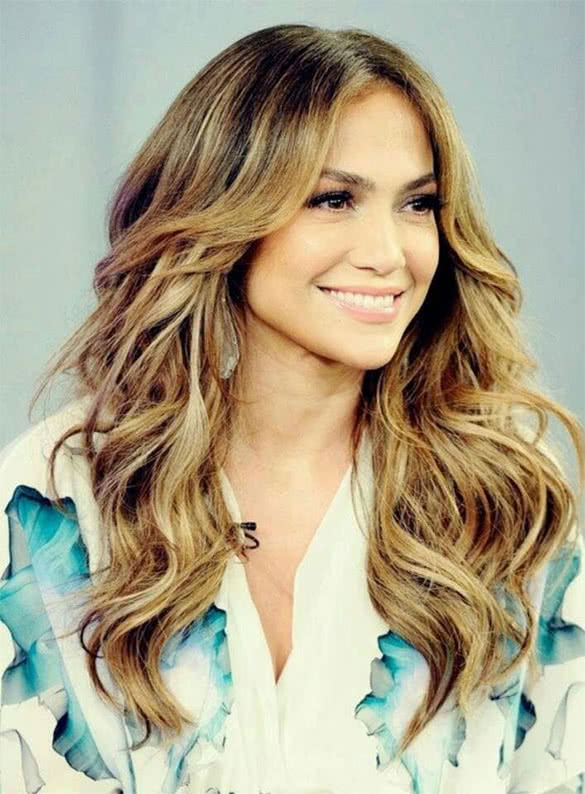 The best thing about her look is the contrast between dark and light, and how natural it looks. The highlights themselves are fine and effortless, without looking in the slightest bit 'blocky' or harsh. The multi-tones give the hair color depth. And while she has lots of money to be able to perfect the look in the best salons and with the best colorists, it is not unachievable for anybody.
So, can we achieve the same look – can we also look like 'Jenny from the block?'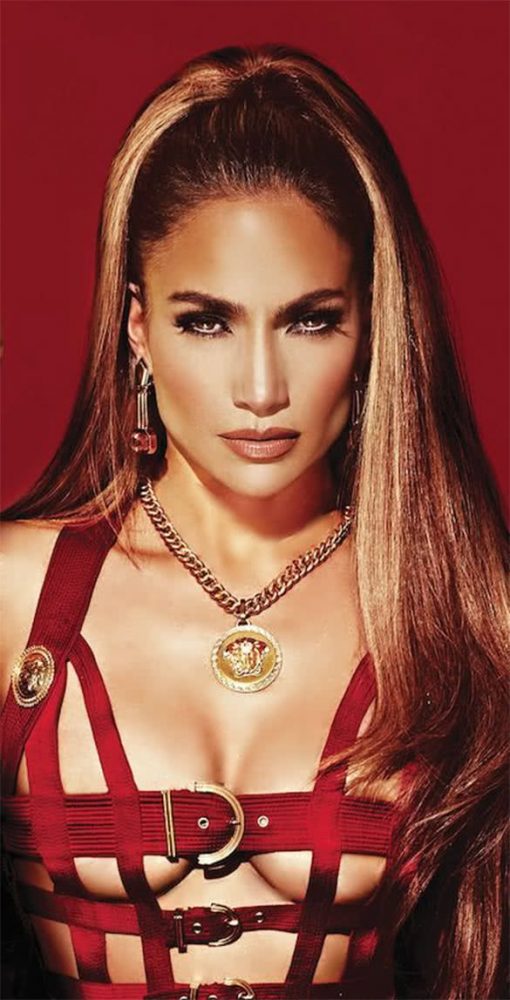 The answer is yes (within reason), and unfortunately, I'm only talking about hair color here – rather than those Latina curves or the flawless skin…
The idea is to add color in stages. Don't rush the coloring process. Once you have the perfect shade, your colorist can jot the dye numbers down so you don't forget on your next visit, and you can have a look for years to come – so there's no need to try and get it perfect during that first salon appointment.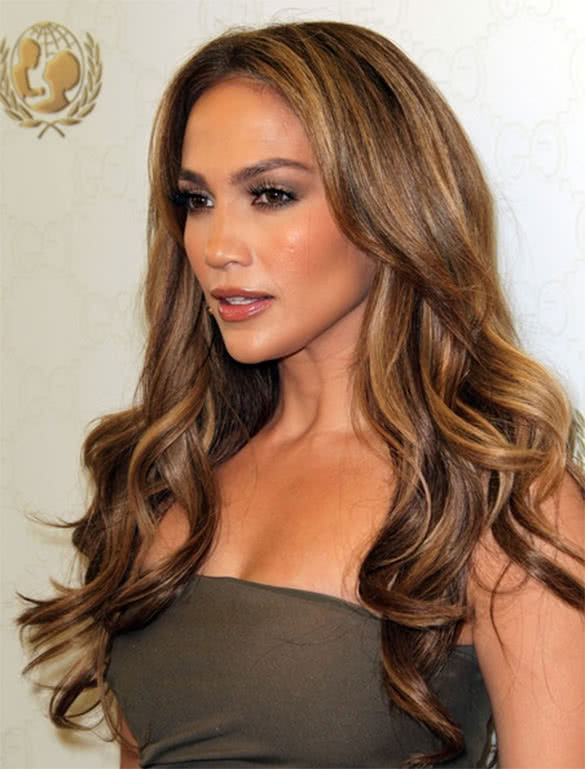 First of all, the results depend on your base color. Ideally, you want the highlights to be no more than two shades lighter than the base color. So if your natural color is very dark, you will want to create a lighter brown for a base color first, before adding highlights that are two shades lighter still.
As a warning, lots of hair color can damage your hair – so be careful and ensure that your hair is strong enough and in good enough condition to withstand the dye. This can sometimes mean giving your hair a few months of extended TLC – with conditioning treatments, good nutrition/exercise/lots of quality sleep and even vitamins and mineral supplements for healthy and strong hair.
It can also mean staying away from damaging products, pollutants, chlorine and too much heat. In other words, get your hair in the best condition possible before embarking on the J-Lo mission.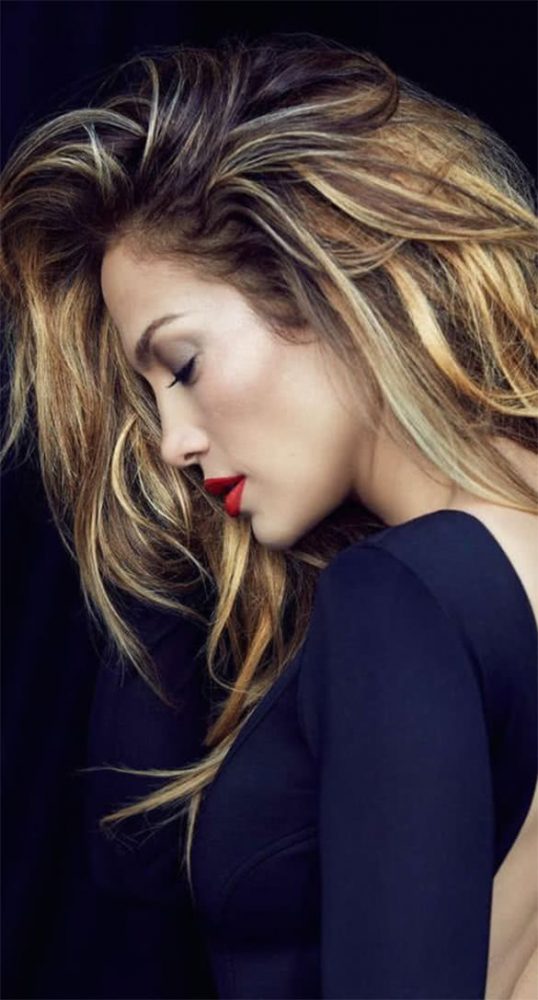 Now you are ready to go. If you are heading to a salon, be sure to print out or cut out your hair inspiration from a magazine (i.e. a photo of Jennifer Lopez with the hair shade you want).
Here's what to consider with different natural hair colors …
Blondes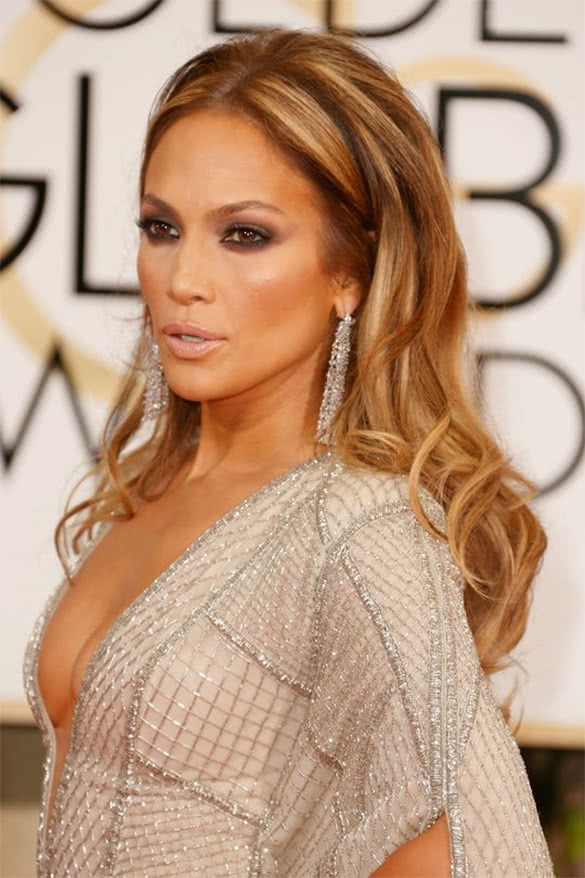 If you are a natural blonde but want to look like J-Lo, you'll need a brown base layer to start with. Don't take it too dark. This will normally mean a semi-permanent or permanent brown dye all over the hair – a light or dark brown depending on how much darker you need to take it and how light your original blonde is.
Once you've got the same base layer as J-Lo, it is time to add some highlights – a honey blonde and some different variations. As your hair is originally blonde, these colors should lift quite easily. At first, especially if using a semi-permanent base coat, you will need to visit the salon a few times and touch up the look.
In addition, you can buy some special color shampoos and conditioning treatments to use in-between color appointments. Blondes really suit this look, as it is just a few steps darker but still includes the blonde and light tones.
If your skin tone suits blonde, the chances are you will suit this look too. If you are not too sure, just take the base layer a touch darker the first time (and not full brown) and ease into it gently by going a shade darker the next time.
Brunettes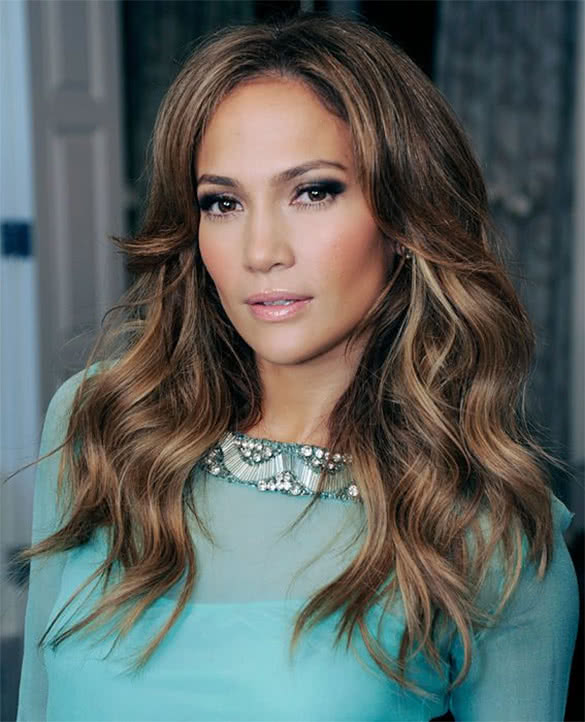 If you are a natural brunette, you're already half way there. All you need to get sorted in the hairdressers is the highlights. J-Lo has a variety of blondes, honey and caramel shades, added to her hair on a light brown base (if your hair is a very dark brown, you may want to lighten it first).
Opt for lightest sections towards the mid-length and the ends of the hair. The tips of your layers (if you have a similar cut to J-Lo) will be the lightest.
Dark or black hair
When J-Lo first went lighter in the late 1990s, she had very dark brown to black hair to start off with. If this sounds like you, the color might suit your complexion and skin tone better with some lighter highlights. Adding lighter shades can lift and change your whole look.
Redheads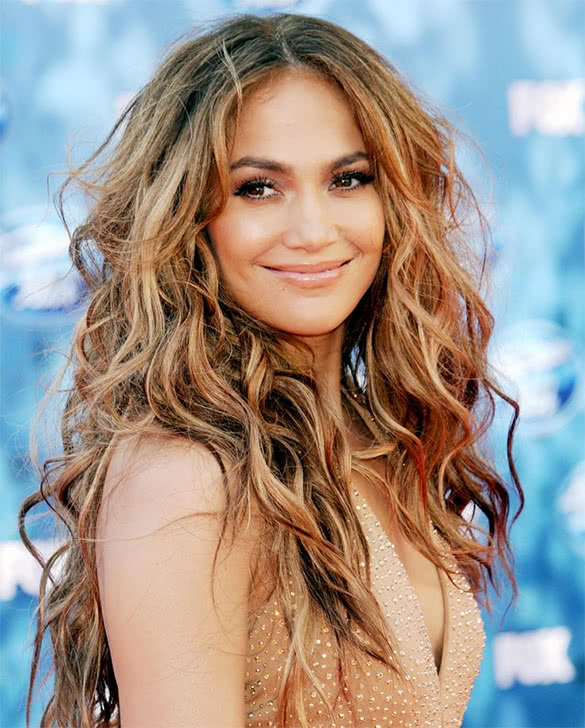 Red hair can be a tricky one when it comes to coloring over, so be sure to seek professional advice. It is advisable to get to a salon rather than do it yourself, because if you get the wrong dye or shade, you could end up with a brassy ginger highlight, not the desired honey colored look of J-Lo.
Your colorist will need to add an all-over color for the base and use foils to add blonde tones. These can be weaved naturally into your hair, so that they look as natural as Jennifer's do.
There are now lots of hair dye kits on the market where you can add highlights yourself. They usually come with a base color and a highlighting kit, including the lighter shade and the brush. This can be very tricky, especially if you are not confident when it comes to coloring your own hair.
If you do feel brave and fancy experimenting, get a friend over to help out if it gets a bit difficult or there are sections you can't reach or see properly.
The best thing to do is to get to a hair salon the first time and see how the professionals do it. They have years of experience in coloring hair and know what suits various skin tones and complexions and how to get your original hair color to the desired tone and style.
Don't be afraid to ask them for advice or to answer any questions you might have about your hair color and maintenance.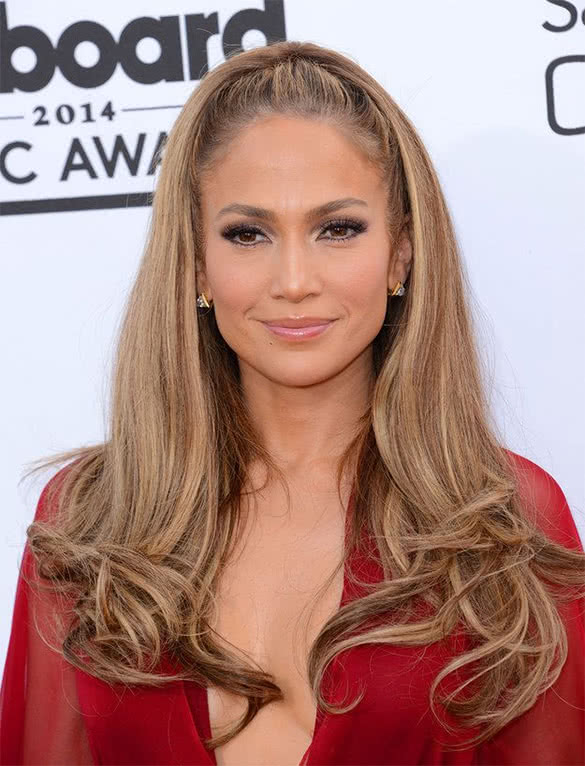 Even J-Lo, who has stuck with her honey highlights for years, changes it up from time to time, so you can really experiment with your hair. Just because you choose a base color and highlights, does not mean you have to stick with the exact same colors for years to come.
Depending on the season, change the shades to make them lighter or darker, and have some fun with variety. You could even add some red tints to the color (especially if you are a natural redhead).
Blonde colors can fade quickly and become gingery in tone. One of the best ways to avoid this is to invest in a shampoo or/and conditioner made especially for highlighted hair. In addition, buy a toner and use this once a month to every 6 weeks.
A toner lifts the color and gives it a boost, while eliminating those brassy tones. Blonde can be a high maintenance color, but one of the advantages of the J-Lo hair color is that you don't need to use too much blonde/bleach dye, which means less damage to the hair and a more natural look that lasts.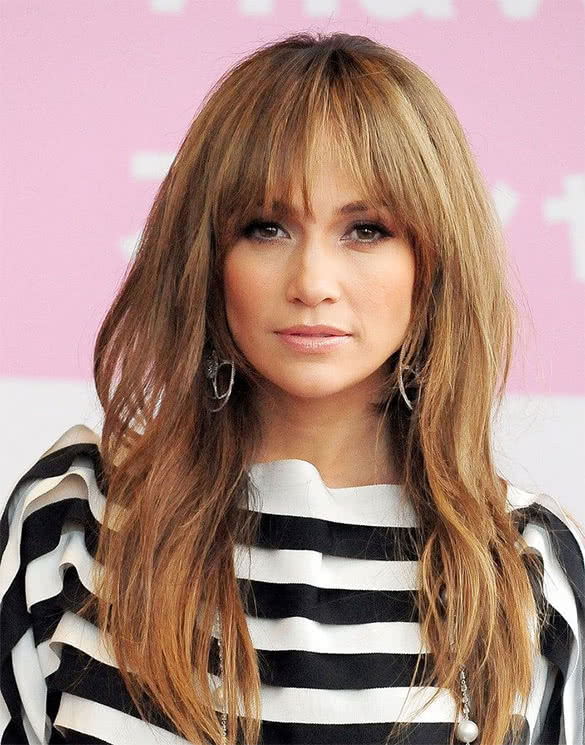 If you're unsure about whether the hair color will suit you, there are lots of apps and websites online where you can put a photo of your face 'into' the hair style or colors – so why not pop your face in a similar brown and blonde combination as J.Lo.
Print out pictures of the star and pick the look which would suit you best, in your opinion, and ask the stylist for a second opinion. Jennifer has dark eyes and olive skin tones, but the beauty of the brown-blonde look is that it can really suit many different skin tones – it is light enough to lift and brighten your face, but also subtle and dark enough not to make you look too pale.
And Jennifer Lopez is not the only one to opt for this look. Some other great examples of celebs with the honey/caramel highlights include Jennifer Aniston, Jessica Alba or lighter versions such as Taylor Swift or Sarah Jessica Parker.
There are loads of variations to play around with and to get the look and color that suits you best, while still aiming for Jennifer Lopez inspired locks.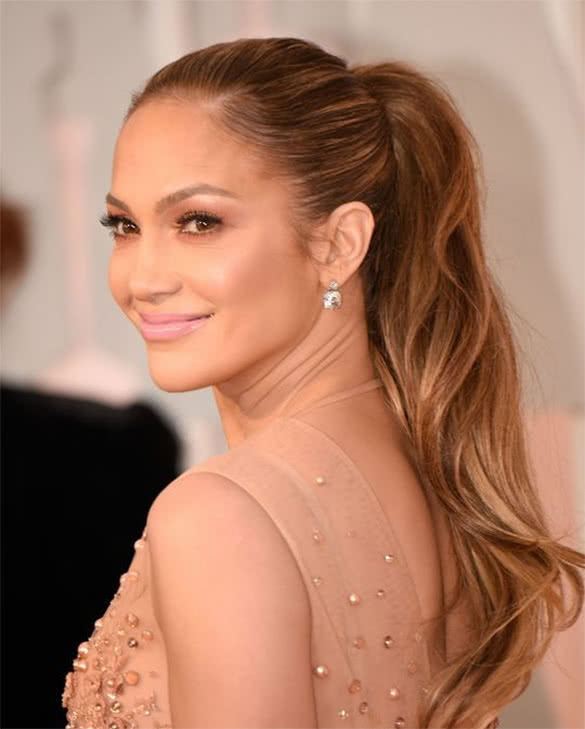 If you also want to opt for ultimate J-Lo style, why not ask your stylist to cut your hair in a similar style to hers as well? She is well known for the mid-length to long and layered hair, with shorter layers around her face and chin, to shape the face. Once you've got the color and the cut – all you need after that is that booty, some moves and a pop star singing voice!
Jennifer Lopez has stuck to her hair style for over two decades for a reason – it is simple, effortless and most of all suits her. If you think you can pull it off, get to your salon and give it a whirl.
Have you got locks like Latina J-Lo? How did you work your original color into a color similar to hers? How do you maintain the hair color and shade? We want to know about all your advice and experiences! Would you opt for Jennifer Lopez inspired color or is there another celeb style icon for you? Comment below!