Makeup products are a prized possession for many women. Check out our tips and tricks on how to make applying it a breeze!
From foundations and blushes to mascara and lip gloss, applying makeup can be a difficult task for many.
Thankfully, with the right technique, products, and practice, it can feel like less of a chore and more of an exciting process. Read on to see our best techniques for making applying makeup easy and fun. 
1. How to apply foundation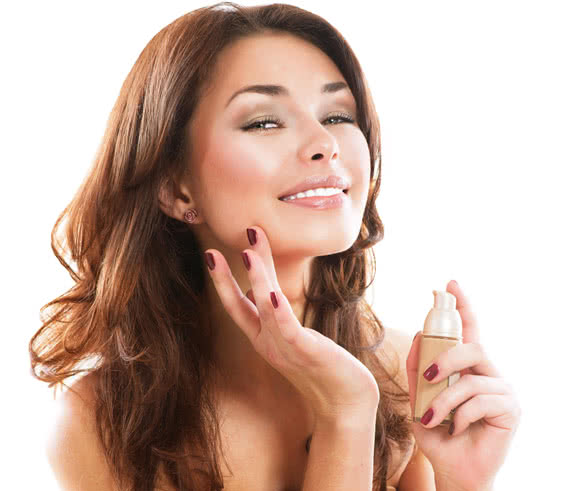 The type of foundation you use will depend on the type of skin you have. For example, those with dry skin often opt for a liquid foundation while those with oily skin prefer powder foundation. No matter what consistency of foundation you choose, using the correct brush and blending down your neck is key.
For liquid foundations, a stippling brush is great for achieving a dewy, airbrushed look. Simply dot the main parts of your face with the foundation (forehead, cheeks, nose, and chin), and begin stippling the foundation into the skin. Then, blend the foundation in by moving the brush in circular motions across your face.
Powder foundations can be applied using a large powder face brush or a kabuki brush. Be sure to blend evenly to avoid appearing chalky.
2. How to apply under-eye concealer
If the foundation you've used still doesn't cover up those pesky under-eye circles, you can use an under-eye concealer to hide any bags, discoloration, or puffiness. Dot the product into a triangular shape under your eyes and then use your ring finger to connect the dots and blend the product evenly.
Keep your head tilted down as you apply and blend, as this will make it easier to find the dark areas to cover.
3. How to apply bronzer
Contouring is a Holy Grail makeup technique for many, as it can make your face appear slimmer and more defined when done correctly.
To contour, use a brush specifically made for contouring (often has a pointed dome) and make a fish face. Find your cheekbones and begin applying the bronzer beginning from the temples and moving inward.
Applying it this way will not only make the contour appear as natural as possible, but when it hits the light it will cast a shadow effect and make your face appear more defined. Continue blending up the temples toward the forehead and down the jawline in a "3" motion.
If you just want to add a sun-kissed glow to your face sans contouring, use a face brush and a light hand to apply the bronzer all over your face, focusing on your cheeks.
4. How to apply blush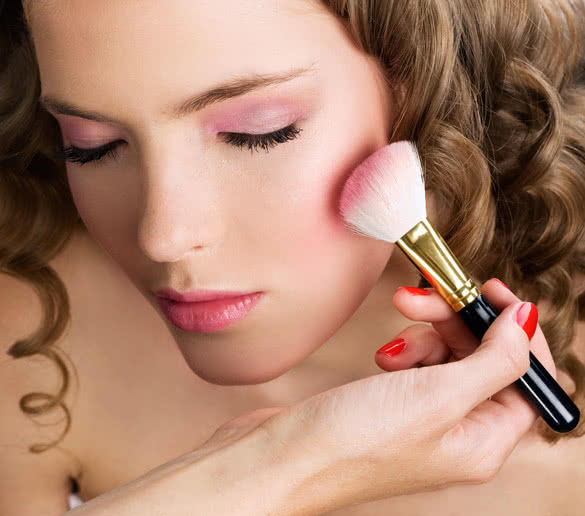 Look straight into a mirror and smile big to expose the apples of your cheeks. Using a blush brush, dip the tip into the blush, tap off any excess, and sweep the brush from the apples of your cheeks upward.
When applying blush, remember that you can always add more if needed, but taking away is difficult. Add a little bit at a time and make sure both sides are even.
Blend the color in circular motions for a natural, glowing look.
5. How to apply eyeshadow
The options of eyeshadow looks are endless, but no matter which look you choose to go for, whether it's a sexy, sultry smoky eye or a basic neutral eye, always apply an eyeshadow primer as a base.
Not only will this ensure that your eyeshadow stays on all night crease-free, but it will even out any uneven skin tone on the eyes and make the eyeshadows you apply on top appear vibrant and more pigmented.
To apply eyeshadow, use a flat shader brush to pack on the eyeshadow all over the lid. For more definition, use a fluffy brush and apply a darker color in the crease of your eye.
Finally, for a natural highlight, apply a shimmery champagne color underneath your brow bone and in your inner tear duct.
6. How to apply eyeliner
Whether you choose to use a pencil, gel, or liquid eyeliner, one thing is for sure: the technique remains the same. For easy application, close one eye and raise your eyebrows to flatten out the surface of your eye.
Next, beginning from the center of your eyelid and moving toward the outer corner, use feathery strokes to apply the eyeliner. Once the outer part of your eye is lined, go back to the center of your eyelid (with whatever product is remaining on your brush or applicator), and apply from the center toward the inner corner.
Have unsteady hands? Simply place your elbow on a counter or place your pinky on the top of your cheekbone.
7. How to apply mascara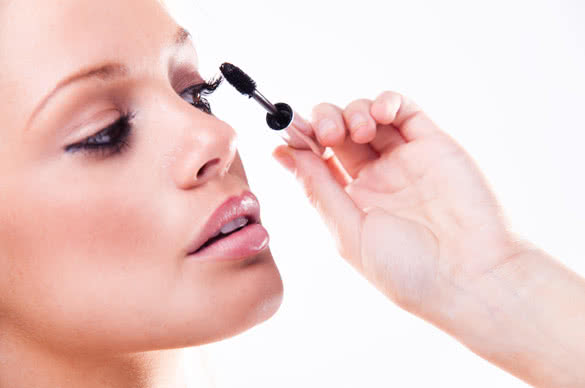 Ah, the beloved mascara. Many women can't leave the house without a good coat of mascara  to reveal long, full lashes. To apply mascara just right, tilt your head back and begin applying to the middle and outer end part of your lashes.
Wiggle the brush as you move up toward the base to ensure every lash gets coated evenly. Using the tip of the wand and whatever product is left on the brush, apply to the inner lashes.
If you have a problem with clumped mascara, simply hold the wand vertically and use it to help separate each lash.
8. How to apply lipstick
Rather than smiling fully (this will hide your mouth's natural curves), pucker up and begin applying the color from the center of your lips outward.
Wearing a bright color? Use a concealer brush to wipe away any excess product that made its way outside of the natural contours of your lips.
Also, if you're infamous for walking around with lipstick on your teeth, here's a trick to avoiding a lipstick-teeth disaster: after applying, stick your index finger in your mouth and press your lips into an "O" shape around your finger. Keeping your mouth in that "O" shape, pull your finger out of your mouth. The product that's left on your finger is what would have been on your teeth. Ta da!
Whether you're a makeup newbie or a self-proclaimed professional, a refresher course in makeup is always helpful. Remember that practice makes perfect when it comes to makeup, so don't get frustrated if you don't get it right the first few times.