Whether you're heading to a costume party or just adore old Hollywood glamour, you're bound to love this look at the hottest makeup tips and trends of the 1940's!
From Cleopatra's kohl-lined eyes to Lady Gaga's outlandish panda eyes, makeup trends have undergone a series of dramatic transformations through the ages. Last week, we explored the raging 1920's, as western women shook off the previous decade's makeup stigma to embrace the glamorous flapper style. Today, we're landing in the seriously stylish 1940's to discover the hottest makeup tips and trends of the era.
1940's Makeup Trends
The makeup trends of the 1940 have played a huge part in shaping the styles we love today. When our favourite celebs hit the red carpet, it's not unusual to see them sporting classic red lips or vintage waves. Believe it or not, they're actually taking style advice from the Golden Age of Film. With breath-taking starlets like Katherine Hepburn, Rita Hayworth and Ava Gardener as inspiration, it's no wonder they look so good!
The ladies of the 1940's also turned to Hollywood starlets for makeup tips. Despite war rationing, throughout the decade, many women and teens began to enhance their features with a touch of makeup. Even ladies who held unglamorous jobs in munitions factories often performed their duties in full makeup, perhaps as a way of keeping their femininity alive.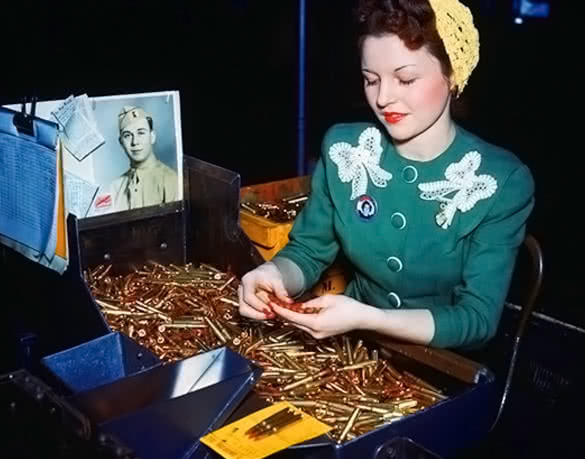 Unlike the dramatic 1920's styles, 1940's makeup was all about highlighting one's natural beauty to achieve a subtle but effortlessly glamorous effect. So, without further ado, let's take a closer look at some of the biggest 1940's makeup trends.
#1 Face
Prior to the mid 1920's, women frequently chose the palest face powders possible, as fair skin was thought to be a sign of wealth and refinement. After fashion icon Coco Chanel famously passed out on a yacht in the sun, however, a tan became a must-have look.
By the 1940's, foundation was widely available, making it easy for women of the day to create a perfect, bronzed canvas without so much as setting foot in the sun. Foundation was generally set with face powder, either in the form of loose powder or the popular pressed compact. Women who wanted to achieve a rosy glow often applied a foundation a shade darker than their natural skin tone followed by a face powder that was one shade lighter.
Meanwhile, ladies of the 1940's prescribed to a similar blush routine as their 1920's sisters. Rouge, generally in the form of powder, was applied carefully to the apples of the cheeks. Instead of sweeping it up towards the hairline as we do today, women tended to leave their rouge only semi-blended in a circular shape. Popular blush colours included pinkish reds and bright, fuchsia pinks.
1940's Party Makeup Tips: To mimic 1940's makeup, apply a foundation that's one shade darker than your natural skin tone. Then, brush your regular loose powder up from the tops of your cheekbones to the center of your temples in a triangular shape. This will give extra definition to your face. Think 1940's contouring.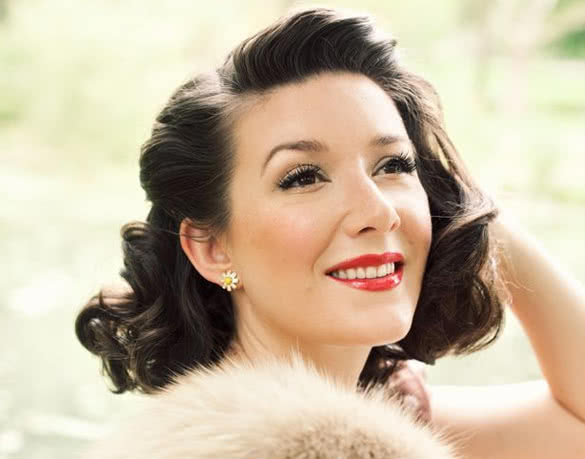 #2 Eyes
During the war, the bold, smokey eyes of the 1920's would have been seen an inappropriate display of excess. Instead, 1940's makeup revolved around application of neutral browns and greys on the lid, while matte colours were used to highlight the crease and give depth to the eyes.
Liquid eyeliner was still another decade or two away, so 1940's women relied on eyeliner pencils. Despite popular misconception, cat eyeliner was mostly a product of the 50's. Forties girls generally applied eyeliner sparingly along the upper lash line and often used brown instead of black for a more natural look.
Long lashes were as admired as they are today, so mascara was an important part of every girl's 1940's eye makeup routine. Applied generously in brown or black, it drew attention to the wearer's subtle 'come hither' eyes.
 1940's Party Eye Makeup Tips: Select a neutral champagne colour for your lid (like LORAC Nude), then work a matte taupe or mauve colour into your crease for definition. For natural look, line your upper eye with an eyeliner pencil as close to the lash line as possible. But if you'd rather play a sizzling starlet, cheat and use a smooth, dramatic line of liquid liner instead. Don't be afraid to play up your lashes with a few coats of the most volumising mascara you own.
#3 Eyebrows
The 1940's had no love left for the over-plucked brows of the 1920's. Instead, women favoured eyebrows that we admire today on celebs like Cara Delevingne. That said, brows, though kept full, were artfully shaped into well-defined arches and darkened with brown pencil.
1940's Party Eye Makeup Tips: If you've already got thick eyebrows, use an eyebrow gel or clear mascara to tame your brows and smooth every hair into place. Then, fill them in with a pencil. Girls with thinner eyebrows will also need to fill them out during this process. If you've got light coloured hair, select a brow pencil colour that's two shades darker than your hair. If you sport dark locks, go two shades lighter.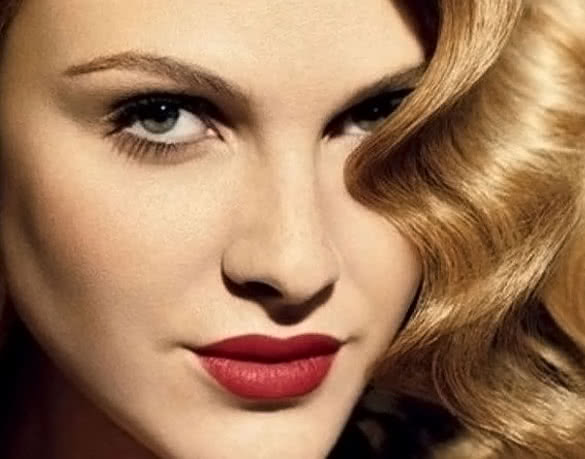 #4 Lips
For most war-time women, lipstick was the most extravagant part of a daily makeup routine. While the rest of their makeup was quite modest, red lips were considered a must have for the most fashionable and elegant ladies. Pink and orange based reds were also quite popular. Full lips were considered especially feminine, so many women exaggerated their upper lips by extending their lip line.
 1940's Party Makeup Tips: As a defining feature of 40's makeup, red lips are a must for anyone attending a 1940's party. Give yourself gorgeous, full lips by accentuating your cupid's bow. You can do this by exaggerating its outline with a red lip pencil, then highlighting the center of your cupid's bow with a tiny dab of matte white eye shadow.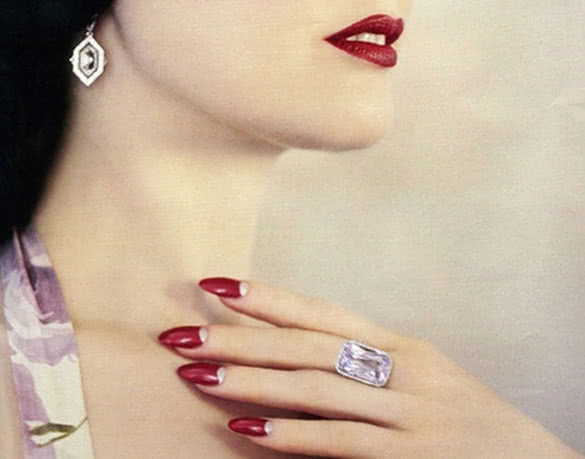 #5 Nails
By the 1940's, a huge range of nail polish colours were available. Popular favourites included reds, plums, mauves and navy blues, though mustard yellows and greens weren't uncommon. Some women even coordinated their polish with their lipstick, with Revlon eventually selling matching sets.
Nail polish application itself involved painting the nail, but leaving a white or unpainted half-moon tip. Sometimes the cuticle also sported this style.
1940's Party Nail Art Tips: Search Pinterest.com for stacks of inspiration on half-moon nail designs and make sure to practice before the big night.
Hopefully this brief look into common 1940's makeup tips and trends has given you inspiration for your next 40's themed party and maybe even some new tricks for your everyday makeup arsenal!