Everyone loves denim and has something in this material in their wardrobe, so here are some fashion tricks that will help you dress it up and always have new looks every day.
Every woman knows just how hard it is to find that perfect pair of jeans. It can be a real challenge to find a pair that is the right size, enhances all your best assets and does not pull on your weaker areas, so once we find the perfect pair for us, we just want to hang on to it for the rest of our life.
Anyhow, after a while, it is hard to find different looks and combinations every day to go with your denim and make it look always fresh and new, so most women just fall into the trap of wearing always the same outfit day after day and end up having a really boring and repetitive style.
Women should take example from the biggest Hollywood celebs, who have more and more started to wear denim also on the red carpet and to the big events that they attend. They have understood well the glam power that denim has if worn in the right way and how versatile this material is.
In fact, we often see it as a very casual item to wear, but in fact it can be just the perfect thing you need also for work and your glamorous evenings! Here are some idea on how you can dress up your denim and some examples taken from the streets of today!
Wear a classic blazer on top
A pair of skinny jeans will look very polished if worn with a classic, tailored blazer on top. It will also make your denim look much more formal and perfect for a work meeting.
Another alternative is to wear the blazer over a denim shirt and it will have the same polished and formal result.
High heels will not only make you look thinner and your legs sky-high, but they will also glam up your denim in a really stylish and effortless way.
They are absolutely great to transition your look from day to night and make you look really glamorous.
Try out a button-up shirt
A button-up shirt is probably the best friend of jeans.
If worn with a pair of boyfriend jeans you can get a really sexy and androgynous look, whereas if you wear it with a pair of skinny jeans it could be the perfect look for work and also for the evening, if left a little bit unbuttoned on the neckline and worn with some chunky jewelry.
A sheer top or a half-sheer skirt will add an element of mystery and sexiness to your denim and will look absolutely perfect for the evening.
Balance it out with feminine materials and detailing
Lace, ruffles, ruches and all those really feminine details will be absolutely great for dressing up your denim, be it a pair of jeans, a shirt or a jacket.
1. Denim jacket + maxi skirt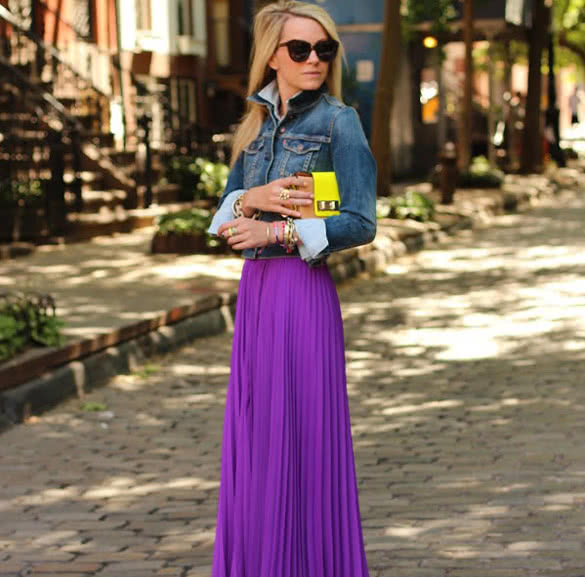 A colorful maxi skirt is the perfect match to a cropped denim jacket. The perfect look for the coming fall, to be worn with lots of accessories and a pair of maxi sunglasses.
2. Denim shorts + white shirt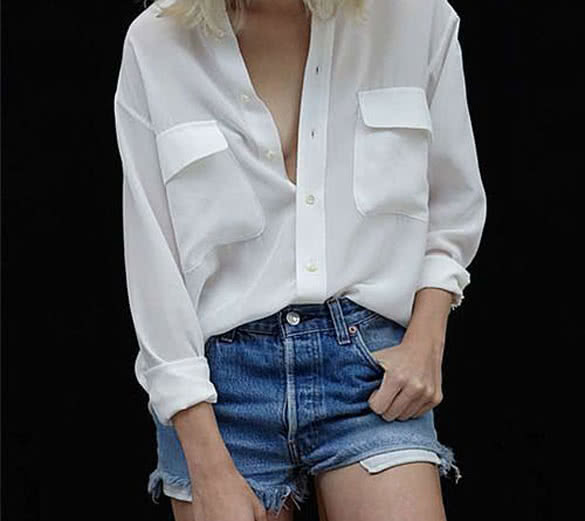 The best way to dress up a simple pair of denim shorts is by pairing them with a white shirt or soft blouse on top, to be worn slightly unbuttoned on the top for a very sexy and effortless look, perfect for your evenings.
3. Boyfriend jeans + black blazer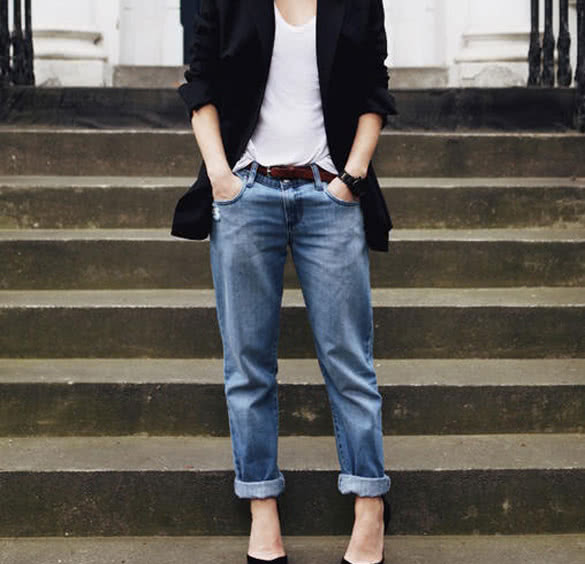 Androgynous looks are the ones that sometimes can manage to bring out all your femininity like never before.
Go for a pair of boyfriend jeans, rolled up at the end, together with a brown, masculine belt, a light white t-shirt and a classic black blazer. You can then add a pair of classic black pumps and you have a very stylish office look.
4. Denim + leopard print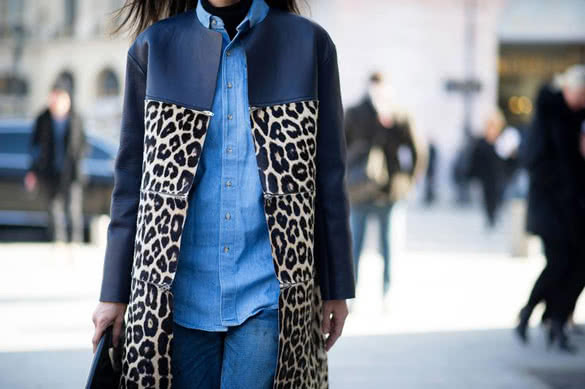 Another great combination is denim with animal prints.
The animal print will glam up the denim and the denim will make the animal print look more casual: the perfect situation. You can go either for an animal print coat or a top, the choice is yours.
5. Denim jeans + sheer top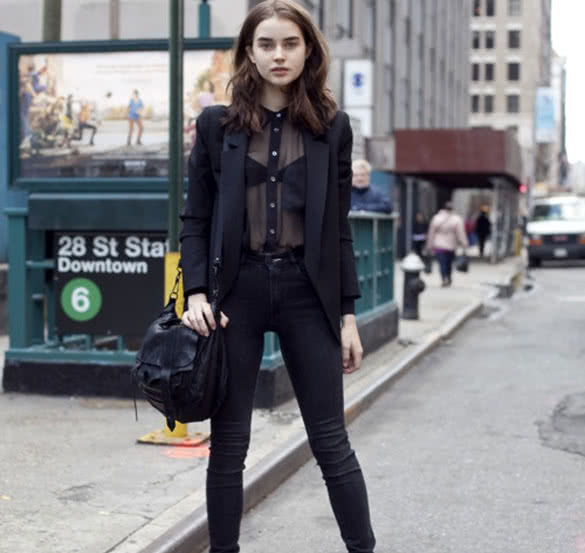 A sheer element in your outfit will always add that extra touch of sexiness, no matter what you wear it with.
To make the look feel a little bit more casual for the day, you can wear a sheer blouse with a pair of skinny black jeans and a black blazer. A total-black outfit with a punch!
6. Oversize denim shirt + high heels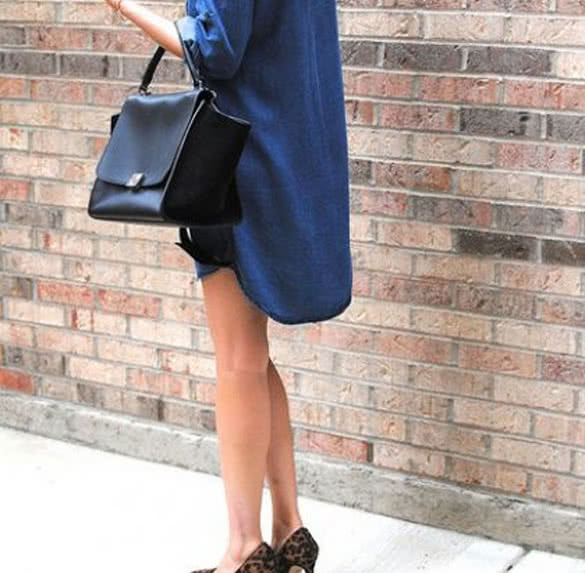 An oversize denim shirt can look super sexy and effortless if worn as a dress.
You can wear it together with a pair of leopard print pumps and a glamorous maxi bag for a très chic daytime look which is partly androgynous and partly super feminine.
7. Denim romper + high heels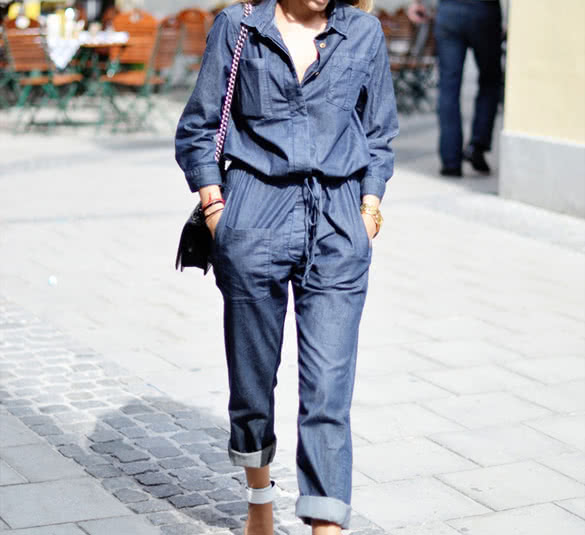 A denim romper is a great reminiscence of the 90s which have come back in great style this year. You can roll up the end of your romper and wear it with a pair of high-heeled sandals with a sexy ankle strap.
Very simple but still very effective.
8. Total denim + stripes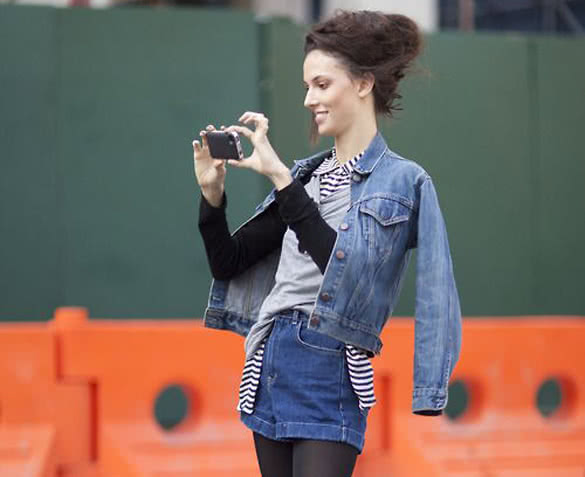 Total denim looks were one of the biggest trends of this year.
You can wear a pair of denim shorts or jeans together with a denim jacket and, in order to break a bit the monochromatic look, you can layer up a simple sweater over a striped top. Casual and simple, but with a difference.
9. Denim jacket + lace dress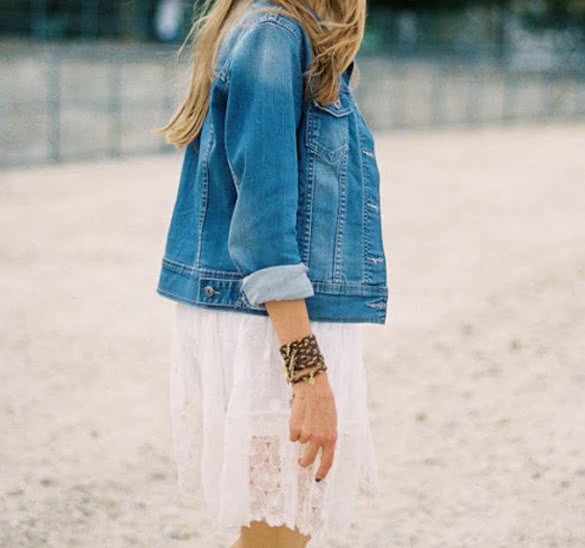 It is a great idea to wear denim together with a really feminine element, such as a lace dress. The contrast between femininity, masculinity and retro is so stylish that it will capture the attention of everyone.
Cover photo: natachabarbosa.wordpress.com