What to Wear with White Shoes
How and what to wear with white shoes is a question many women ask themselves. Combining and wearing them the right way is far from simple. Some also feel that wearing white shoes is not necessarily always appropriate. This is no longer the case. We can now choose between so many different styles so you can wear your white shoes whenever you feel like it.
The famous "fashion rule" states that you are not supposed to wear white after Labor Day. In the beginning this rule referred to wearing white shoes between Memorial Day and Labor Day. There are many explanations behind this old rule, but its point is probably to instruct people to wear summer clothes during summer months.
So, this must be the best time of the year to wear white shoes, and here are a few ideas on how to combine them:
1. White and Day
For this outfit we recommend some nice white wedge and a casual brighter color jean. Choose a simple top in any summer color, style it all up with some daily fashion accessories and you will look great and feel sexy in your comfy white shoes.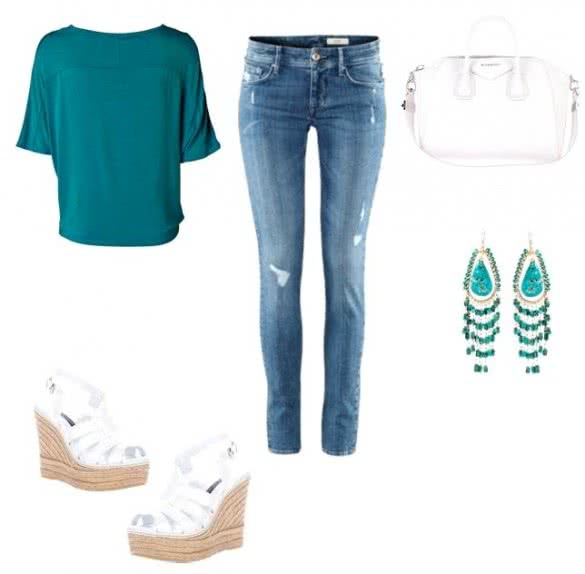 Shoes: Ralph Lauren
Jeans: H&M
Top: Marene Birger Isolde
Bag: Givenchy Tote Bag
Accessories: Amanda Sterett Earrings
2. Let's Go to the Beach
In white flip-flops, of course. White beachwear has always been considered very popular and incredibly sexy. Nothing will accent your sun kissed skin better than a cute white bikini. Even if you are not a fan of white bikinis you can always go for white footwear and accessories and reach the same effect.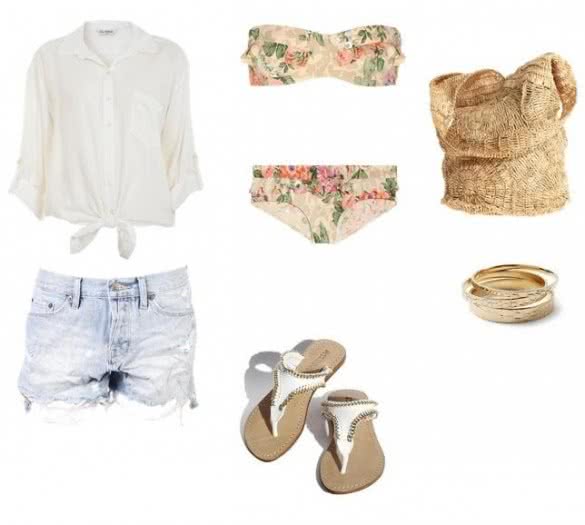 Shoes: White Sandals with Gold Chain
Bikini: Zimmermann Devoted floral-print ruffled bikini
Top: Cream Knot Front Shirt
Shorts: Ksubi Jing Shorts
Bag: Flora Bella Ibiza Bag
Accessories: Croco- Patterned Bangle Set
3. Extreme Elagance
Elegant white shoes go very well with evening gowns in metallic or predominantly light colors. For an extravagant evening event, all you need is a pair of classy satin white shoes and a beautiful matching evening gown. If you choose a white gown, make sure you go for something simple and straight cut because you'd want to avoid looking like you are wearing a wedding dress.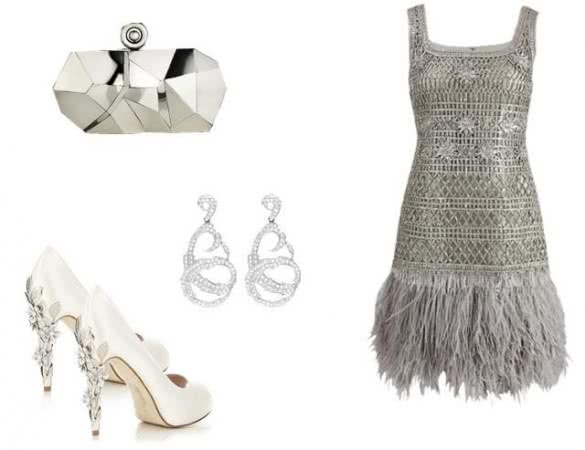 Shoes: Harriet Wild
Dress: Oscar de la Renta
Clutch: Nada Sawaya Minaudieres
Accessories: Gaydamak Karess Diamon Earrings
4. The Perfect Sporty Look
Nothing will make you look better like simple white trainers or canvas shoes for a relaxing day that you intend to spend outdoors. White sneakers will go great with literally any piece of athletic wear you own.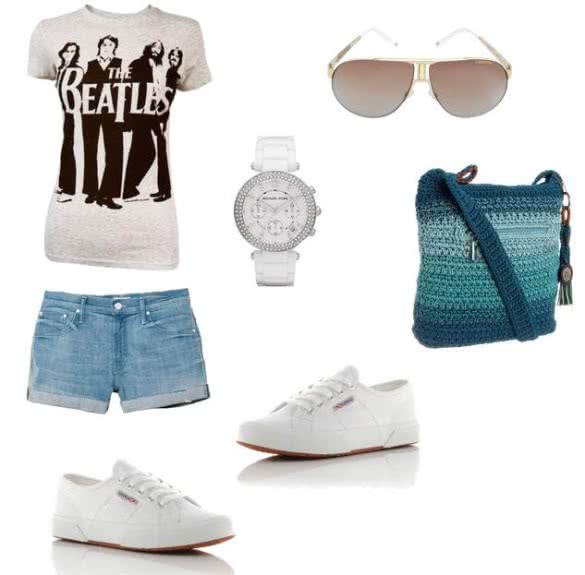 Shoes: Superga Classic Trainers
Shorts: Mother Frayed Cut Off
Top: Heather Grey
Bag: Marlboro Shoulder Bag
Accessories: Michael Kors Watch and Carrera Panamerika Aviators
Cover photo: http://www.pinterest.com