1. Seafood Risotto
It is well known that oysters are one of the strongest aphrodisiacs in the world, but I really don't like oysters. Still, there is no reason for all of you not to have a perfect aphrodisiac dinner. Seafood risotto is the solution.
You'll need: a pack of mixed seafood, risotto rice, white wine, some tomatoes, pine nuts, salt, pepper and saffron. Take the seafood mix and fry it in little olive oil for just a couple of minutes. Add rice, fry for a while and then pour the wine over it. Cover it and leave to simmer until the rice is cooked. In the very end, add pine cones, sliced tomatoes and spices.
Serve this risotto as a light dinner. Accompany it with some good white wine and you're in for a perfect, tasty and very aphrodisiac meal.
2. Caviar Bites
Caviar is said to be a true aphrodisiac. It is not easy to afford, but every once in a while, you can treat yourself and your partner with a luxurious meal.
There is not much of a recipe here, because caviar is not really a meal, it's best served as an appetizer. I would suggest buying both red and black caviar and some high quality crackers. Just put a small amount of caviar on top of each cracker and serve a perfect aphrodisiac appetizer. Add some champagne into the mix for best results.
3. Melon and Prosciutto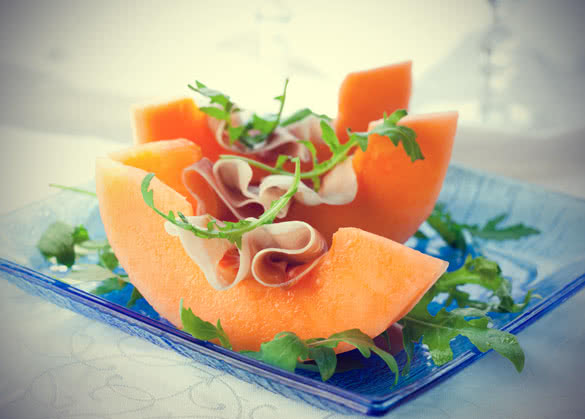 Another very well known aphrodisiac appetizer is melon with prosciutto. Although it could sound strange to mix fruit and meat, trust me – once you try it you will love it. It's a perfect starter of a hot meal.
You can serve melon and prosciutto in a number of different ways. The most common is to slice the melon and simply roll the pieces of it in prosciutto. Remember that you absolutely need to get the best quality prosciutto you can afford. Italian and Spanish are my personal favorites.
Another way – and I do love this one – is to make skewers with melon, prosciutto and mozzarella cheese. Cut the melon and the cheese into small cubes and roll the prosciutto around them. Make each skewer like this: a piece of melon, a piece of prosciutto and a piece of mozzarella.
4. Hot Main Course
We've all heard it – hot, spicy food is considered an aphrodisiac. The truth is, you can basically make any of your favorite food, as long as you spice it up with garlic and hot chili peppers.
My personal favorite is hot spicy chicken. For two people you'll need: two bigger chicken thighs, salt, pepper, chili pepper, chili powder, garlic and some honey.
Spice the meat with salt, pepper and chili powder. Leave it to rest for at least 15 minutes in the fridge. You can either slice the garlic or just put the whole cloves. Put the meat with the garlic into an oven dish, cover it and bake until golden brown. 10 minutes before the end, take the meat out of the oven and smear it with the mixture of honey and finely chopped chili pepper. Leave it in the oven until it creates a crispy crust.
Serve hot with some kind of yoghurt or sour cream dip if you're not very tolerant towards hot food. The sour cream will tone down the spiciness and the food will be easier on your stomach later.
5. It's all About Chocolate
Chocolate is the most common aphrodisiac dessert. There are really numerous ways to create your perfect dessert, but as long as there's chocolate in it, you can't be wrong.
My personal favorite is the classic chocolate dipped strawberries, but with a little twist. I'm a bigger fan of white chocolate when it comes to this. Don't worry, it's just as aphrodisiac as the dark chocolate is.
If you have enough time, I would have to suggest choosing a combination of chocolates for dipped strawberries. Take good, big strawberries and dip each one in melted white chocolate. Leave it on a rack to cool and melt dark chocolate in the meantime. Create a paper cone out of baking paper and cut a very small hole in the end. Fill the cone with dark chocolate and create thin dark lines on the white chocolate.
This dessert will make you happy by just seeing it. Trying it will bring immense joy to both your tongue and your mind. It's simply delicious.
So, tell me – which one of these aphrodisiac recipes is your favorite?