Keeping your finances in check can be stressful, but these 5 best personal finance apps are sure to make your life easier.
Between earning money, paying bills, filling up your car, and treating yourself every once in a while, staying on top of your finances can be nothing short of a nightmare. With so many incomings and outgoings, it can seem nearly impossible to know where you are from day to day, let alone month to month, which is why I've compiled this list of five best personal finance apps that will help you keep a better eye on your finances. Forget about trawling through your bank statements or dropping in at your local branch, with these apps you'll be able to check your finances with just a push of a button.
#1 Saved Plus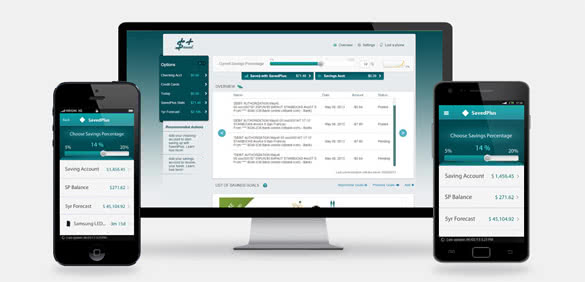 For the majority of us, spending money is easy but saving it can be a bit of a chore. Saved Plus aims to change that however.
Once properly connected to your bank accounts, the app works by transferring a percentage of all your spends to your allotted savings account. For example, if you set your saving percentage at 10% and you spend $10, the app will automatically transfer $1 from your current account to your savings account. It may not sound like a lot but you'd be surprised by how quickly the money adds up.
The app is incredibly simple to use though it's worth nothing that you can't set your saving percentage above 20%. Once you're up and running, you'll barely even notice you're saving until you see a nice lump of cash in your savings account.
#2 Credit Karma Mobile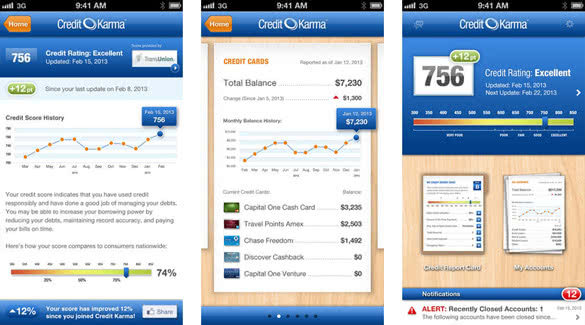 In this day and age, few things are more financially important than your credit score – especially if you're considering applying for a loan, mortgage, or something along those lines. However, finding out what your credit score is isn't always the easiest of feats.
With Credit Karma Mobile, you can easily view your credit score and see what impact your incomings and spendings have on it in real time. If there are ever any important changes to your credit report, the app will even send you notifications to make you aware of what's going on and a full breakdown of why your score is changing.
#3 PayPal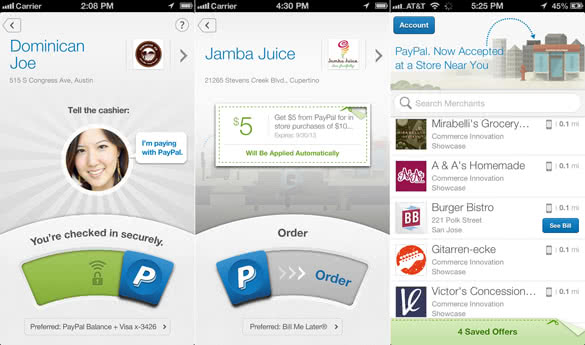 The PayPal app is an obvious choice for all PayPal users. It allows you to view your balance and recent transactions, receive or send funds, and (depending on where you are) pay for your purchases in stores and restaurants.
From personal experience, I can tell you that the app is wonderfully easy to use and understand, making your financial situation clear to you. It's also worth knowing that PayPal is one of the quickest and safest ways to make purchases via the internet so you can spend and save knowing that your hard-earned money is safe.
#4 Dollarbird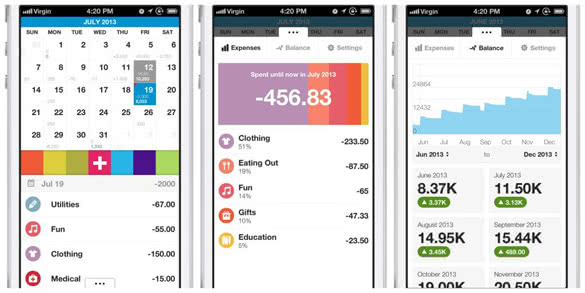 As well a being bright, colorful and simplistic, Dollarbird is an excellent way to track all your incomings and outgoings. The app allows you to view all your recent transactions in calendar form making them easy to track. It shows you your financial situation in a variety of ways such as bar charts and graphs, meaning everyone can understand it, and the app allows you to set up things such as recurring transactions and payment reminders so you never miss a payment.
Perhaps one of the most unique and useful tools Dollarbird provides is the five-year financial projection plan for your various accounts allowing you to get a clearer outline of your situation and what you may need to change.
#5 Level Money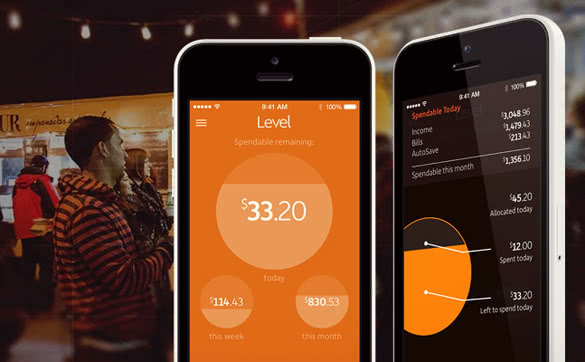 Level Money is perhaps the most simplistic of all the apps on this list, but if you're looking for something simply to tell you where your finances are at with just a glance then this app is perfect. It shows you your recent transactions in a similar way to your bank account, though it has a few added bonuses such as predictions depicting your anticipated savings and digestible info graphics to give you a clear picture of where you stand. There is nothing complex about the app so even those of you who are still relatively new to smart-phones and apps will easily be able to embrace Level Money.
Whether you're looking to save a little money, understand your credit score or simply keep a closer eye on your finances, hopefully you've found an app here to suit you. As confusing and frustrating as your finances can be, these five apps aim to simplify your situation, helping you to live and spend easier on a day to day basis.