No visit to paradise is complete without some serious sun-time on the best beaches in Hawaii. Grab a towel, a bottle of sunscreen, your best guy...and enjoy the world's most beautiful beaches. Here's a baker's dozen of our top picks.
Hawaii's beaches are as diverse as they are beautiful. Whether you want to frolic on pristine white sand beaches or something a little more colorful (perhaps black, green or red sand?) there are endless possibilities for you to relax on and enjoy the sun in the Aloha state. Plus, you'll find abundant opportunities to swim, snorkel, surf, sleep, sunbathe, eat, drink or people-watch. Hawaii's world-famous beaches truly have it all.
Read along for a quick trip to some of the best beaches in Hawaii.
Hulopoe Beach, Lanai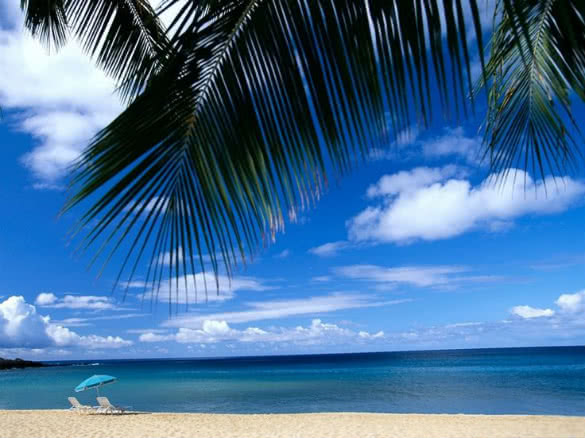 Hulopoe Bay always lands a place on lists of America's best beaches. This protected site allows visitors to experience nature at its finest.
Hulopoe is the best spot on Lanai for snorkeling and swimming during the summer months. During the winter, the water can be a bit rough, but you can still enjoy the extraordinary scenery.
Highlights include many large tide pools carved out of volcanic rock. Here you'll see hermit crabs, sea stars, small fish and other critters that have adapted to the rocky environment.
You are also likely to see spinner dolphins, which are known for their acrobatics, at play in the waters off Hulopoe Beach. And if you're visiting in the winter months, you might even catch a glimpse of migrating humpback whales!
Poipu Beach, Kauai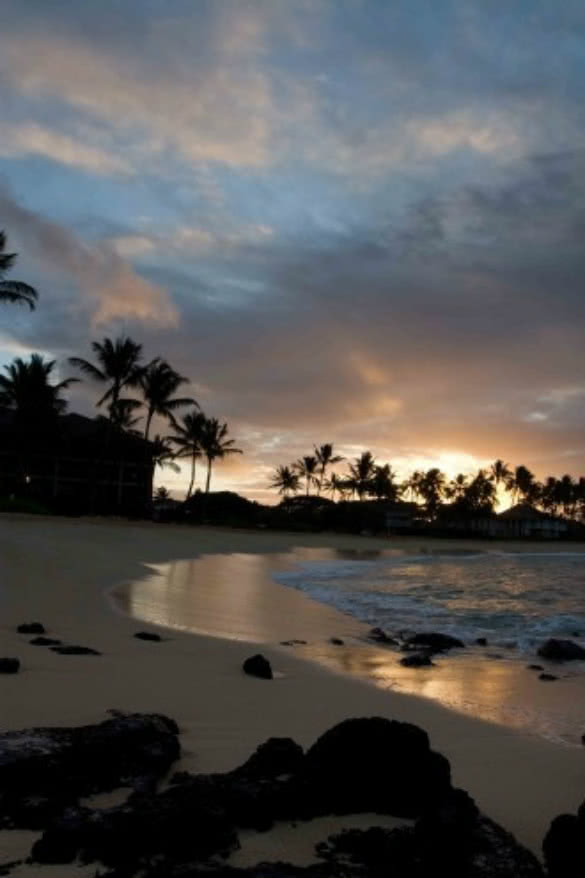 The Travel Channel has referred to Poipu Beach as America's number-one best beach. That's just one of the reasons you should check out this glorious strip of sand along the south shore of Kauai.
Not only does Poipu offer one of the world's most magnificent beaches, but it's also close to some of Kauai's best shopping and dining establishments.
Poipu is widely known as one of the safest beaches on the island, so it's a great place to give small children a taste of wading in the waters of paradise.
But it's not calm waters that make this beach so popular, it's the wildlife. Humpback whales swim offshore, giant sea turtles float among the swimmers and much more.
Plus, Poipu Beach is home to the Hawaiian monk seal. Only about 1,200 of these playful seals remain in the world, and many of them like to swim and sunbathe in Kauai.
Ho'okipa Beach, Maui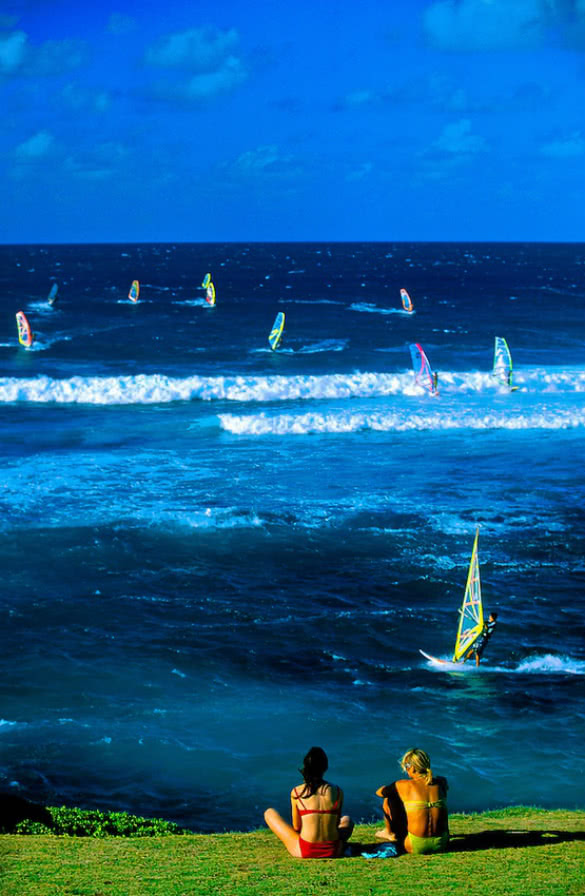 Considered the home of contemporary surfing, Ho'okipa hosts large and small surfing events year-round. Both the Aloha Classic and the Red Bull Surfing Competition have come to Ho'okipa. That's because this breathtaking beach is a mecca for surfers both young and old.
With white-sand beaches and some of the best waves in Maui, Ho'okipa is a must-see for anyone looking for a little adventure on the water. It's also the best place in Maui to go windsurfing.
North Shore, Oahu
Hawaii is known for its surfing, and the North Shore is the place to be for some of the gnarliest waves around. The North Shore is home to many of the world's premier surfing competitions, including the Vans Triple Crown of Surfing.
During the peak season, you can see massive waves swell 30 feet or more. Even the most experienced surfers have trouble navigating these waters from time to time.
But during the summer months, the waves are a bit smaller, allowing newbies a chance to surf the waves at this world-famous location. Summer is the best time for swimming and sunbathing as well.
While you're on the North Shore you should certainly visit Pu'u O Mahuka Heiau, one of Oahu's oldest native religious sites. It's a fascinating place to take a break from watching whales and hardbodied surfers.
Hanalei Bay Beach, Kauai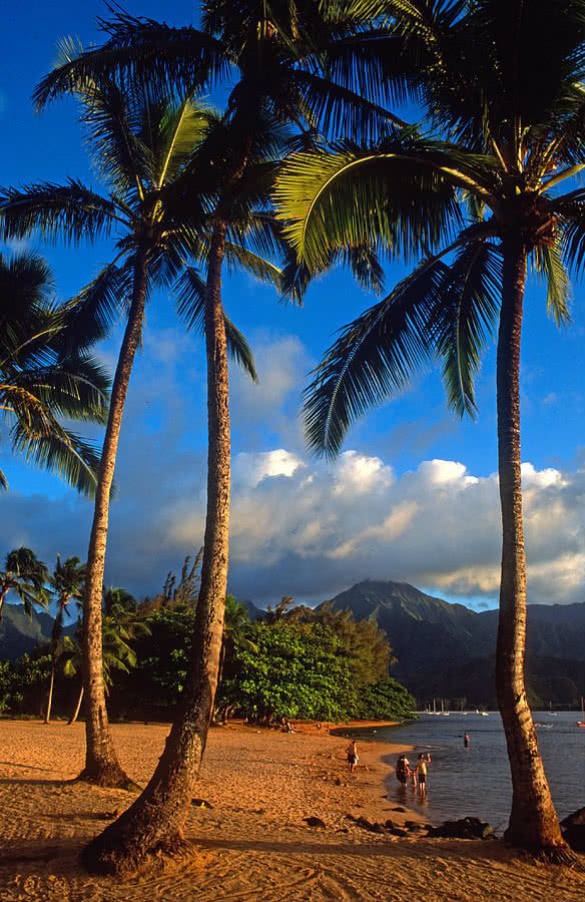 Hanalei Bay is a semi-circle of pristine, white sand with a backdrop of waterfalls and misty mountain peaks. No wonder many people consider it one of the most beautiful beaches in the world.
You can enjoy great swimming conditions here, but that's just a start. Surfing, boating and kayaking are all very popular on Hanalei Bay, and you can fish from the pier.
Signs say you shouldn't dive off the end of the pier into the bay's crystal clear blue water, but everyone does it anyway, and no one seems to mind. Go for it!
Ke'e Beach Park, Kauai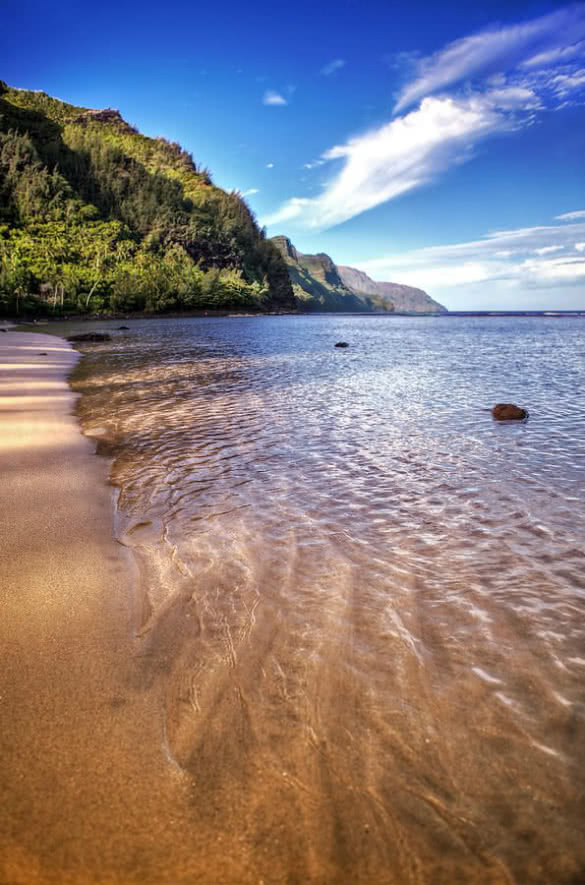 Do you dream of strolling along with your sweetie, taking in a romantic sunset as you hold hands on the beach?
Look no further than Ke'e Beach on the island of Kauai.
Located at the very end of a road on Kauai's North Shore, this clear-water beach is perfect for snorkeling. You'll have no trouble spotting colorful fish and turtles at this tropical paradise, and you'll be surrounded by lush vegetation and towering coconut palms.
Ke'e seems a bit out of the way, but it is well worth a visit. Come to where the road ends, to the last beach accessible by car on the North Shore and see what all the fuss is about.
Kapalua Bay Beach, Maui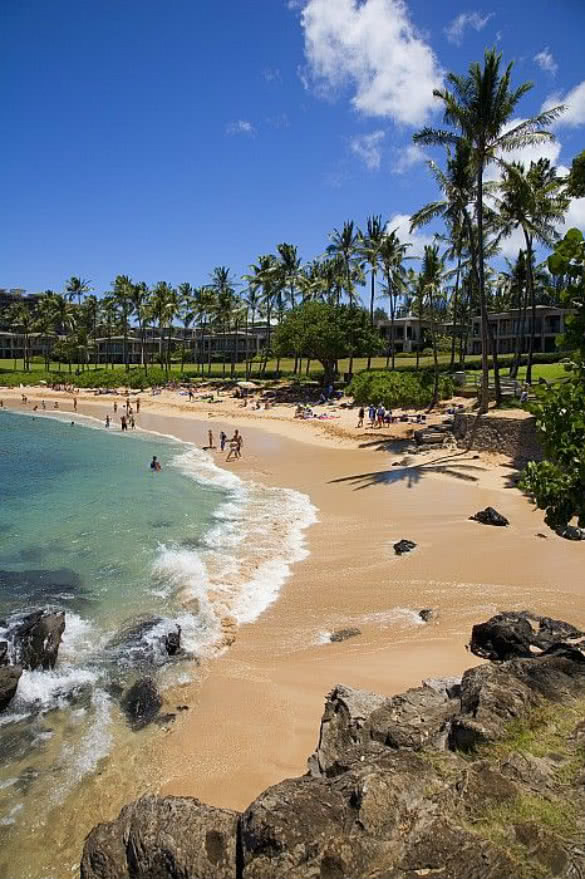 Known for its calm, tranquil waters, Kapalua Bay Beach is the perfect spot for families and less-adventurous swimmers and snorkelers.
In fact, the placid waters make this the perfect spot for first-time snorkelers looking to get their feet wet, as they are free to explore the two reefs here. It's easy to get into the water and you're never further than a few feet from your beach towel.
The best part is this beach rarely feels crowded, giving you plenty of room to spread out and explore.
Papohaku Beach, Molokai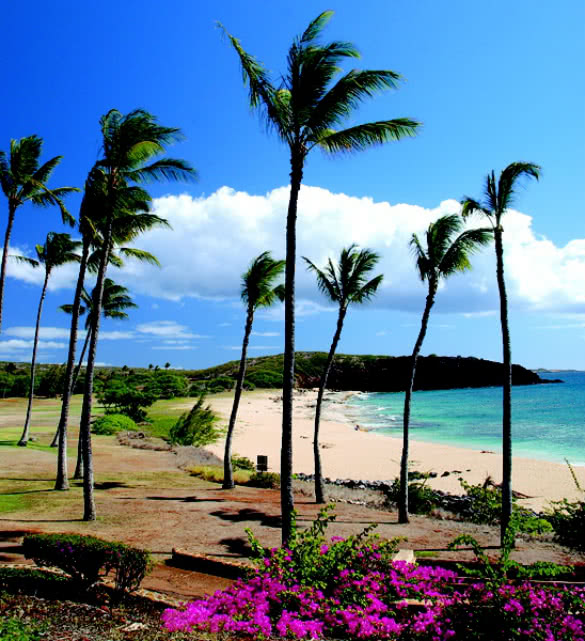 If you're looking to get away from the crowds and explore a gorgeous white-sand beach, check out Papohaku Beach on the island of Molokai.
Papohaku is often called Three Mile Beach because of it's three miles of soft sand, making it one of Hawaii's longest white sand beaches.
This large beach is fairly remote and it is often relatively free of tourists. You may find no one in sight but your loved ones and the sea critters.
It's about as close as you can get to a deserted tropical island without being marooned. The swimming, snorkeling, surfing and other water activities are beyond compare.
Kauna'oa Beach, The Big Island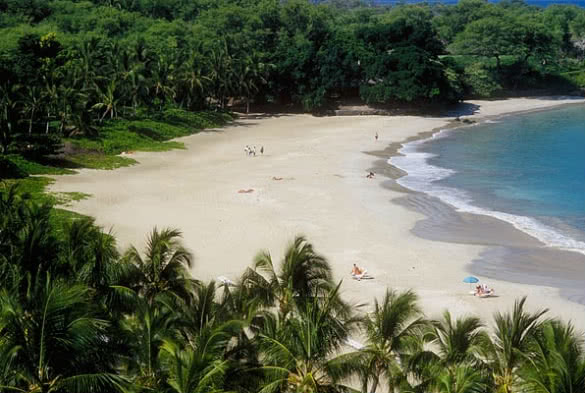 Imagine a Hawaiian beach. Go on, just do it. Chances are that without even realizing it, you imagined Kauna'oa Beach on the Big Island.
Kauna'oa has everything you'd expect from a Hawaiian beach – and more. White sand, palm trees, clear blue water…it is truly a slice of paradise.
The Westin Mauna Kea Beach Hotel is located on this beach, and if you are staying there or at one of its sister properties, you gain unlimited access to the beach.
If you're not a guest at those resorts, well then be prepared to arrive early. The hotel limits public access to 25 passes to ensure that the beach never gets too crowded.
Honaunau Beach, The Big Island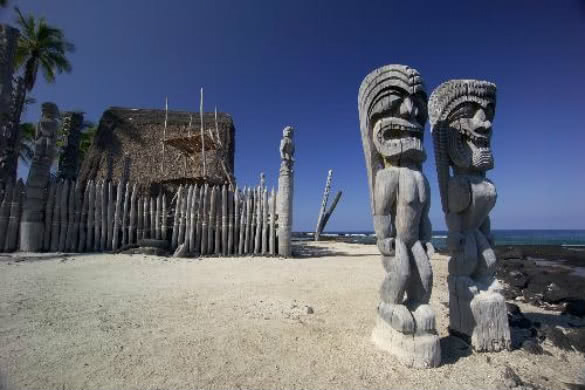 Honaunau Beach is especially popular with divers and snorkelers. Locals call it the City of Refuge, and if you're a diver, you definitely need to check out this diving spot for some amazing underwater views.
But don't take my word for it. The Travel Channel has ranked Honaunau as one of America's best beaches.
The water at Honaunau is even calmer and clearer than the water at other Hawaiian beaches. You'll have lots of opportunities to see coral, colorful fish and turtles.
If you're really lucky, you may be joined by a pod of spinner dolphins. They can be shy at first, but once they warm up to you spinner dolphins can be friendly and curious. You may even get to see baby dolphins swimming aside their mothers.
Punalu'u Beach, the Big Island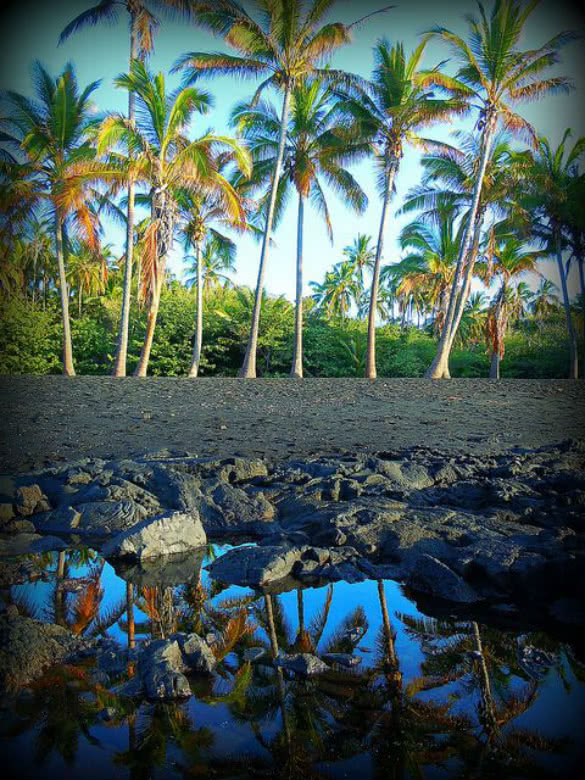 The Big Island's Punalu'u Beach on the Big Island is covered with black sand thanks to the lava spewed forth for hundreds of thousands of years by Hawaii's volcanoes.
You've got to see Punalu'u at least once in your life. So get out your pencil and put it on your bucket list.
Punalu'u is one of the most famous black sand beaches in the world. Not only is the sand pretty cool, but so are the endangered sea turtles who sometimes lay their eggs on the beach.
Waikiki Beach, Oahu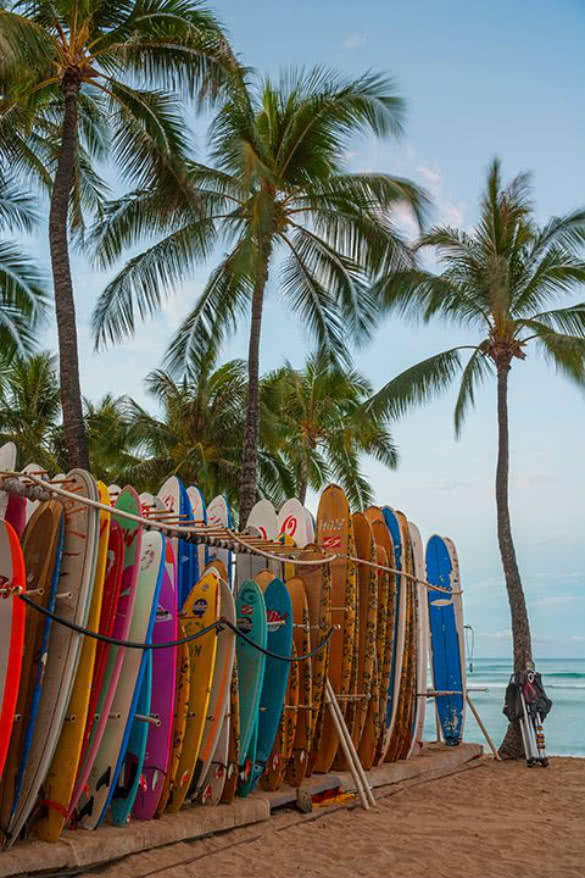 One of the world's most popular beaches, Waikiki was once the playground for Hawaiian royalty. Today it's Oahu's main resort and tourist area, with shopping, dining, family activities and more – including this magnificent beach.
Waikiki offers glimmering white sands and the awesome sight of Diamond Head Crater in the background. You can't go wrong at Waikiki, especially if you're looking to do more than just sunbathe or swim. There's so much to see and do in the area, you could spend your entire vacation here and not be disappointed.
Lanikai, Oahu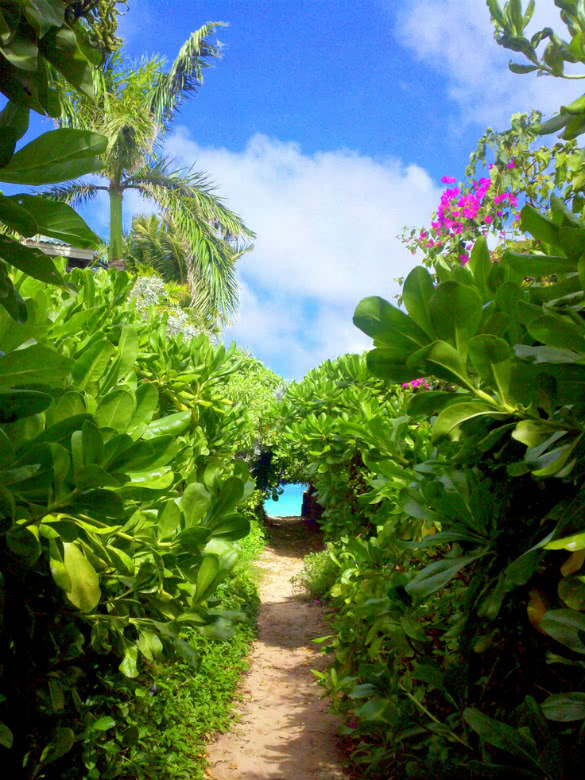 Lanikai literally means "heavenly sea" in Hawaiian, and this beautiful beach lives up to its name.
Considered one of the best beaches in the world and well-known among locals as Hawaii's best beach for swimming, Lanikai features pristine sand, calm waves and lush tropical plants. It's the perfect spot for sunbathing, swimming kayaking, windsurfing or anything else you like to do when you're having fun in the sun.
Hawaii has many, many more beaches, each with its own unique features. You really can't go wrong with a vacation to this tropical paradise; so really, what are you waiting for?