From festival-ready floral wreaths to boho headscarves, summer is the season of the hair accessory. Here are some of our picks to take you straight through to fall.
The summer season always seems to bring with it a bevy of bohemian-inspired hair accessories. Whether it be a festival-inspired floral hair wreath, a beaded headband, or a colourful scarf, the warmer days of summer somehow seem to ignite the need to embellish.
This summer, there are several hair accessory picks that will not only look good during these warmer months, they will be able to take you straight through to the cooler months ahead. Here are eight of our favorite cute hair accessories and some styling tips on how to incorporate them into your rotation.
#1 The Low Ponytail Clasp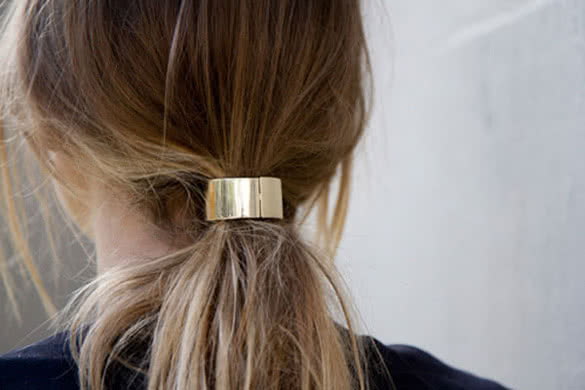 The low ponytail is one of the most sleek, timeless, and easy to achieve looks there is. This summer, keep your locks in place in the warmer weather with a decorative ponytail holder in a sleek metallic finish. Not only will it keep you cool while looking pulled-together, it will also translate quite well into the cooler months of fall where more structured, minimalistic looks tend to reign supreme.
#2 The Simple Headband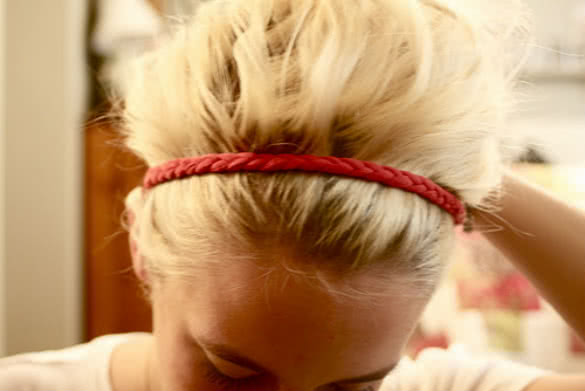 Whether you choose a slim or wide version, a simple gross-grain ribbon headband is a chic way to keep everything in place and off of your face in the heat of the summer. For fall, try pairing it with an up-do for evening; worn just under a ballerina bun it imparts a chic, '60s vibe that works wonders with the simple silhouettes of fall.
#3 The Tiara-Inspired Headband
Taking a cue from the popular '90s trend, the tiara works well both on the summer music festival circuit and as an eclectic accent for fall. To take it into the cooler months, make sure you pair it with simple, dressed-down silhouettes – think a louche blazer and boyfriend jeans.
#4 The Favourite Pin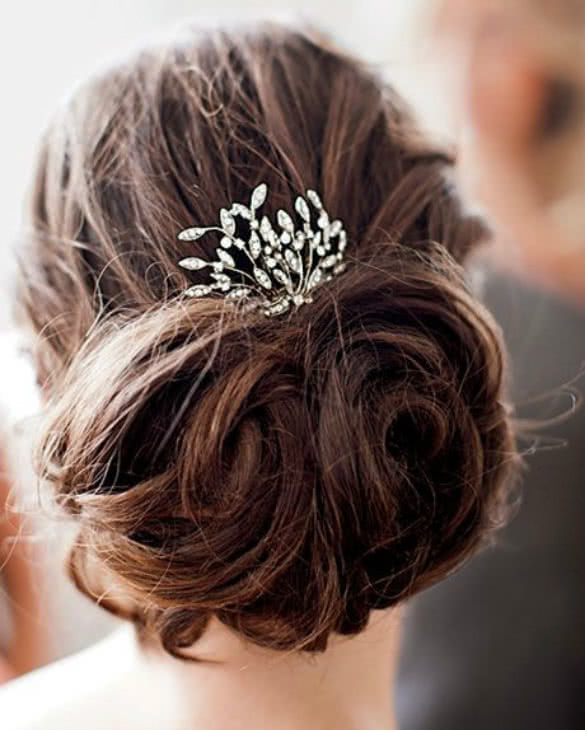 Whether you collect pins on your favourite parka or are coveting something that your grandmother passed down to you, sometimes a simple pin or brooch clipped into the hair is all it takes to take your look from flat to fab. This look has no seasonal expiration date, so feel free to experiment with anything and everything that you might have lying around in your jewellery box!
#5 The Chain Link Accent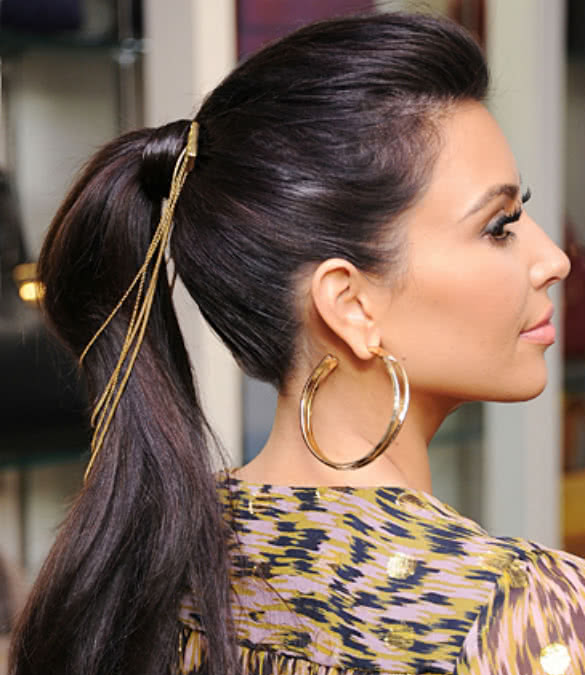 This summer, street style stars and celebs alike were spotted with pretty metallic chains loosely woven through their up-dos – a look that is not only whimsical and feminine, but will also add a bit of edge to the more covered looks to come as the cooler months descend upon us. Finally, a use for some of those accessories that have been sitting in your drawer untouched!
#6 The '70s-Inspired Headband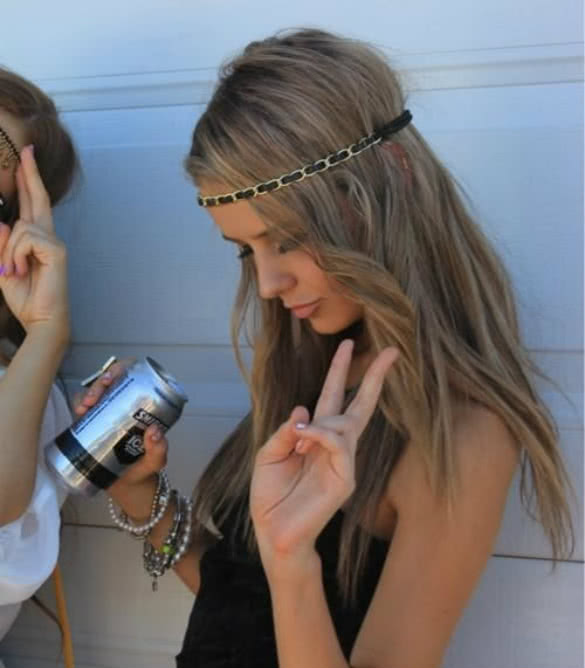 Sure, during the festival season, headbands are everywhere, but make yours stand out on account of its pure, simple minimalism. A simple, thin headband worn around the forehead (circa the 1970s) is a nice departure from the floral wreaths of the summer festival circuit, and will work well with the '60s- and '70s-inspired looks that are coming off of the fall runways. Pair it with sleek, shiny, straightened hair for optimum effect.
#7 The Turban
Granted, this Rihanna-inspired accessory is not for the meek, but for those who are keen to give it a go, it can be one of the chicest looks of summer.  Pair it with a sundress and flats in summer, and if you're still keen to wear it into the fall (and why not; it saves having to do your hair), opt for a layered look with deconstructed boyfriend jeans and a boxy midriff top under a moto jacket.
#8 The Humble Bow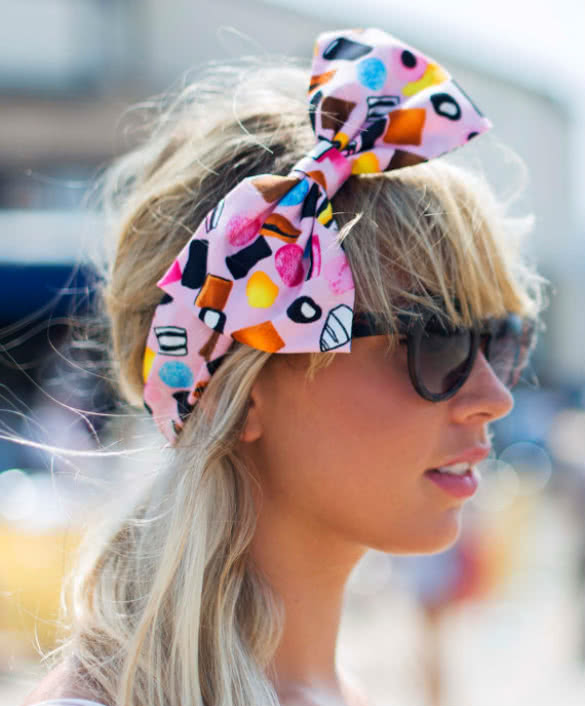 The bow is historically an ultra-feminine accessory yet often relegated to only the very young. This summer, however, hair bows were spotted on celebrities and fashionistas everywhere.
Try it as an accent to a hair tie or headband in summer, or loosely incorporated into an up-do for evening. To transition to fall when clothes tend to take on a more serious and sophisticated vibe, try incorporating a small-scale bow into your low ponytail. It will add just a small element of femininity to the structured shapes and masculine tailoring that are often so popular in fall.
The arrival of the cooler months of fall does not mean that you have to abandon the hair accessories that you are currently enjoying in during these hazy days of summer. Using these eight styling tips, a little attention to scale, and some clever high-low pairings, your favourite hair accessories can take you through the seasons without missing a beat.