Whether you're afraid of losing length or not interested in changing your hair color, adding bangs to your look is the perfect way to change it up this season!
A change in season is the perfect time to edit your look. If you've been contemplating bangs for awhile, the cooler temperatures coming and lack of humidity will make them more comfortable to wear.
The other great thing about cutting some bangs now is that they will grow out by the time the hot weather hits next year! While bangs are a great way to refresh your style, they can also be used to balance out your features.
Bangs are not a one-size-fits-all look. Each face shape has a few options that will flatter them best.
We'll fill you in on the best bangs for your face shape, what tools to use and what products will keep your bangs looking great all day.
Celebrities like Taylor Swift and Gigi Hadid have been sporting bangs this year giving chic fringe styles a major comeback. Bangs can be styled to look super chic and polished or give a shag bob that extra edge.
Square face shape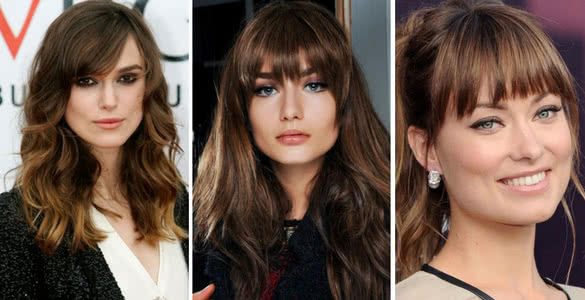 Square face shapes are often slightly shorter with an angular jaw. Bangs can be used to soften the angles of the face and give them more balance.
The first option for square face shapes is a wispy side swept bang which is a beautiful contrast to a square jawline. This cut is best styled with a round brush while blow drying.
Another option is a straight across bang with a slight downward curve. The rounded curve is the most flattering way for someone with a square face to wear a blunt bang without looking too severe.
After blow drying this style with a round brush, go back in with a flat iron to give them a polished look.
Round face shape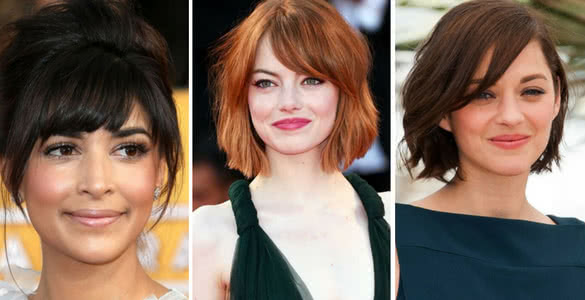 Much like square faces, you will want to add some contrasting angles to achieve the most flattering effect. Structured and thick straight across bangs are a great way to balance a round face.
You can also pull off thick side swept bang. The style to avoid the most is a lighter wispy bang. Wispy bangs will only add more softness when a round face really needs structure.
For a thicker bang you'll want to use a round brush while blow drying to give them volume but then go in with a pass or two of a flat iron to smooth them out a bit and make sure they look sharp.
Heart face shape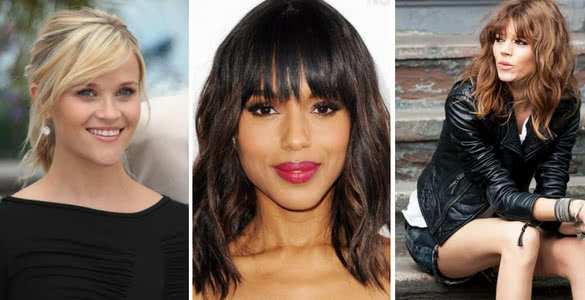 For heart shaped faces it's all about balance. Heart-shaped faces tend to be a bit wider at the top and more narrow at the jawline. A feathered short side swept bang or a feathery straight across bang will balance the shape of the face making your eyes the focal point.
The great part of this look is that you can wear the same cut both ways giving you more styling options. To style, blow dry the bangs with a round brush but in order to keep them light and feathery, you can use a pomade to lightly separate pieces.
Oval face shape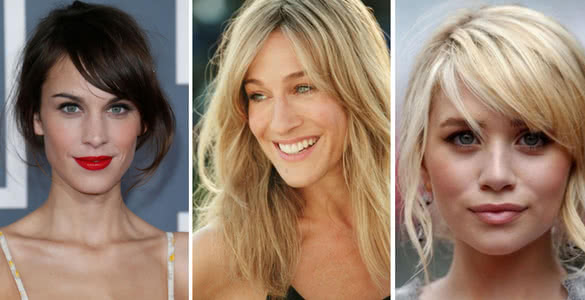 If you fall into the oval face category you're lucky! Oval is the most versatile face shape to choose hairstyles for. To get the most variety of looks from one cut, go for a lighter straight bang that can be styled straight across and side swept.
When styling side swept, you can choose a full side bang or you can leave a small portion on one side of your part and the majority on the other side of your part.
This cut gives you the most styling options, however, since oval is such a versatile shape any of the above bang styles will work for you as well.
Caring for your bangs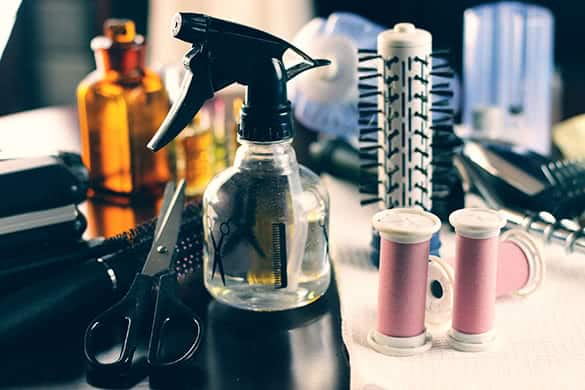 Once you decide on a look you will need to learn how to style and maintain them. The most helpful tool to have when styling bangs at home is a round brush.
You can use this brush to easily give your bangs the level of volume and shape you want. Once you dry them you'll either want to use a pomade to create a whisper look or if you're wearing a blunt bang, you will want a fine mist hairspray to keep them in place.
Adding product is a great way to keep your bangs in place to avoid constant fidgeting but you will want to make sure you are using as little product as possible since your hair will be touching your forehead which could clog your pores.
Since your bangs will grow out more obviously than your ends, you may need to go into your hairdresser for quick trims but the good news is that a bang trim is often quite affordable and you'll be in and out in no time.
All of these styles will give you the change you've been looking for this season. With each face shape having a few options you can pick which option you like best with your length and style.
Styling bangs on your own can be very easy with the right tools and salon days won't have to be your only good hair day.
Have you thought about getting bangs? Let us know which style in the comments below!