Pastel-colored hair has been all the rage for a while now, but those who dared to brave the next step are experimenting with 'rainbow' hair—several hues dyed and blended nicely into one multi-colored hairstyle.
From Kylie Jenner to Kesha and Christina Aguilera, celebs are getting more and more inventive with their hairstyles—and rainbow hair is at the top of the inventiveness scale.
The good news is, you can do this at home and while it might splash all of the colors of the rainbow across your bathroom tiles and mirror, it will save you a lot of money.
Here's a step-by-step guide to dying your hair rainbow colors and while it can be a bit tricky to master, it can also be a really fun process.
Preparation is key.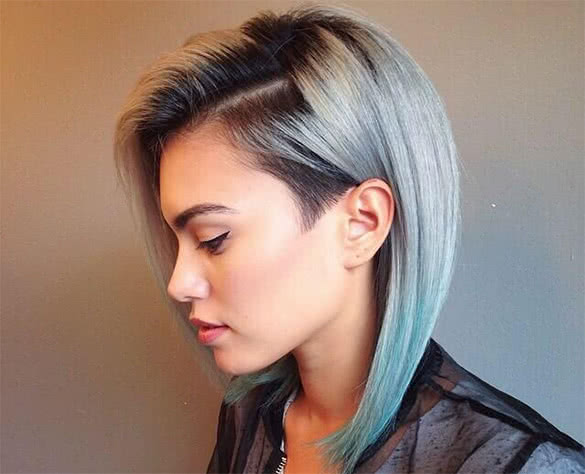 Start by cutting your hair and giving it the best chance of withstanding bleach and fashion hair dyes. A trim will chop off all the split ends and create a healthy base for your experimenting. What's more, this process might take a few attempts to get just right, so if you have an ideal style in mind such as a sharp bob, get this cut in just before you start the color process.
Next, do your research. A word of warning here: the internet and Pinterest/Instagram are full to the brim with rainbow hair models, but not all of them are real.
The trickery of photoshop means that some of those 'wow' color jobs that make your jaw drop are not entirely truthful. The best place to start is with celebs who have emulated the rainbow styles—whether this is several colors, streaks of color or just one pastel color—and get your inspiration there.
By all means, look at hair model inspiration online, but just be realistic that you might not get this look spot on by yourself and without a good computer-editing package! What's more, what a color says on the color guide or bottle is not always how it appears on your hair.
Enlist a helping hand.
You can do the rainbow hair yourself or, to make life easier, you can enlist the help of a faithful friend. Why not invite a few friends over for a beauty slumber party with a colorful twist? A friend can help you to cover those hard-to-reach spots at the back of your head and make sure the dyes are evenly spread.
All about the base.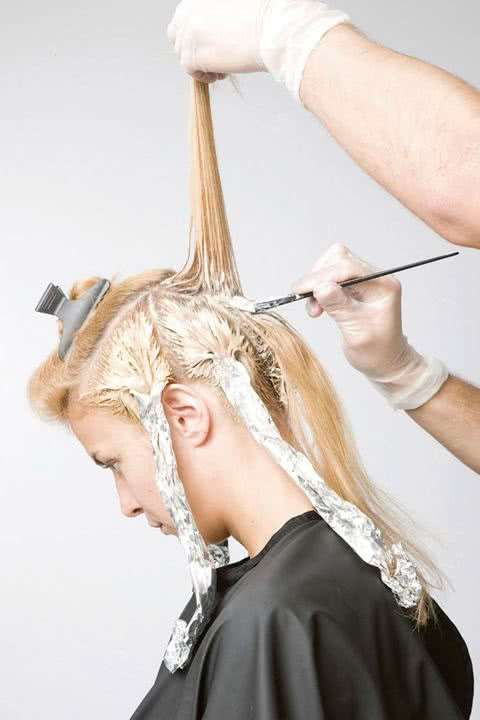 Bleach is absolutely essential as a first step before even thinking of trying out rainbow hair.
You need to get your hair as light as possible for the best results. You can bleach your hair at home or head to a salon, but make sure you use a conditioning treatment afterwards to stop the strands becoming frazzled.
Once you've let the bleach 'breathe' for a few days to a week, you can begin the colorful experiment!
Prep your pop up salon.
Do not begin the process unprepared. That's a very bad move. If you like your bathroom clean and tidy, give it a good scrub beforehand (dye color is less likely to be absorbed on clean surfaces), dress in an old t-shirt, put an old towel around your neck and lots of petroleum jelly around the edges of your face.
The dye won't stick to the petroleum jelly, so put it on your neck, ears and face. You also need access to clips for sectioning your hair off, a mirror, comb, gloves and a mixing bowl.
Mix it up.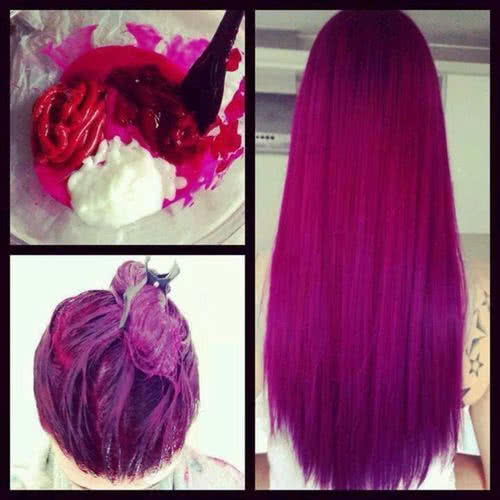 By now you will have picked out the colors you want. Some dyes last longer than others, and the internet is great for research and customer reviews before picking the best brand for you.
Now for mixing up the colors in a mixing bowl.
Some people choose to add white conditioner to lighten the shades. The general rule is to make the color in the bowl a bit darker than the desired color you want on your head, and remember that these colors fade quickly.
The dye job.
This bit depends on what result you want. Applying the dye is the tricky bit and involves some clever pinning of hair sections while trying not to let the sections touch each other.
Perfectionists will want to use foil and an application brush while those who throw caution with the wind can simply separate sections with their gloved hands and apply the dye with their fingertips from the roots to the tips.
Some rainbow hair includes streaks of different colors but the trickier part is the colors blending into each other from top to bottom. That might need a little bit of trial and error; it's all about making the links between the colors seamless by blending them together with the application brush.
To color the hair, simply grab hold of the chunks you want to color and spreading the color evenly. Pin back each bit into a mini bun and secure it. While the dye is working its magic, sit back and relax for half an hour.
When washing out your dye, the best way to get longer lasting results is to use cool water and rinse thoroughly.
Maintaining your color.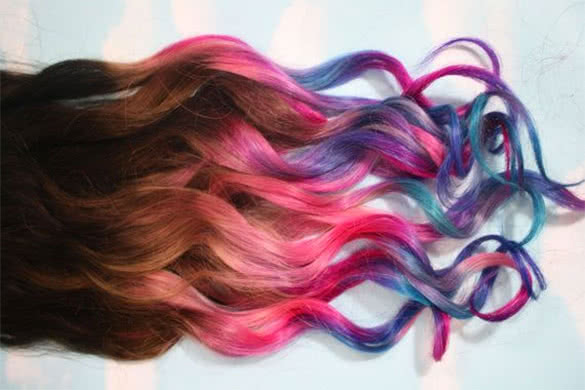 The more you wash your hair, the quicker the color will fade. Try to limit the washes or use dry shampoo between washes to see if you can push it for an extra day.
Also, try to limit your use of products and heat appliances (as well as direct sunshine), which all speed up the fading process. The next time you wash your hair, go for a deep conditioning mask or treatment and leave in for at least 20 minutes to help any distressed hair. This is also the time to touch up any missed spots or new growth.
Rainbow locks or unicorn hair (think My Little Pony®) is a fantastic look for the dreamy, creative, artistic and confident readers out there.
It will most certainly turn heads and while it can take a lot to maintain the perfect color and might not last too long, it is great for a new, experimental look.
Make sure you take lots of photos for your archives!
Have you ever experimented with muti-colored hair dyes? How did it go? Any words of advice for those wanting to give it a try for the first time? We'd love to hear your experiences in the comment section below.
Cover photo: pinterest.com