Sadly we weren't all born with a plush set but there are a few things you can do about it. Here's how to make those lips look bigger.
If you want amazing lips, you need to make sure that you are keeping them in great condition and make sure that you aren't doing anything to make them look smaller than they really are. It's easy to get stuck in a make-up rut but sometimes your normal routine isn't doing as much for you as it could be.
Make-up is one of the cheapest, easiest ways to transform your look so use it! Lip enhancing treatments can be expensive and painful so go for the DIY route first before you make any expensive, risky investments.
Follow these simple tips to take your lips from drab to show stopping!
Lighten Up!
We all know that dark colours are slimming and this applies to lipsticks as well. Go for lighter shades!
If you don't have any signature pastels or muted tones yet, experiment a bit. Remember that there is a fine line between a pale shade that makes your lips looks plush and one that makes you look sick. In general, stay away from frosted shades and look for some pastels with a satin sheen.
Your lip shade will really have a dramatic effect on your overall look so choose carefully! Lipstick is always going to draw attention to your lips. If you're starting to get wrinkles around your lips, don't go with too bold of a colour. It's going to draw attention to any fine lines and is more like to feather out into them and off of your lips.
Gloss It Over
Gloss reflects the light and will make your lips look healthy and full. It's one of the easiest, fastest ways to look polished. For bonus, check out a plumping gloss!
You can create an optical illusion by just dotting the centre of your mouth with gloss. By doing this, you will draw all of the attention to the widest, most plush area of your lips.
Highlight Your Assets
Use a white or tan pencil above you're the bow of your lip. This is going to create a 3D like effect. Remember to keep the line very subtle. If your skin is light, use a white pencil. For darker skin, stick with tan. Blend it well so you aren't leaving an obvious line.
If you aren't finding a shade of white or tan that works with your skin tone, switch to concealer. Get a new stick of concealer that is a shade lighter than your skin tone. You can use this on a slightly wider area than you would use the white or tan liner pencil.
Start by slicking some concealer onto your fingertip than just tab it onto your cupid's bow or dot the concealer on then smear it slightly.
FIY: You're going to read a lot about your cupid's bow when you're looking for tips on lip care and make-up tips. If you're not totally clear on what this is, it's the u-shaped line at the top of your lips. It's the place directly below your septum. Your cupid's bow might be close to a straight line or it might be more like of a v-shape but just know that we're talking about the absolute centre of your top lip.
For the advanced or ambitious: Underneath the thickest area of your bottom lip, use a bit of brown eyeliner. Draw a thin line that is only about as long as the width of your pinkie nail. Blend it very well. You are trying to create a shadow effect.
You want it to look like your lips are so big and pillowy that they have created a shadow on your face. Shading and contouring can be tricky so play around with it until you have perfected it. If you don't blend it well it's just going to look like a smudge of dirt of take your time.
Use a highlighting powder in the centre of your lips to reflect even more light. Take the powder (or a frosted blush or eye shadow) and tab some on your finger. Open your lips slightly then press your finger down onto the centre of your upper and lower lip.
Remember, you don't want your entire mouth to be frosty. You just want to create the illusion of reflected light in the middle. This is a particularly good tip if you don't like the feel of gloss or it just don't stay put for you.
Plump It Up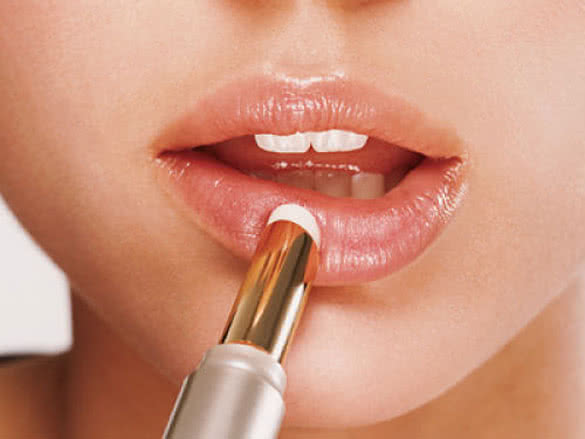 To get your lips to temporarily plump up, gently exfoliation them with a toothbrush. This will increase your circulation and cause your lips to lightly swell. Follow up the exfoliation with a hydrating balm so your lips don't dry out.
It's great to use a bit of exfoliation before you go out at night to get a plump look. You should also exfoliate your lips every day to make sure you're getting the dead skin off and allowing your balm to do its job.
Try to make a habit of exfoliating, either with a scrub or just another toothbrush, every night before you go to sleep. Follow that up with a hydrating, long-lasting balm. Save your best balm for bedtime when it really has the chance to soak in.
Products with cinnamon, wintergreen, or ginger will temporary stimulate blood circulation so look for balms with these ingredients. Like all new products, test them first! Dab just a little bit on a small area of your mouth and wait to see if you have any irritation.
Many of the products that you can buy at a cosmetics shop or department store will use these basic natural ingredients. Everyone's skin will react a bit differently to each one so if you find a product that works for you and doesn't cause irritation you should stick with it.
Something that works for your friend might be too harsh or even less effective on you. Remember that these products work because they are irritating your skin though. Most dermatologist recommend using them sparingly so you don't have agitated lips 24/7.
Before you make a major purchase, check out the ingredients of the lip enhancer and how they actually work. There are a lot of products out there that just don't have any science or research to back their claims. Most experts agree that adding collagen to the surface of your lips doesn't work. You might end up with a slight build-up but it won't adhere to the actual collagen that your lips are made of. Peptides might work but there isn't any real evidence they do.
When you go shopping, look for ingredients that will moisturize your lips and create a barrier to prevent them from drying out. Things like sodium hyaluronate and glycerine are great for keeping your lips hydrated. Lanolin, castor oil, almond oil, safflower oil, cocoa butter, petrolatum, and shea butter will leave your lips feeling soft and smooth.
Draw Outside the Lines
One of the most common lip plumping tricks is to draw outside of the lines. You have probably seen people make horrible mistakes while doing this so you know how tacky is can look. Be careful! Use a nude liner to trace your lips and go slightly outside of their natural shape.
Don't get too ambitious with this. Just go a little outside of the natural line and use a light shade of liner. Make sure you are using a liner brand that you know and trust. You don't want to use a low quality one that is going to quickly smear.
Make It Stick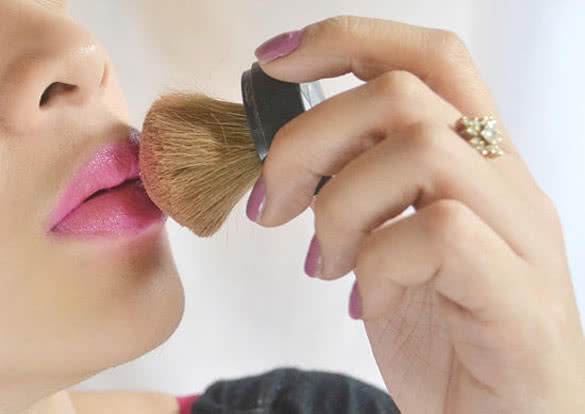 After you spend all of that time applying product and perfecting your contouring skills, you won't want it all to smear off onto your morning coffee cup. You don't need expensive long-wearing lipstick or liner to make your makeup last (although it can definitely help). Just use a bit of powder to seal your shade.
Apply your lip colour however you normally do it then blot it gently with a tissue. Cover your mouth in translucent powder. It will probably look terrible after you powder it but don't worry. Apply your lip colour again over the powder and voila! You will have done twice the work but your make-up will last much longer because you've give it a base to stick to.
Making a Major Change
If you're ready to really change your lips, talk to your doctor. Injectable dermal filler is a common option. It's the procedure that has now replaced old-fashion collagen injections. It lasts about six months and will change your lips shape, structure, and size.
Lip augmentation is a more long-term solution. During the procedure fat is injected into your lips. You'll see immediate results but you will also face a great risk of complications.
Move On
If you have tried everything and just aren't happy with your lips, forget about them! The old rule of just drawing attention to one area is still relevant today.
If you love your eyes, focus the attention there and just stick with a basic lip balm. Playing up your best features if often the best and easiest way to deal with your so-called problem areas.