Beautiful flawless pale skin, that's all we want, and we can have it if we find the best foundation for pale skin. Here, you'll learn how to choose it.
It turns out that we are doing it wrong! According to CoverGirl's principal scientist Dr. Sarah Vickery, most of us are clueless when it comes to finding the right foundation. In fact, she's found that only 15 percent of women even know how choose the best shade for themselves. So, let's start a revolution! The time for change is now. Here's everything you need to know about finding the best foundation for pale skin.
Find yourself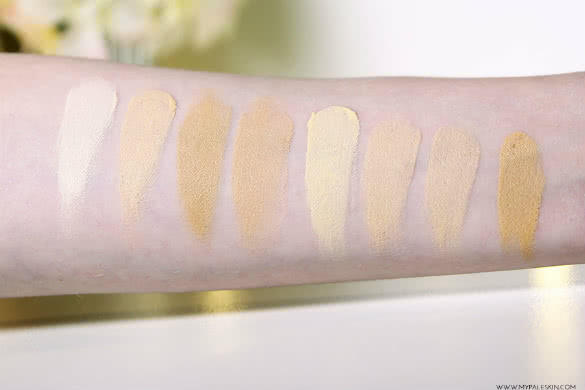 To find the right shade of foundation, you should figure out your undertone and skin tone. The easiest way to find your undertone is to look at your wrist. Take a good hard look at your veins. You're probably pretty used to seeing them, so the coloring might not jump out immediately, but they do have a distinct tone. Look closer. If you had to say, would you call your veins green or blue?
If your veins are blue or purple, you have a cool skin tone. If your veins have a green or olive tone, you have a warm skin tone. If your veins are a green-blue color, you're a neutral.
In the world of cosmetics, you'll often hear about pink and yellow shades. If you have a warm skin tone, you'll want those products with a yellow base. If you have a cool skin tone, look for pink tones.
Finding your skin tone is more of an art than a science. There are no hard and fast rules for figuring out your tone. Since you're reading an article about pale skin, chances are pretty decent that you should be looking for something labelled fairest, fair, light, or ivory, BUT don't just grab the lightest one that you see. There's more to it than that!
Some cosmetic companies like MAC offer some helpful clues to help find your shade. You'll see products labelled with C, NC, N, W and NW. Here's what all that means:
C: Is for cool. This is exactly what you want if you've got a strong blue tone to your veins.
NC: Is for neutral cool. If your veins aren't that blue and you don't notice any obvious pink tone to your skin, try this one on for size.
N: Is for Neutral. Your veins aren't really blue or green? Try this.
W: Is for warm. Look for this one if you've got greenish veins.
NW: If you've got a subtle green hue to your veins, start here.
Establish your needs
Before you choose a foundation, it's important to establish your goal. Are you looking for light coverage or something heavier? Your answer will depend on your skin type and the time of year. Obviously, in the summer, you won't want something too thick or you'll overheat.
If the weather is warm, you will be better off with a tinted moisturizer. You might be tempted to pile on the foundation to cover breakouts, but you don't need to do that. Concealer is much better than foundation for covering redness, under eye circles and breakouts. Don't assume that you need foundation just because you don't have flawless skin.
Before you even buy anything though, it's important to figure out exactly what kind of skin you have. After all, cosmetics are meant to enhance what you've got, so ditch the old routine of just covering your face in a mask of foundation.
Working what you've got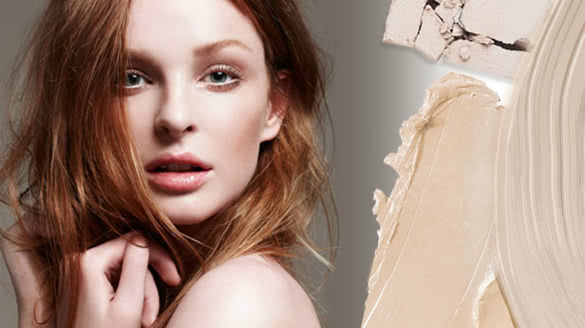 If you have oily skin, look for words like "oil-free," "oil-control" or "mattifying" on the product label. If you want to take a pro approach, look for products that contain silicone. Silicone is great for oily skin because it helps keeps your foundation sitting in place, but it stays just above the surface, so it won't close your pores.
Stick to a schedule of only applying your foundation once a day and drop the compact! While powder isn't bad for your skin per se, women will oily skin tend to go overboard with it. If you've got a little too much glow going on by the afternoon, grab an oil blotting sheet (or even just a napkin if you're on the go).
If you need a touch-up to bring your makeup from morning to night, use a pressed powder that has silica in it. Like silicone, it'll sit on top of your skin and stay there for hours without causing breakouts.
Ladies with parched, dry skin should look for anti-aging foundations. Not only are they great for preventing wrinkles, they are always jam-packed with hydrating ingredients. Check out your anti-aging options or look into a BB cream. BB creams are great for dry skin because they are ultra-hydrating.
If you have sensitive skin, mineral makeup might be a good choice for you. They don't have irritating ingredients like preservatives or fragrance, so they are less likely to cause issues. Also, try products with zinc, which helps soothe irritated skin. If you'd rather have a liquid formula, look for something formulated for dry skin. A decent moisturizing foundation should include glycerin, so check the label.
Show a little brand loyalty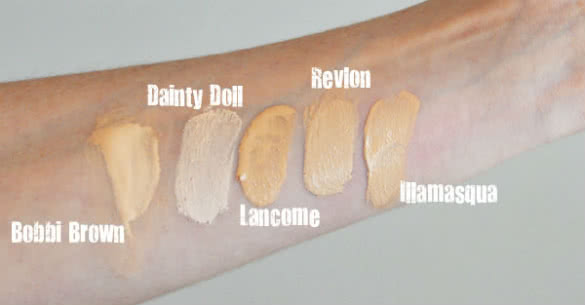 The world of fashion and beauty is very trend based. New products are constantly being released and everybody is on a constant mission to find the next big thing. A little fast fashion can definitely be fun, but when it comes to beauty products, it's important to stick with what works. If you find a foundation that works well with your skin, never let it go.
Lisa Eldridge is one of the world's top makeup artists and knows a thing or two about pale skin. Here are her top recommendations:
• Bobbi Brown Luminous Moisturizing Foundation
• Bourjois Healthy Mix Foundation
• Burberry Sheer Foundation
• Face Atelier Ultra Foundation
• Giorgio Armani Lasting Silk UV Foundation
• Illamasqua Skin Base Foundation
• Keromask Camouflage Cream Concealer
• L'Oréal Infallible Foundation
• Liz Earle Sheer Skin Tint SPF15
• MAC Face and Body foundation
• Max Factor Lasting Performance
• Nicola Roberts Dainty Doll Liquid Foundations
• Suqqu Stick Concealer
• Tom Ford Traceless Foundation
These brands all have a good range of shades of the lighter side, so there is bound to be something that'll work with your pale skin.
Most drugstores have a few shades that work with pale skin. It can be a bit harder to decide which one is right for you if you can't try them on, so we've narrowed it down to help you out in your search.
Next time you're roaming the cosmetics aisle, look for:
• Bourjois Healthy Mix Foundation 51 Vanille Clair
• L'Oreal True Match Liquid Foundation Light Ivory
• Maybelline EverFresh Makeup Ivory
• Mary Kay Medium Coverage Foundation Ivory 105
• L'Oreal Infallible Foundation 015 Porcelain
• Max Factor Lasting Performance Fair 100
• Revlon Colorstay Makeup 110 Ivory
• Maybelline Pure Makeup Porcelain Ivory
Makeup For Ever is also one of the best brands for pale skin. They have ultra-pale shades with a range of base tones. Try 107, 110 or 115 if you have a pink undertone to your skin or 117 if you need a yellow base.
A word on BB creams
A lot of women hate BB creams because they are too light. And that is where we, ultra-white girls come in. There are some amazing multitasking creams that'll do everything for pale beauties. Check out Dr.
Jart+ Water Fuse Beauty Balm SPF 25. It's straight from Korea which is where the BB cream craze started (and is also home to many pale-skinned ladies). SPF Garnier Skin Renew Miracle Skin Perfector B.B.
Cream has been a drugstore top seller for years now, and Smashbox Camera Ready BB Cream Broad Spectrum is amazing if you're ready to move up to the next price point.
While BB creams are amazing, they aren't miracle potions. Proper SPF protection is really, REALLY important for pale skin, so it's definitely something that you should take seriously. Sunblock needs to be reapplied every two hours, so you really can't rely on your BB cream all day long. Think of your SPF like lipstick. If you can get into the habit of carrying your lipstick, get used to toting your SPF.
There are tons of options from sprays to sticks, so find something that works for you.
Learn to blend in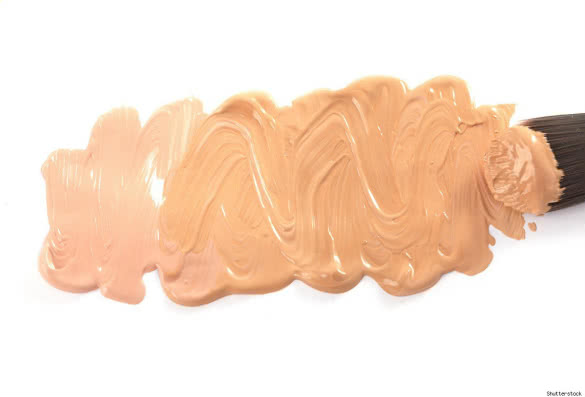 If you can't find the right foundation, why not blend your own? It's an easy way to get a spot-on match without all of the hassle. Ready to become the biggest makeup manufacturer on your block? Here's what you'll need to do.
First things first, grab your blending ingredients. It's important that both foundations have the same undertone. Don't blend a cool foundation with a warm one. Try to track down the same color in different shades.
Grab something closer to your skin tone then get the next shade darker or lighter. The number labelling is really helpful here: the higher the number, the darker the shade. So, aim to find something like an Ivory 105 and an Ivory 110. Those two would be the same color, but slightly different shades.
To get the right color – make the foundation cooler or warmer. There are 3 colors you can generally be, warm, cool, or neutral. Sometimes a foundation may look a little to pink, tan or yellow. Because of this, finding the right shade can sometimes be somewhat tricky, especially when it comes to lightness and darkness.
If you can't find quite the right shade for you, you might want to consider buying a true white foundation. Illamasqua Rich Liquid Foundation comes in pure white (#100) and it's perfect for blending. You can add a little bit to a foundation that is the right tone but just a little bit too dark.
Once you have your product, you're ready to get started. Forget about blending it all at once. You'll just end up losing product when you transfer bottles. All you need to do it place a dot of the foundation on your cheeks, nose, chin and forehead. Put one small dot of each color then blend away.
You can use your fingers if you prefer, but you'll get better results with a sponge. Foundation tends to settle into your pores when you use your finger, so do your blending with a proper makeup sponge to get a more finished look. If you decide to use the pure white foundation, follow up with a blending sponge to ensure that you're not looking too striped in the end.
Master the department store
Department stores are one of the easiest spots to buy cosmetics. If you are a makeup newbie, start here. Even if you don't want to spend much on your foundation, it's a great spot to get your bearings.
Most stores will do a free consultation or makeover for you. Take them up on it. Don't feel like you absolutely must buy something after the makeover. If you don't want to take the products home, don't. Free means free!
If you don't want a consultation or would rather hit up a Sephora, test shades on your jawline. Your ultimate goal is to have a seamless transition from your face to your neck, so focus on the spot where that happens.
Dab on a few different shades of foundation then check it on your jawline in the natural light. If you can't get near a window, take the time to walk outside and check yourself out to ensure a perfect match.
Own the drugstore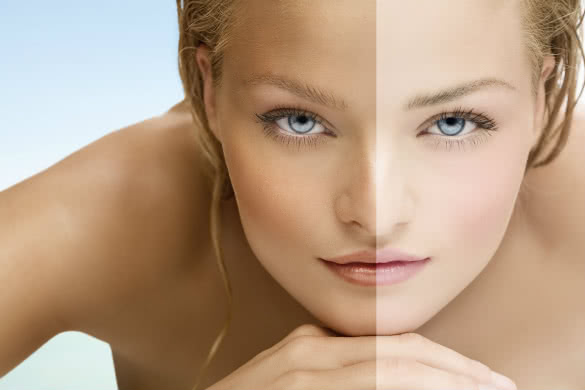 If you want something cheap and fast, you might have to forgot the samples. If you are going to blindly grab a new foundation, do your homework!
L'Oréal, CoverGirl and Revlon have complexion-matching apps on their sites that'll help you choose the perfect shade.
If you're having trouble choosing the right shade, go for the darker one. A shade that is too pale will make you look washed out (and, if you grab a pure white foundation, you can always blend it down).
A lot of drugstores have great return policies. Get to know which shops are the most consumer-friendly. If you find out that your new foundation is totally wrong for you when you get it home, it's nice to know that you can just run back and exchange it.
Accept change
Even if you find a foundation that you love, resist the urge to stock up. Foundation only lasts for about a year, and it's important not to hold onto it forever. Your skin also changes throughout the year. Even the palest among us will be a little darker in the summer, and you'll also want to have something that works with the changing weather.
Do you have any other tips or products to recommend? Feel free to write them down in the comments below.
Don't forget to check out the eyeliner Infographic we've made for you: How to Apply Eyeliner for Every Eye Shape.