This season's collections are heavily inspired by the mod 60s and psychedelic 70s. Want to capture the look for yourself? Be inspired by these groovy collections.
The silhouettes of the 60s and 70s are some of the most iconic looks that the fashion world has ever introduced into our sartorial vocabulary.
For decades now, people have been dressing in various versions of these time-tested looks, sometimes referencing them subtly with a slight flare of a trouser leg, sometimes going for the full monte with explosions of psychedelic colour and an oversized lapel.
Even at play, we humans just can't seem to get enough of these two decades of fashion.
If you take a moment to think back to the last costume party you attended (I'll wait), you will probably remember seeing at least one person decked-out in tie dye and peace signs, or perhaps impossibly long sideburns, bellbottoms, and platform shoes (with or without the goldfish swimming about inside the clear plastic heel).
However, that's not to say that these looks are only about the theatrics of channeling your mod side with white patent boots or swaggering down the street in a powder blue leisure suit (although that sounds awesome, doesn't it?).
For those of us who prefer either a more subtle (or more riotous) approach to dressing, these vintage influences are still very much a part of the modern fashion vernacular.
This time around, they're just a lot less…well, vintage-y. The Fall/Winter 2014-2015 collections that are currently available in stores are a perfect example of this modern approach to the 60s and 70s.
Here, we have lined-up two of our favorite collections that have borrowed from each of these bygone decades.
Let these looks inspire you to wear these classic silhouettes in a modern way and find that perfect balance of vintage swagger and modern edge.
60s: The Mod² – Louis Vuitton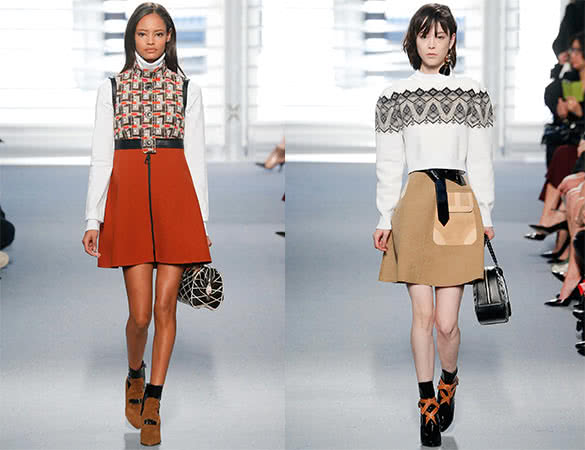 Omnipotent fashion oracle Style.com said it best when they reviewed Nicholas Ghesquiere's first collection for Louis Vuitton.
They reported that the show's vibe "cued a 1960s vibe, but the workmanship was 21st – century state of the art."
A-line mini dresses with sleek, leather a-line coats layered over the top made up a large part of this collection's runway presentation, and are some of the most popular items in it to date; both are infinitely wearable and covetable.
Leather and suede are also a constants, as are notched lapel collars reminiscent of groovier days gone by.
This time, however, the vibe is as carefree as it was in the 60s, but with a decidedly sharper edge.
Leather belts tied nonchalantly at the waist add a tough girl vibe to a very derivative a-line miniskirt and floral blouse combination, and denim and patchwork even make an appearance, although this time paired with luxurious wool skirts and stretch trousers in modern, innovative fabrics.
70s: The Modern Psychedelic – Kenzo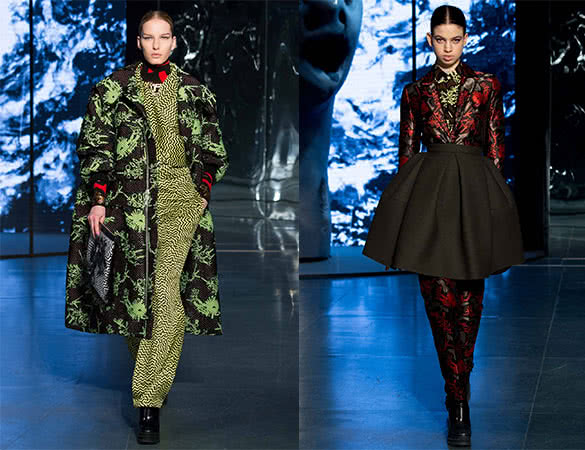 With their fall/winter collection, Kenzo is a veritable riot of print mixing, lush metallic-infused brocades, and strange and interesting layering combinations of tulip skirts over trouser suits.
An infusion of bright neon yellow worked its way through the collection, and though it has to be said that it's an unconventional color choice for a fall collection, it somehow seemed to blend seamlessly with this high-octane dreamscape of a collection.
The otherworldly collection, whose pantsuits, platform shoes, and fever-dream technicolor prints are a page out of the 70s psychedelic playbook, was the third collection from Kenzo to be inspired by filmmaker David Lynch.
Lynch was in fact a collaborator on the collection, and his well known surreal aesthetic is apparent in each and every garment.
What makes this application of the psychedelic look modern however, is the darkness and edge that is brought to it by the jagged geometrical prints, the sharp, exaggerated silhouettes, and the unexpected layering; a compelling look, but definitely not for the feint of heart.
Whether you're looking to channel your love for the 60s with something classically wearable, or announce (loudly) your penchant for wavy gravy technicolor, the fall collections will have something for you.
Don't have a limitless budget to shop designer fare?
Don't worry. Designer collections are the tastemakers of the industry. If you see an item you like in a designer collection, chances are you will be able to find a reasonable facsimile of it at your favorite local main street retailer.
What you think about this trend?