She ain't no hollaback girl! Gwen Stefani has been around for decades, and her style has massively changed from the beginning of her career to the present. Let's take a look at her style evolution from the 1990s to now.
Gwen Stefani has always been known for her eccentric fashion sense. For close to 30 years, Gwen Stefani has been a well-known name in the music world, but she is also definitely known for her style.
Stefani has always kept up with the fashion of her time. During the 90s and early 2000s, Gwen was sporting pencil thin brows with crop tops and dark lipstick. As her style evolved and changed to what is now is, Gwen never lost her eccentricity, but evolved it to more mature looks featuring her now signature bold red lip.
1990s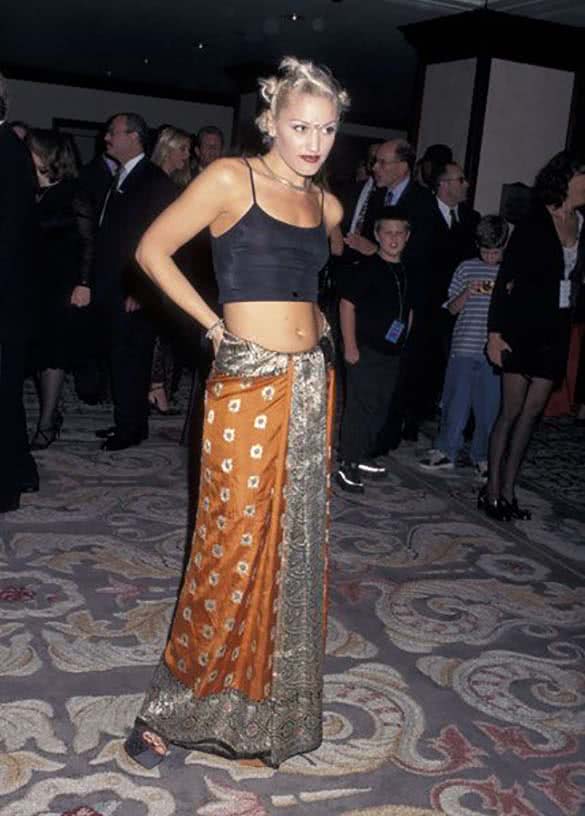 Gwen Stefani is keeping it perfectly bohemian in this 90s look. She is wearing one of the hottest items of then and now – the crop top. She pairs her black camisole crop top with a bohemian floor-length skirt and platform sandals. She keeps her 90s look cohesive with a silver choker necklace and dark lipstick.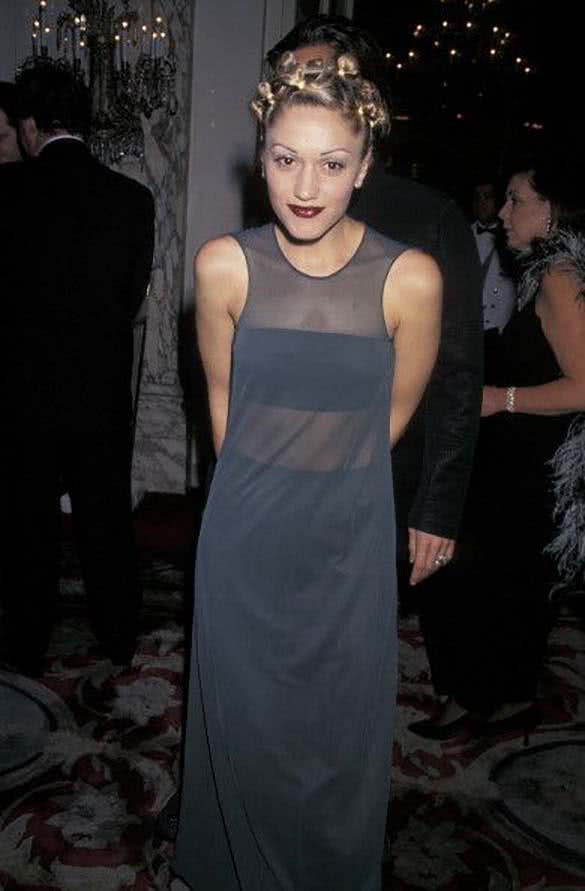 When Gwen Stefani found a look she liked, she kept with it. In her second 1990s look, Stefani was the definition of grunge with her dark colors and makeup. Always a fan of showing off her toned abdomen, Stefani wore a bralette and high-waisted skirt combo underneath a grey sheer dress. It wouldn't be a completed Stefani look without her dark burgundy lipstick, sharp eyebrows, and hair buns.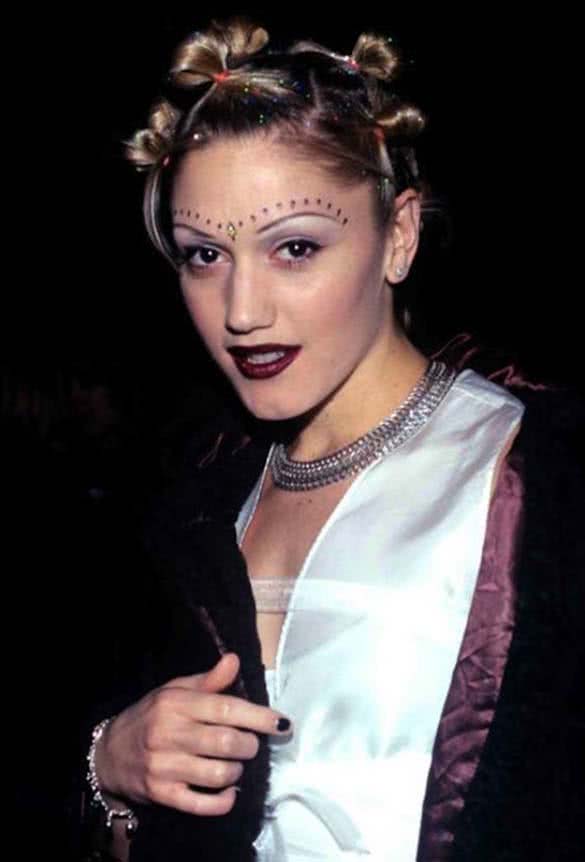 If you couldn't tell before that Gwen was all about the grungy glam of the 90s, this picture should clear up the confusion. Stefani's styles were blatantly 90s with all the trends thrown into one look. She is rocking her then signature dark lipstick with her classic pencil think eyebrows and hair buns. Stefani takes her look even farther with a silver choker, a jewel in the middle of her forehead and glitter sprinkled on her hair.
2000s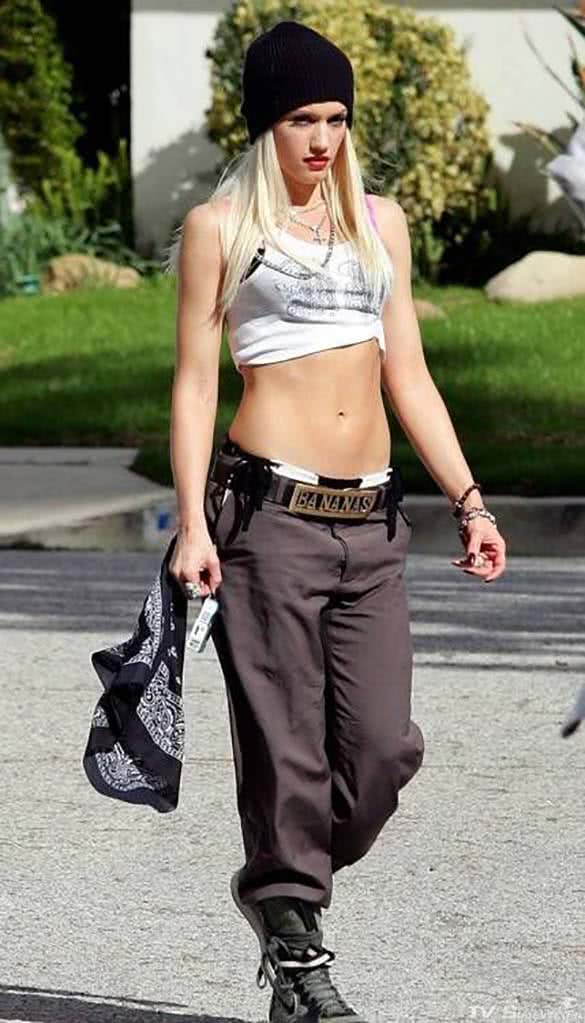 Although Gwen Stefani had reached great success and many awards as the lead singer of No Doubt, in the early 2000s, she embarked on a solo career that lead to one of her biggest singles to date. In this look, we see Gwen Stefani on the set of her music video for the song "Hollaback Girl." Although this was her video outfit, this was Stefani's distinct style of the 2000s. Still a fan of showing off her toned stomach, she kept the style of the 90s alive with her baggy pants, crop top and beanie.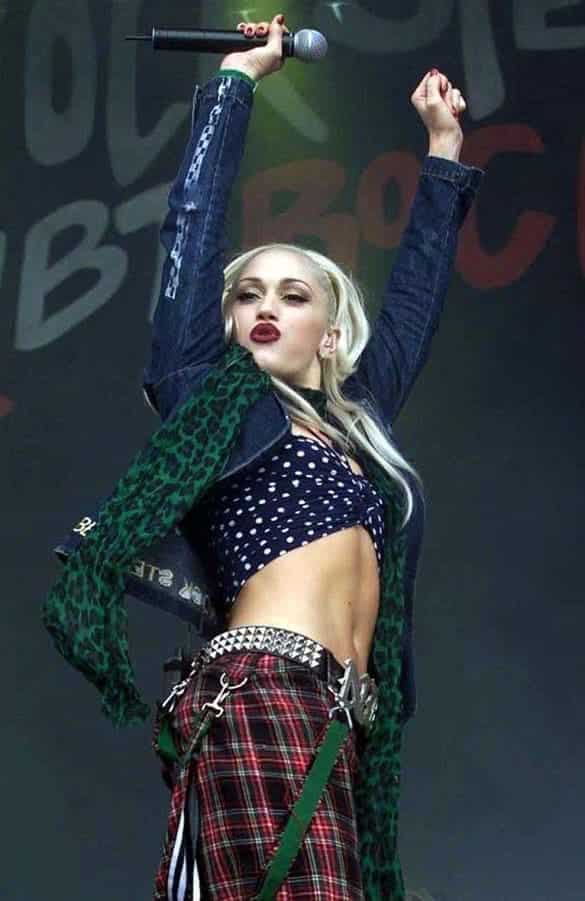 As seen in this look, Gwen Stefani's love for 90s fashion still made its way into her eccentric wardrobe, but she lost most of the grunge in exchange for a punk rocker style. During one of her performances, Stefan took to stage in an outfit that can only be described as her own. She wore red flannel pants that she paired with a navy polka dot crop top, navy cropped jacket, and green leopard printed scarf. Let's just say her style was as fun as her concerts.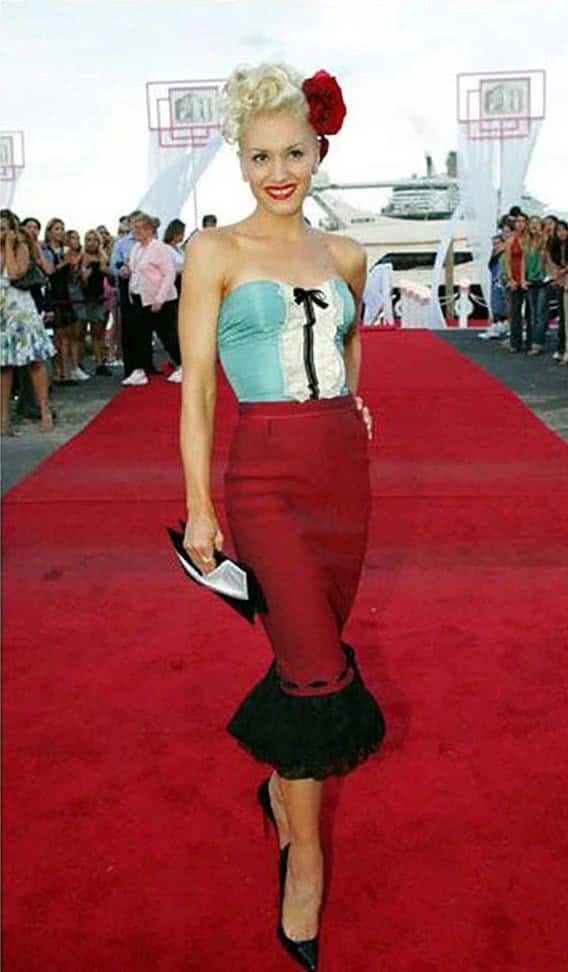 As the years progressed, Gwen Stefani kept her unconventional style and added hints of glamour to it. For a red carpet look that embraces her love of fashion, she steps on the red carpet in a dress that featured a sky blue tuxedo-inspired top with a body-hugging red skirt and a black lace hem. It is around this time that Gwen Stefani adopted her signature bright red lipstick.
2010s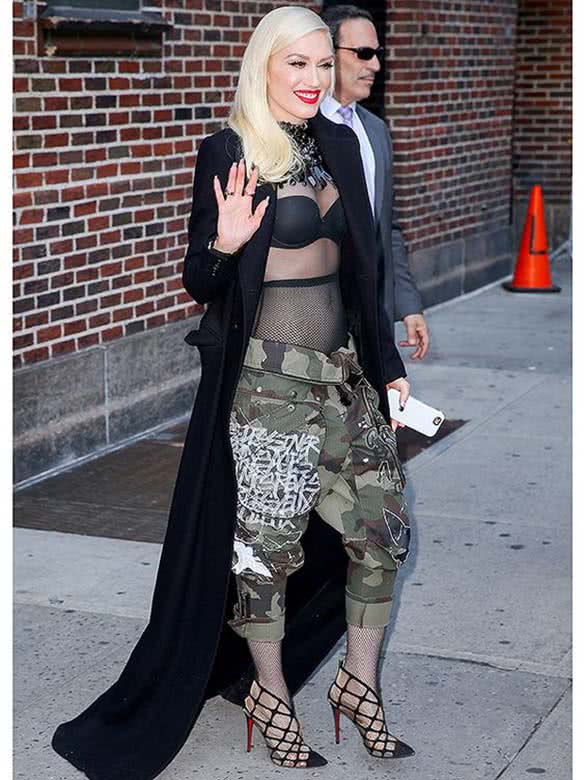 A lot of Gwen Stefani's outfits have matured, but she is still able to have fun with her old style and still make it work for herself. In one of her street looks, she steps out in an outfit that is equal parts glam and punk rock. She pairs a black bralette with fishnet stockings, baggy camouflage pants, and pointy toe heels. She pairs this unusual combination with a large black statement necklace, a floor-length black coat, and red lips.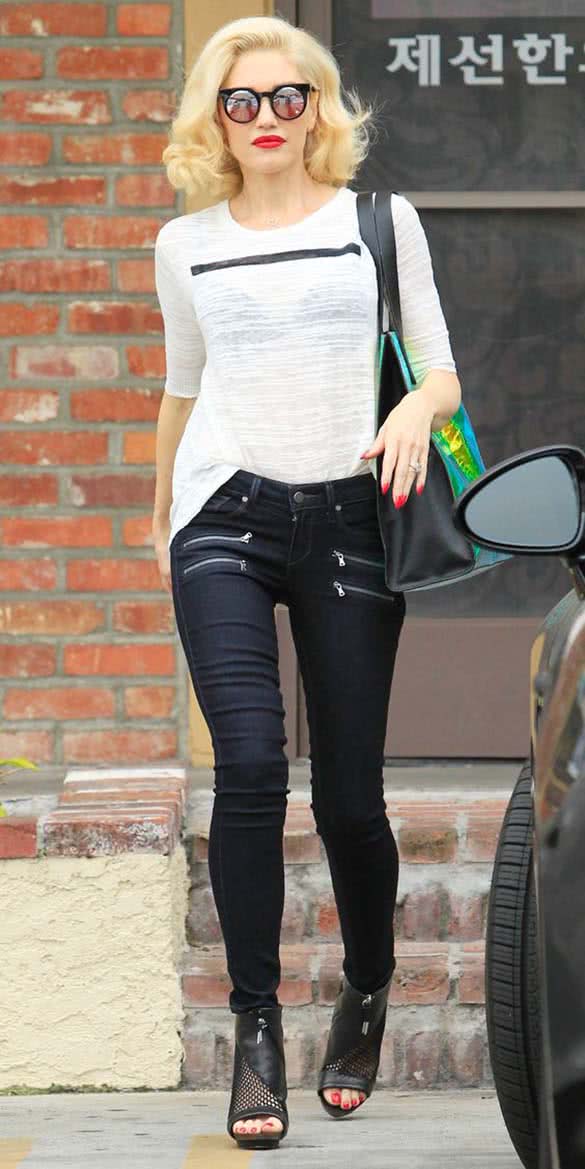 This 2010s look might be the epitome of how Gwen Stefani's style has changed over the decades. In this street outfit, Stefani is able to bring about bits and pieces of her punk rock style into her wardrobe. Her look features a simple semi-sheer white top that she pairs with black skinny jeans. The two zippered details on each of the sides give her look the punk rock vibes as well as the perforated design in her booties. She gives the look a glamorous polish with her fluffy curls, round sunglasses, and bold red lipstick.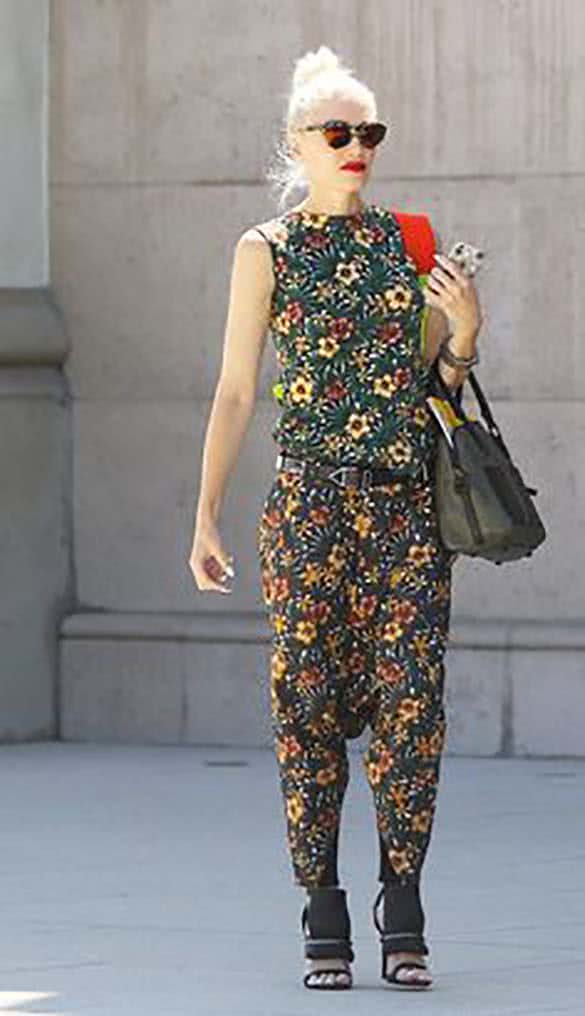 In our last look of Gwen Stefani, you can see how she's incorporated softer looks into her style. Her outfits are rarely ever overtly feminine, but this outfit is the perfect balance between light and dark. Gwen rocks a floral jumpsuit that is not usual of her "classic" look. Although the jumpsuit is soft and feminine, she balances it out by pairing it with a black belt, heels, and satchel.
It's hard to find someone whose styles have changed so blatantly over the decades, but Gwen Stefani has always been setting music and fashion trends since she first stepped into the spotlight.
Are you a fan of 1990s Gwen with the small buns and thin eyebrows? Are you a fan of 2000s Gwen who helped everyone learn how to spell banana? Do you prefer 2010s Gwen who has created a more mature fashion with hint of her punk rock glam? Let us known in the comments below!