We're sure living in the White House isn't as glamorous as it seems, but the Michelle Obama fashion police have spoken, and her wardrobe is slaying from the oval office to the rose garden.
Unfortunately, in the most recent years of presidents, it seems that the slaying first lady was a legend since the 60s and Jackie O. While the most recent first ladies were intelligent, talented, and beautiful, we couldn't help but sometimes wonder "what are they wearing?"
When Michelle Obama became the First Lady of the United States, we were introduced to an intelligent woman with an undergraduate degree from Princeton University and a Juris Doctor (J.D.) degree from Harvard Law School.
Not only were we captivated by her personality, but she blew us away with her fabulous sense of fashion. Gone were the boring pantsuits we became accustomed to seeing on the First Lady.
She stepped out to every event and showed the world that not only is she intelligent and powerful, but she can look pretty damn good at the same time!
When it comes to Michelle Obama fashion, these are our favorite looks!
Dusty rose

This is one outfit we can't get enough of! Dusty rose and rose gold are two big colors of the year, and here we have the First Lady being a fashion trendsetter.
Looking elegant and poised, she wears a two-part knee length dress that is giving us all the right vibes. Although the bodice of the dress is solid, the skirt extends from the waist with a lace overlay.
She pairs the outfit with a chic duster and finishes off the look with flats that feature a gold ankle bar.
White House Correspondent's Dinner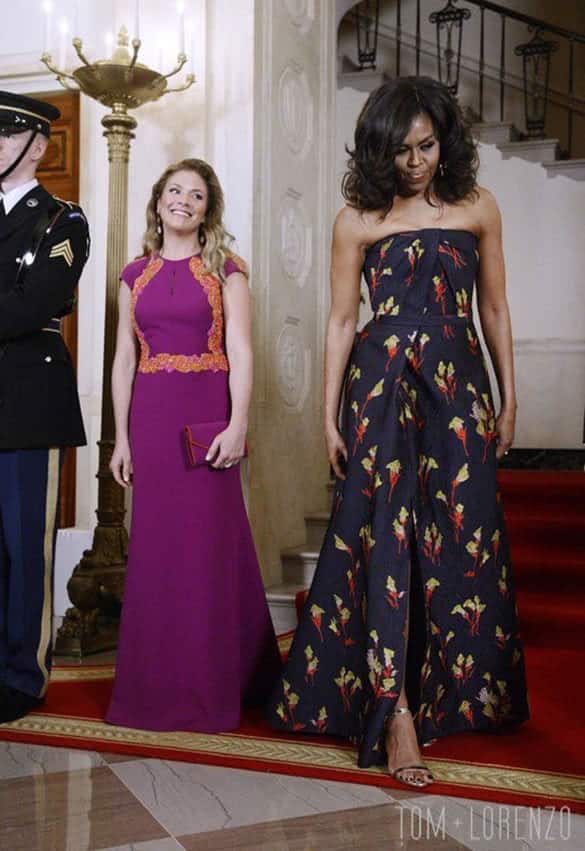 At the 2016 State Dinner for the Canadian Prime Minister, Michelle Obama was a stunner in a Jason Wu gown. The strapless gown was navy with embroidered floral patterns along the body.
The gown also featured a tied detail at the waist that accentuated Michelle's already long legs. One daring detail of the dress was the slit up the right side of the gown that tastefully began slightly above the knee.
She kept her jewelry minimal with earrings as her only accessory and finished off the look with ankle strap heels.
Lightly floral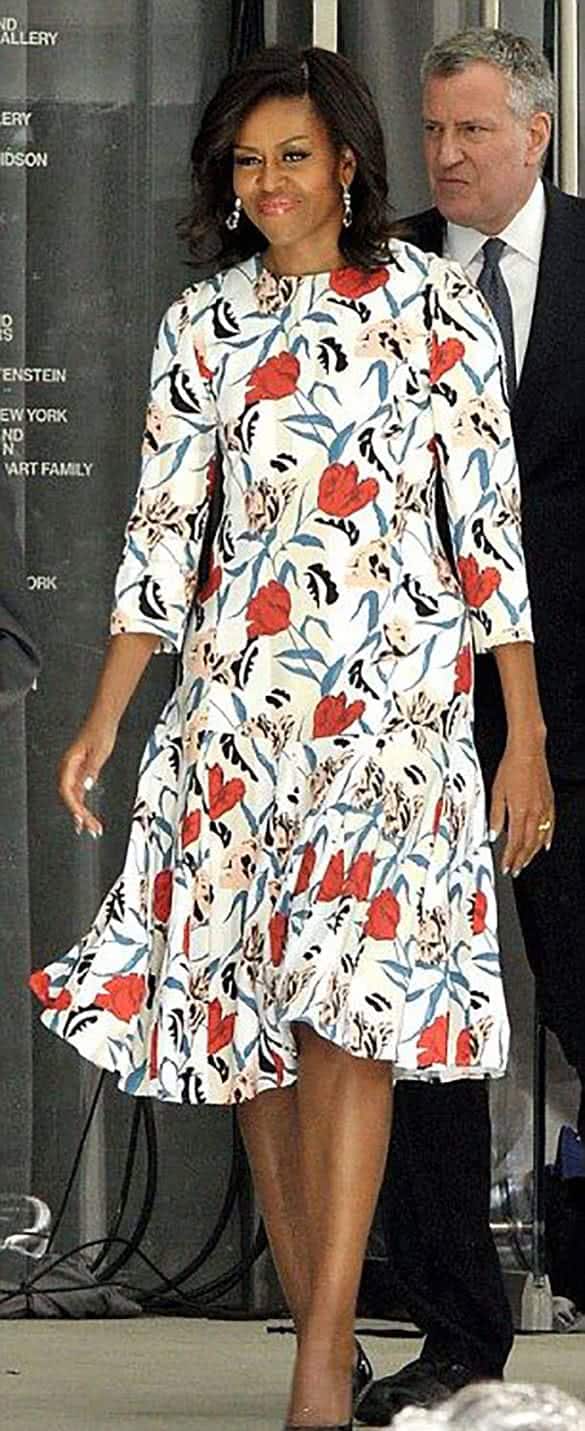 A perfect look for a spring day, Michelle Obama keeps her look light and flowy. In this Michelle Obama fashion look, she wears a white midi-length dress with ¾ length sleeves.
The dress features a dynamic pattern that is also partnered with black leaf designs. This look is even more eccentric with the pleated and ruffled detail along the hem of the dress. She tones down this look with minimal jewelry and simple black flats.
Powdered & Blue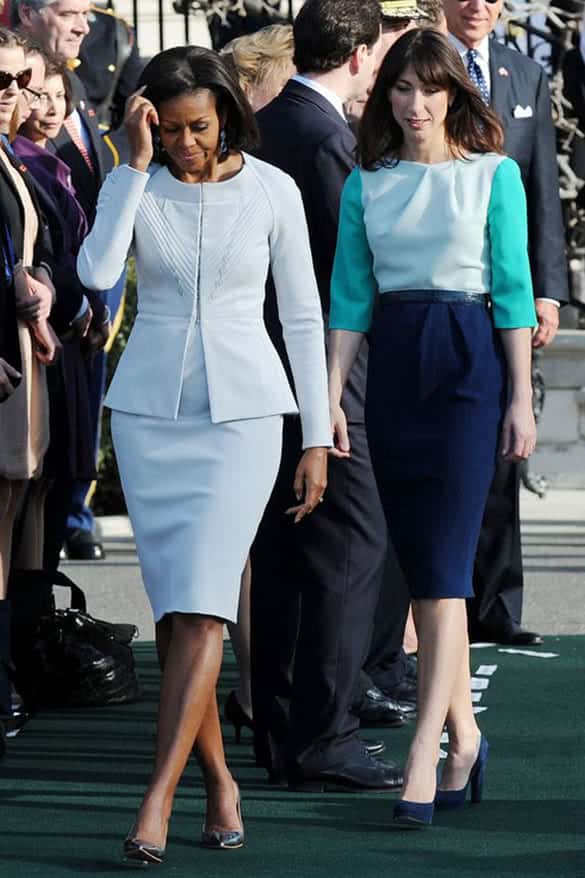 If the former First Ladies wore their suits in the same fashion as Michelle Obama, it would be a fashion miracle. In this powdered blue look, Michelle looks every bit as beautiful as she always does and every bit as powerful as her husband.
In this look, she wears a light blue knee-length dress that she pairs with a suit jacket. Everything about this look works to emphasize her natural shape and the narrow of her waist.
The suit jacket features a patterned design that helps to cinch the waist while the half button detail serves to give her an hourglass look. The outfit is completed with navy pointy toe pumps.
Floral FLOTUS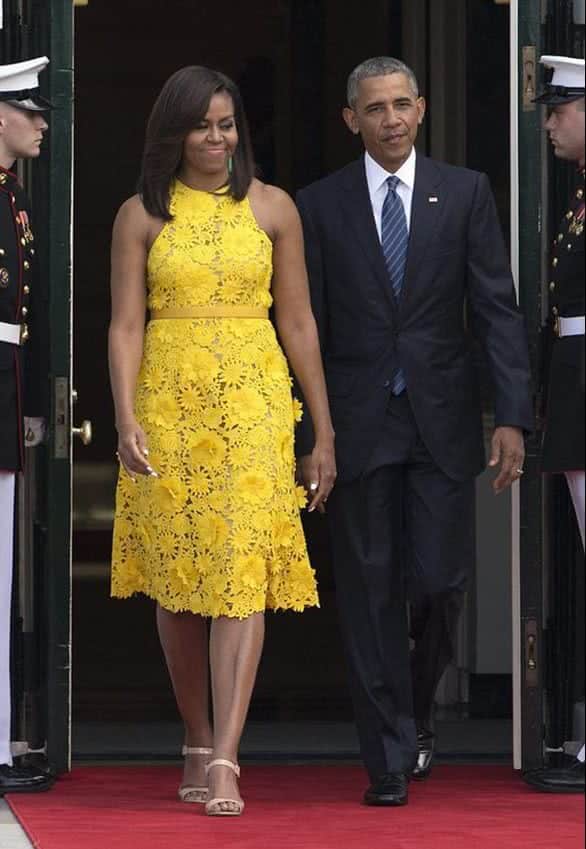 When we think of flower children, we think of young people running around a field of daisies with bohemian chic clothing. Bet you never heard of the classier version. Looking stunning in a floral dress, Michelle Obama steps out with POTUS in a high-neck midi length dress.
This look is adorned with a floral lace design and also featured embroidered flowers along the piece. She emphasizes her waist with a gold belt and keeps it comfortable with low heeled sandals.
Rockstar FLOTUS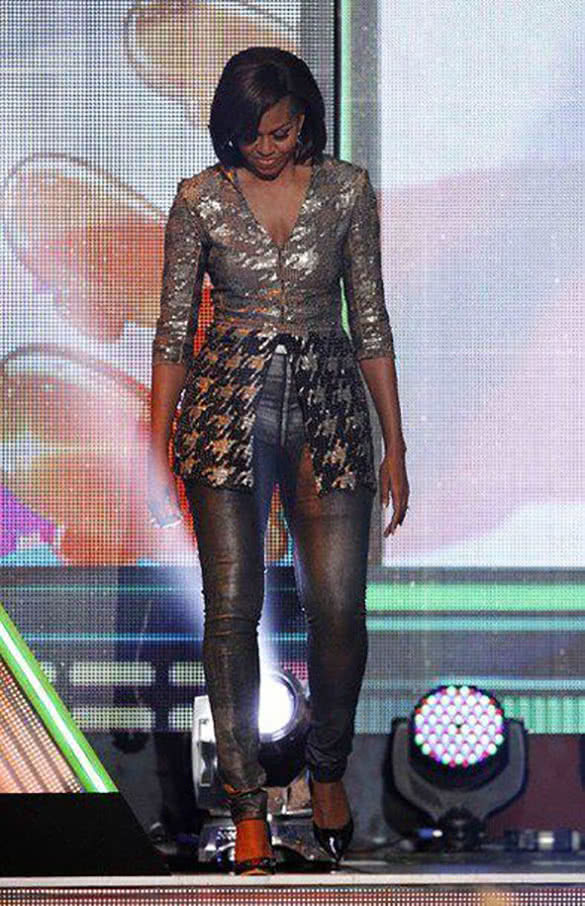 When Michelle Obama hit the stage for the 2016 Kids' Choice Awards, she was nothing short of a FLOTUS fashion icon. We're used to the stuffy and slightly morbid looks of the former first ladies, but Michelle was clearly out to set precedents.
Not only was her outfit FLOTUS appropriate, but it was a slam dunk in the fashion department. She took to the stage in gray (almost metallic) skinny pants that started at the waist.
She wore it with a sleek and sequined V-neck jacket that separated at the waist. She finished off the look with black pointy-toe heels.
Classy & Sassy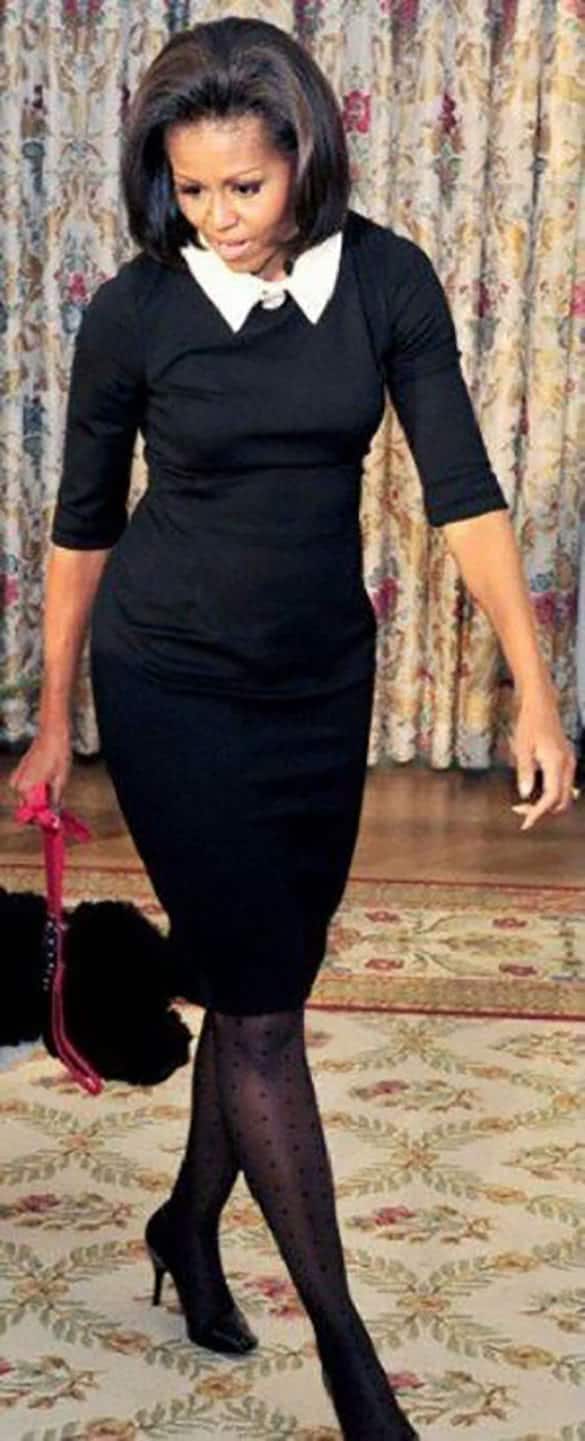 There's a reason that the pop group Fifth Harmony mentions Michelle Obama's name in their song "Bo$$(Boss)." Not only does she act like one, but she also looks like one!
In this look, Michelle Obama is giving us a Wednesday Addams vibe but in the right direction. This ½ sleeved dress is form-fitting enough to show off her curves but classy enough for the First lady. She pairs this black dress with polka dot tights and black pumps.
Black, White, & Fabulous All Over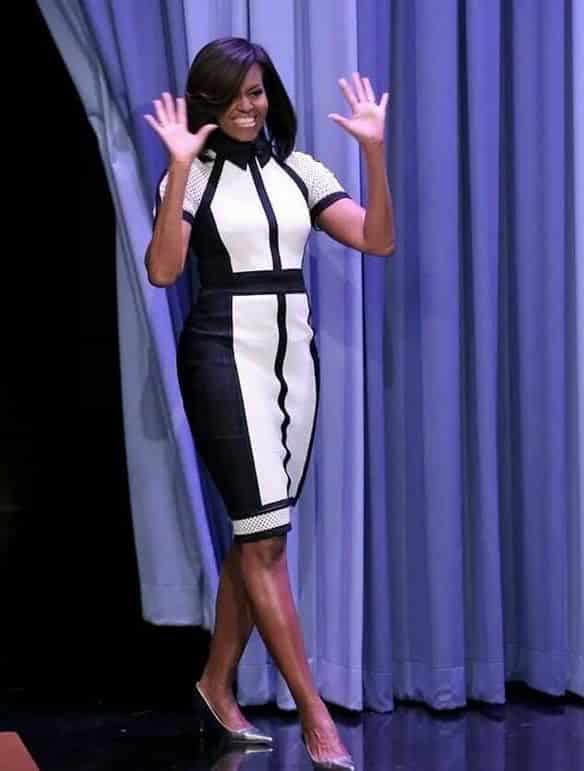 When Michelle Obama hit the Jimmy Fallon stage back in 2015, she stunned all of us in her amazing black and white dress. Her outfit choice was designed by Tadashi Shoji and featured carefully placed details throughout the entire dress.
The shoulders and bottom hem of the dress featured perforated designs while her waist and shape were accentuated with black panels along the side of the dress. This fabulous look was completed with silver pumps.
Casually Chelley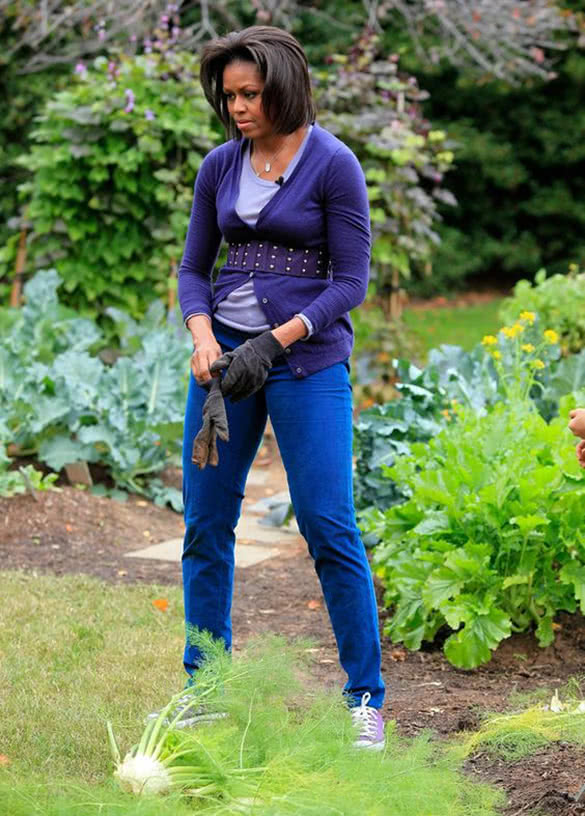 It isn't often in our favorite Michelle Obama fashion looks that we get to see the First Lady dress down, but even when she does, we can still appreciate it.
Her fashion is just like her personality, down to earth, and this blue hued outfit makes her look less like the First Lady of the United States and more like a 'regular person.'
In this simple gardening outfit, Michelle Obama pairs blue jeans with a light blue tee shirt and dark blue cardigan. She uses a thick belt to emphasize her narrow waist and finishes the look with gray sneakers.
Girl/Woman Next Door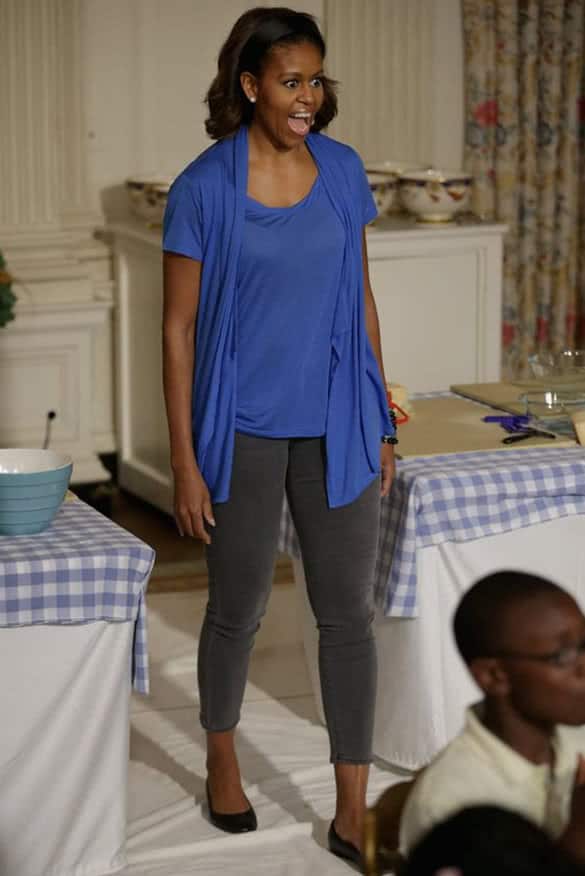 It might be hard to believe that Michelle Obama achieved a 'girl next door' look, but she most certainly did! This look is simple, casual, and perfect for anyone to recreate, even if you're FLOTUS.
She pairs a matching blue tee shirt with a short sleeved cardigan. She shows off her long and lean legs in a pair of gray jean capris and black ballet flats.
In a few short weeks, we're about to say goodbye to the Obamas and say hello to a new First Lady or First Man. Regardless of who comes next in line, Michelle Obama has left some big shoes to fill.
From her beautiful gowns for state dinners to her edgy outfits for the KCAs, Michelle Obama fashion is nothing short of elegant, timeless, and simply fabulous.
In the comments below, let us know which Michelle Obama fashion look is your favorite!