Blake Lively is a fashion icon in her own right, and her impeccable dressing skills always leave us speechless. Who said you can't be glamorously pregnant? Take a look at Blake Lively's fabulous pregnancy outfits.
Blake Lively first came into popularity when she appeared as Serena Van der Woodsen on CW's hit show "Gossip Girl." Her character was a New York City socialite with impeccable fashion, and Blake Lively is showing the world that her on-screen character has nothing on her own fashion.
Although Lively's fashion is truly a masterpiece in her everyday life, we can't help but fall in love with her pregnancy fashion. Blake Lively is proving to all expecting mothers that you can still be stylish and fashion forward when expecting your bundle of joy.
Check out these 10 pregnancy looks that we love from Blake Lively.
Dark glam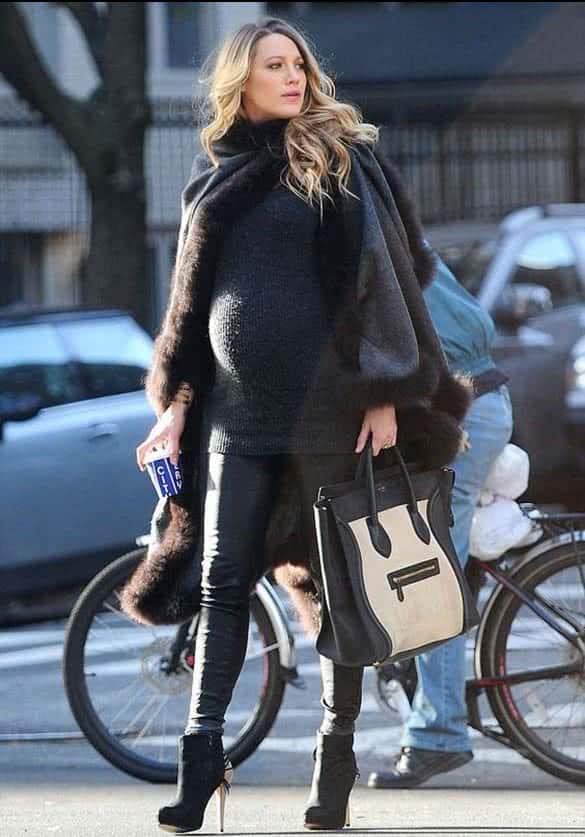 Blake Lively hits the streets and proudly shows off her baby bump. In this dark and glamorous look, Blake isn't afraid to strut around in high heeled black booties.
She shows off her slim legs in tight leather pants and keeps warm in a dark gray cable knit sweater. For a hint of warmth and a dash of style, she pairs her outfit with a gray cape with faux fur along the hem.
Blue hues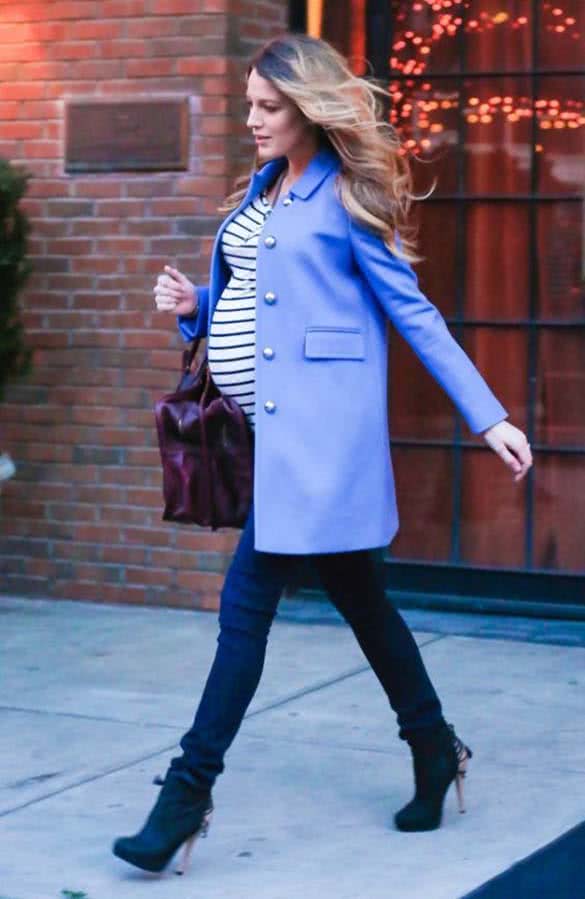 "The Shallows" star definitely isn't letting pregnancy slow her down. In this effortless outfit, Blake Lively pairs a pastel blue coat and shows off her baby bump in a white and black striped shirt.
She pairs her outfit with dark blue skinny jeans and her signature high heeled booties. To add to her blue hues outfit, she adds a pop of color with a burgundy satchel.
Lady in red

Who said you have to hide your figure when you're expecting? Not Blake Lively! Earlier in her pregnancy, the star is showing off her small baby bump and long legs in a red and white striped mini dress.
She pairs it with a red duster that's embellished with flowers and gold and red stilettos. She partners this look with a blue clutch that matches the blue flowers found on her duster.
Queen in Cannes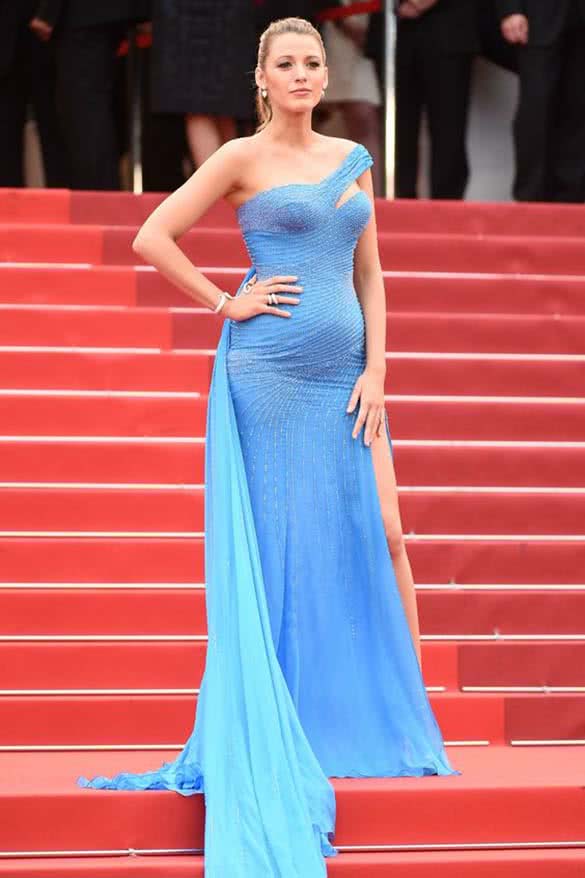 Blake Lively is a woman who wears her baby bump like a badge of honor. At the Cannes 2016 Film Festival, Lively showed up in a form-fitting Atelier Versace gown which showed off her every curve.
The gown featured a one shoulder strap design as well as a daring slit that started at the upper thigh. The gown included a long train that was seen dragging behind this elegant queen as she walked the red carpet.
Gold-ilocks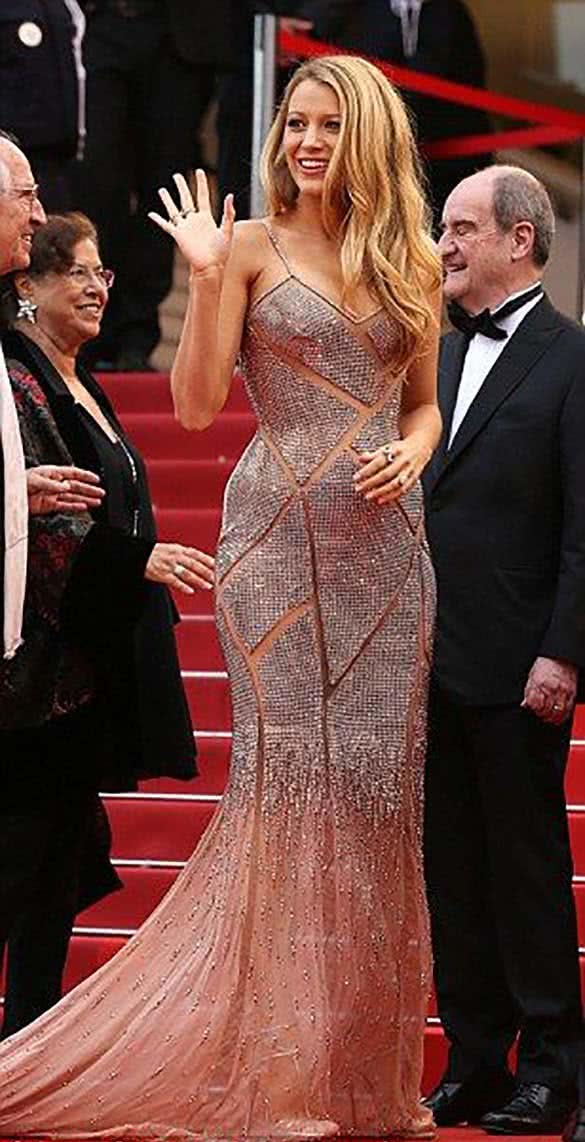 In another look from this golden-haired goddess, Blake Lively kept dazzling the thousands of attendants and photographers at the Cannes 2016 Film Festival.
Blake wore this beautiful spaghetti-strap V-neck gown that hugged her curves and showed off a little skin in the most tasteful of ways. Her dress flared out into a long mesh train with beaded designs.
Purely elegant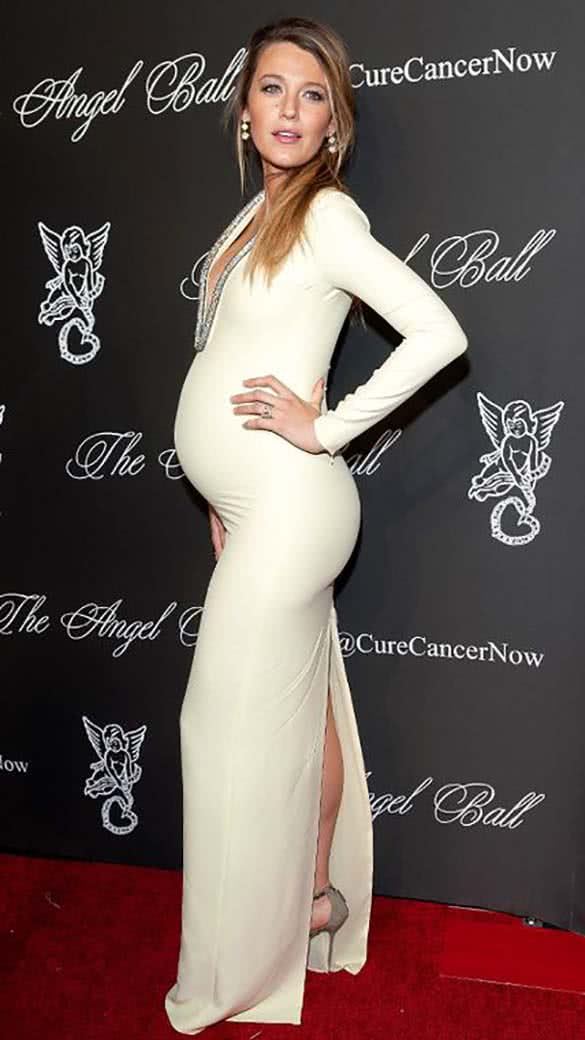 Blake Lively is very often a picture of elegance, and this was definitely the case in this outfit. Further along in her pregnancy, Lively dresses up for The Angel Ball in a floor-length white gown. The long-sleeve gown features a deep V-neck that is lined with silver jewels and a long slit up the back of the dress to enhance her shape.
Simply chic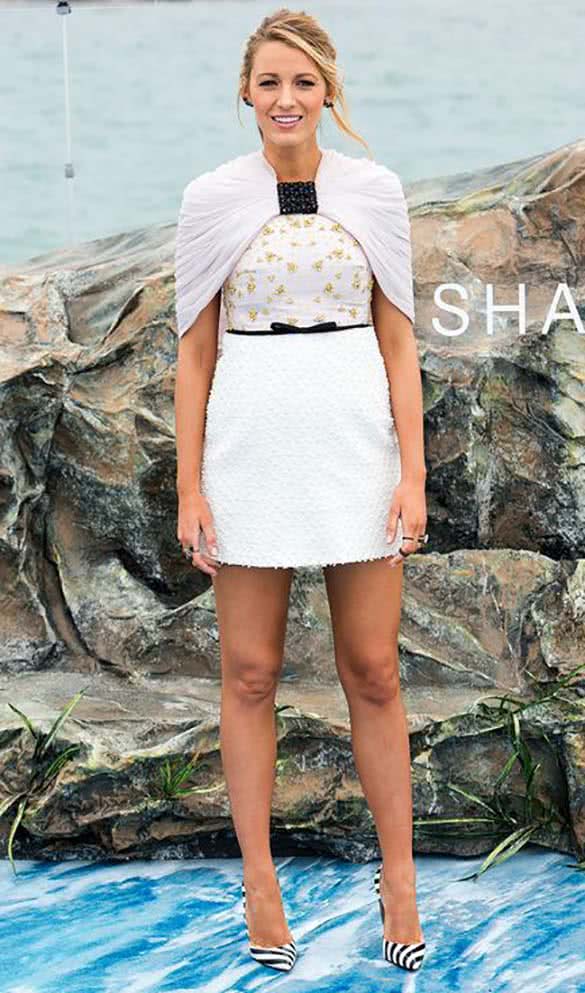 The fashionista that Blake Lively is, she definitely knows how to dress her body. In a look where you can barely tell that the actress is expecting, Lively goes for a young and chic look with a white and yellow floral top and a white short mini-skirt. She keeps her style unexpected with a white and black shoulder shrug and black and white pumps.
Black and white

As she's expecting, Blake finds the perfect dress to help narrow her figure. In this black and white body-con dress, Lively enhances her growing figure with the black design that helps make her waist appear slimmer and gives her a curvier appearance. Never afraid of donning on her favorite heels, Blake Lively pairs the look with white heels and a yellow clutch.
All-black ensemble

Blake Lively looks radiant as she stops for this glamorous picture. Blake wears a slimming black gown that features a one-shoulder design and pairs it with black heels. If her smile didn't already brighten up this look, she's a vision of glitz and glamour with her silver accent earrings and bracelet.
Fit for a Queen

If we didn't know any better, this look would make us think that Blake Lively was a royal Queen, but she is in her own right! In this look, Blake Lively wears a simple white top that she matches with a white floral tea skirt. She enhances the look with a tan patterned coat that she wears draped across her shoulders, a bright teal necklace, and pink high heeled pumps.
Throughout both her pregnancies, Blake Lively has become a fashion icon for all expecting mothers. Her wardrobe has always been stylish and flawless, but she quickly transformed her regular style into outfits that dazzle as an expecting mother.
If you're loving Blake Lively's pregnancy looks, let us know in the comments down below which outfit is your favorite!