Summer's just around the corner and it's almost time for holiday planning! If you plan to spend your summer lying on a hot beach, here are 5 cute beach outfit ideas to inspire you!
When it comes to creating a fabulous beach outfit, there are so many options! From super sized kaftans and tunics, to hot denim shorts and skirts. You can't go wrong whatever you choose to wear! Still, if you want a bit of inspiration, check out these five super cute daytime beach outfit ideas.
Outfit Idea 1
This is a nice & girly beach outfit. Pair the cutest beach dress with a pair of flip-flops and a colorful beach bag. Wear this outfit with a color blocking asymmetric bikini.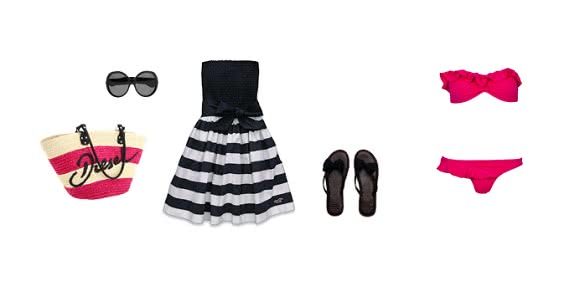 Shell Beach Dress (hollisterco.com)
Diesel Sandy Beach Bag (zappos.com)
Classic Flip Flops (abercrombie.com)
Yves Saint Laurent Round Frame Acetate Sunglasses (net-a-porter.com)
Miso Asymmetric Frill Bikini (republic.co.uk)
Outfit Idea 2
Here's a color blocking combo for girls who love to mix and match different summer colors. This outfit features a gorgeous blue beach dress mixed with a yellow swimming suit, comfy flip flops and a matching yellow beach shopper. Accessorize this look with a straw hat.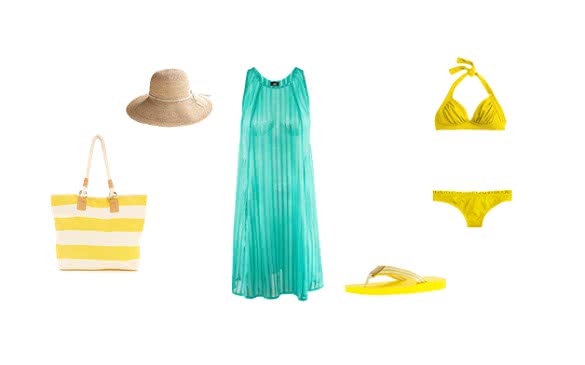 H&M Beach Dress (hm.com)
Yellow Stripe Beach Shopper (wallisfashion.com)
Stripe Flip Flops (jcrew.com)
Hat Attack Packable Sunhat (calypsostbarth.com)
Ruched Lido Halter Top (jcrew.com)
Mini Ruffle Hipster (jcrew.com)
Outfit Idea 3
This outfit is really simple, but simple in the best possible way. Its center piece is the white tunic we paired with a large tote by Juicy. Wear this tunic over your color blocking bikini.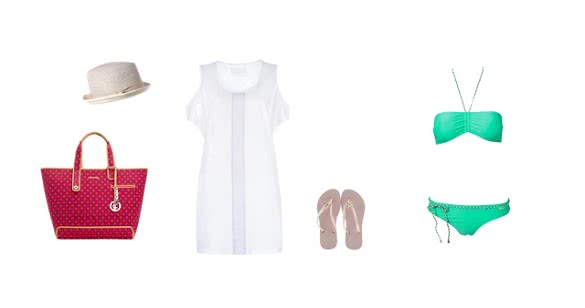 Shoulder White Mauve Beach Dress (loungelover.com)
Nora Large Tote by Juicy Couture (juicycouture.com)
Havaianas Slim Crystal Flip Flops (piperlime.gap.com)
Two Tone Natural Trilby (jigsaw-online.com)
Play Plait Only Play Bikini (nelly.com)
Outfit Idea 4
If you want to look unique and stand out from the beach crowd, choose this amazing beaded beach dress. Pair it with a matching bag, comfy espadrilles and a braided bandeau bikini. Accessorize this look with round frame sunglasses.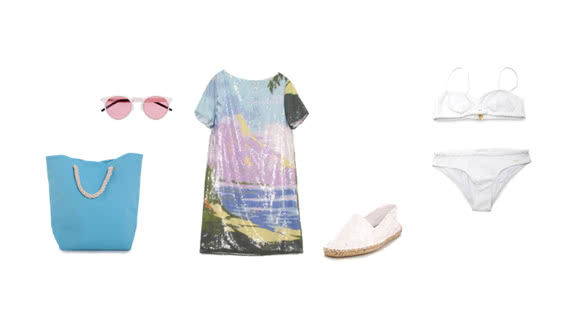 Beaded Beach Mini Dress (shoplesnouvelles.com)
Bambi Beach Bag Nelly Accessories (nelly.com)
White Broderie Anglaise Espadrilles (debenhams.com)
Illesteva Leonard Round Frame Acetate Sunglasses (net-a-porter.com)
Chloé Braided Bandeau Bikini (youheshe.com)
Outfit Idea 5
Here's an outfit for girls who prefer shorts to skirts and dresses. Pair your denim shorts with a white tunic, a striped beach bag, cute flip-flops, matching vintage sunglasses and your favorite bikini.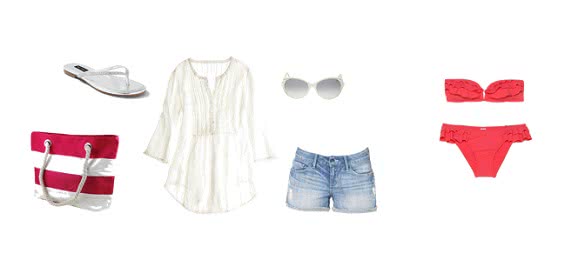 Calypso St. Barth Hallie Linen Pleated Shirt (calypsostbarth.com)
Denim Shorts (meinto.com)
Rock Candy Hot Pink and White Striped Cotton Beach Bag (black.co.uk)
Endless Summer Flip Flop (whitehouseblackmarket.com)
Mode de Vue Vintage Rounded Sunglasses (farfetch.com)
Zimmermann Ebony Rose Underwire Bikini (oxygenboutique.com)
Cover photo: http://www.pinterest.com/