Sick of seen-too-often outfits you find in Halloween stores these days? Check out our ideas and create these amazing Halloween costumes from your closet!
I know. No one wants to spend a fortune on cool costumes and accessories that will only hang in the closet for years after Halloween, so I collected costume ideas that can be put together straight from your wardrobe without looking lazy or "basic".
Pin Up Girl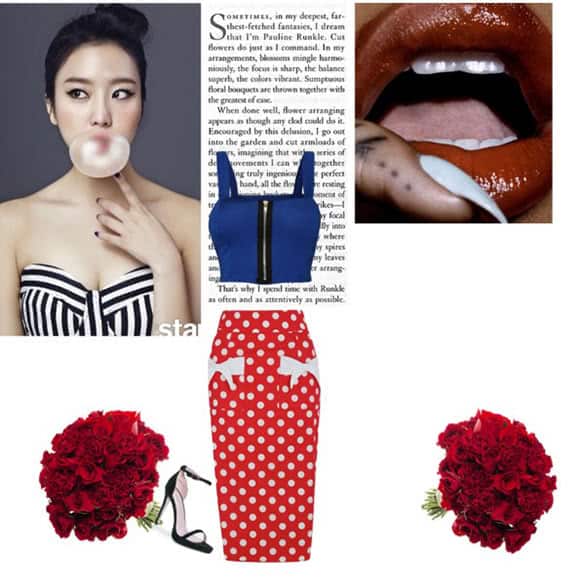 Get your inspiration from Dita von Teese and create a gorgeous, pin-up girl look for this Halloween! It's just a right amount of feminine and sexy without being too revealing, so if you are looking for something new and less horrifying, it will be the perfect look for you.
For your hair and makeup, stick with the traditional pin up makeup and create a bold, matte black eyeliner with red lips and blushed cheeks. For your hair, you have various options to play with: grab a bandana, a bow headband or simply create firm curls in your hair and clip away your bangs with a bobby pin.
Just like all the other costumes, you can probably find something in your closet that will fit these themes. Anything red, white, pink, black or blue will do. Find a babydoll dress, a polka dot pencil skirt with a bralette or a navy-inspired red, white and royal blue outfit.
Alex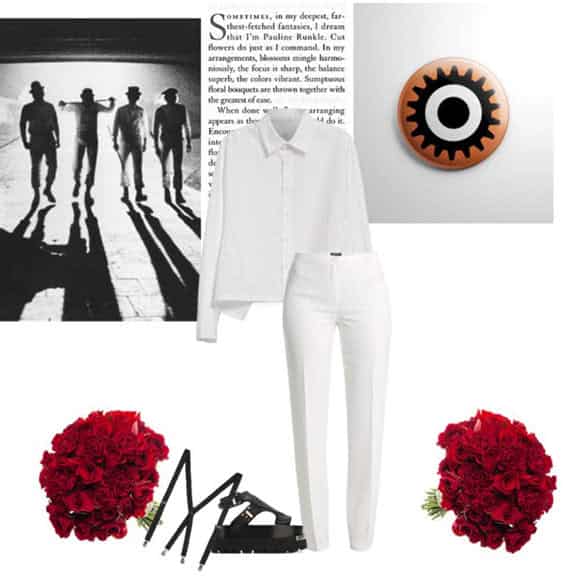 If you don't know the famous book and movie A Clockwork Orange, Halloween is the perfect time to get your hands on it. This costume is super simple and not scary because of the clothing items or makeup, but because of the depressing, brilliant story behind it.
The key for this makeup look is huge false eyelashes (apply double layer plus lower lashes on one of your eyes). Keep the rest of your makeup simple with orange or red lips and a pale, even base, which you can achieve by your lightest powder.
A white shirt, white pants and black suspenders will perfectly do the job for this costume. If you have black boots, that's definitely a plus, but you can rock this look with any other black shoe as well.
Forest Fairy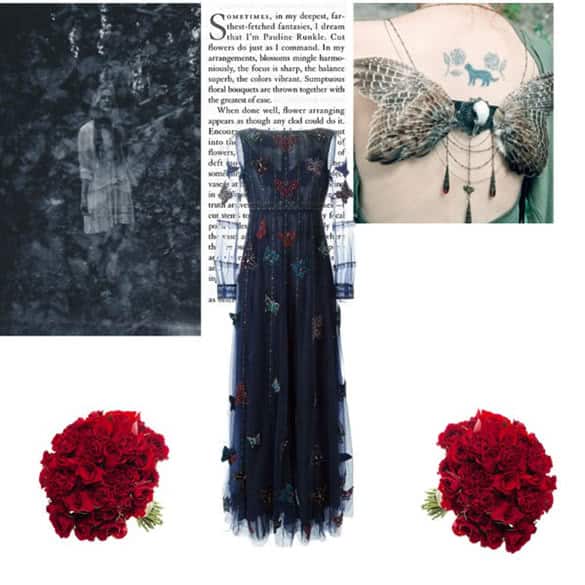 Whether you are going for a scary or a more feminine look, with the forest fairy, you can do both! It's a new take on the regular fairy costume and can be done just as easily as the other ones.
Grab your green, brown and black toned eye shadows and create a magical makeup! If you decide to draw on your cheeks (you can draw floral motifs or imitate branches and leaves), always use a skinny eyeliner kohl pencil first and then apply a layer of black liquid eyeliner on top to set everything in place. For the hair, let it be messy and wavy with the help of a curling iron and a texturizing spray.
I couldn't leave out this gorgeous dress from the mix, but you don't have to have an embroidered gown to make this look work. Wear anything floral embroidered, tulle or mesh – plus points if you have a floral clutch or shoes! Make sure to keep the shades in harmony: if you decided to go with the "scary" version, don't include any vivid shades in your outfit.
Alice from Wonderland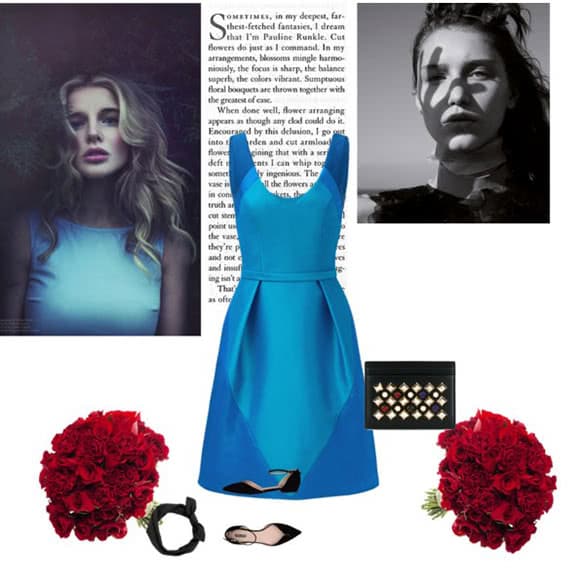 Let the madness begin with this classic Halloween look! Alice's character is sweet yet surrealistic at the same time, which means you can either stick with the traditional Disney interpretation or go in a more horror way and create a crazy Alice (for inspiration, check out the famous computer game Alice in Wonderland – Madness Returns).
Depending on the look you are going for, create a simple look with white eyeliner on the lower lash line, winged eyeliner and pink lips, or create a messy smokey eye with fake blood (similarly to the asylum patient look).
The dress itself has to be vivid blue and A-line, but otherwise, you can choose from various designs such as puffy sleeves, midi or mini dresses. To complete your look, wear a choker, black ballet pumps, and stockings.
Escaped Asylum Patient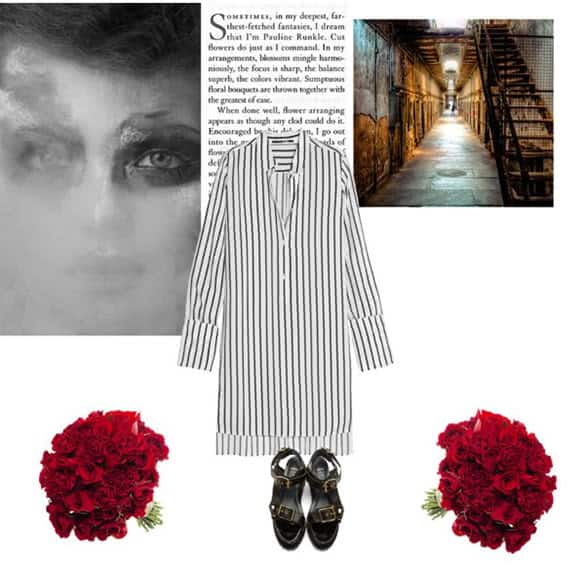 Porcelain dolls are cool Halloween ideas, but it's time to take the crazy messy makeup and the doll look a bit further and create something new!
Keep the makeup messy and dark: start off with applying your lightest foundation and primer, and once you have an even base, apply a hint of smokey purple and blue to your under eye area for dark circles. Then, continue by creating the smokiest, blackest eye makeup look and leave your lips plain and simple.
Any oversized shirt or T-shirt dress is great for this outfit. For shoes, I would recommend using flatforms or any chunky heeled, black sandal. Accessorize with oversized, gold or silver cuff bracelets and you are good to go.
Frida Kahlo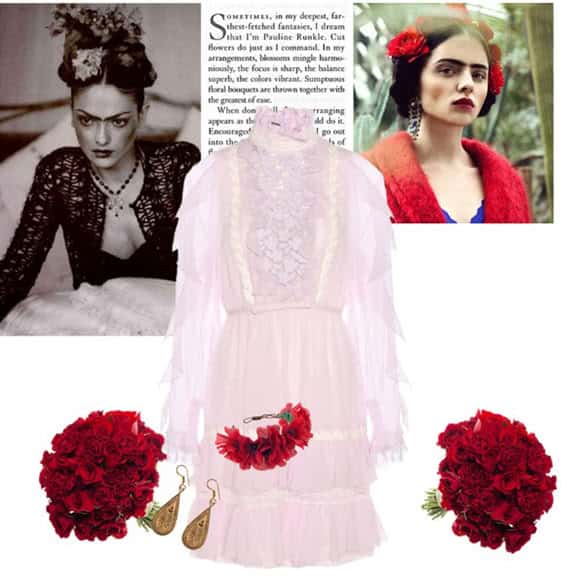 This costume is a great idea for a not horrifying, but creative and artsy choice, not to mention, it's easy to recognize and even easier to create.
Focus on the brows: with a dark brow shaper pencil, create a unibrow and apply the same shade of red lipstick and blush to your lips and apples of the cheeks. Leaves the eyes simple with just a hint of mascara.
Besides the brows, the other main point of the costume is a flower crown or rose bobby pin: once that's done, you can wear almost any floral or vintage dress you can find in your closet.
Hello Mermaid!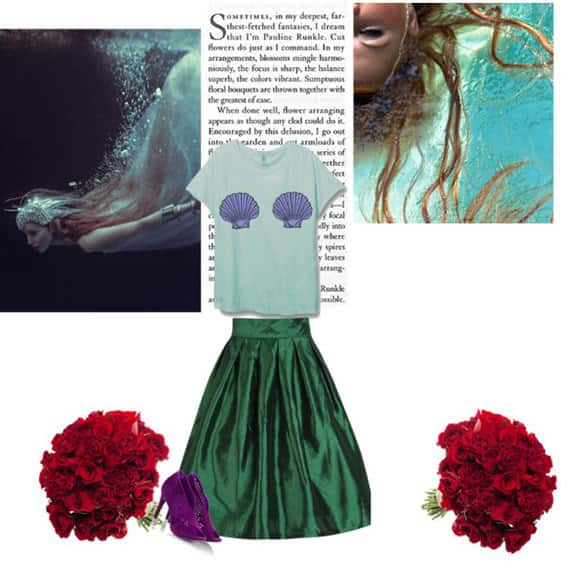 Another typical costume with a twist that makes it clever and easier to execute – say hello to Ariel!
Grab every pearl, crystal you can find and create a scale effect with a help of any tulle accessory. The trick is to put a layer of tulle or lace material on your forehead and gently use blue, turquoise or green eyeshadow over it. After you are finished, simply take off the material for the scale finish and dust off the excess product. As a finishing touch, use a hint of silver glitter on your lips and create blue ombre smokey eyes.
If you can find any green midi, pencil or mermaid shape skirt, you are set for the look. As a next step, either get a shell T-shirt (which can be ordered from Ebay or Etsy for around 15$), which you could rock after Halloween as well on the streets or simply wear an embellished or lace bralette.
The good sides of making a Halloween costumes from your closet are that you will save money and you won't be stuck with impractical costumes taking space in your closet, while you'll be walking out on a Halloween night in an original and comfortable costume.