If you're not sure what suits you and your shape best, check out the four basic shapes most of us fit into, and what to wear to look the best that you can.
We are all made differently. To look and feel good in anything, the first thing you need is to be happy in your own skin. So, forget trying to look like someone else with bigger this or smaller that—it's best to be happy with who you are and what you have because, with the right clothes, you'll feel good and it will show.
We all have a basic shape, and your shape and height do have an impact on how you look, but dressed up properly, we can all look and feel like a million dollars.
Using our guidelines, identify your shape and then find the look that suits you best. Put together a few outfits that you can dress up or down, and you'll always have that perfect something to wear for any occasion.
Pears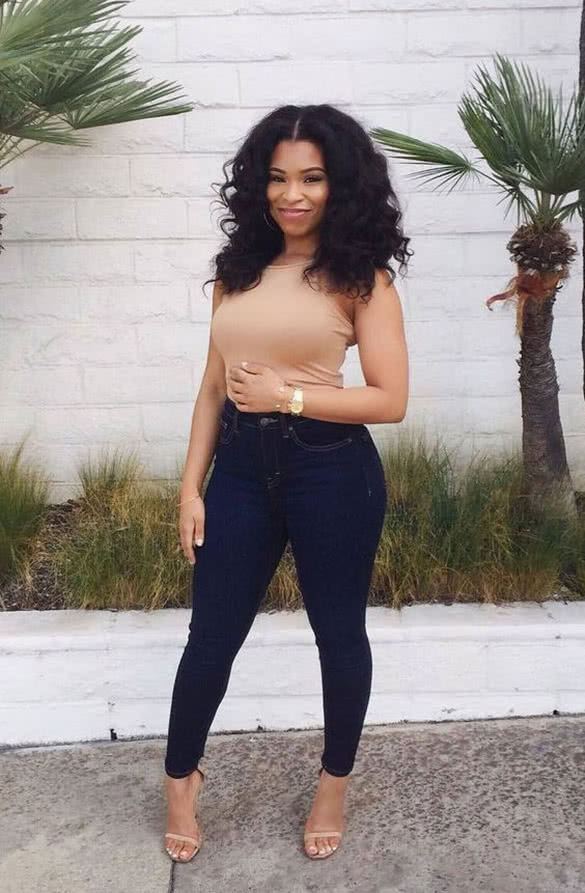 If you're pear-shaped, your hips are wider than your shoulders and the widest part of your body is below your waist. You can be tall, short, heavy or skinny and still be pear-shaped. If you are pear-shaped, your fashion goal is to elongate your figure so that you look less bottom-heavy.
You will look good in straight-legged trousers, jeggings or drainpipes with loose tops or wrap dresses. You can accentuate your bust with low neck lines, halter or corset style tops and try bright beads or a colored scarf at your neck to accessorize and draw attention away from the hips.
Look for tops that help to balance your lower half while accentuating your defined waist. Tops with nipped or fitted waists, off the shoulder boat-neck tops, wide v or U necks… Beyonce and J Lo are considered to be pear-shaped, and they always seem to look good, don't they?
Apples
If you are apple-shaped, your top is usually bigger than your bottom. Choose a v-neck to make the neck look longer and flared or full skirts to add proportion.
If you have an apple-shaped body, then your body is top heavy, so you'll have a wide torso, broad shoulders and a full bust, waist and upper back.
Apple shapes can have thinner arms, legs and hips, and tend to gain weight at their waistlines. A protruding tummy is also common among apple shapes.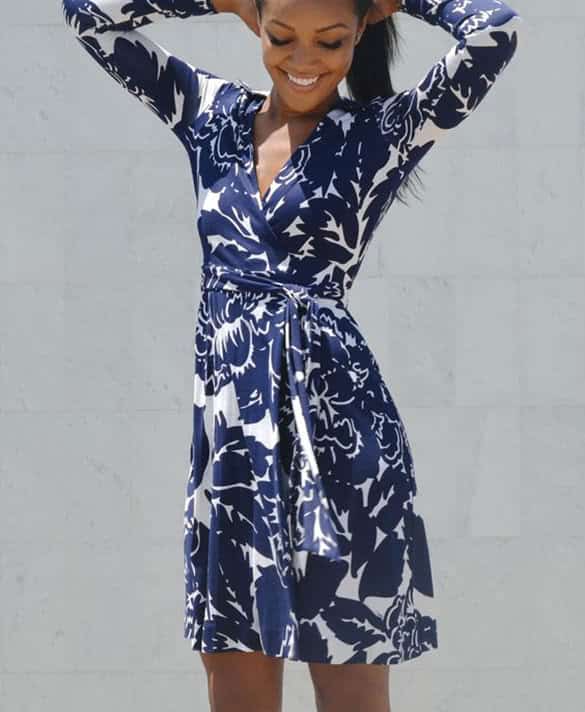 Choose clothes that skim rather than cling. Flowing silks and soft cottons tailored in simple designs give you soft silhouettes rather than emphasize your wide bits and, best of all, these fabrics are comfortable.
Dress in monochromatic or shades of a single color rather than many colors. Different colored tops and bottoms cut your body in half, but monochromes will make you look longer. Darker, solid-colored tops with small designs make your top half look slimmer.
Wear tops with a long shirttail and rounded hems to camouflage your tummy. Wraparound tops, fitted but not tight, create folds over the stomach area.
Tops with v-necks are a good choice because they pull the eye away from your shoulders while accentuating your best features. Famous apple shapes are Tyra Banks, Jennifer Hudson and Rosie O'Donnell
Straight body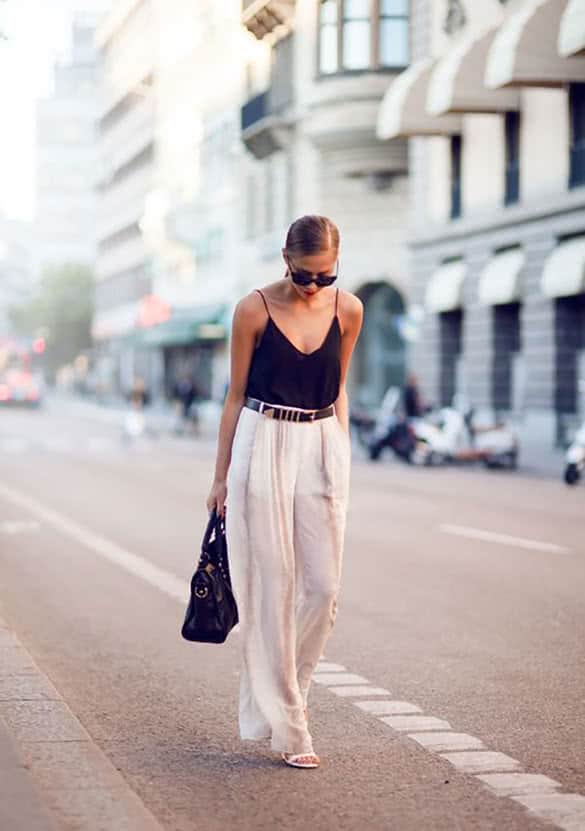 If you are straight up and down with no real waist, your shape is considered rectangular—the same top as bottom; your bottom is probably more flat than round and your legs tend to be very shapely.
To get the best look for a straight body type, proportionally dress the top and bottom of your body while enhancing your waist. Wear form-fitting clothing, such as a tube-type dress, and create a waist by adding a wide belt in a darker shade than the main fabric.
To create a more curvaceous effect, wear wide-legged trousers, cargo trousers with side pockets, off the shoulder tops, full tops rushed around the bust, wide waist bands and various fancy belts to define your waist.
Celebrities like Meg Ryan, Gwyneth Paltrow, Kate Hudson and Keira Knightly have managed to look sexy despite having a straight or rectangle shape.
Hourglass or curvy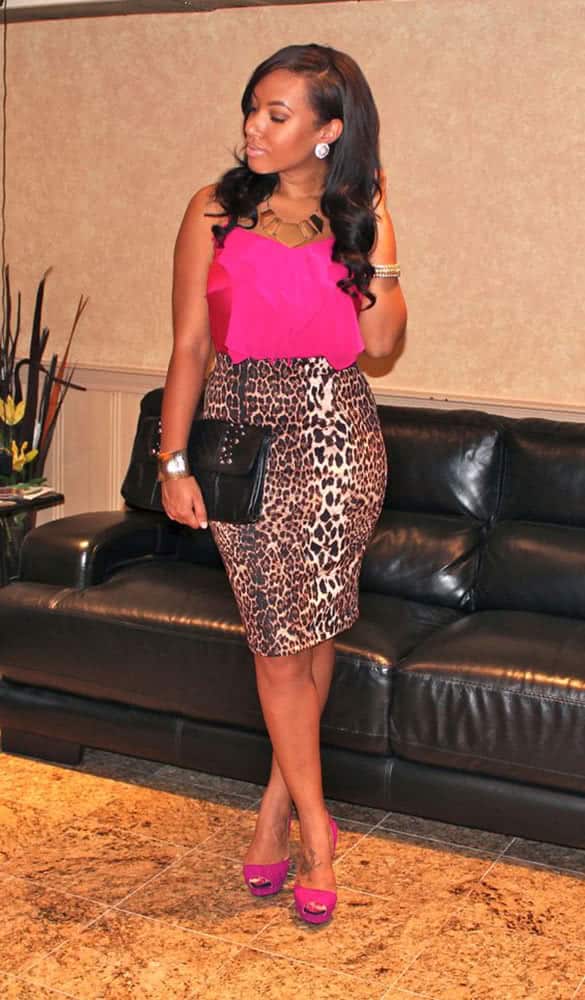 If you are curvy, you should feel lucky! Don't hide your curves underneath baggy clothes: flaunt what you have.
The curvy or hour glass figure is the most envied, the sexiest and contrary to the body shapes of most supermodels, usually with a well defined waistline fuller hips and bust as well as generous thighs.
It really is considered to be the perfect feminine shape, and there is not much to be done but to accentuate what you have. If you are one of these lucky few, all you really need is to dress smartly and look for clothes that silhouette your figure rather than hide it.
Pencil skirts are very flattering. They will cling to your figure coming right in at your waist to show off your sexy curves. If you're a on the shorter side, wear three-quarter length skirts or skirts just below the knee with a slit to make you look taller.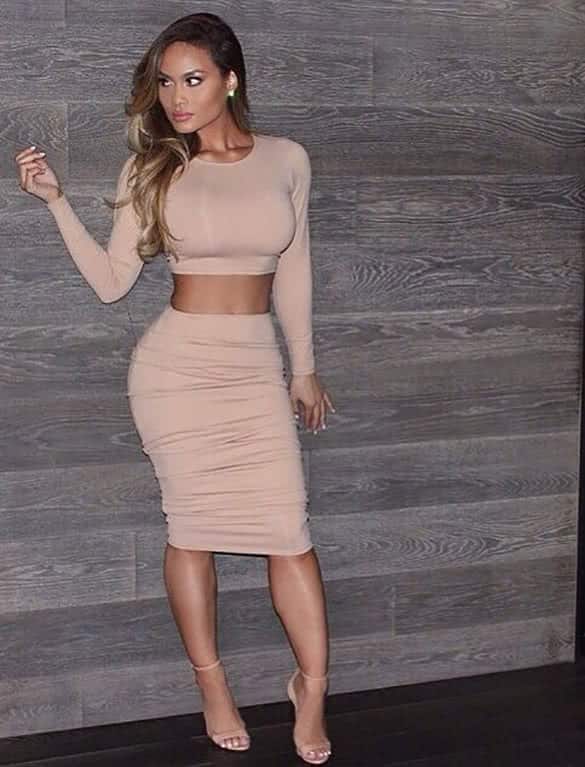 There are lots of Hourglass shaped celebrities who have been celebrated over the years including Marilyn Monroe, Kate Winslet, Mariah Carey, and Salma Hayek.
It's important to know what length skirt is right for you whatever your height. Wearing skirts that end at the thickest part of your legs, whether it be the widest part of your thighs or calves, will just made you appear a lot shorter and wider then you actually are.
Knowing your shape and what is most flattering for it will make an enormous difference to your overall appearance—at no additional cost! It's the easiest, and cheapest, way to dress things up and make the most of your best features.