Forget about having plain boring shoes or getting rid of unused or old shoes. Give them a makeover with these tips!
I don't know why I can only find plain shoes every time I go to the mall. I'm not talking about the color because I prefer black shoes so I can wear them with everything. I'm talking about the style of shoes. You are probably thinking that I can wear thong sandals, but I don't like wearing thong sandals even though they are pretty.
So, I always buy the plain shoes, but the designer in me wants to be creative. This is why I decided to buy some comfortable shoes and personalize them—no more boring plain shoes! I only buy inexpensive shoes, though, so I know I won't feel bad after the makeover I give them.
These DIY shoes ideas are the easiest to do and they are inexpensive. Of course, you can always create your own designs. Whatever you choose, you're guaranteed to be the center of attention with original shoes and may even have a new hobby—or a new side job!
Duct Tape, Images or Stickers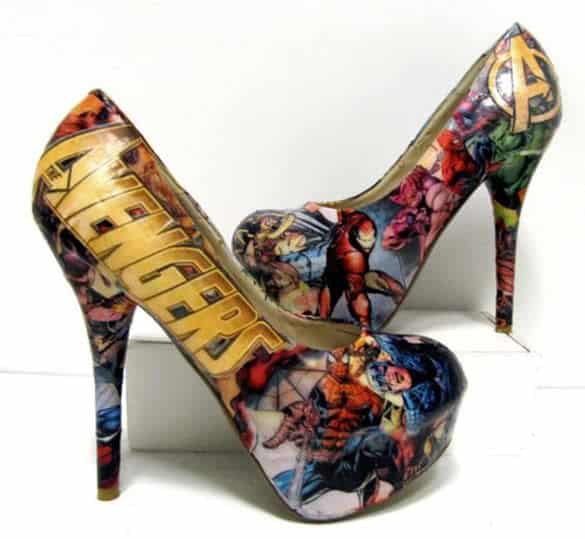 Personally, I don't like this option, but I found a pair of high heels with Marvel images and some shoes decorated with duct tape. Of course, the tape had the Marvel designs, but you can use any tape to design shoes to your liking or to cover something you don't like.
You can also use stickers if you prefer a more flexible design that tape does not allow for. If you want a permanent design, glue the tape and stickers down because they won't last forever or they could fall off—make sure that the glue is fabric glue. Jut put some glue on the back of the stickers, then paste them onto the shoe before applying another layer of glue over the image to seal it. Adding an acrylic top coat will also help to make it last longer. This only really works on heels or firm sneakers, though, as shoes that bend too much will cause the glue to crack. It's ideal for dressing up kids' shoes.
Glitter
This is my favorite method because I am in love with glitter! You need clear fabric glue and fine glitter. In a bowl, two partsarts glue to one-part glitter and use a paintbrush to apply the mix to your chosen shoes. Try not to apply too thick a layer though as you'll be applying three layers in total. Remember to let each layer dry before applying the next one, and cover the mix when it's not in use so that it doesn't dry out. Use a clean brush to apply a top coat of glue or sealant and then use an acrylic spray to seal everything before letting the shoes dry.
If you really want glittery shoes likes Dorothy's from The Wizard of Oz, apply a coat of glue to the shoes, then pour glitter over the shoes until they're coated. Let each coat dry before applying a new coat, then apply sealant to finish. Remember to put newspaper under the shoes before pouring the glitter to make the clean up process easier.
Bling Bling (Jewelry, Clips or Gems)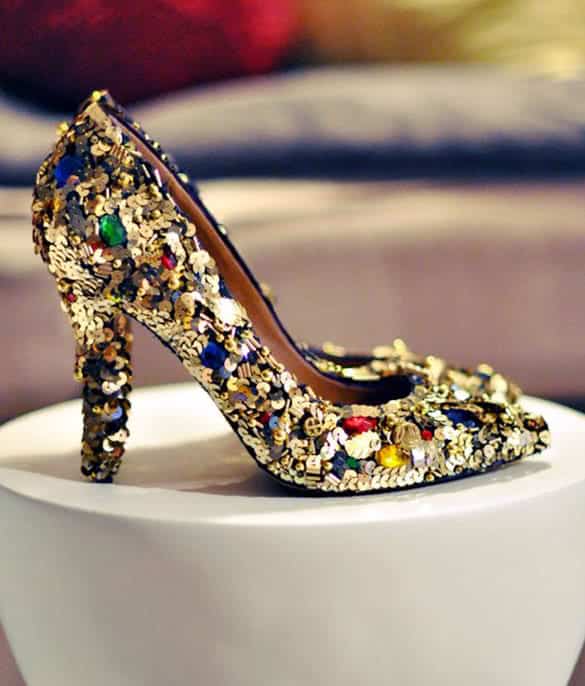 This is my second favorite method for decorating shoes. For this option, you will need some jewelry, gems or pretty clips to customize your shoes—don't forget the clear fabric glue. Using the jewelry, clips or gems, make whatever you want to attach to your shoes. For some great ideas, google images of how other people have added some bling to their shoes to give them some much-needed style for the season.
Paint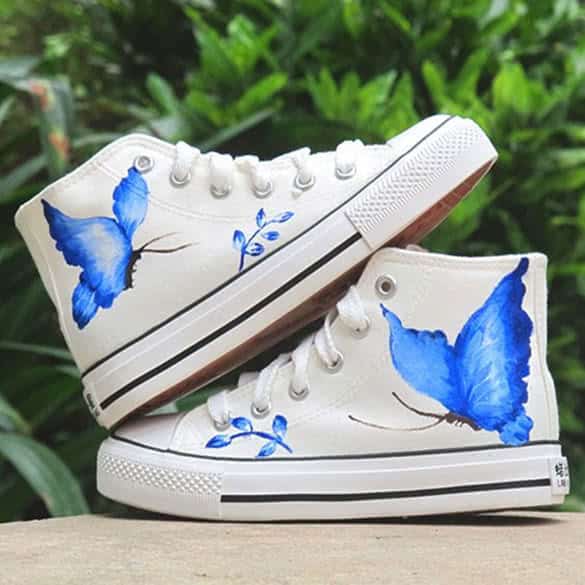 As with tape, there isn't one specific way to decorate shoes with paint. You also need to be careful what you choose to with paint because this is a more permanent way to change your shoes. You can paint the whole shoe or just parts of it. With this method, it's possible to be very creative and do something artistic; I once saw an ombre style on white shoes. You can also use spray paint on your shoes although you will need a very firm hand for this as it's easier to make a mess.
Fabric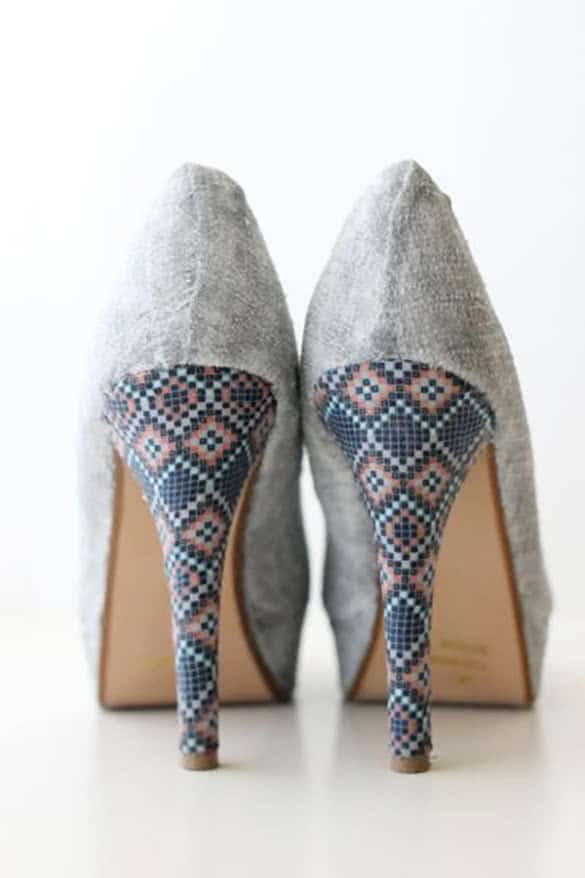 This method is easy to do and looks fantastic when finished. All you need to do is choose some fabric with which to cover the whole shoe or parts of it. To attach the fabric, you can use some clear fabric glue such as E-6000. The design depends on what you want. I used tennis shoes and attached some black lace, but you can always search online for some inspiration.
There's also the option of using markers or sharpies create designs on your shoes. Are you going to try these methods? Do you know of any others? We'd love to hear from you!