Nude shoes are one of the most pragmatic investments you can make to really get the most out of your wardrobe. Here are some of our top picks along with some styling tips to help keep you looking great!
Here at YouQueen Fashion Headquarters, we love a nude shoe. We love the way it lengthens the leg, we love the fact that you can pair it with just about anything in your wardrobe, and we really love how far it can stretch a travel wardrobe. Some of us (without naming names) have even been known to have a bit of a collection growing – each pair serving some subtle niche left unfulfilled by the pair that came before.
Okay, we admit it, we're obsessed. You will be too after you see some of our nude shoe picks, and exactly how many different ways they can expand your wardrobe.
The Flat Nude Strappy Sandal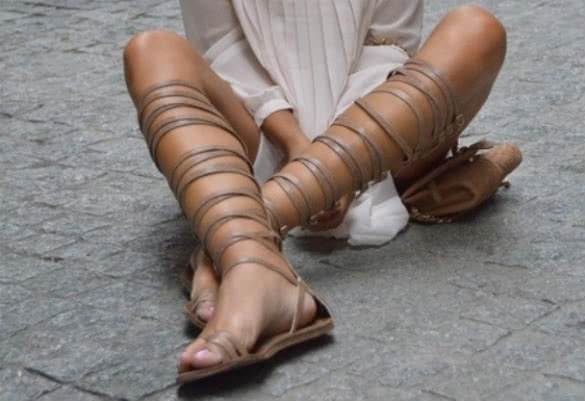 A flat, strappy sandal in a nude or tan shade is probably the most important pair of shoes you could ever bring on your warm weather holiday. Chose a pair that is close to your skin tone, and feels comfortable from the first moment you put it on. With a strappy sandal, you need to be absolutely certain that there is nothing rubbing or creating discomfort as you will likely be wearing them for long periods of time and potentially doing a lot of walking.
In addition to a pair of flat nude sandals, consider adding a pair of burnished metallic (nothing too shiny) sandals to your holiday bag. A well-selected metallic can also function as a neutral while adding an extra bit of pop to a look.
Pair your flat nude or metallic sandals with shorts for day, flowing, wide leg trousers for evening, and colorful sundresses at any time of the day or night. Not only will you be able to create several looks with just this one simple pair of shoes, the look will have a polished ease to it that looks much more effortless than if you had painstakingly planned your footwear to match a particular color in your outfit.
The Classic Court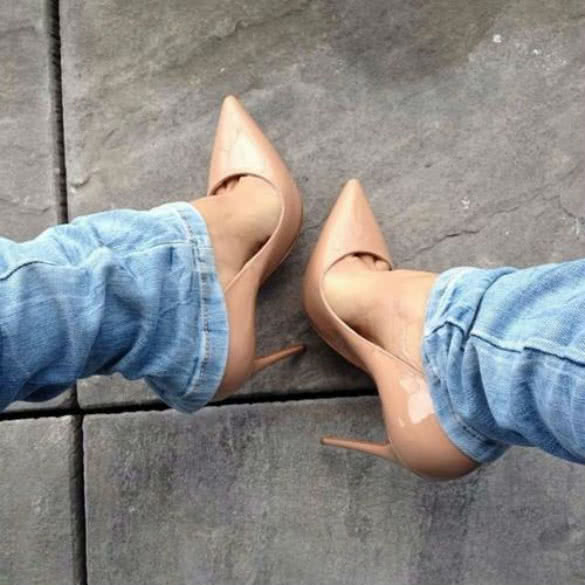 Without a doubt, a good quality classic court pump is by far one of the most valuable wardrobe assets any woman could have. Nobody knows this better than Christian Louboutin (of the famous red soles) who, in 2013, launched a line of nude pumps featuring five distinct shades of nude for women of all colors. This cracked open the traditional, rather narrow definition of what "nude" is (i.e. a pale, beige pink).
When choosing a classic court pump, keep the style classic. An almond toe (or peep toe if you are so inclined) is a classic shape that will never go out of style and looks good with just about anything you pair it with. For evening wear, consider investing in a patent leather finish, for that extra bit of polish.
Once you decide to invest in a classic nude pump, don't be afraid to splash-out on a pair of investment pumps. A good quality pair of shoes will pay you dividends that a cheap pair never will, and the color choices are infinitely better in high end footwear. In addition to Christian Louboutin, Manolo Blahnik, and Stuart Weitzman both make excellent classic nude pumps.
Nude pumps can be worn with just about anything, but really look best when paired with a bold statement color, print, or solid black look. Avoid pairing a nude pump with an all white look or trying to match it with a nude dress; the look will lack balance and can wash you out.
If you are unsure if a nude pump will work with a particular look, all you have to remember is that if it's bold and bright on top, then your footwear is probably better off making a soft, neutral statement.
Ballet Flats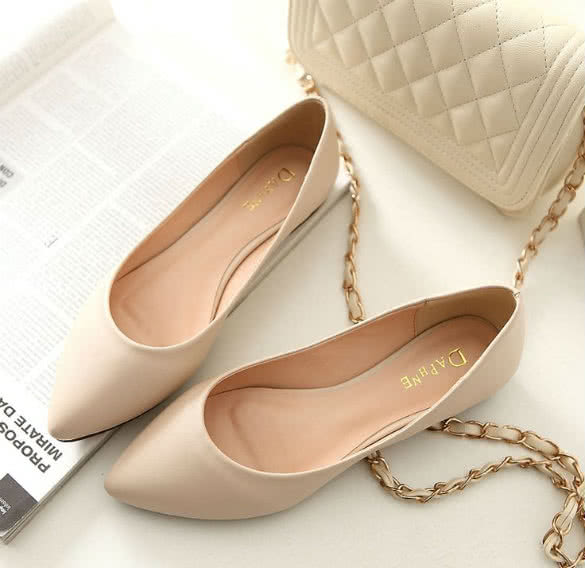 Ballet flats are always in style and nude ballet flats are another wardrobe-extending revelation that every woman should have in her wardrobe. These can work much in the same way as a pair of nude sandals on a holiday, or paired with a pair of ankle trousers for the office or a weekend shopping expedition.
Perhaps what's best about a pair of nude ballet flats is how remarkably polished they look when paired with denim. Again, for longevity, look for that classic almond shape that looks great on everyone
The Non-Traditional Choice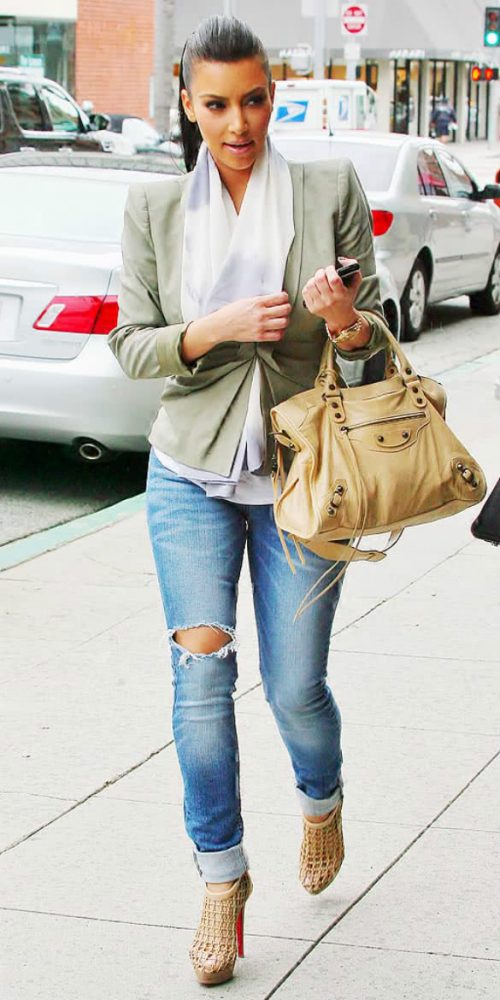 Admittedly, the non-traditional choice is a bit of a grey area because it basically encompasses anything and everything from wedges to shoe boots and beyond. One of the great things about a non-traditional shoe in a nude palette is that the color story imparts a softness to the shoe that may or may not be inherent in the design itself.
A perfect example of this is Christian Louboutin's "Coussin" Caged Bootie. In black, the shoe screams rock and roll and works well to balance a look that is strong, edgy, and raw. In nude, while the look is still edgy, the same shoe has a soft-focus quality to it. The leg-elongating effect of the nude color also adds a touch of femininity to an edgy design that makes it a great pairing for florals, lace, and other hyper-feminine looks where you may want to temper the sweetness with something a bit more daring.
Naturally, the list of covetable nude shoes is far longer than we could ever pay tribute to in a single article, but we do like to think that we've covered enough of the basics to help you make the most of your wardrobe.  However, in closing, we'd like to officially issue a warning: Nude shoes are incredibly addictive; once you find that first perfect pair, you will likely be hooked for life.
Cover photo: weheartit.com