Mid-heels are officially back in vogue, and after seasons of sky-high killer heels, they are a welcome sight indeed. Here are a few fashion-forward ways you can rock a mid-heeled look at the office.
Feet and ankles of the world, rejoice! Mid-heeled shoes are officially back in style after season upon season of wobbly "statement" shoes and heavy-handed platform pumps! The relative accessibility of this newer, lower heel is music to the ears of women everywhere, and even the most dyed-in-the-wool stiletto aficionado has to concede that a lower heel looks incredibly fresh and unexpected this season.
Perhaps what is best about this new surge in popularity of mid-heels is the absolute practicality of them for transitioning to and from your professional work environment. You can run to and from the train in them, spend a day at the office, and head out for drinks with friends after work without so much as throwing an extra pair of shoes in your tote bag.
Need some pointers on how to wear the new mid-heeled offerings out there? Here are three of our favourite ways to rock the look.
The Shorts Suit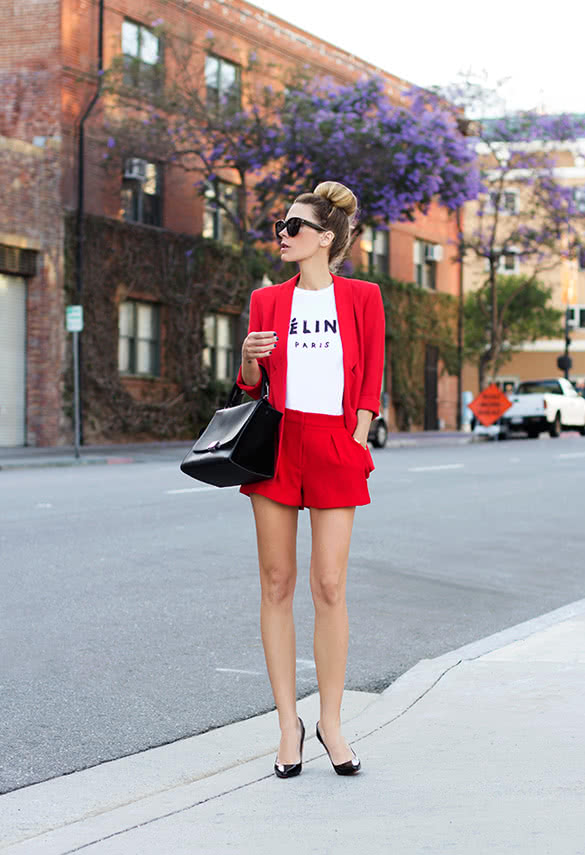 Granted, not everyone works in an environment where shorts are appropriate for work, but if you happen to be one of the lucky people who does, this look is the ideal warm weather office pairing for a mid-heeled shoe.
To pull off the look for the office, choose a shorts suit that is meant to be worn as a set (separates may come off as too casual), and make sure your shoe is in a complementary colour to your ensemble – not necessarily matching. For instance, a dark shorts suit in navy or red looks spectacular with a nude or tan shoe, whereas a white suit sings when paired with a black or metallic shoe.
If shorts are not appropriate for your office, this look is easily replicated with a skirt. Simply keep the skirt length above the knee to keep it looking fresh and modern.
The Skinny Ankle Trousers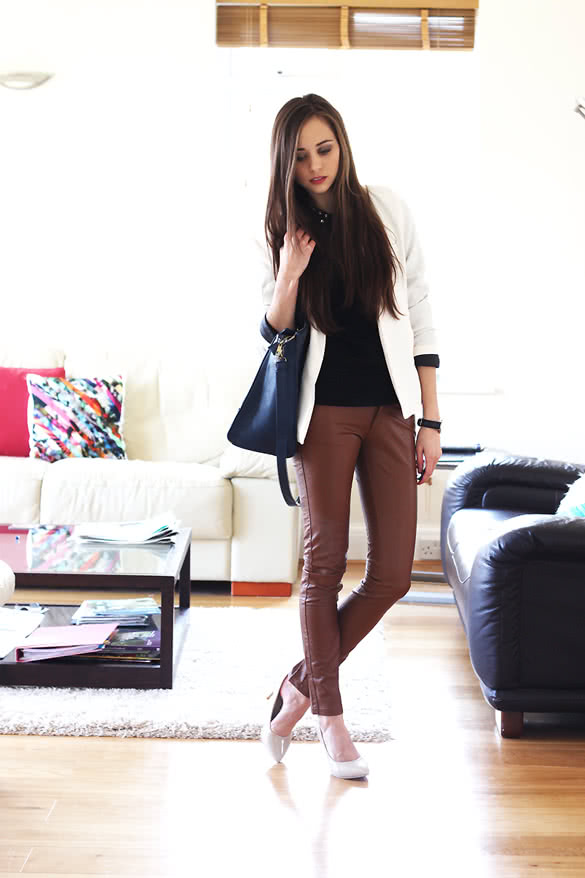 Pairing your mid-heeled shoes with skinny ankle trousers (think cropped skinnies or tailored cigarette trousers here) is a classic way to incorporate a little retro-chic into your look. For the best effect, pair your cropped trousers of choice with a mid-heeled loafer or pump. This look works perfectly with one of the most iconic mid-heeled shoes out there: The classic Ferragamo Vara pump. Choose a pair in an unexpected colour to pair with a conservative suit; it adds a pop of colour to your look.
If you work in an environment were you have more creative freedom to express yourself, the options are virtually limitless. There are some fantastic mid-heeled options out there that juxtapose a clean, simply designed pump with more ornamental design elements such as animal prints, beading and embroidery, or unexpected materials such as lucite or perspex. If you do decide to take a walk on the wild side with your footwear, just be sure to keep the rest of your look relatively simple; those wild mid-heels are your focal point – let them speak for themselves!
The Slim-Fitting Midi Skirt or Slip Dress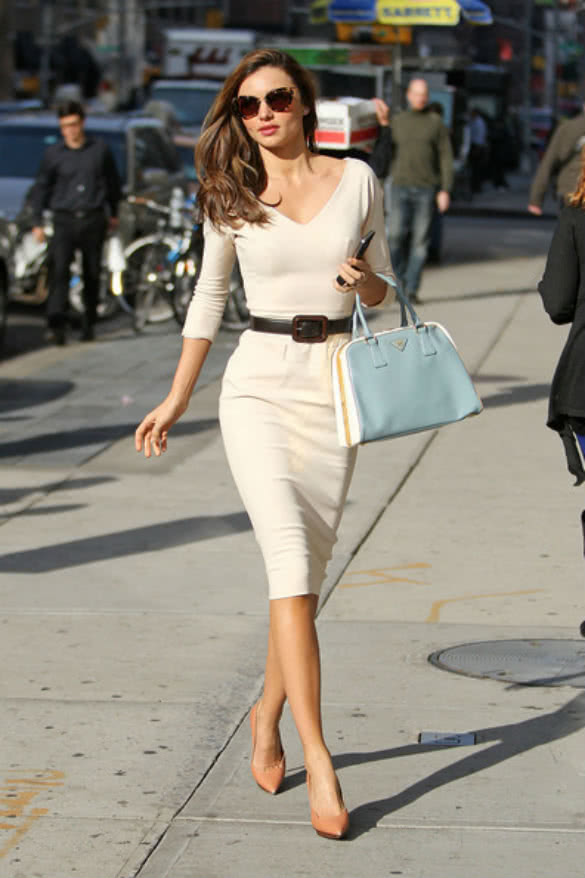 This look is very reminiscent of the '90s, and very on-trend at the moment. The pairing of a midi-length skirt with mid-heels can be a tricky combination for a lot of people; hemlines need to hit at just the right place (just to the bottom of the calf), and your shoe choice needs to have a lightness to it to avoid a clunky looking bottom half.
Choose a midi skirt or slip dress that is skinny in profile without being too clingy; the material should glide across the body and give the look a sense of ease and nonchalance. If your legs are fairly long, you can pair this with a pair of mid-heeled sandals with open toes, or even ankle straps to create interest. Those who are on the shorter side (midi skirts can be difficult here) might opt for a mid-heeled sandal in a nude or burnished gold metallic to give more length to the silhouette.
Whatever you choose, mid-heeled heeled shoes are a trend that is both ultra hot and uber practical. Fashionistas should be warned, however, that once you try your first pair of mid-heeled shoes, you may never want to wear anything else.
Cover photo: scanfree.org