High heels make your legs look long and trim, but oh, the pain! These fabulous shoe styles for clubbing will make you look good and feel great while dancing the night away.
Going out at night represents a footwear challenge for all of us.
We want to look our sexy best when we go clubbing. More often than not, this means a pair of killer heels. Face it – nothing else makes your legs look that great.
But there's more to dressing for a night at the club than looking sexy. You may have to walk or run to the train to get there. You're likely to dance. And you never know what other surprises the night might bring. You need shoes that will let you experience the night without falling over or causing blisters.
You want to maintain your sex appeal and you want to avoid unnecessary foot pain.
It's easy to find shoes that look sexy. It's easy to find shoes that are good for your feet. It's hard to find shoes that meet both needs.
That's what this article is about. We've come up with a couple shoe styles that will complement your outfit and show off your legs while keeping you secure on your feet. Yes, ladies, you really can have it all.
Our choices: the classic wedge and the platform stiletto. These are the perfect shoe styles for clubbing.
The Wedge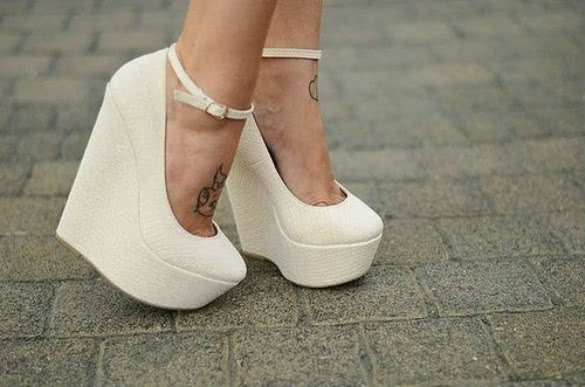 Wedges offer more stability than other types of heels.
That's obvious, of course. Platforms offer more heel on which to balance your weight.
Look for platform wedges with at least 3/4 to 1 inch of lift under the entire shoe (in addition to the heel). Those are the most comfortable.
With a platform wedge, you can afford to go a little higher with the heel than you might with other shoes. The platform mitigates the effect of the arch that is common to very high heels. It works to keep your body in alignment while walking, and more importantly dancing.
A wedge platform is also a super option for would-be club-goers who suffer from plantar fasciitis or other types of pain on the bottom of the feet. That's because the heel holds up the plantar fascia, the thick part of the tissue of the bottom of the foot.
The best options for clubbers who want their wedges to go the distance are versions with thick straps. The straps hold the foot in place, providing stability without rubbing.
There are also wedge platform bootie options that may appeal to you if you're looking for an edgier look.
Whichever you choose, the leg-elongating effects of a well-designed platform wedge are reason enough to keep you reaching for them each time you head out to the clubs. That's why it is one of the best shoe styles for clubbing.
The Platform Stiletto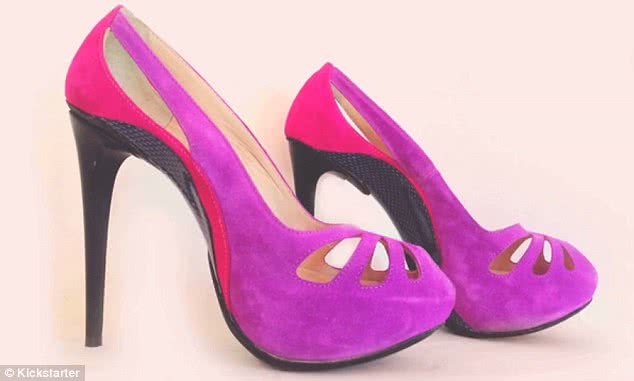 The platform stiletto is a second solid choice. It provides many of the same benefits as the platform wedge.
Because the platform stiletto has been around for years, designers have been able to up their game in delivering a comfortable product without sacrificing style.
Cole Haan, for example, has combined its design aesthetic with Nike Air technology to create platform stilettos that are as comfortable as they are sexy.
As with the wedge, it is important to make sure you choose a shoe that fits well without being too tight. If your stiletto has an open toe, make sure your toes are properly aligned and not squished together or crammed too tightly into the end of the shoe.
If you prefer sandals, make sure you choose a pair that prevents your foot from sliding around. And you don't want the straps to cut into your foot. There are a lot of choices out there, so be sure to try before you buy and get a shoe that fits perfectly.
The demand for comfortable and sexy platform stilettos is so high that it is not just the large shoe designers (like Cole Haan) who are getting in on the action. California-based orthopedic surgeon Taryn Rose has built a $40 million empire with her namesake shoe collection. Each design is intended to be comfortable and foot-friendly. Rose recently launched a Kickstarter campaign to fund her latest creation, a line of platform stilettos called "Wing Shoes."
The "Wing Shoe" is a collaboration between Rose and architect Enrico Cuini. The stilettos have carbon-fiber "wings" in the insoles. The wings are supposed to support the medial, lateral and transverse arches of the foot. That sounds great. What's even better is that the shoes are drop-dead gorgeous.
It is not easy to find sexy shoes that are also comfortable. The fact is, many women have gotten used to the trade-off of feeling uncomfortable for the sake of looking their best. But it doesn't have to be that way. Comfortable and sexy high heels do exist. You just may have to do a little more (ahem) legwork to find them.