No outfit is complete without the perfect pair of shoes, so if you're planning on making the world your runway, make sure you conquer the fall with these 5 shoes.
Back in February for Fall/Winter '16 fashion week, we got our taste for this upcoming season's hottest styles. Now that we're slowly creeping out of summer and tiptoeing into fall, we can see these styles take shape in the fashion world.
While most of these styles have been seen before, they're sure to blow up in the next few months. You've probably already seen some of the fashion's biggest celebrities like Rihanna and Kim Kardashian wearing these styles, so why not join Hollywood's elite in their superb fashion.
If you're ready to strut your way into the upcoming season, make sure you're doing it in one of these 5 must-have fall shoes.
Adidas Superstar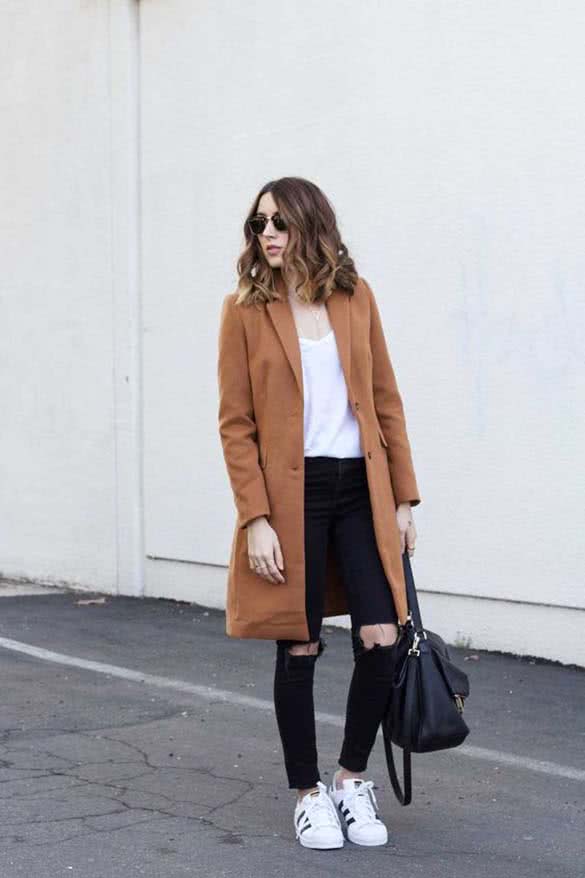 The first pair of shoes you'll definitely need for this upcoming fall are Adidas sneakers. While most might be trying to figure out how to wear their running shoes with a casual outfit, we already know the tricks of the trade. Whether it's a trick or a treat, you'll need these sneakers for your wardrobe.
In this first look, we see a seamless fall outfit with black high-waisted jeans and a simple white top. This blogger throws on a camel colored trench coat that she pairs with a black shoulder bag. This look could be easily dressed up with a pair of heels, but it immediately becomes effortless with the addition of the Adidas sneakers.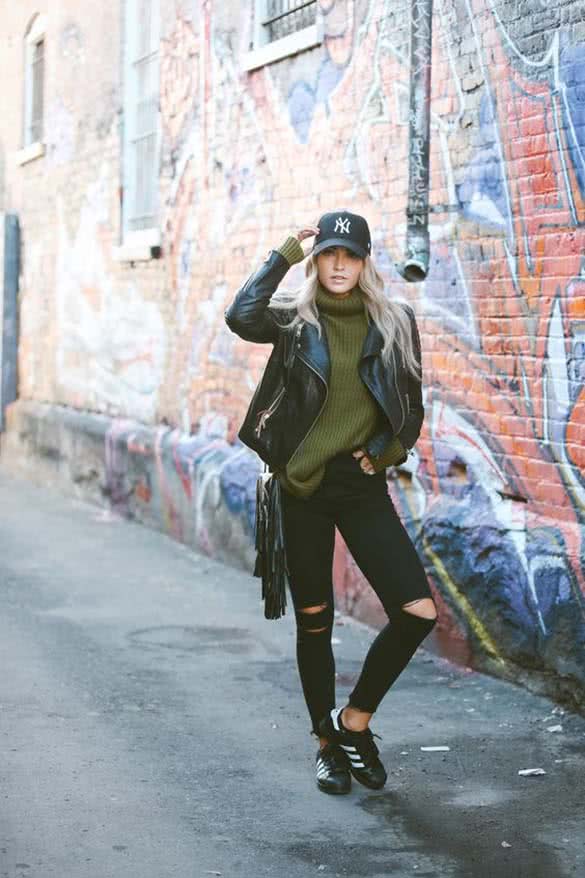 One thing to note in this second look as well as in the first look is that the jeans never completely cover the ankle. In this casually edgy look, we see a pair of black Adidas superstar sneakers worn with ripped black jeans and a black leather jacket. The mostly all black outfit goes well with a khaki turtleneck sweater and New York Yankees baseball cap.
Metallic Shoes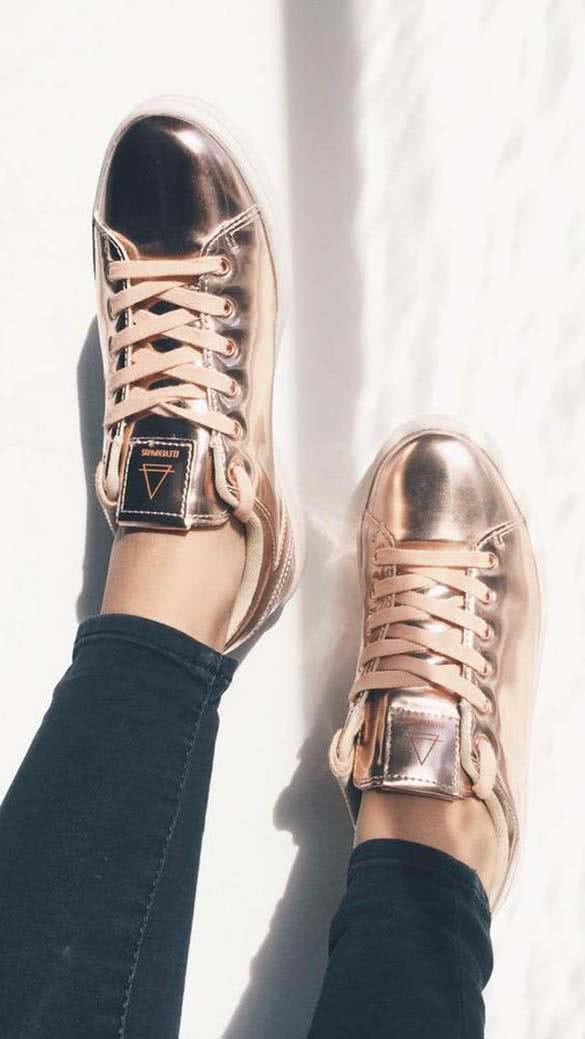 One of the things that the previous fall fashion week strutted into existence was the return of the metallic shoe. These first metallic sneakers are perfect for spicing up any wardrobe. If you're attempting to pull off a casual monochromatic white or black look, metallic sneakers will help tie the look together and keep it from looking too bland.
Zetus Lapetus! You probably thought you were leaving the metallic in the past with the ending of the Zenon film series, but this trend is definitely back for fall 2016.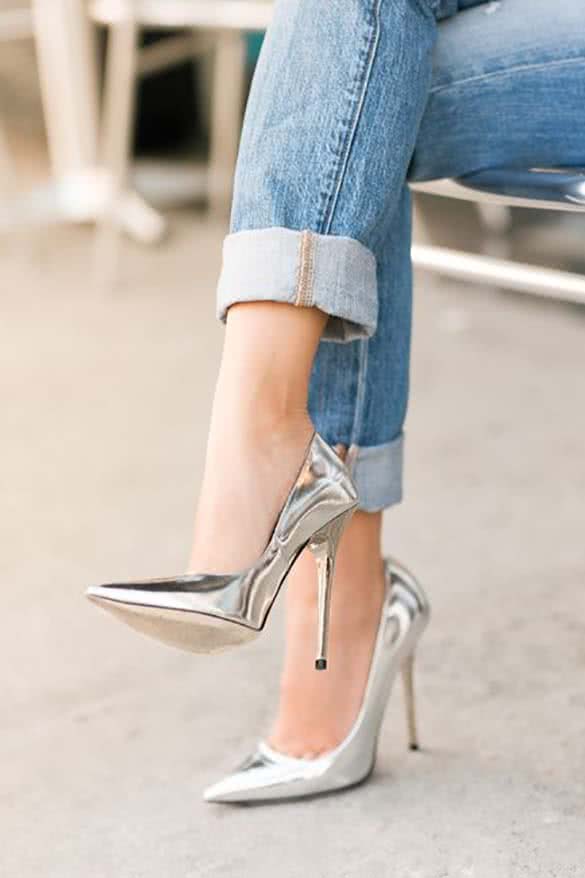 As shown in this second picture, silver pumps are more popular option when it comes to picking metallic shoes. These metallic pumps are a great way for spicing up a casual look with jeans or pairing it with your favorite neutral dress.
Midcalf Boots

If there's one family at the center of all the fashion, it would definitely be the Kardashians. Reigning queen, Kim K is giving us a glimpse into another hot trend for this fall season – mid calf boots. In an all-black ensemble of a bodysuit, leggings, and a fur coat, she paired her outfit with clear boots.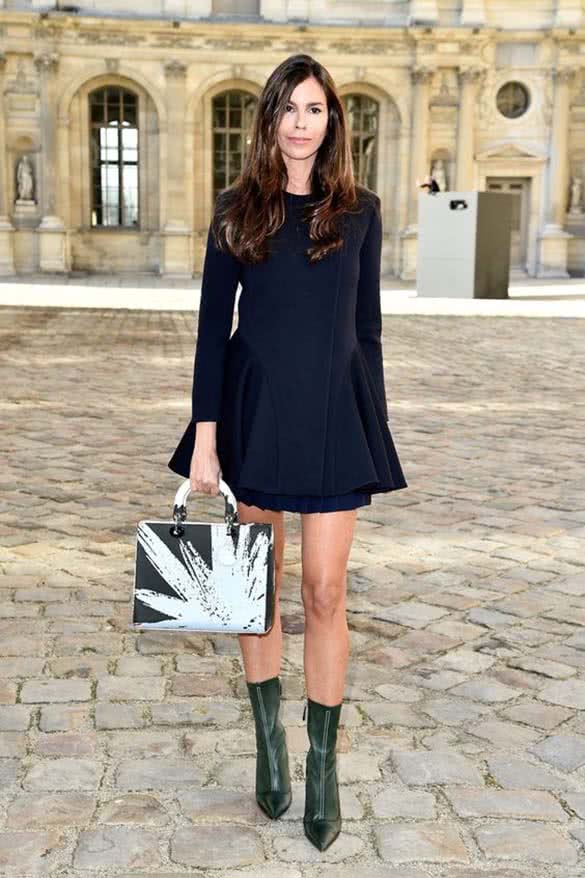 In another look that shows off the budding fall trend, we see dark green mid-calf boots paired with a navy flared dress. With the short dress and height of the boots, this brings the attention to the legs and gives them an even longer and taller appearance.
Pointy Toe Pumps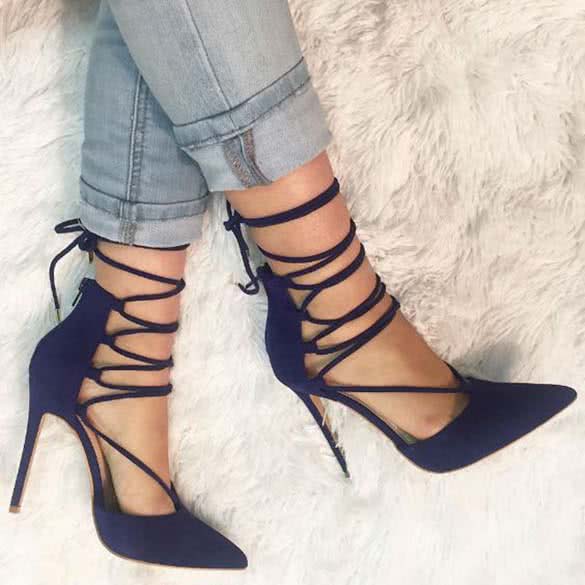 If there's one trend about fashion, it's that the pointy toe heels aren't going anywhere. Although this trend disappeared for a series of years, it has come back to the center stage of fashion, and it will definitely still be around for fall 2016.
These first laced pumps are the perfect modification to the regular pointy-toed pumps. Laced heels were and are a big trend for summer 2016, so these heels are a perfect way to transition into the fall.
This second pair of pumps shows just how well these heels work with everything. In a simple but stylish fall outfit, we see these black pumps paired with cuffed jeans, a black and white striped turtleneck, and a tan trench coat.
The amazing thing about pointy toe pumps and why they won't fade anytime soon is that they work with the fanciest of dresses and help boost the simplest of looks.
Velvet Shoes
Similar to the return of the metallic shoe, there is one other trend that fashion week made sure we wouldn't forget – the velvet shoe. As the models took to the runway, we saw them appear in velvet shoes like these red boots. Another trend we saw heavily in the 90s, these shoes are making their way back into shoppers' closets.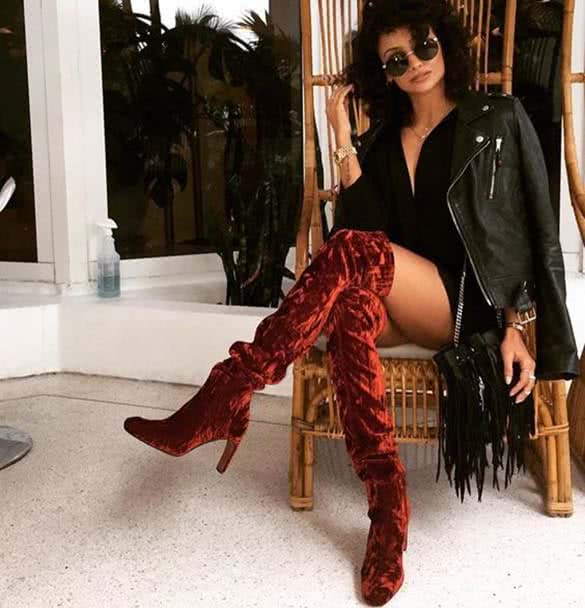 Mixing in this hot trend with one of the fall's must-have items, we see a stunning pair of over the knee velvet boots. Great for enhancing the simplest of outfits, these boots are paired with an all-black outfit of a mini dress, leather jacket, and fringe shoulder bag.
We're slowly kissing the summer weather goodbye, and when the temperatures start to decrease and the days grow shorter, you can expect to see these styles on the feet of all fashionistas.
In the comments down below, let us know which pair of shoes you'll be wearing most this fall 2016!