Is there a better way to embrace summer days, than by splashing on some color! Yellow is one of the most fascinating summer colors, and a pair of yellow shoes is a perfect detail that will make you glow. Wear them with confidence and be the queen of style. Here are some trendy casual outfit ideas, on what to wear with yellow shoes, this summer.
One of the biggest trends for this summer is yellow, so spice up your outfit with this bright, and happy color. The question is what to wear with yellow shoes! Check out my combinations.
Outfit 1
Yellow shoes are a perfect match for all black outfits, and they also go perfectly with another trendy color of 2012 – blue. That's not the end. Pair them with a white shirt and purple shorts, for example. Why not? Yellow and purple are complementary colors. This casual combination is comfortable and trendy.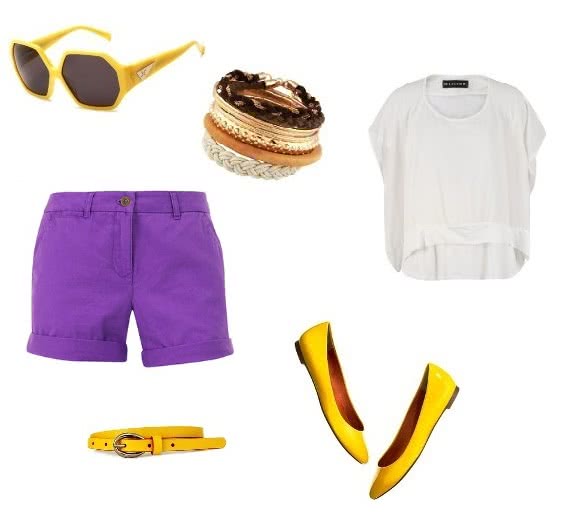 Madewell The Patent Sidewalk Skimmer (madewell.com)
Purple chino shorts (dorothyperkins.com)
Religion Jtt43 Sheer Double Layer White Top (coggles.com)
ALDO Bellina bracelet (aldoshoes.com)
Ray Ban Sunglasses (raybansshow.com)
Audrey Oval Wave Buckle Pant Belt (lodis.com)
Don't forget that shoes don't always have to match with what you are wearing. White is always a safe choice, because you can pair it with grey, blue or purple. Make sure that you keep the outfit simple, so that it doesn't look too clustered! Try subtle yellow accessories, like yellow nail polish, bracelet, or sunglasses, for a touch of extra yellow.
Outfit 2
With this one you can't go wrong. Dark jeans and white, grey or khaki shirt, is always a safe choice when you want to highlight the beauty of your yellow heels.
If the shoes are solid, with no print, you can match them with a printed top, with prints in a complementing shade.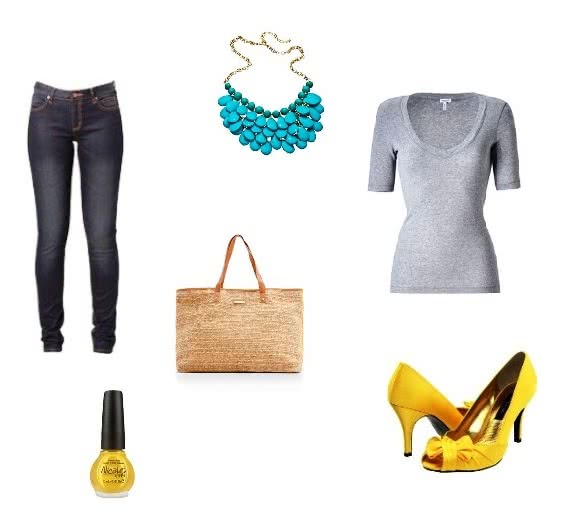 Nina Forbes (zappos.com)
Indigo Coated Jean (witchery.com.au)
SPLENDID Heather Grey T-Shirt (stylebop.com)
Roberta Chiarella Gold Turquoise Layered Necklace (maxandchloe.com)
Woven Straw Shopping Bag (mango.com)
Adding texture to your outfit, when wearing yellow shoes, can give your outfit a very trendy look. For example, try wearing solid yellow shoes with a snakeskin belt, and a plain shirt.
Outfit 3
For more formal occasions choose a classic black dress, or black pants. Accessorize your look with a black clutch, and a piece of jewelry. You don't have to match jewelry with the color of your shoes. Be creative, and follow your own feeling.
You can also combine yellow heels with an electric blue, or an electric purple, dress. Even a black and white combination, floral, polka-dot or striped dress, can be easily combined with them. Just be careful with extra details. You don't want to look like a rainbow.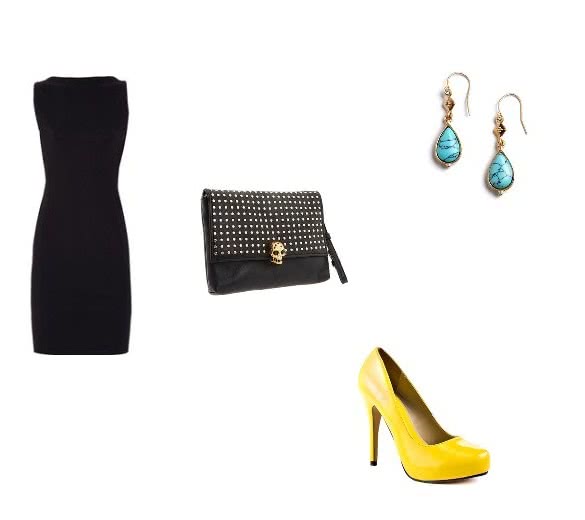 Michael Antonio Love Me – Yellow Pat (heels.com)
Diane von Furstenberg Audrina stretch-poplin dress (net-a-porter.com)
Alexander McQueen Soft Clutch (couture.zappos.com)
Lauren By Ralph Lauren Turquoise Drop Earrings (lordandtaylor.com)
There are, of course, even more combinations for this shinning, colored footwear. You can even go all in yellow by combining yellow shoes with a yellow dress!
Share your ideas with us.