There is no better way to add life to a look than with a pop of color. These three ways to wear yellow sandals will add a bit of sunshine to your summer wardrobe.
The pop of color is one of the most tried and tested ways to add some depth and interest to a look without over-complicating things. Even on the day when you are feeling your most uninspired, you can always rely on a fire-engine red pair of pumps or an inky indigo pair of loafers to see you through.
This summer, yellow sandals are to the pop of color what the statement pump has been to the looks of seasons past. Bright yellow sandals are popping up on celebrities and street style stars alike; while the look is certainly accessible, there are definitely some fool-proof styling tips to help you rock it.
Here are our three favorite ways to wear bright yellow sandals – a look sure to leave you looking effortlessly chic.
#1 As a Focal Point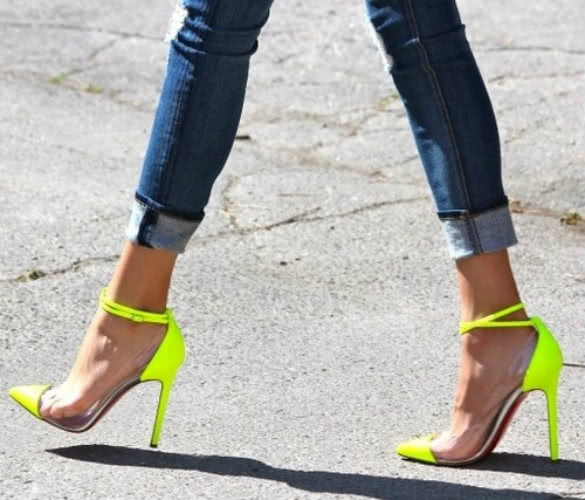 One of the easiest (if not the most obvious) ways to wear a pair of bright yellow sandals is as the focal point of a look. You've spent time and energy choosing just the right pair of sandals in just the right shade, so why not show them off?
The key to rocking a pair of sandals as the focal point of a look lies in what you choose to go with it. In this case, the clothes you choose should act as a backdrop to your sandals and not compete with them for the limelight. Choose simple pieces in solid colors, neutrals, or monochromatic prints to balance the look without overwhelming your footwear.
For more dressed-down days, denim is a great choice with a bright yellow sandal. When paired with a simple white shirt, the look is both classic and modern.
#2 As a Contrast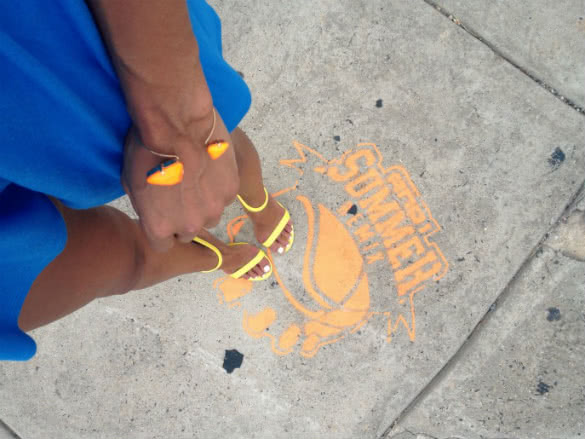 A pair of bright yellow sandals is an excellent way to balance brighter colors. The key to getting this look right is to pair them with a color that is an appropriate contrast to your particular shade of yellow. For instance, a pair of golden yellow gladiator sandal pumps will look amazing when paired with a deep purple or navy shift dress, whereas a pair of bright lemon or neon yellow sandals look amazing when paired with grey, white, or even a navy nautical stripe.
Bright yellow sandals also look great against prints and patterns in contrasting colors. When pairing them with a print, the key to keeping it modern is to make sure that you are not just matching the sandal to a colour that is in the print (too matchy-matchy!) instead of focusing on creating a contrast between the palette of the print and the yellow sandal.
#3 Color Blocking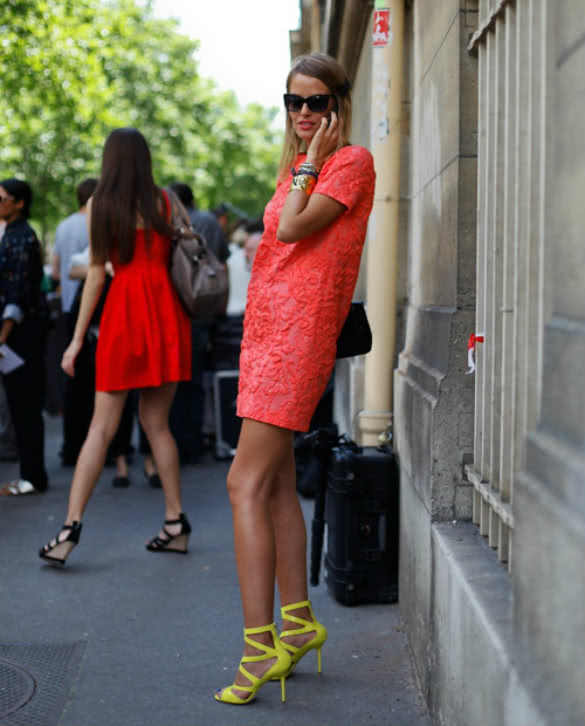 Every few fashion cycles, we see color blocking make an appearance. It is a look that has stood the test of time, and is a perfect complement to the warmer summer months. A bright yellow sandal is the perfect tool in making this look work for you.
When building your look, you can again choose contrasting colors, or even create a tone-on-tone look with reds, oranges, and yellows. Whatever you choose, be sure that you pick pieces that have simple, clean lines and fit well.
Another handy styling tip to remember when creating a color-blocked look is to consider the balance of the colors you are putting together. For instance, if you choose a top in a deep violet or navy shade, you can add length to the look by choosing a lighter shade (either contrasting or complementary) on the bottom with your bright yellow sandal as a finishing touch. This adds direction to the look, keeping the eye flowing in a linear direction.
The possibilities in styling a pair of bright yellow sandals for summer don't just end at these three examples; there are virtually limitless options out there for anyone with a creative spirit and a dash of ingenuity. However, these three methods perhaps represent some of the most tried and tested ways of adding a pop of bright, sunny color into your summer wardrobe.
Play around with these techniques, and soon you will undoubtedly find yourself creating all kinds of variations on the theme enhancing both your creativity and your wardrobe possibilities in one fell swoop.
Cover photo: tumblr.com