Want to go shopping but you don't have neither the time nor the money? Here are the best online stores for every style and with really frugal prices.
With the economic situation we have been facing for a few years now, many people try to find ways of saving money without having to sacrifice or change their lifestyle.
Some people try to go our less to the restaurant, some try not to spend too much on holidays, but we could say that probably everyone tries to save money on the clothes they buy.
But actually this is not a novelty, with the fashion wheel going round faster and faster and new trends appearing literally every 3 months, women had to find ways to keep up without spending their whole salary on it.
Especially young people are the ones who are more careful about their expenditure towards clothes, maybe because they are on a student budget, or because they change their mind more quickly about their style and look or again they may be more affected by the changing of the trends.
Well, the good news is that the market is not short of really cool websites and stores that sell affordable fashion, offering us every day new styles and looks for a low price.
When shopping on a budget on the internet one might get carried away and tend to buy too many things, without realizing how much they are spending.
Before even attempting to go onto a website to buy something you should already have a rough idea of what you are looking for and try to stick to that. Plus there are also 2 things you should check before buying, which are:
The delivery cost: check how much it will cost to have the item or items delivered at your home and consider it when you are about to buy something. Is it inside your budget?
The return policy: the worst case scenario is that your item arrives and it does not fit or it just does not suit your body shape. What now!? Before making the decision to buy something, always check the return policy of that website. Check if it is free, if they will give you the money back also for the delivery and if it is easy to do.
Once you learn these basic concepts, it is time to discover new websites for your shopping. So here are all the frugal fashion e-stores for all ages and styles! 
Forever 21

There are loads of Forever 21 stores in the U.S. and also in the U.K., but their online store is also great with special online-only deals. The prices are really reasonable and you can make some style deals starting from $5. It has all the latest trends especially for young women.
You can find clothes, accessories and shoes in it. Plus there is also their special Love 21 contemporary collection and a line for plus size, men and girls. There is also a section with many items on sale which is always the best to make real deals.
Shop Forever21 here
Lulu's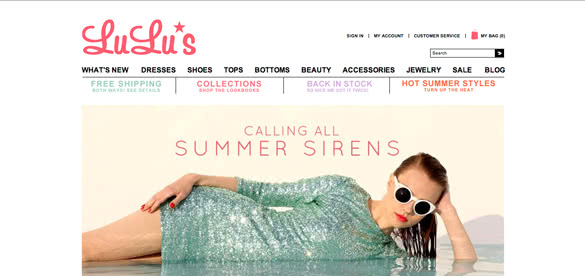 Lulu's provides the latest for the fashionably hip along with providing an exceptional value. The store features many emerging new designers from all around the globe and has limited quantities of everything. It also offers free returns and free shipping for purchases over $50.
The e-store has clothes, shoes, accessories, jewelry and also beauty products. It also has a sales section and a great blog. 
Shop Lulu's here
1015 store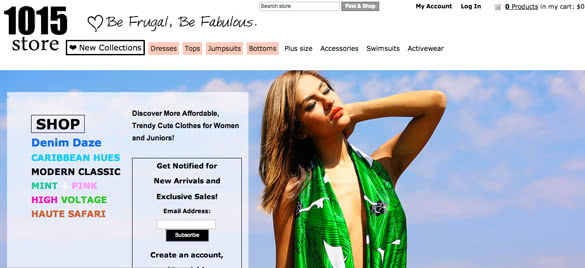 Their motto is "be frugal, be fabulous" and we could say that this store is one of the most versatile when it comes to age range. Plus, the prices are really low, mostly of just $10 or $15. The only downside is that it is not possible to return any item.
On 1015 store you can purchase clothes, accessories, swimwear and also activewear. There is also a plus size line.
Shop 1015 here
Papaya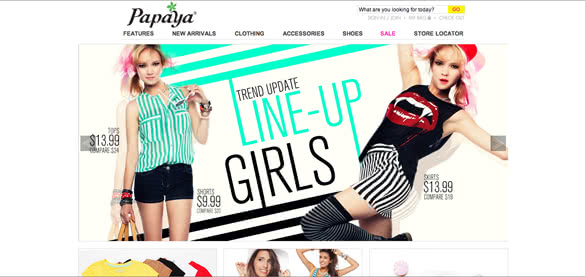 It is a store for younger girls, between 16 and 25, and it features all the latest trends for teens.
It has clothes, accessories and shoes and also a sale section.
Shop Papaya here
Asos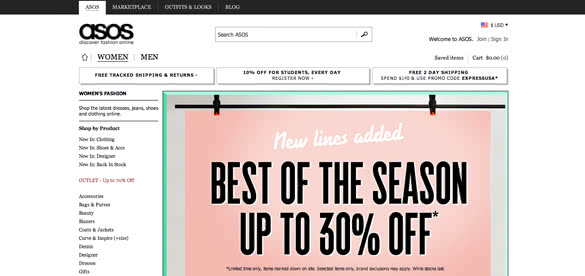 Asos is probably the biggest and most complete e-store in the world, both for the different styles it has and also for the price and age range. It has free shipping and returns and it features not only its own line, but also other brands and designers with exclusive discounts.
It has both men and women lines, offering clothes, shoes and accessories. There is a petite line too. On Asos you can also find a section called marketplace, where it is possible to buy and sell new, pre-owned and vintage clothes. A great opportunity both for clothes companies but also for individuals who want to get rid of some old clothes.
Another great thing you can do on it is to create your own outfit and enter competitions. 
Shop Asos here
Go Jane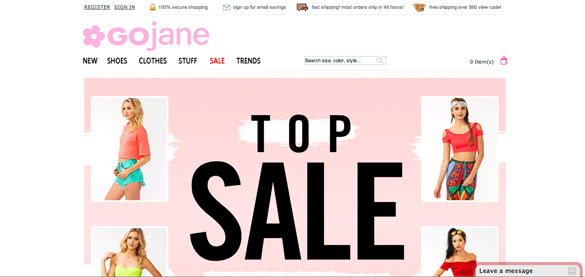 Go Jane is the store for progressive young women that always has something new every day. It features all the latest fashion and has clothes especially for the daywear. The style is quite independent and fierce.
You will be able to find shoes, clothes, jewelry, accessories and also cosmetics on Go Jane. 
Shop Go Jane here
Just Fab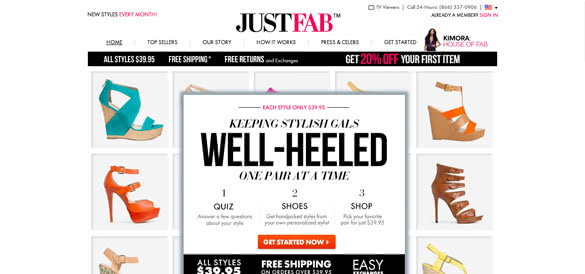 Just Fab is like having your personal shopper on the web. It offers a super personalized shopping experience, which starts from a short quiz to identify your tastes and the creation of a boutique based on them. The great news is also that all the items sold on it at just $39.99. It also offers free shipping.
It features shoes and accessories and it also has a sale section. 
Shop Just Fab here
Tulle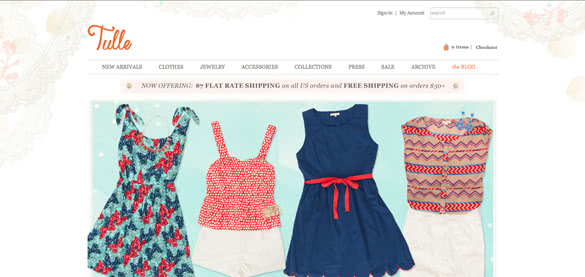 On Tulle4us.com you can find all the vintage inspired modern clothing that will give your style a really retro mood. The items are not super cheap but quite affordable and they are a favorite of celebrities and fashion magazines.
Here you can find clothes, jewelry and accessories and also a sale section with really great deals.
Cover photo: thestylesocialite.com