The need to be in many places in a short span of time can wreak havoc on your workout routine, especially if you rely on gym sessions to get fit. Put together your own workout gear that you can bring anywhere you like!
You're always on the go – on the road to the office, on a flight to your next business meeting or on a long drive to a new site visit. This may take a toll on your exercise routine – but that's how life works and there's no going around it. If this is the case, you most likely have several changes of clothes and pairs of shoes inside your car, because you aren't sure where you will end up next. Why not do the same thing for your workouts? If you are always on the go, it is important to have a set of workout gear that you can easily put together and grab when you need to run.
Your Gym Bag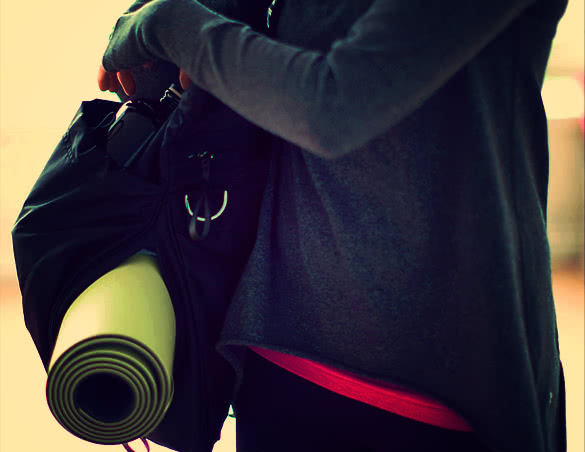 Have a good gym or fitness bag ready at all times, and there are many that you can choose from. Space is key, so choose a bag that has enough space for clothes, shoes and some workout gear. I recommend getting at least two fitness bags – a smaller one for everyday trips and a slightly bigger one if you need to travel. What is good about big-sized gym bags is that they can also double as your luggage for a short weekend trip.
Choose bags made from cotton on nylon, not just because they are relatively inexpensive, but they also have decent quality. They are also easy to maintain because you can easily put them in the wash every now and then. These bags come in a wide range of colors and designs to suit your needs and preferences.
Workout Must Haves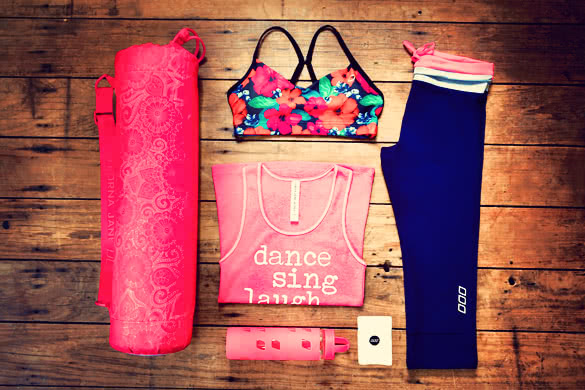 Running shoes – your running shoes will perhaps take the biggest space in your workout bag. However, you cannot really do without them unless you plan on doing exercises that can be done barefoot (like yoga or swimming). Even then, you will be amazed at how useful your shoes can be in airports while you are on a layover, waiting for your next flight. There are many slim and lightweight versions in the market today, so pick the lightest one that suits your workout style.
Workout Clothes – Bring at least two pairs of tops, shorts, socks and sports bras. Trust me, you won't need anything else, need even for a weeklong trip. How? The key here is to use and wash them on alternate days. A trick I learned from many of my fitness friends is to stand in the shower IN your workout clothes, soap all over and rinse. This just makes the washing part very easy. These clothes tend to dry quickly so you can leave them in your hotel room in the morning and find them dry when you come back at the end of the day.
Pack lightweight and moisture wicking items. Get your hands on 2 in 1 or reversible items, if you don't like wearing the same thing over and over again.
Swimsuit and Goggles – Pack your swim wear and goggles – only if you are sure that there is a pool in your destination.  Swimming can give you a full body workout without the need for heavy or bulky equipment.
Exercise Bands – Exercise bands are excellent for strength training. You can choose from resistance tubs of flat bands. Tubes are usually a little heavier and take up a more space because of their handles, flat bands on the other hand are easier to pack and less space consuming, but offer less resistance than tubes.
Exercise Video – Whether you watch it on your phone, your tablet or in the form of a DVD, you can never go wrong with an exercise video. Bring at least one video for cardio and one video for strength training. This way, you can still train anywhere even when you do not have access to a gym.
Running Watches/Pedometers/Armbands for your device – If you run or jog, then you may want to keep track of your speed and distance with the use of running watches, pedometers or your mobile device. These are generally lightweight options and are very helpful especially if you're working towards a goal. An armband for your device is also helpful if you like working out with music.
Super Light Yoga Mat – Yoga mats are great for long trips, or for times when you do not have any access to a gym. The mat is not just for yoga, though, since you can use it for floor exercises and stretching. You can keep one in your car and drive to the nearest park to do some exercises. Typical yoga mats take up quite some space in your bag. Opt for the foldable and lightweight version.
So, there you go – a list of the essentials you need when you are traveling. Pack these items and have them ready inside your car or near your front door so that all you have to do is pick the bag up when you need to leave.
What about you, what do you bring when you travel? Do you have favorite products or brands that you use? Let us know!