When the sun is shining, everyone wants to get outside and fire up the BBQ. But are you bored of the same old burgers and hotdogs? Perhaps you need something new…
Barbecues on a sunny day provide a wonderful combination of relaxation, nostalgia, and delicious food. Yet it probably feels like you've eaten burgers and hotdogs a million times already. You want something different with strong, fresh, exciting flavours. Keep reading to find out some quick recipes and interesting ideas.
Maybe you're trying to watch what you eat so the idea of traditional barbecue food doesn't appeal. Perhaps you're a vegetarian so you're not able to eat a lot of what is usually served up on a summer's day. Or you might just be interested in trying an alternative to the same old meal you eat every year.
Read on to find out recipes and ideas for vegetarian options, healthy options, and things that are just a little bit different. Most recipes can be adapted for any special dietary needs, and can be mixed and matched to create a menu that will suit anyone who might come to visit.
Mushroom Burgers
Instead of normal burgers, try grilling some field mushrooms instead. These are delicious, nutritious, and ideal for a vegetarian or vegan diet. You can garnish them with whatever you like – go for the traditional flavours of cheese and ketchup, or keep it fresh with salad leaves, avocado and some chilli jam.
Brush a large mushroom with a small amount of Dijon mustard mixed with olive oil. Make sure to use a small amount, as this does not want to be the overwhelming flavour of the dish – it is just to add richness to the taste, and to prevent the mushroom from completely drying out while on the grill. Put the mushrooms onto the grill for around 5 minutes on each side – you want them completely cooked, but not overcooked to the point of being mushy.
Serve in wholegrain buns with your preferred accompaniments and condiments. They are delicious with melted cheese on top, or a slice of avocado for anyone who doesn't eat dairy but craves something creamy on their sandwich.
Aromatic Salmon Skewers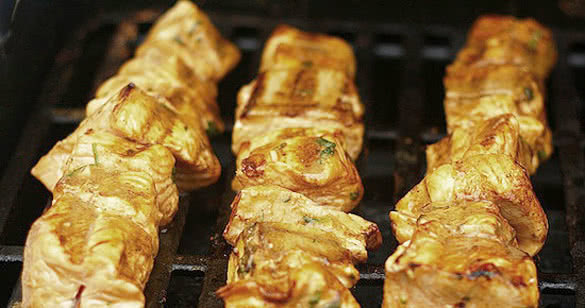 Salmon is great to cook on a BBQ, as it does not take a great deal of cooking, and suits a smoky grilled flavour very well. For best results, marinate your salmon overnight in the fridge. If this is not possible, then you could make a glaze (slightly thicker than a marinade) and brush this onto the salmon as it cooks. Allow between 2-5 chunks of salmon per person, depending on what else you are serving.
Cut skinless salmon into chunks that are around one inch thick. Make a sweet-salty marinade from soy sauce, rice wine vinegar, fresh ginger, and brown sugar. For a special kick add some diced red chilli, or to cut through the strong flavours add a squeeze of lemon juice. Place your salmon in a covered dish with the marinade, and leave in the fridge overnight. At the same time, soak your skewers in water so that they don't burn on the grill.
Spear the marinated salmon onto the skewers, alternating with vegetables such as cherry tomatoes or cubes of pepper if desired. These will need around 10 minutes on the grill in total, making sure to turn them often.
Serve these with a side of salad and a dipping sauce. They go perfectly with a couscous salad or tabbouleh.
Carrot and Courgette Burgers
This is another recipe that is great for any vegetarians who don't want to miss out on the burger experience. These 'burgers' are made entirely from courgette and carrot, with just a little oil and flour to bind them together. As they are more loosely packed than the average burger, it may be a good idea to cook them in a pan and simply finish them on the grill, or to cook them in a foil packet on the grill.
Grate equal amounts of carrot and courgette into a large bowl. One large courgette and one large carrot should make enough for 2-4 burgers, depending on how big you want the patties. Squeeze as much water out as possible, before mixing in a splash of oil and a spoonful of flour.
Heat up a pan with a splash of oil, shape the mixture in patties, and add them into the pan one at a time. Cook them for around 2 minutes on each side, until the outside of the burger is just barely crunchy. If you want, carefully place them on the grill for a minute or two to impart some smoky BBQ flavour.
Forgo the usual seeded bun for a pitta bread or a ciabatta roll. Serve with baby leaf salad and minted crème fraiche or sour cream.
Stuffed Peppers
Stuffed peppers are a vegetarian classic for a reason: they are relatively simple to make, delicious, nutritious and versatile. They can even be stuffed with ground meat if your guests are all completely carnivorous.
Some delicious ideas for stuffed pepper fillings include couscous, rice, mushrooms, olives, halloumi, feta cheese, or anything else delicious that you have hanging around. Rice, couscous or any other grain will need to be cooked before you start assembling the peppers.
Once you have stuffed your pepper with whatever you fancy, wrap them loosely in foil and stick them on the grill. Grill for around 20 minutes, turning often and taking care not to completely burn the pepper.
Stuffed peppers are great served on their own, as they do not need a rice or couscous salad on the side. Keep them wrapped in their foil to stay warm and allow your guests to help themselves.
Baked Sweet Potatoes
It is easy to bake sweet potatoes on your barbecue, and delicious too. As they are easy to cook in batch, you could cook more than you need and keep the leftovers in the fridge for quick meals during the week. Preparing and cooking the potatoes is almost no effort, meaning you can relax and enjoy your party for a while.
Toss each sweet potato in oil, salt and any herbs you would like, and gently poke them a few times with a fork. Wrap them in foil, and put them onto the grill for around 30 minutes total, turning a few times. Open the foil packets, split open the potatoes, and allow them to cool for a while before serving.
These are a great option for anyone who does not eat bread. A baked sweet potato make a perfect side to a burger, and will be just as filling and delicious. They are also great with shredded meat and chilli con carne, or on their own with a spoonful of sour cream and some hot sauce.
Grain Salad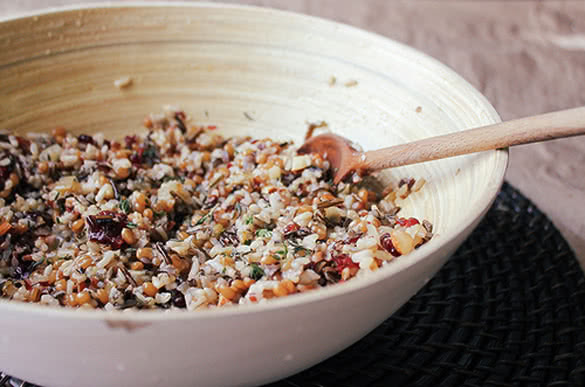 Making a few different salads will make sure that everyone has something they can happily eat at your barbecue. As well as a basic salad of various leaves with vegetables such as cucumber, tomato and peppers, a more filling and nutritious grain salad is a great idea.
The basic recipe for a grain salad is a cooked grain with vegetables, fruit or nuts if desired, and a light dressing. Some good combinations include couscous with grilled mushroom and courgette, or a pasta salad with cherry tomatoes, basil, torn mozzarella and a splash of balsamic vinegar.
A take on the Middle Eastern tabbouleh is bound to go down well: mix bulgur wheat with tomatoes, parsley, mint, red onion, lemon juice and olive oil to create a light and aromatic salad that everyone will be desperate to scoop up with a piece of pitta bread, or scatter liberally over their baked potato.
Pulled Chicken
If you're craving the sweet meatiness of pulled pork, but want to serve up something a little lighter at your get together, try making pulled chicken instead. This recipe might even be a lot quicker and easier than pulled pork, and can come together in just a few hours. It is best to use chicken thighs rather than breasts, as breast meat tends to dry out if cooked for a long time, and to use skinless and boneless meat so that it is easier to shred once cooked.
Gently fry some onions and garlic in a heavy pan, before adding in the chicken thighs. After a few minutes, pour your favourite barbecue sauce into the pan – whether you use sauce from a jar or make your own is entirely up to you. Bring the sauce to a gentle simmer, before transferring the covered pan to a preheated oven. This should be ready in 1-2 hours. When the meat is cooked through and pulls apart easily with a fork, it is ready. Shred the chicken, and reserve the sauce to serve, thickening it if necessary.
Serve with crusty bread buns or baked potatoes. Add grated cheese, avocado, coleslaw, thickened barbecue sauce, or sour cream.
Cover photo: fastperformancetraining.com