If you're looking to move beyond cookbooks and online recipe boards like Pinterest, it's time to check out best video recipe Facebook pages that feature recipes in a little bit different format.
I'm what my teachers called a visual learner. I could listen to endless lectures or read and re-read textbooks, but nothing stuck with me quite like videos or photos.
Fast-forward ten years, and I'm a twenty-something adult sharing a one-bedroom apartment, standing in front of a cupboard of ingredients and no clue where to start on dinner. What's a girl to do?
Thankfully, there's a brilliant new trend for the reading-averse, the visual learners and the creative: recipe video Facebook pages.
You've probably seen your friends sharing videos from the foremost of these pages, Tasty, but did you know that there's a huge array of pages to choose from?
Whether you're looking to satisfy your sweet tooth or cook a romantic dinner for two, these pages are your best bet in a pinch.
Often, the recipes use common household ingredients, so you won't be standing in the mile-long Trader Joe's line after work looking for some spice you've never heard of.
I really believe in treating your body well, and a massive part of that is eating good, wholesome food. And while, admittedly, not all of these pages feature healthy food—I'm looking at you, Sweeten—it's important to indulge on occasion.
I've included a wide range of best video recipe Facebook pages for your viewing and cooking pleasure.
1. Tasty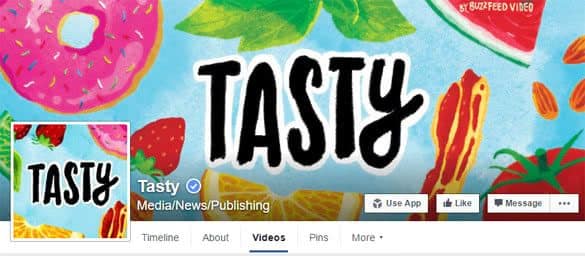 Tasty is generally considered the "big daddy" of video recipe Facebook pages. It was one of the earliest pages to gain fame, and with over 46 million likes, it's definitely the most popular.
Tasty generally features a wide range of dishes, from breakfast to dessert and everything in between, and features both healthy food (broccoli tots, anyone?) and indulgences (I'm looking at you, salted caramel potato chip cookies).
I prefer to use Tasty when I'm looking for quick, easy and healthy meals. The page recently posted a one-pan salmon and veggie dinner, for example, and tends to provide great ideas for simple, but healthy meals for those nights when you don't feel like cooking.
2. Tastemade
Tastemade is pretty similar to Tasty. Recipe videos tend to run under a minute—your evening commute will thank you for the entertainment—and tend to feature a wide range of dishes.
However, while Tasty generally focuses on "American" food, Tastemade features recipes from a wide range of cultural and ethnic traditions. From eggplant moussaka with yogurt sauce to homemade patatas bravas, Tastemade definitely satisfies your palate in every form.
This page also has a neat weekly feature called "Tiny Kitchen," which is exactly what it sounds like. An unseen chef prepares breakfast, burgers, curry and stuffed cabbage in a kitchen built for a hamster.
While probably impractical, it's quite adorable and might make you feel better about your own tiny kitchen. No judgment—we've all been there.
3. Sweeten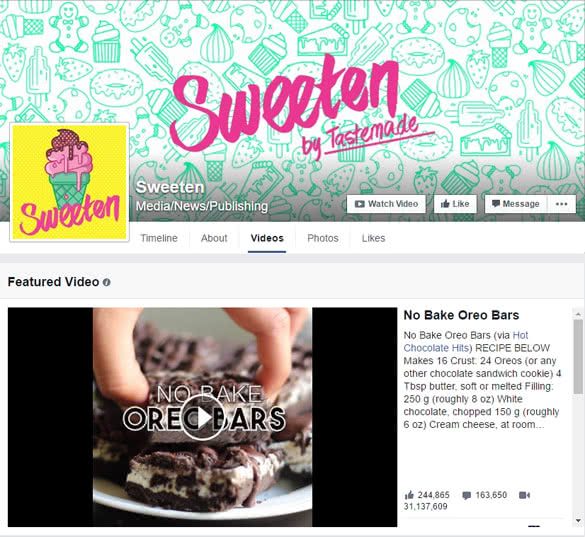 Time for some dessert, right? Sweeten is actually a page created by Tastemade that focuses solely on desserts and, you guessed it, sweet dishes. You can find everything from breakfast and brunch to fancy desserts and casual snacks on this page.
They also tend to roll with the seasons and with special diets—gluten free or vegan? You'll find what you need on this page.
And you'll also find everything from dishes for special occasions (can you say dulce de leche truffles?) to something you'll probably throw together on a Friday night while drinking boxed wine (yep, I'm referring to the cookie pie).
But, seriously, check this page out, if only to gaze longingly at the peanut butter chocolate lava cake.
4. BuzzFeed Food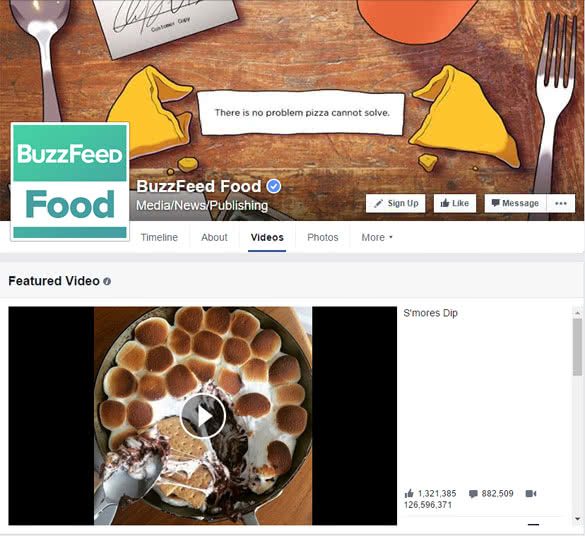 Do you like Oreos, bacon, clickbait or all of the above? Then Buzzfeed Food is going to be your new best friend. This isn't to belittle Buzzfeed's recipe video page; on the contrary, I find it's serving me well in my strange transition period from my pizza and ramen-fueled undergrad days to my young adult days where I'm trying to figure out how to use my spiralizer.
If you're like me, this page is for you.
Buzzfeed Food is also hip to the trends (kids, is that what you say these days?) and recently featured a recipe for rainbow bagels. However, it's also great for one-pan meals, trendy foods like zucchini noodles with kale pesto, and, of course, bacon-wrapped grilled cheese.
Sometimes, I just need a reminder of my undergrad days.
5. The Scran Line
You're going to thank me for introducing you to this page. With just over 73,000 likes, it's a relatively small page, but trust me: all of your friends are going to be sharing these videos a few weeks from now, but you've already been there, you recipe video hipster, you.
The Scran Line is run by Nick, a pastry chef and graphic designer, who shares his love of both with beautiful videos of cupcakes, pastries and other sweet dishes.
I'm not going to lie: I've never actually made anything from this page, but, gosh, watching these gorgeous videos is usually enough. I mean, I definitely don't have the skill to make Nick's chai white chocolate cupcakes, but I'm pretty practiced at watching Facebook videos, so that's usually good enough for me.
I really hope you'll check out some of these pages! I've found them incredibly useful in planning my weekly meals, making brunch or dinner party dishes and in treating myself to some new dishes. And, if you just binge watch thirty videos instead of actually making food, there's always delivery.
Did I miss your favorite Facebook page? Drop me a line below and share your favorite recipe page with the world!