The best advice would be to live life to the fullest! Try everything, make mistakes, learn as much as you can and discover yourself as much as you can! And take these awesome, must-do suggestions. Believe me, it will be worth it!
Even though sometimes it may seem that there is nothing to tell someone who is 20, but just to live life fully, there are, however, a few important suggestions. Try reading below to discover important and interesting advice that can make your life more complete now and when you grow older as well. This is definitely advice you need to hear on things to do in your 20s!
Follow Your Passions
Follow and be persistent in doing what you really love.
When you discover something that triggers your curiosity and enthusiasm, go for it.  Whether it be photography, gardening, medicine, cooking, or writing, don't abandon it, thinking that you can always come back to it. "Go for your passions once you've discovered them" is absolutely one of the things you will wish someone told you when you were 20.
Doing what you really love is one of the few things that can make you really happy and fully satisfied in life. Following your dreams is not an impossible goal. Once you start studying or going deeper into something you are interested in, you will make things happen without even realizing it, and they will develop over time. You will meet people that will help you discover everything you can't learn by yourself and make you practice your passion as much as possible.
Once you've identified your true passion, continue nourishing it and over time you will even start earning money with it!
And never forget that motivation is essential to keep us going through life and the first and foremost way to stay motivated is to do what you really love and want.
Maintain Friendships
A thing you wish someone told you when you were 20 should definitely be to maintain friendships with people you like. When you meet someone who instigates your curiosity and enthusiasm while traveling, or in any other peculiar occasion, do not stop writing, calling or seeing that person. Maintain relationships, because being surrounded by people you respect and appreciate is what makes life more beautiful and easier.
We are not meant to live alone. We need friends to help us in difficult situations and share beautiful and happy moments with us. But we also need people whose ideas we appreciate to give us energy and motivation. Life would be insupportably lonely if we weren't surrounded by friends and other people.
Having the possibility to communicate your feelings and share your ideas with different persons will motivate you to keep going and give you that special kind of energy that you will never find just by yourself.
Friendships are not difficult to maintain, but it is extremely important to constantly nourish them in order to make them endure. Never stop calling your friends or showing them your affection and understanding. They are one of the most valuable parts of your life.
Travel as Much as You Can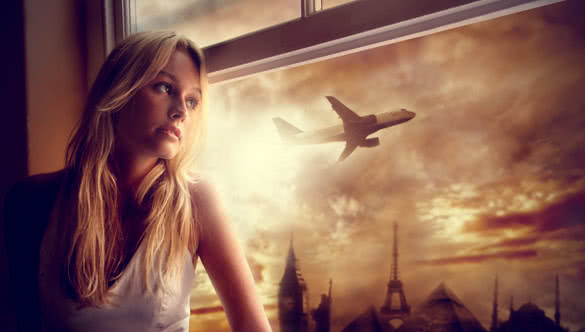 Things you will wish someone told you when you were twenty? Travel whenever you have the opportunity to do it and as much as you can! When you earn some money don't spend it around on useless things that you will forget soon. Go visit a new part of the world instead – this will remain in your mind and heart for your whole life.
Of course, you will continue traveling also when you grow older, but seeing the world in different stages of your life is extremely important and interesting. You'll never see or live the world around like you did when you were twenty. Every period of our life makes us see things from different perspectives, which are all curious and exciting in their own ways. It's a pity to waste the chance to experience them all.
Traveling when you are 20 is a lot of fun and incredibly easy. All you need is a backpack and a small amount of money in your pocket that you have earned doing a summer job and saved for the trip. Once you've chosen the destination, you just have to jump on the plane and leave! That's all!
It is almost indescribable how many amazing things you'll discover and see during your trip and how many interesting and wonderful people you'll meet on your way. And these people will perhaps remain friends for life!
Well, what everybody should wish to be told when 20 is to travel, travel and travel!
That's some advice from us. Tell us, what is on your list of things to do in your 20s?