Wedding souvenirs are a perfect way to thank your guests for coming to your wedding. They can also be a real trouble, because choosing them is not always easy. But don't worry, I'm here to help. Check out 7 great ideas for wedding souvenirs.
The tradition of giving wedding favors originates from France and Italy. The upper class of these countries established the custom of giving a "bonbonniere" – a small, yet very expensive box made out of crystal, porcelain or gold and very commonly decorated with precious stones. These boxes were filled with bonbons and confectionary at the time when sugar was really expensive. You don't have to spend a fortune on your wedding favors nowadays, because there are many wonderful small presents that come at very reasonable prices. Check out my top 7 wedding souvenirs.
Why Are We Giving the Favors?
There is an ancient belief that the bride and the groom carry a certain level of positive energy on their wedding day. It is believed that every single thing they touch on that day becomes a token of prosperity and good luck.
Giving wedding souvenirs is a way of sharing your special day and "special powers" with your guests. Because you hold the favors in your hands before giving them away, you are giving the gift of good luck to everyone who shared your day with you.
1. What Did Celebrities Have?
Ok, whether we like it or not, we tend to look up to celebrities and their ideas and solutions. Sure, you probably can't afford to give the favors they choose, but some of them are affordable and very interesting.
Fergie and Josh Duhamel had rubber bracelets saying "perfect pair" as their wedding favors. Avril Lavigne and Deryck Whibley had personalized guitar picks with the words "Deryck picked Avril" and "Avril picked Deryck on one side and letters A and D on the other. Ashlee Simpson and Pete Wentz chose cookies with the words "Eat Me" on them, which was a perfect connection to their "Alice in Wonderland" theme.
2. A Gift of Almonds
When wedding favors appeared in the Middle East, it was customary for a bride to present each guest at her wedding with 5 almonds. They were to represent fertility, longevity, wealth, health and happiness. The practice of coating almond in sugar appeared in the 13th century and from that time, it stayed as a representation of the bitter-sweetness of marriage.
If you would like to opt for a traditional wedding favor, pack 5 almonds for each of your guests in a nice box. Make sure you include a card with the aforementioned explanation and present your guests with a unique and meaningful gift.
3. Candle Holders
Candle holders are maybe the most perfect wedding souvenirs. They are small but thoughtful and they associate people with romance.
You can choose between glass or metal candle holders for your souvenirs. They can be pre made or personalized. Personalized are of course better, but they will cost you a bit more. If you do choose them, put a small reminder about your wedding – maybe you and your new husband's initials and a date, or your wedding flower. That way, even 20 years later people will know that that little souvenir was from your wedding.
4. Photo/Place Card Holders
If you want to treat your guests with something that will always remind them of your wedding day – choose photo/place card holders. They are a very cute and a very unique wedding souvenir.
The choice is really big here. You can choose a cupcake holder, or a little tree holder, a window planter or an animal design.  Just make sure that it is well combined with the theme and the colors of your wedding and you'll be good. You can also add a photo of you and the groom, or a small card saying something like "thank you for being our guest." Cute, right?
5. Key Holders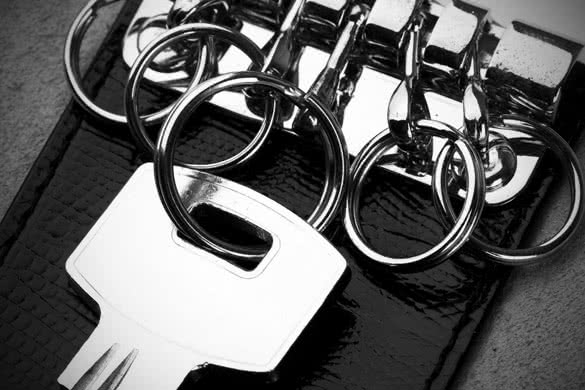 A key holder is a cool idea for a wedding souvenir. To me, it sends the message of always remembering where your home is and always going back to it.
Try personalized key holders instead of regular ones. The regular ones are good, don't get me wrong, but I think that it is way cooler to give a personalized gift for your wedding souvenir. The most common idea here would of course be to choose a heart shaped key holder and insert a picture of the newly wedded couple. But that's kind of something everybody else would do, right? Also, you can't expect your guest to carry You around on their keys. Consider giving a different souvenir to male and female guests.
If you want it to be more original, choose something that describes the two of you, but not your wedding as well. If you both love nature, you can, for example, give four leaf clover key chains. It will remind people of you and it is a token of good luck – a perfect gift if you ask me.
6. Matching with Your Theme and Place
I think it is amazing to match your wedding souvenirs with the theme of your wedding. For example, if you're having a beach wedding, your favors could be small figurines with inscriptions made of shells or pebbles.
You could also opt for a small bottle of wine or strong drink, or a small jar of jam characteristic for the place you are coming from or for the place of your wedding. Generally speaking, anything that has something to do with your theme, your place or the two of you would be a perfect idea for a wedding souvenir.
7. DIY Wedding Souvenirs
If you have some extra time you could make your own wedding souvenirs. It is a lot less expensive than buying them, and it is very personal. Those are the favors that really show your guests you care about them and that you're glad you shared your day with them.
You could gather beach pebbles, cover them with protective coating and write a personal note to each and every one of your guests. Don't make it something like "Dear Marry, thank you for being our guest," but rather opt for something like "Dear Marry, your smile made our wedding day even better."
Do you maybe know how to handle fimo clay? Make your own wedding souvenirs out of it and complete them with an inscription of a date and your names.
There are many things you can choose to be your wedding souvenirs. I would personally choose one from this list. For more cool ideas check out the following links:
Accent The Party
My Wedding Favors
Elise Charles