Girls like cocktails, we all know that. But did you know that making them can be as much fun as drinking them? Honestly, once you've tried making your own cocktails you'll never let anyone else take that fun from you. No matter if you want to have a girl's night with your friends, or you want a passionate night with your partner, we are bringing you 5 most fun cocktails to make.
1. Mojitos
Mojitos are probably the most popular summer cocktail in the world. Both guys and girls love them, because they are very refreshing. And it's quite easy to make them yourself.
You only need: some lime juice, white rum, sparkling water, fresh mint and ice cubes. Take a tall glass and crush the mint leaves to get the juice out of them. Add lime juice, rum and sparkling water and decorate with fresh mint leaves.
I don't think it can get any easier than that and you can never be wrong with mojitos, since really everyone likes them. Just remember that even though they are refreshing, there is alcohol inside, so don't have too many of them.
2. Bellini Champagne
This is a very popular drink among girls and there's a good reason for that. Bellini champagne is a delicious drink. If you want to make it yourself you will need half a bottle of champagne, fresh strawberries and some strawberry liqueur.
Make a strawberry paste by putting strawberries and strawberry liqueur in a blender. Mix it until it becomes a thick paste. If your strawberries are not ripe enough, add some sugar into the mix. Mix the champagne with the strawberry paste and voila – there's your homemade Bellini champagne. Easy and delicious.
3. Multiple Orgasms
If you want a drink that will heat up the atmosphere between you and your partner, try multiple orgasms, because this is more than just a fun drink to make. You'll need: 4cl of vodka, 4cl of Kahlua liqueur, 4cl of Amaretto liqueur, 4cl of whipping cream, ice cubes and some ground nutmeg.
Put the ice cubes in a shaker and then add all the ingredients except the nutmeg. Shake strongly until everything mixes up well and pour in cooled glasses. Sprinkle with ground nutmeg and enjoy a perfect drink.
4. Good Girl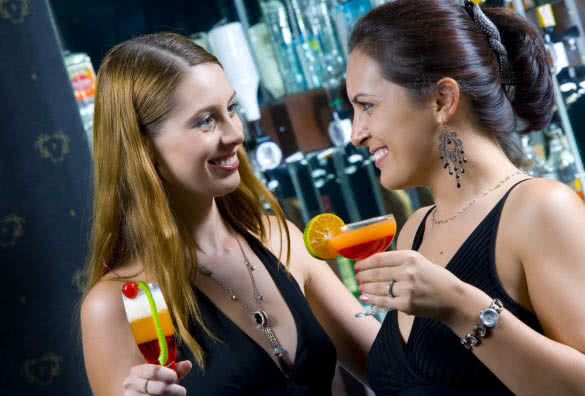 This is a perfect cocktail for girl's night. Invite your friends over and make this cocktail. You will certainly have a great evening, just make sure to remember that this is a strong drink, so playing truth or dare might not be the best idea after you've drank a couple of these.
You need: 6cl of brandy, 2cl of white mint liqueur, 2cl of vermouth and ice cubes. Put all the ingredients in a shaker and shake well. Strain the mixture and pour in cocktail glasses.
5. La Bomba
La Bomba is a great cocktail and a very fun drink to make. If you decide to try it, you'll need: 8cl of golden tequila, 4cl of orange liqueur, 10cl of pineapple juice, 10cl of orange juice, 4 teaspoons of grenadine pomegranate syrup and ice cubes.
Put the ice in the shaker and pour all the other ingredients except grenadine over. Shake strongly. Dip the rim of you cocktail glasses in sugar and pour the cocktail in. In the end pour grenadine directly into the cocktail glass and decorate with a slice of lemon or orange.
Making your own cocktails can be a lot of fun, so make sure you try out these 5 fun recipes for drinks we've given you. Cheers!