Find out the secret to the singer's sexy, fit physique. Get a body like Rihanna by following these steps.
The Bajan beauty's body is maybe the ideal shape for the 21st century. Rihanna looks stunning even in casual clothes in the morning, ready to kick your ass in combat gear during the afternoon, and then put on a couture dress and high heels and rock it on the red carpet.
The singer is not stick-figure thin, so she gives us a great example of a healthy, young, fit body. The versatility of this shape comes from being extremely fit, so here's how to get that body.
Diet: Noodles, pasta and wholegrain bread
Rihanna works hard, so it's important that she maintains a well-balanced, healthy diet. She goes heavy on protein such as fish and chicken, but she eats a lot of carbs too to keep her body fueled during performances.
Nutritionist Amanda Ursell says that Rihanna eats carbs that are digested slowly so they gradually release energy. The singer eats noodles, pasta, wholegrain bread and baked potatoes. Get some vitamins in there by stocking up on pineapple, apples, peaches and dried fruits.
Cardio Routine: Warm ups, jogging and biking
Rihanna's trainer Harley Pasternak recently revealed her workout routine to "People" magazine. When she's touring, she tries to find time for at least three 25-minute sessions a week. While on the road, Rihanna does 10 minutes of cardio, and her combined exercises include stationary jogging, biking, jumping rope and strength training.
When she's not on tour, Rihanna does five workout sessions a week, starting with 30 minutes of cardio.
Upper Body: Lifts and Extensions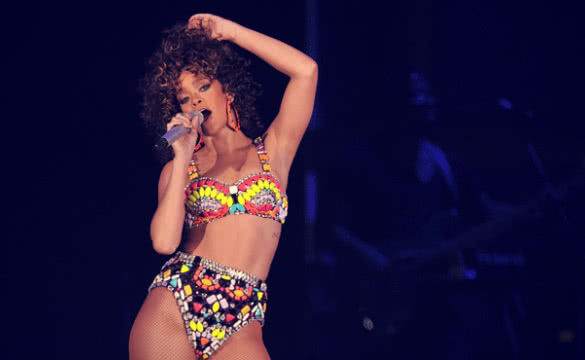 Rihanna loves showing off her toned arms, and since she doesn't have Pamela Anderson's chest, she usually flaunts her tummy and waist. Hit the gym and do weight training to tone your arms. Pay special attention to upper arms as they are the hardest to get in shape. A combination of shoulder, back and arm exercises, such as push-ups and weight lifting, will work wonders, and tone you in no time. Do a couple of series of push-ups, and then do these upper arm exercises.
Simultaneous Arm Lift
Stand with knees slightly bent. Take a dumbbell and hold it with both hands in front of you, at hip level. Keeping your back straight and arms extended, lift the dumbbell to shoulder height. Hold position for a few seconds, then slowly lower. Don't slack off and just lower them quickly, because the second half of the exercise uses different muscles for maximum effect.
Overhead Extension
Sit on a firm chair, your back straight and stomach muscles tightened. Hold a dumbbell in both hands and lift it over your head, keeping your elbows close to your head. Now bend your elbows and lower the dumbbell so that it goes down to between your shoulder blades. Again, slowly return to starting position and repeat.
For more quick workouts that you can do at home, check out these four easy arm exercises!
Lower Body: Four Moves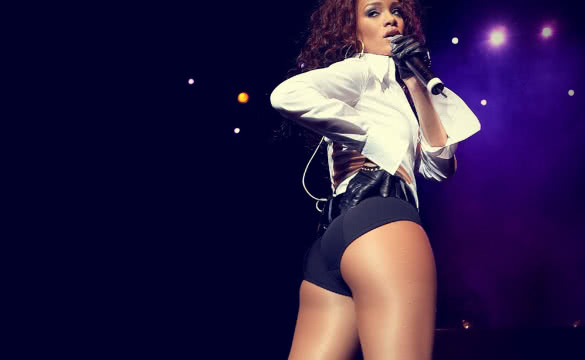 Toned legs and a booty to die for are Rihanna's trademarks. The singer is naturally blessed with legs up to her neck, but here's how you can get the same effect no matter how you're built.
Her essential workout consists of four moves – diagonal backward lunges, step-ups on a chair or bench, sideways step-ups, and the combination of weight lifting and squats. Stand with a dumbbell in front of you, then bend over and pick it up while keeping your knees locked and legs straight. Bring the dumbbell up until you're standing with it in front of you, arms stretched, then repeat.
Your tummy will need serious work, so ask the trainer in the gym to give you a few exercises which will work all the muscles – upper, side and lower, or check out these simple ab exercises that you can do at home.
Cover photo: www.wallpaperspictures.net