It seems like everyone has started juicing the past few years, but the real question is why? We'll give you all the details of the benefits of juicing for your health.
Juicing has been around for a very long time, so why has it become so popular recently? Is it because you see your fellow celebrities being photographed buying their super green juice from a trendy juice bar in West Hollywood? Okay, that probably has a lot to do with it. But, there are also many beneficial reasons why people juice and why you should, too!
Different juices, different benefits
Let's be honest, the reason that the majority of people juice or want to juice is to lose weight, but did you know that different juices benefit the different parts of the body? Some juices will help your skin, while others may help with detoxing the body. So, keep reading to learn the different ways juicing can help your body and why, if you haven't already started to juice, you should start now!
Health benefits
Juicing provides so many health benefits, including calorie reduction, promoting healthy eating habits, filling your body with micronutrients and, to top it all off, it's delicious. The fresh fruits and vegetables that are extracted from juicing contain most of the vitamins, minerals and plant chemicals (phytonutrients) found in whole fruits.
Weight loss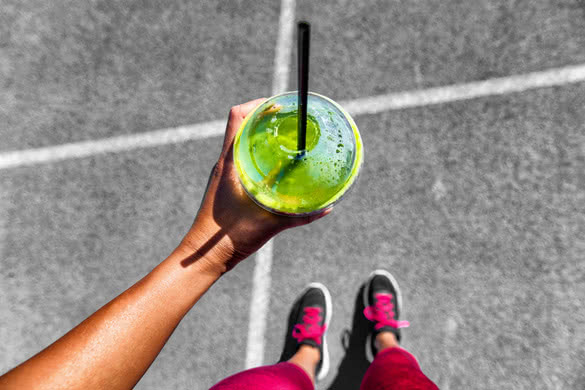 Let's be honest. Who doesn't want to lose a pound or two now and then. Most of the time, the reason people choose an 8 oz glass of juice rather than a meal is to lose weight. Well, it's important to know what the best juices are for the purpose of weight loss:
Carrots are a great source for weight loss. They are extremely low in calories and high in fiber, which can help the stomach to stay full for longer periods of time and help to prevent those in-between meal cravings. Grapefruit is also a great choice for weight loss as it helps to keep you full longer.
Try this carrot and grapefruit smoothie. This is the perfect combination for your weight loss juice! All you need is:
1 Pink Grapefruit
1 Large Carrot
2 TS Lemon Juice
1 Inch of Ginger
Peel the skin off the grapefruit, place everything into a blender or juicer and blend together until smooth. Drink up!
Detoxes the body
When you drink juice for the purpose of detoxing, you are drinking it for the sole purpose of getting rid of toxins within your body. However, you'll most likely lose a few pounds, too, depending how long you juice.
Watermelon and mint juice is a great detoxifier. Not only is it delicious, but it's quick and easy. You will want to choose watermelon with black seeds, which are mineral rich and contain ample amounts of zinc and selenium. Drinking watermelon juice can relieve the liver and kidneys of toxic burden and flush waste from your body. Mint is also a powerful antioxidant and blood cleanser.
For your watermelon and mint juice, you'll need: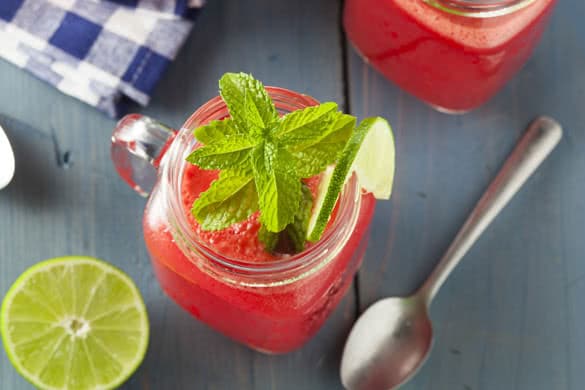 2 Cups Watermelon (chopped)
Juice of 1 Small Lime
1 TB Fresh Mint (chopped; optional)
1 ts Fresh Ginger Root (grated; optional)
Blend all the ingredients together until smooth and enjoy!
Skin benefits
If you struggle with acne or just long for a healthy looking and glowing complexion, did you know that drinking juices with certain fruits and veggies can actually help to improve the appearance of your skin?
Beets and Carrots are a great source for improving the skin's appearance. Carrots have a large quantity of vitamin A, which is a powerful antioxidant that helps to slow down the aging process of your skin. Vitamin A also produces collagen, which is needed to prevent the skin from developing wrinkles and elasticity.
Beets are also full of nutrients that help contribute to glowing skin. They are rich in iron, potassium, copper and vitamin C, which help to clear your blood and liver. An important fact that most people do not realize is that when you are trying to improve your skin's appearance, cleansing the blood is essential! This makes beets a great source for you if you are trying to achieve a natural, gorgeous glow.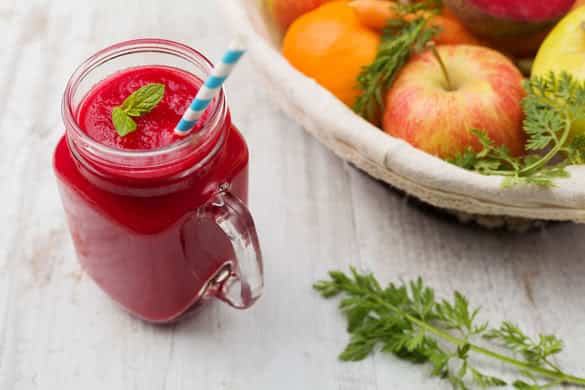 Try this juice for healthy, glowing skin:
 ½ Small Red Cabbage
1 Medium Beetroot
1 Carrot
1 Medium Cucumber
1 Orange
 ½ Lime
A Pinch of Ginger (optional)
Throw everything except the orange and lime into a juicer or blender, and blend until smooth. Then, squeeze in the juice from the orange and lime and enjoy!
With these great and beneficial ways to improve your body inside and outside, why not try juicing if you haven't already! There are plenty of other tasty recipes for your juicing purpose other than the few mentioned above. Feel free to share your favorite juicing recipes.