You are thinking of losing weight and getting ready for the bikini season. Have you considered jogging? Read this article to find out what the benefits of jogging are and why you should start jogging tomorrow.
I always thought that jogging is boring and that it doesn't help in losing weight, then one day last September a friend asked me to run with him. Luckily, I am always open to trying new things so, I've joined him. That was the day I fell in love with jogging. I put my headphones on and started to run. After we were done, I couldn't believe how relaxed and happy I was. And why wouldn't I be? I was outside, listening to my favorite music and losing weight.
It is such a good feeling that I would like to share with you all of the benefits of jogging so you can also feel as good as I do every time I jog.
How to Start
Jogging can be beneficial to your health only if you do it regularly and if you pace yourself moderately. You must learn how to breathe and how to place your feet properly as not to injure yourself. You should read this from BBC Sport.
1. Health
Jogging is a great cardio workout; it regulates your overall blood circulation and benefits your respiratory system. Your heart will get stronger and your circulation will get better (goodbye cold feet). Your digestive system will work faster.
Wear proper running shoes so your joints and hips don't suffer.
2. Weight Loss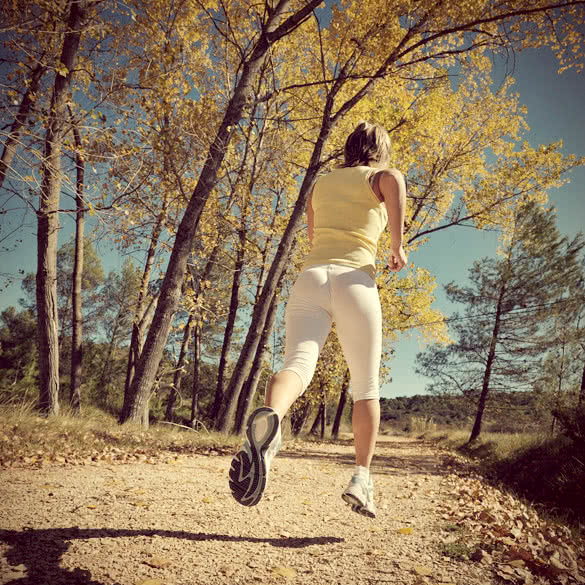 Jogging can help you burn calories and lose weight. While you are jogging you are working your arms, stomach, legs and gluteus. Don't forget that it also does wanders for your digestive system; it speeds up your metabolism. Not bad, right?
3. Psychological Benefits
We sit too much during the day whether at school or at the office, then we come home and sit some more. Stress is building up inside and that is not healthy.  Jogging is a good way to lose stress. Imagine yourself running through woods or near the ocean, listening to your favorite music. There is no way you won't feel relaxed afterwords.  Even if you are running on a treadmill in the gym, you are on your own and this alone time is exactly what we all need.
When it's bed time you'll sleep like a baby because you will be really tired, not emotionally exhausted.
Ladies, you've seen the benefits. Try it and see if jogging is your cup of tea. It would be good to include it in your workout routine. You will feel the benefits after a short period of time.
No wonder celebrities like Fergie and Reese Witherspoon are jogging regularly. They have killer legs so there is one more reason to try it.