Family vacations are nice – but not when you really just want to get away with a special someone. Check out these adults-only resorts for romantic south-of-the-border getaways.
Cancun. Just the name of this tropical Mexican resort conjures images of white beaches, luscious cocktails, and dirty dancing under the stars.
There's something about this exotic destination that incites fantasies of romance. Maybe it's the long sunny days and the warm trade winds that cool the nights. Maybe it's the proximity of forbidden Cuba, just 90 miles of sparkling Caribbean waves away. Maybe years of honeymooners and horny spring breakers have imbued the beaches with tingling, throbbing, uninhibited sexual desire.
Whatever it is, Cancun is one sexy destination. A vacation in Cancun is bound to fire up your libido – and your man. You'll kindle fiery new passion south of the border, if you know what we mean.
The best way to experience Cancun is to check into an all-inclusive resort. These hotels bundle meals and activities into the room rate so there are no unpleasant surprises on the bill at check-out time. (Some all-inclusive resorts do charge extra for alcoholic beverages, however, and you will find that those charges can add up. We learned that the hard way! So be sure to read the fine print.)
An all-inclusive resort offers lodging, meals, beach access, pools, dance floors, spas, shops…everything you need for your romantic getaway. When everything is included, you're free to be spontaneous. You can relax, unwind and go with the sensual flow.
Best of all, some of Cancun's best all-inclusive resorts now operate according to an adults-only policy. You won't have to worry about your intimate encounters being interrupted by screaming toddlers or rambunctious children. Plus, adults-only resorts offer certain benefits you won't find at family hotels. You can enjoy topless sunbathing, clothing-optional events, even pole-dancing lessons. An adults-only vacation is sure to add fire and zest to your relationship. He won't be able to keep his hands off you!
Here are the five best all-inclusive resorts in Cancun for lovers, ranging from mild to wild. You and your boo can spoil each other at any one of them. So the question is…what are you waiting for?
#1 Temptation Resort Spa Cancun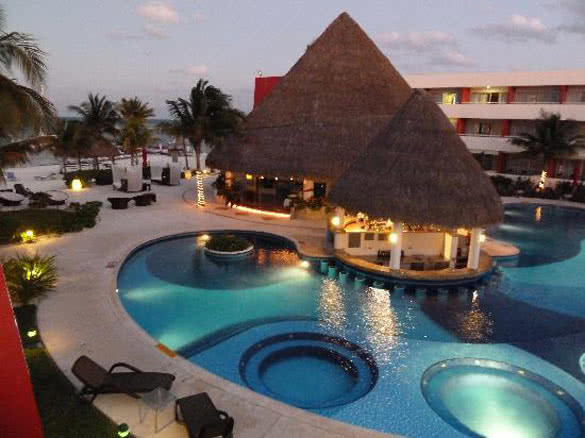 If you're looking for something a little risqué on your holiday adventure, then perhaps Temptation Resort Spa is the place for you. This hotel really talks up its "Adult Experience" – and considering that it's tops-optional everywhere, that should really tell you all you need to know.
Temptation is for those who want to party. The staff knows how to get the party going, and they start the instant you arrive. You're greeted with a cold beer even before you check in, and you're immediately directed to the pool for a bit of topless sunbathing. You can go hang-gliding or sign up for a snorkeling adventure in the clear, blue Caribbean just as you would at any resort. But Temptation has some unique ideas for its more uninhibited guests.
Nighttime activities include Lingerie Night, when women are encouraged to wear their sexiest lingerie to dinner. Drop by the casino after dessert and you may win a trophy for Sexiest Lingerie. Fitness classes are available if you want them, but forget about yoga and Pilates. That's not Temptation's style. Instead, sexy instructors offer lessons in lap dancing and sensuous pole dancing. And honestly, that's just the tip of the iceberg.
This place isn't for the faint of heart. On the scale between romantic and sexy, it's definitely on the sexy side. It's an especially good place to explore exhibitionist fantasies or play out encounters with other couples in a highly charged sexual environment. If you're looking for naughty fun on a beautiful beach with a lively, sexy nightlife, then Temptation is the resort for you!
#2 Secrets: The Vine Cancun Resort and Spa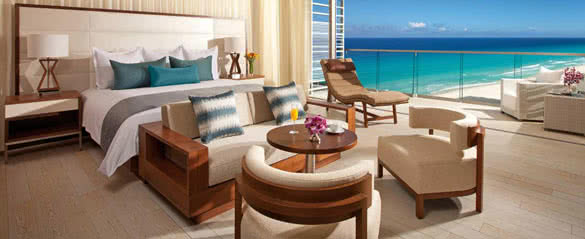 The Secrets resort chain operates a number of adults-only hotels in Cancun and other tropical destinations. That's their business, and they've got it down to an art. The company's highest-rated resort is Secrets: The Vine Cancun Resort and Spa.
From the moment you arrive, you'll be encouraged to sit back, relax and allow yourself to be pampered. You're greeted with sparkling wine and a cool towel as you enter the hotel. There are seven restaurants with something to please every palate, plus too many bars to count, all offering luscious tropical cocktails in addition to the usual spirits and mixers. The best part is that it's all included. Enjoy unlimited luxury with the surprisingly affordable cost of your stay.
Thinking of popping the question? Secrets has you covered. The company's special engagement packages feature a winding path strewn with rose petals and the words "Will you marry me?" written in the sand. If you're in an upgraded room, the engagement package is available at no extra charge – a policy that injects a delicious note of spontaneity into the whole issue of holiday engagements. What could be more romantic?
#3 Live Aqua Cancun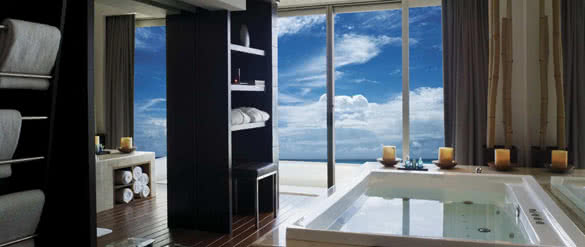 Live Aqua boasts of instantiating a truly unique concept. The company says it's a "be yourself" hotel for contemporary adults. Like the other hotels listed here, the Live Aqua resort is all-inclusive, so drinks and food are included in the price of your room.
If you're looking for a place with a bustling and sexy night life, you may want to look elsewhere. That's not what Live Aqua is about. But if you crave some peace and quiet, some romance and relaxation, then Live Aqua may be exactly the resort you've been looking for.
Restaurant options range from Italian to Mediterranean/Asian fusion and more with plenty of outdoor dining rooms that will allow you to listen to the sound of the waves of the Caribbean crashing onto the nearby shore. Oh, and keep an eye out for lizards. The local iguanas hang out on the restaurants' outdoor patios and watch you eat. Pretty cool, huh? You can always eat indoors if you're afraid of lizards.
Pamper yourself by investing in an inexpensive upgrade to a room with a Jacuzzi tub. Hydrotherapy is great for relaxing tired muscles, and if you position yourself just right there are erotic benefits too, or so we've been told.
Some all-inclusive packages include access to the Aqua Room level, which gives you a reading room, Internet access and spectacular views.
Live Aqua is a good all-inclusive choice for couple's who don't need lingerie contests and crowded dance floors to put them in the mood for romance.
#4 Sun Palace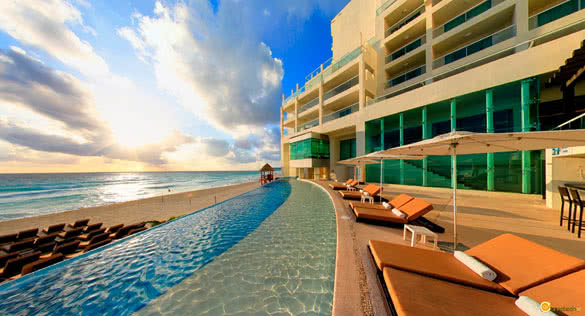 The Sun Palace resort is located at the very end of Cancun's busy hotel zone. It's not secluded, exactly, but it's far enough from the action for you to forget that you're in the spring break capital of the world.
Luxury is the name of the game at Sun Palace. From the private beach to the amenities that pamper you at every turn, this hotel treats guests like visiting royalty.
Each room features a double whirlpool tub and views of the Caribbean or a nearby lagoon. You'll also find a fully stocked mini-bar, a liquor dispenser, in-room wine, CHI branded hair tools, and much more. All included in the room rate.
Sun Palace isn't just adults-only, but couples-only. The absence of singles means you don't have to worry that the room next to you holds six horny spring breakers or that you'll be hit on by strange men if you visit the gym on your own. This can transform your vacation into the ultimate romantic getaway.
Tired of the beach? No problem. The Sun Palace offers its guests lots of activities and tours. You'll appreciate your room's whirlpool tub even more after a day hiking around Mayan ruins!
#5 Le Blanc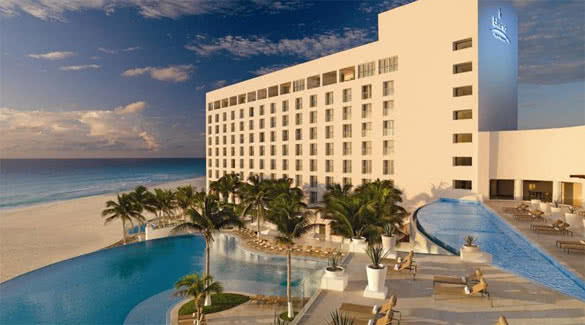 Le Blanc has been rated the #1 resort in all of Cancun, and you'll know why from the  moment you arrive. Like the Sun Palace, Le Blanc is part of the Palace resort chain. Le Blanc is the nicest and newest of Palace's resorts. Like the Sun Palace, it's an adults-only resort that caters strictly to couples.
Le Blanc is a perfect setting for a romantic honeymoon. Each room is equipped with a double whirlpool and luxuries beyond compare. Best of all, this is also an all-inclusive, so you can help yourself to the mini-bar without fretting over extra charges being added to your bill upon checkout.
The restaurants are among Cancun's best and you'll have a wide variety of options to choose from. Seating is rarely an issue, and the resort is beautifully maintained. It's a very quiet and relaxing place – not at all what you might imagine when you think of Cancun. Le Blanc is a great escape for the couple looking to engage in some one-on-one, quality time with each other.
The resort includes sightseeing trips and other activities in the price of the room, so if you do decide to leave the resort, there are some awesome tours you won't want to miss!
If you're looking for a romantic trip to Cancun, looking to get well away from the spring break or family crowd, then this is absolutely place for you.
Something for Everyone
Whether you're looking for romance, adventure or sexy time, you can find it in Cancun. There's truly something for everyone, a resort to satisfy all your desires (no matter how risqué or tame they may be). Cancun is the perfect destination for your wedding or honeymoon as well. In fact, the best all-inclusive resorts in Cancun, including all of these resorts, offer affordable packages for couples who want to experience a Caribbean wedding.
Regardless of whether you're looking to get hitched or you just started dating last week, romance abounds in Cancun. So go on and and have a south-of-the-border adventure to remember.