Are you going to New York City for a visit and looking for some cool hotels? Or, are you just in need of some travel inspiration? These are the hotels to check out in NYC.
New York boasts a creative scene filled with entrepreneurs and artists as well as a steady stream of tourists, so several new hotels, inns, AirBnB rooms and BnBs are bound to pop up at any one time! This article focuses on some of the more iconic ones that are likely to be around for a while.
1. Wythe Hotel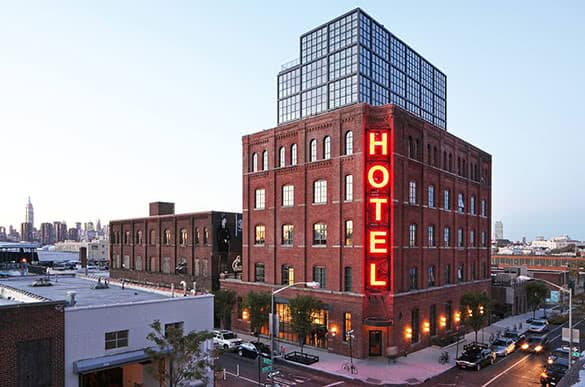 This is a unique and very hip hotel in a converted 1901 factory building on the Williamsburg, Brooklyn waterfront. This is the kind of hotel where you find loft style New York suites with bare brick walls, high ceilings and an industrial feel.
Even with an industrial feel, the design offers warmth though. If you fancy cocktails, there's a rooftop bar with great views over Manhattan. Prefer dinner? The restaurant on the ground-floor, Reynard, offers farm-to-table meals.
The Wythe is simply the hotel you will go to if you've always had that bare brick New York apartment dream mingled with a love of converted factory buildings—and who dreams of New York and does not have a love of those elements and a love of the view of the New York skyline naturally.
2. Gramercy Park Hotel
Quirky and cool mingles with old-fashioned elegance in this colorful hotel. A lot of reds, blues and greens come together to offer a unique palette to give this hotel its charm.
Think L.A.'s The Roosevelt with its dark corners, heavy wooden furniture and elegant leather couches, add color and you get something like Gramercy Park Hotel, inclusive of red-velvet sofas and curtains, Harlequin floors, leather desks, mahogany drinking cabinets and grand mirrors.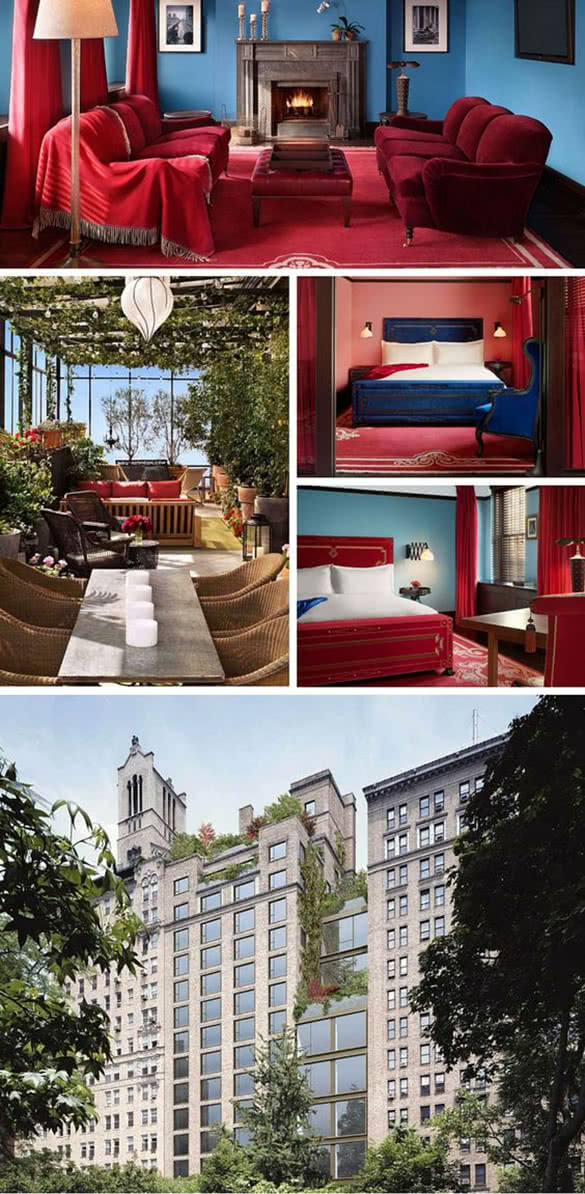 It also hosts a rotating collection of 20th-century art, so if you like Damien Hirst's fabulous dots, or Andy Warhol's portraits, you might just be in luck and spot them during your visit.
If you enjoy a little bit of boho, a little bit of quirk and a lot of elegance, you will fall in love with this hotel. I did—and I have yet to get further than drooling over all the images on the internet. Next time I go to NYC, I'll probably move in permanently.
3. The NoMad Hotel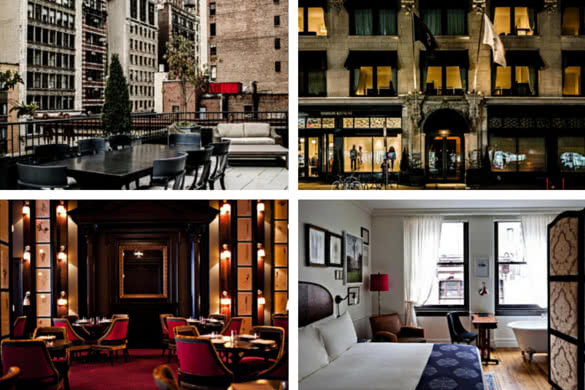 If you like boho and elegance, but prefer cleaner lines and simplicity, like white walls and airy rooms, then the NoMad Hotel could be the perfect place for you. Hosted in a Beaux Arts building in the Flatiron District, this swanky hotel is also home to two bars and a restaurant run by Daniel Humm.
4. The Paper Factory Hotel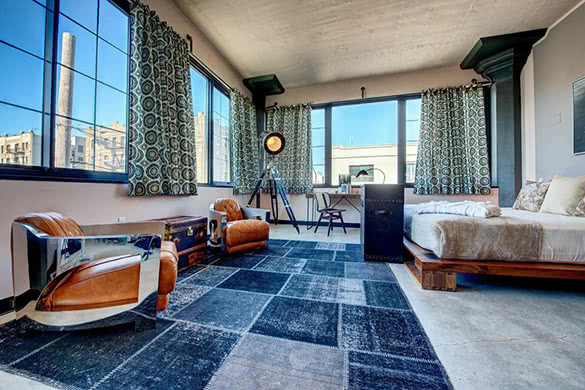 A hundred-year-old paper factory in Long Island City is the home of the Paper Factory Hotel. The décor at the hotel celebrates its history with exposed brick walls, wooden panels, old-fashioned leather suitcases and pillars made of books, combined with sparse industrial style furniture and kitsch details like bright colored rugs.
It's modern, old-fashioned and stylish all at the same time. Quirky details include a communal kitchen for travelers who want to come together and cook—quite nice if you get tired of room service.
5. citizenM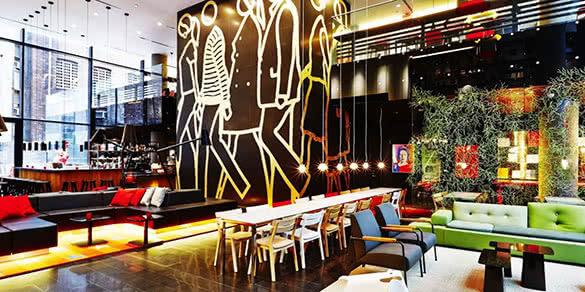 Like modern? Arty? Color? Crazy? This is the hotel you want to book a room in! The building itself looks like a bunch of squares or containers stacked on top of each other with impressive glass walls.
The interiors are modern, and the rooms have a color palette of mainly white, black and red; the communal areas have the same with a touch of crazy—filled with an array of whimsical touches and modern art.
There's colored, futuristic looking lighting in some of the rooms—the type you imagine you'd find in space ships. It's the kind of hotel I'd imagine Damien Hirst would stay in. It's seriously cool.
6. The Jane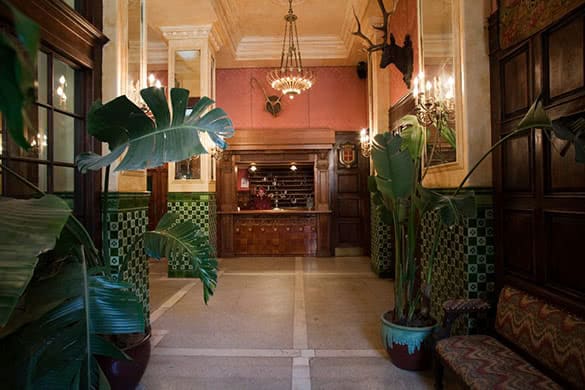 The Jane aims to recreate the feel of a train back in the day when people traveled in luxurious trains resembling the Orient Express. The rooms are compact, like a train compartment, with a lot of red and heavy wooden furniture.
The communal areas are lavish with black and white tiled floors, satin and leather couches, big chandeliers and velvet curtains. In other words, the place looks like you'd expect an old-fashioned train to look.
Fun history facts: back in 1912, the hotel sheltered survivors of the Titanic and then went on to become a haven for sailors before its upgrade in 2008. It's a budget hotel, so if you want bang for your buck and plenty of eccentric features, this is the place to go.
7. La Maison d'Art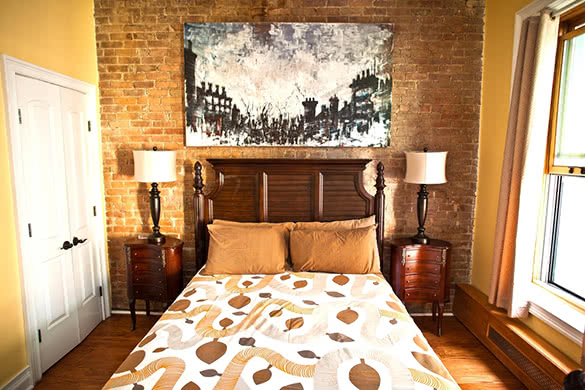 Want to stay in Harlem when visiting NYC? Why not stay at La Maison d'Art? With only five rooms, each with a unique design, this boutique hotel is quiet, yet has a gallery on the first floor that is open to the public.
The art within the hotel keeps changing as well, so you won't see the same painting if you book a stay a year after your last one. Each room comes with a kitchen or kitchenette, which is great as there is no restaurant or bar.
8. Night Hotel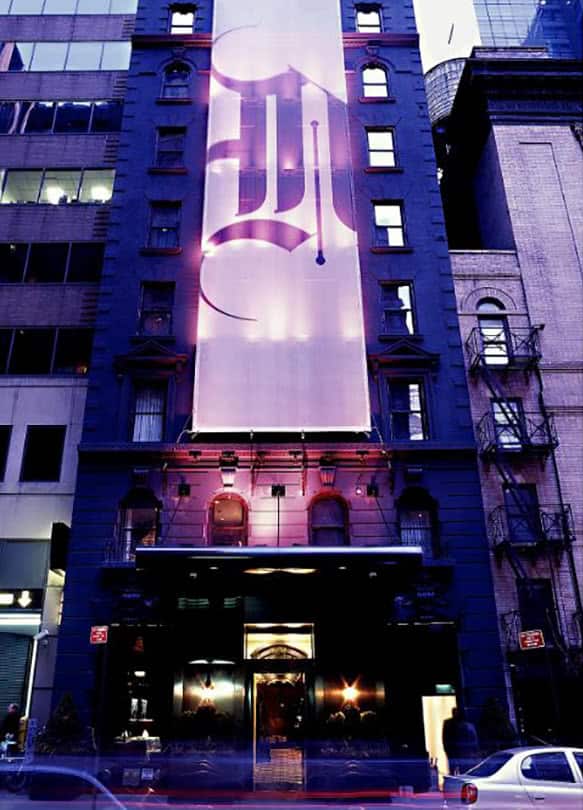 Do you like the night? Do you like black, white and deep purple? Then you must investigate what Night Hotel has to offer. It might not be what I associate with night, but the funky, mainly black and white interiors and the purple lighting most certainly has something going for it. It's definitively unique.
Whether you are looking for modern art in the form of a hotel (citizenM) or a true boho experience (The Gramercy Park), there's something for everyone in the Big Apple. Other hotels that are worth mentioning include: Archer Hotel, the Hotel on Rivington, The Refinery, Library Hotel and Bryant Park Hotel.