If you've heard about Pattaya, Thailand, you must have heard how it is regarded as the city of nightlife. That's true, but it certainly doesn't mean that nightlife is all Pattaya has to offer. Check out top 5 places to visit in Pattaya.
1. The Pattaya Park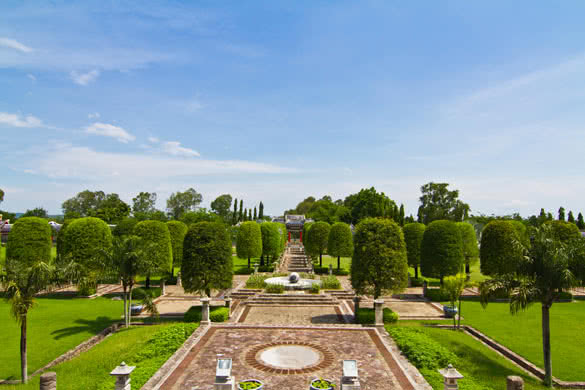 Looking for some fun and adrenaline fix? Pattaya Park is the place you should visit. It has all the things you've been looking for.
The Pattaya Park Tower is the first thing you'll see, way before you reach the park itself. The reason? Well, it's quite huge! It has 55 floors and three revolving restaurants, on floors 54, 53 and 52. If you're looking for some quality dining, this is a place for you.
But it's not all about the stunning view and the restaurants. Pattaya Park offers a lot of rollercoasters and other fun rides, the most famous being the Tower Shot of course. For those brave enough, I have to suggest trying tower jump. There is also a big water park with lots of fun rides.
Pattaya Park is open every day from 10am to 7pm. It offers a range of activities for children and adults alike. The park is located between Pattaya and Jomtien and the prices are: 200 Baht (6.5$) for Tower Jump, 300 Baht (10$) for 4 activities of your choice and 100 Baht (3$) for water park.
2. Pattaya Floating Market
There are not a lot of places in the world like Pattaya floating market. It is definitely a place you must visit when travelling to Pattaya.
The floating market will give you a chance to meet cultures of four regions of Thailand – Northern, Southern, Central and Northeastern. This is the largest attraction of the Eastern Thailand and this will show you how people from these four regions live, what they do and what are the products they have to offer.
This could be a perfect place to get your souvenirs from Thailand, because it offers a variety of products starting from simple wooden sculptures to finest Thailand silk.
Hop on a boat and stroll through the market. Try some food and desserts and see some traditional shows. There is no entrance fee for the market, but there is a donation box for all those who would like to contribute.
Check out the video below, and see how Pattaya Floating Market looks like.
3. The Million-Year Stone Park and Crocodile Farm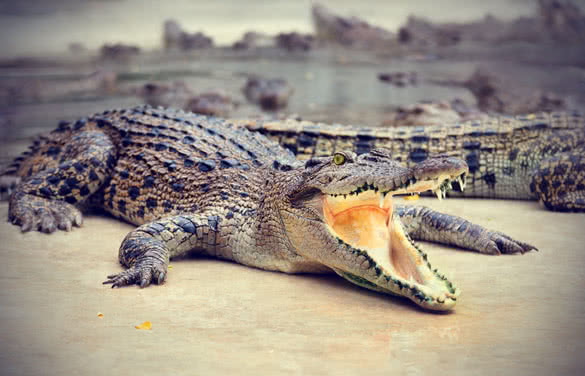 On just 15 minutes drive from Pattaya lays The Million-Year Stone Park and Crocodile Farm. Founded by a businessman with a great love for nature, this place is one of the most visited tourist attractions in Pattaya.
The park consists of three main sights. In Garden and Stone Park you can see beautiful stone sculptures, exotic plants and the largest artificial waterfall in Thailand. Exotic Zoo is the home for many animals both from Thailand and from all around the world. It houses white tigers, albino bears, giant catfish and the endangered thepha fish, to name just a few.
Finally, the Crocodile Kingdom or the Crocodile Farm is the largest water area housing crocodiles in Thailand. The park also breeds crocs and offers a variety of shows where professional trainers are wrestling the crocodiles. Don't try this at home!
4. Nong Nooch Tropical Garden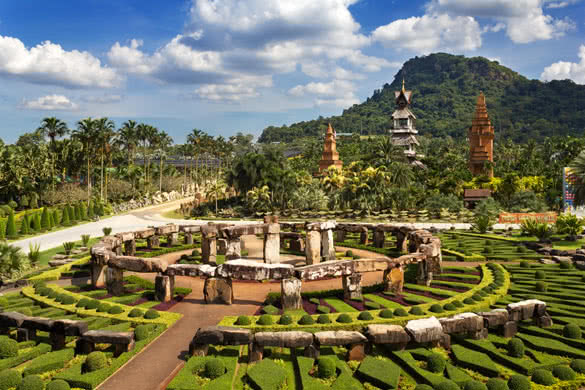 Considered to be the biggest and the most beautiful garden in Southeast Asia, the Nong Nooch tropical garden is definitely a place to visit in Pattaya. It is the home of the largest palm collection and has the largest variety of orchid flowers in Thailand.
Nong Nooch tropical garden consists of fourteen different gardens which are all breathtakingly beautiful. The gardens are constantly changing and new plants are added all the time. Don't visit just once, return to this beautiful place every time you're in Pattaya.
To find out more about the beautiful Nong Nooch garden and take a virtual tour through all the gardens, visit their official website at www.nongnoochgarden.com.
5. The Sanctuary of Truth
Coming last on this list, but certainly not the least, the Sanctuary of Truth is one of the most visited places in Pattaya. People visit it for peace and knowledge, but whatever you're looking for; you absolutely have to see it.
The Sanctuary of Truth is not finished entirely, but that is not considered a flaw at all. The whole temple is made out of wood and every inch of it is covered in wooden carvings. It is dedicated to Hindu and Buddhist deities alike. Although it looks like an ancient building the Sanctuary of Truth exists since 1981. It is scheduled to be complete in 2025 and it is being built for a purpose.
People will tell you that this temple is "a reflection of the Ancient Vision of Earth, Ancient Knowledge, and Eastern Philosophy. Within this complex, visitors will understand Ancient Life, Human Responsibility, Basic Thought, Cycle of living, Life Relationship with Universe and Common Goal of Life toward Utopia". To find out more about the Sanctuary of Truth, visit the official page.
Thailand definitely offers a great number of wonderful things to see and these 5 places to visit in Pattaya are in my opinion the ones that you shouldn't miss if you head to Thailand. For an abundance of useful information and many more wonderful attractions in Pattaya, visit www.pattayaconcierge.com.
If you've already been to Pattaya, please share your experience.