Tired of London? There are dozens of beautiful villages in England where you can spend a peaceful day. Imagine the smell of fresh air, everywhere around you. Visit some of these beautiful English villages: Castle Combe, Lacock, Dunster.
1. Castle Combe, Wiltshire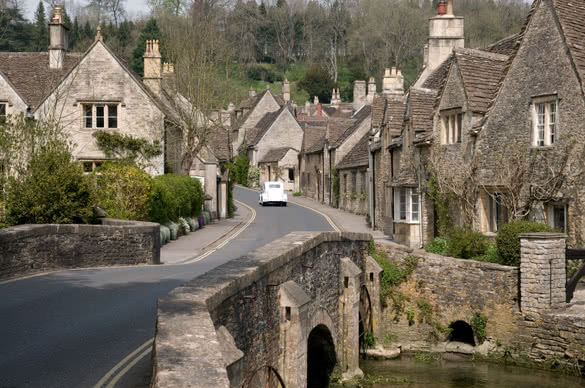 Castle Combe is easily the greatest village in England you could visit. It is a National Trust Village which means that there are no visible wires, poles or satellite dishes anywhere in the village. This also means that you will get a perfect impression of traveling back through time and experiencing some forgotten times all over again. It is called "The Prettiest Village in England" and for a good reason, since it is absolutely stunning.
Built by Romans and after them the Normans, the village today houses only about 350 people, so if you choose to visit it off season, when it's not crowded by tourists, you might just find the peace and tranquility you've been looking for. And your heart will certainly be full of joy for having a chance to see all those beautiful old houses and coble stone streets. In addition to just feasting your eyes on the village's beauty, you can visit The Village Museum, The Dower House where some scenes of Doctor Doolittle film from 1966 were filmed or The Market Cross – the monument at village's center.
If you take a little walk outside the village you could go see the Roman Bridge, or what's left of the Castle that Castle Combe got its name from. The remains of the castle are located half a mile to north west from the Manor House. And you absolutely must not miss the old tearooms, where you can have some original English tea, as well as some food and sweets, all made of only natural, organic products.
Check out the video below, and find out how Castle Combe looks like.
2. Lacock, Wiltshire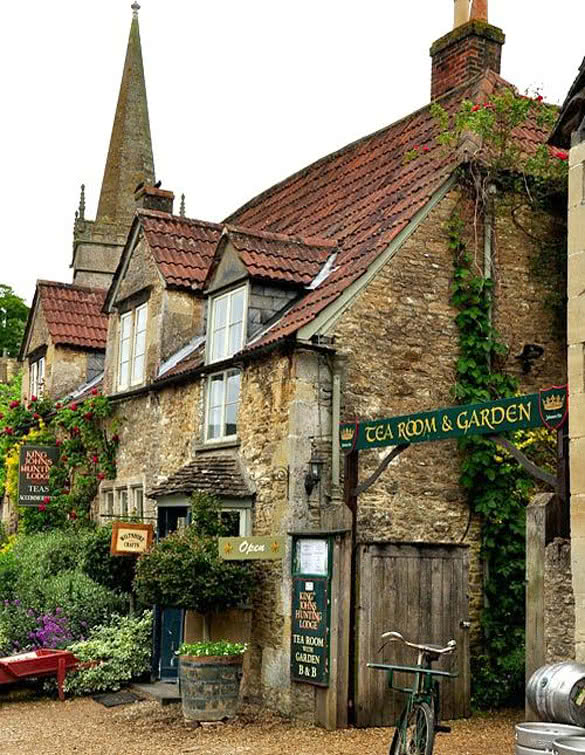 Lacock is another village owned by the National Trust and preserved in a way so that it stays as authentic as possible. Located fairly close to Castle Combe, Lacock village begun its existence during the Saxon times. It was known for its wool industry during the middle ages, but today it's just a tourist attraction.
It was also home to William Fox Talbot, a man who brought positive – negative type of photography to the world, and some of world's first photographs were taken exactly here. There is a museum dedicated to this man in the village. And it was also interesting to a lot of film makers, so if you look at pictures of this village and they look familiar; it's probably because you've seen them in some movie. A total of 26 movies, documentaries and TV series were filmed in this village, among others some scenes from Harry Potter and the Philosopher's Stone and Harry Potter and the Half – Blood Prince.
Every year the Scarecrow Festival is held in the village, but it's mostly just a local attraction. However, the beautiful stone cottages in this village are sure to catch your attention. You will probably notice the one called "The Sign of the Angel", since it is located at the very center of the village. This was a home of a 15th century wool merchant, but today it is an inn where you can find accommodation and also try some local English specialties and of course the famous English tea. In any case, don't miss visiting Lacock.
3. Dunster, Somerset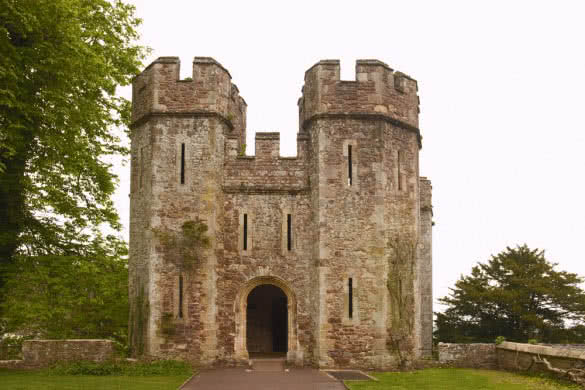 The village of Dunster in Somerset is another English village you have to visit. It is located in Exmoor National Park on the Bristol Chanel coast. It once was a very important harbor trading wool, wine, barley and beans; today it is one of the most popular villages to visit in England, and for some good reasons. The main attraction in Dunster is Dunster Castle, located on a hill above the village.
It was first built in the 11th century as a timber castle and then a stone shell has been built in the 12th century. From late 14th until late 20th century, the Dunster Castle was a property of Luttrell family, who expanded the castle several times in 17th and 18th century. You can take a tour to the caste and enjoy the view on the village from one of its balconies, as well as enjoy the interior of the castle. Another great thing to do in Dunster is take a walk through the Dunster Woods where you can see the oldest tree in England.
You can also enjoy walking through the Exmoor National Park or take a horseback ride on the beach. Make sure to try the local cuisine in one of several restaurants in the village and to get yourself a souvenir from one o the gift shops.
There are many wonderful villages to visit in England, but we've picked these three for you. So, if you want to take some time off and forget about all your problems and troubles and just relax and enjoy, make sure you do visit one of them.
If you've already had a chance to see one of these villages, make sure you inform the rest of us about how it was.
Cover photo: www.flickriver.com