Most people hate broccoli. There is almost no child that likes it, and men are pretty repelled by it too. However, some women find this vegetable acceptable. If you're one of them, here's how to use broccoli to lose weight.
Broccoli comes from the cabbage family and it has been known to people ever since the 6th century BC. Since the Roman Empire it has been considered as a very valuable ingredient among Italians. Europeans first learned about broccoli in mid 1700s, when it was first brought to England, while USA was introduced to broccoli by Italian immigrants and it became widely known and accepted in 1920s.
Broccoli, as all the other vegetables from cabbage family, is packed with vitamin C. In fact, only one cup of broccoli provides you with 104gr of vitamin C. It is also very rich in dietary fibers, selenium and other nutrients that are marked as potential anti-cancer ones. Broccoli has been proved to lower the risk of developing heart diseases as well as prostate cancer.
Broccoli is best if eaten fresh, because all the nutrients will stay inside. However, if you have to prepare it somehow, avoid boiling, because it greatly reduces the nutrients. Rather choose, steaming, microwaving or even stir frying, because those methods preserve the vitamins and other compounds inside the vegetable. If cooking, as this diet plan suggests, avoid doing so for more than 5 minutes. It is actually best to simply blanch the broccoli in boiling water for just a couple of seconds.
This diet plan is supposed to last for 10 days. You could lose up to 6 pounds during that period, and your main ingredient is, of course, broccoli. However, don't start this diet without previously consulting your doctor.
The diet is based on one menu for two days. So, you'll have total of 5 different menus for breakfast, lunch and dinner – each should be applied two days in a row. When it comes to drinks, water and unsweetened coffee and tea are allowed. Exercising is, of course, highly recommended. Here's how the 10 days broccoli diet plan looks like.
Days 1 and 2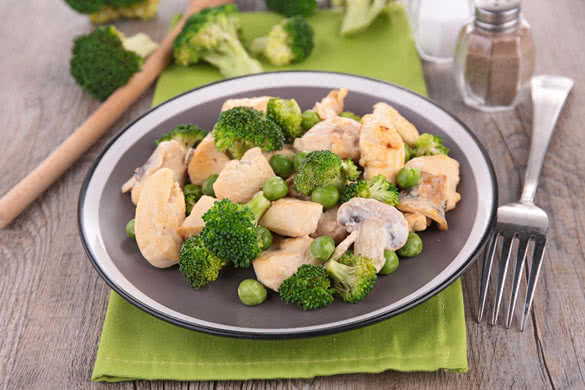 Breakfast:
200gr of cooked broccoli with a pinch of salt
50gr of whole wheat bread
1 cup of unsweetened black tea
Lunch:
250ml of slightly salted chicken soup
150gr of cooked chicken
100gr of cooked broccoli
Dinner:
250gr of cooked broccoli with a pinch of salt
1 cup of unsweetened black tea
Days 3 and 4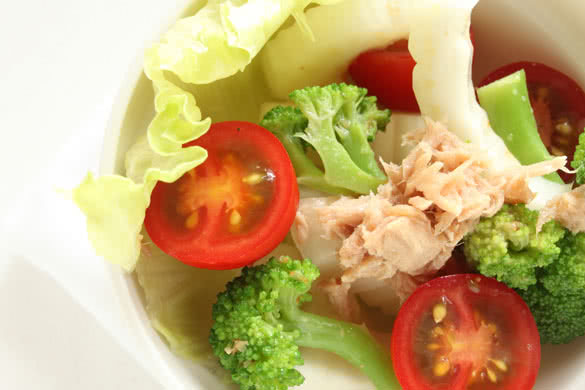 Breakfast:
200gr of broccoli simmered on olive oil with 1 bell pepper and garlic (simmer for 20 minutes)
Lunch:
50gr of tuna fish with 150gr of broccoli simmered on olive oil, with 1 medium onion and 2 medium tomatoes (simmer the vegetables for 20-25 minutes and eat with tuna)
Dinner:
Days 5 and 6
Breakfast:
100gr of cooked lean beef
salad made of 100gr cooked broccoli and 2 tbsp of low fat soured milk
Lunch:
200gr of broccoli boiled in salted water
1 slice of whole wheat bread
Dinner:
150gr of cooked lean beef, slightly salted
1 cup of low fat soured milk
Days 7 and 8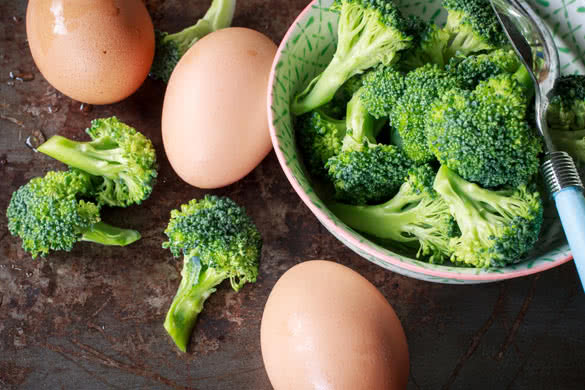 Breakfast:
100gr of cooked broccoli
2 boiled eggs
1 cup of unsweetened black tea
Lunch:
250ml of slightly salted chicken soup
150gr of cooked chicken
100gr of cooked broccoli
Dinner:
250gr of cooked broccoli with a pinch of salt
1 cup of black unsweetened tea
Days 9 and 10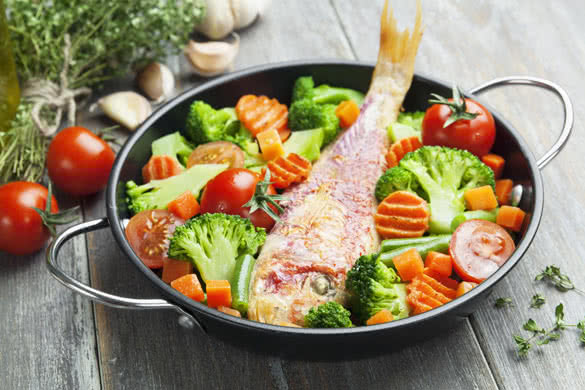 Breakfast:
100gr of cooked, salted broccoli
2 boiled carrots
Lunch:
100gr of cooked, salted broccoli
100gr of cooked fish of your choice
1 slice of whole wheat bread
Dinner:
200gr of cooked broccoli with a pinch of salt
1 potato, cooked in shell
Extra Advice
Ok, I have to repeat – THIS IS A DIET PLAN and as such it might not be the best tasting in the world. But trust me, it gives results. However, if you find the meals not very appealing, you can try to include more broccoli in your every day diet plan. If you stay disciplined and lower the general amount of food you eat, broccoli will only help you lose weight and detox your body.
I personally hate cooked broccoli, so I would suggest you to substitute the cooked broccoli in the diet for fresh one. Even if you think you don't like broccoli, don't judge until you've tried it fresh – it really tastes a lot better than cooked. My all time favorite with fresh broccoli is a salad – fresh broccoli, fresh cauliflower, cabbage and radishes. Season with just a pinch of salt and some vinegar and you'll have a perfectly tasty yet very low calorie dish.
A Word from a Nutritionist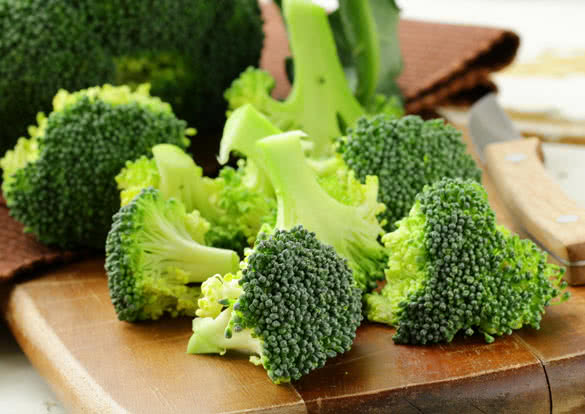 Nutritionists have arguments, with both pros and cons, concerning this diet plan. The biggest con is that you'll simply eat too much broccoli. All jokes aside, that's a lot of fibers that can cause gases, nausea and diarrhea. It can also lead to poor absorption of certain minerals, like iron and zinc.
However, this diet has its pros, and the biggest would be that this is a perfect detox diet plan. Broccoli is especially recommended to smokers for cleaning their organism from nicotine, and other toxins that come from cigarettes. Broccoli is also the best natural source of folic acid that is very important for women, especially during pregnancy.
If you tried this diet plan, please feel free to share your experience with the rest of us. Remember, no diet is magical – you need to exercise and lead healthy life if you want long term results.
9 thoughts on Amazing 10 Days Broccoli Diet Plan
Hey Sarah,

Thanks for sharing this diet! I had one question, so what can we eat in between the 3 meals? are tea and water the only snack allowed?

Thanks
As a general rule to all diets. snacking is allowed, I suggest if you want to be strict and have fast results to only snack on fruits. any fruit is allowed
Hi what if you don't like some of the things listed (meat) Can you do it with out or should you replace it with something else?
Thanks :)
I just made myself an all broccoli dinner and that's what made me look up an all broccoli diet. What i did was I stir fried it with a bit of soy sauce, sugar (I mean very little), and water. Would that be an okay way to eat it while on this diet? Or only mixed with salt?
Thanks for sharing this diet :) how do you make the chicken soup? Is it ok just to eat chicken & broccoli I really don't like tea or tuna :/ can you eat fruit in between?
Hi,
Can you drink coffee unsweetened instead of tea? can u drink coffee with milk?
thanks
love broccoli, have 250gram every day. The method I use is always steaming, for 2-3 mins, still has a bite.
diet/detox plan I used (for 3 weeks) when losing weight was similar, but I don't think I could have stomached broccoli for breakfast.
Breakfast
Musuli, added fruit (banana, grape, apple, berry) with soy milk
Lunch
Broccoli, pasta & rocket salad (trust me the rocket is divine)
Dinner
Broccoli and garlic herb fillet (quorn brand, non meat) with boiled rice
Snacks (anytime before dinner, no eating past main meal in evening)
any fruit or of course… Broccoli :)
coupled with moderate exercise, I lost 14Ibs or 1 stone and couldn't be happier :) :):) :):)
This diet is amazing!!! I'm 13 years old and has always had weight problems because of my Athsma . I do workouts along with the diet. I love broccoli and I guess that's a good thing!(: I have searched so many diets and this one had done so much justice for my body and my health!! I feel clean and healthy ! Thanks!!!(:
This diet is incomplete, and I would not recommend it.
Perhaps as a basic guideline it's ok, but I do not recommend limiting yourself to what is on this page. It is not healthy or sustainable, and the benefits you gain from it will disappear shortly after you return to a more regular diet.
Get dieting information from a nutritionist, and if you wish to lose weight, don't trust anything that guarantees quick results.
Healthy dieting takes time, but it's worth it since you will be more likely to keep weight off for the long term.
I would say if you need to quickly lose weight for an event like a wedding or something, then this is OK, but don't expect sustainable results.