The holidays are coming and many occasions that you'll attend with your significant other. If you really want to drive him crazy, try these sexy perfumes.
In my opinion, it's always one of the best compliments when someone tells me I smell great. When you wear perfume, it can captivate people right when you walk into the room- whether that be a holiday party, class, or even a date.
These are the top sexy perfumes you should be buying this season, for any occasion- from affordable to higher end. You don't want to miss out on smelling amazing.
1. Twisted Peppermint- Bath & Body Works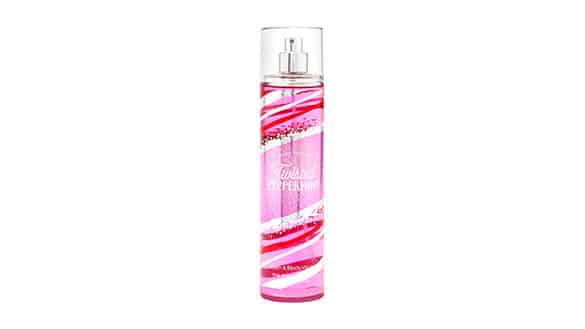 This perfume is on the list of more affordable ones. It is extremely inexpensive, and every single holiday season I wear it, and it works like a charm.
Every year Bath & Body Works releases this fragrance as one of their holiday scents because it is so popular. Anytime I wear this scent, I always get told that I smell great.
It is perfect to wear anywhere- even to school, the scent is perfect for daytime, and it is light enough so that it won't distract others. The description for this scent is "cool peppermint with a twist of sugared snow and vanilla buttercream." It truly does smell like the perfect mix of mint and vanilla.
2. Tease Eau de Parfum by Victoria's Secret
This scent is one of my all-time favorites. It is a bit on the pricier side- but it is not too expensive. In fact, it is on my wish list this year for a holiday gift. If you want a flirty, sexy, and fun scent, this is the perfect perfume for you.
Tease is a great name for this scent- especially if you wear this on a date, smelling this great on a date is a playful tease for the person you are with. The description for this enticing scent is a "mix of black vanilla, frozen pear, and blooming gardenia." The scent is the perfect mix between girly and sexy. What more could a flirty girl want in a scent?
3. Pink Sugar by Aquolina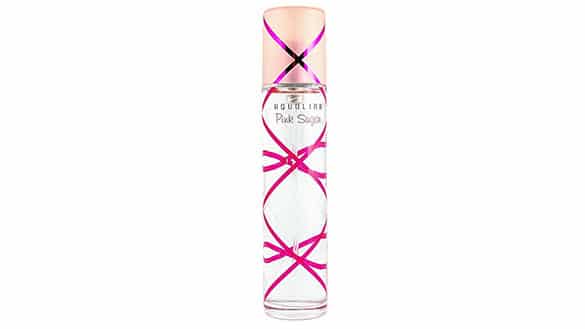 This affordable perfume is one of my all-time favorites, in fact, it may be my absolute favorite. Everyone who catches a scent of this perfume absolutely loves it. Pink Sugar is perfect to wear for any occasion- daytime or nighttime. I have worn this to class, on dates, to dinner, to parties, you name it, and I've worn Pink Sugar to it.
I am serious about the fact that anytime I wear this scent, I always get compliments. The scent's description is "Notes of cotton candy, strawberry, vanilla, caramel, and musk." That is absolutely what this delicious scent smells like. It makes you smell good enough to eat. They also sell hair perfume- which even adds to how great it will make you smell.
4. Mad About You by Bath & Body Works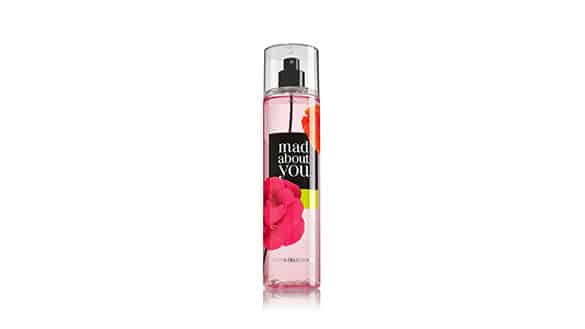 This is another scent that whenever I wear it, I always get compliments- from women and men. This scent is very girly and floral- and it is sold all year round for a very affordable price at Bath & Body Works.
This scent is very romantic, hence the name "Mad About You, I feel as though is absolutely perfect to wear if you have a date on Valentine's Day. The description for Mad About You is "A love-struck pairing of soft peonies and black currant kissed with creamy vanilla musk."
I feel as though "love-struck" is a perfect description for this scent. Wearing this will leave others love-struck by you. I always keep a travel size of this scent in my purse.
5. Bright Crystal by Versace
This scent is definitely on the higher end of the price range of what you may be willing to spend on perfume- but it is absolutely worth it.
Bright Crystal is perfect for any glamor girl, hence the name and the glamorous pink packaging. It will make you smell like you are dripping in all things luxurious- crystals, diamonds, gems, anything a glamor girl would love. At the same time, though, this scent is not overwhelming, and it is perfect to even wear out to lunch, or to any other daytime occasion.
The description for this scent is "a fresh, sensual blend of refreshing chilled yuzu and pomegranate mingled with soothing blossoms of peony, magnolia, and lotus flower warmed with notes of musk and amber." This scent is girly and glam- perfect for the holiday time when you can get dressed up.
6. Black Orchid by Tom Ford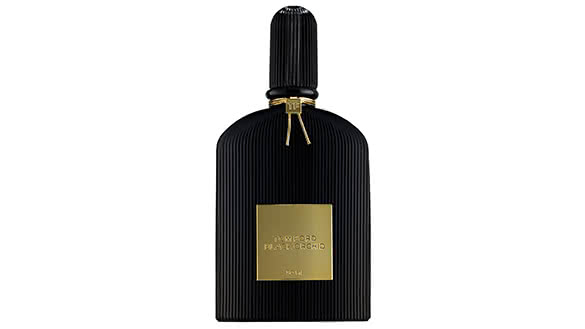 This perfume is without a doubt the most sophisticated scent on this list. It may break your bank, so be prepared for the high price- but it is absolutely worth it. This scent just screams sophistication and class. It is for any woman that carries herself like the queen she is.
This scent, while it can be worn during the day, it is perfect for any black tie affair or a very fancy New Year's Eve party. Even the packaging is very fancy- black and gold and very sleek yet beautiful.
The scent notes for this show-stopping perfume is "Black truffle, black orchid, black plum, Noir Gourmand Accord, and patchouli." As you can see, this sophisticated and sharp scent is not for the faint of heart- it is perfect for any strong, classy woman that knows herself and wants to catch the attention of any room.
7. Very Sexy Eau de Parfum by Victoria's Secret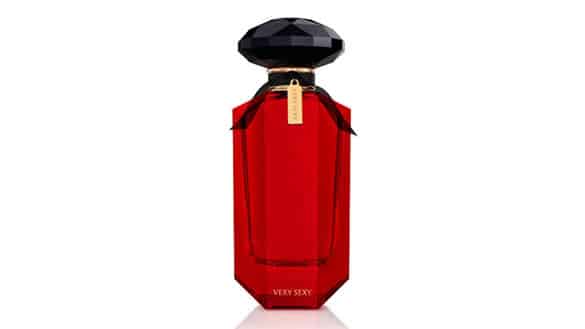 Victoria's Secret is a very popular store for women of any age- from younger girls to grown women- and they also have amazing smelling perfumes that are on the more affordable side- why I am including another one of their delicious scents- this one is called Very Sexy.
Very Sexy is a perfect name for this scent- it is a very sexy scent. I feel as though this perfume is without a doubt one of the best scents to spray all over yourself before you have a date that you know may end in bed by the end of the night- your partner will not be able to resist you if you smell this sexy.
The description for this red hot scent (that comes in a red hot bottle) is "Vanilla orchid, sun-drenched clementine, and midnight blackberry". This scent is girly and flirty, and perfect for any woman who knows she is sexy and wants to show that off. Let out your inner Jessica Rabbit with this scent.
8. Chance by Chanel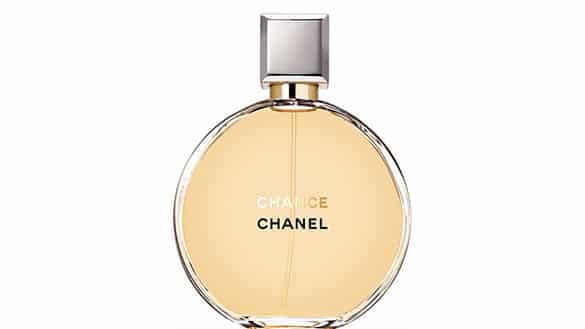 This higher end perfume is my mom's absolute favorite scent of all time- she asks for it for a holiday gift every single year. I feel as though this perfume- while any age can wear it- is perfect for any grown woman that wants to have an essence of class and sophistication- just like Coco Chanel.
This scent is very clean and feminine, yet it is also extremely enticing and perfect to wear to any holiday dinner. It will most certainly catch the attention of anyone.
There are times where I have snuck a few spritzes of this perfume and always have gotten compliments. The description for this classy scent is "Floral notes that merge with sensual, sweet, and spicy elements." That description is very fitting- it has a floral scent, but with a special twist you will just have to go and see for yourself.
9. Vanilla Bean Noel by Bath & Body Works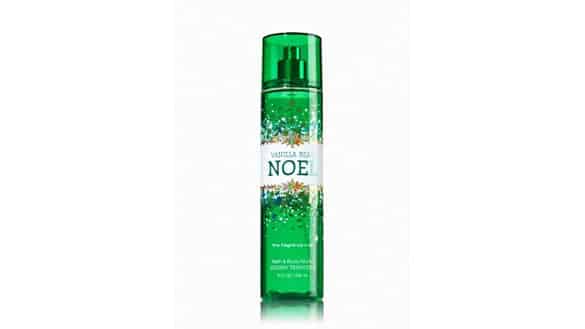 I have once again decided to include a very affordable scent, from the classic store for inexpensive yet quality perfumes, Bath & Body Works. This scent is also one that shows up every year in November, and I always buy few travel size bottles of this to keep in my purse throughout the year.
This delicious scent that will make you smell like you just stepped out of a bakery filled with fresh-made cupcakes and Christmas cookies is Vanilla Bean Noel.
I mean it when I say this scent will make you smell good enough to eat. This is another one that I have noticed men go crazy for. The description for this affordable yet quality perfume is "A fresh blend of vanilla bean and sugar cookies."
Though I find this scent also has caramel hints to it as well. For any boyfriends looking for an inexpensive for their girlfriend- you can't go wrong with this one.
So, there you have it, some of the best sexy perfumes for any occasion- from affordable to high end. There is a perfume on this list for everyone. Leave a comment below with any other sexy perfume suggestions to wear!