Remember how great a popsicle tasted on a hot day when you were younger? That pleasure can be yours again with these very tasty adult popsicles. They're perfect for a hot afternoon!
Remember sucking on a popsicle, trying to lick the juice before it all melted? You invariably ended up with it dripping off your chin. It tasted so refreshing and good.
When you eat a popsicle now, it feels a bit too sweet but just as much fun to eat. There's a new trend out there aimed at changing your plain orange popsicle for something a bit more dynamic.
Adult popsicle recipes are as easy to make as the ones your mother used to make for you but the flavours are much more mature.
These are not the popsicles you should be sharing with the kids but your girlfriends will love them when you're sitting poolside.
They feature alcohol and other tasty adult treats like coffee. Whip up a batch for your next afternoon with friends or enjoy them solo on a hot day with your book while soaking up some sunshine.
You could also get really naughty and share them with your favourite man. All of these can be made in the popsicle mold of your choice.
1. White Sangria Popsicles
This one comes courtesy of Confections of a Foodie Bride.
1 bottle dry white wine
½ cup simple syrup
½ cup orange liqueur
2 lemons
2 cups chopped fruit (strawberries, apples, peaches, etc.)
Combine wine, syrup, and orange liqueur. Juice one lemon and add juice to mixture. Take the other lemon and slice it thinly. Add sliced lemon and fruit to the mixture. Pour into molds and freeze.
2. Pina Colada Popsicles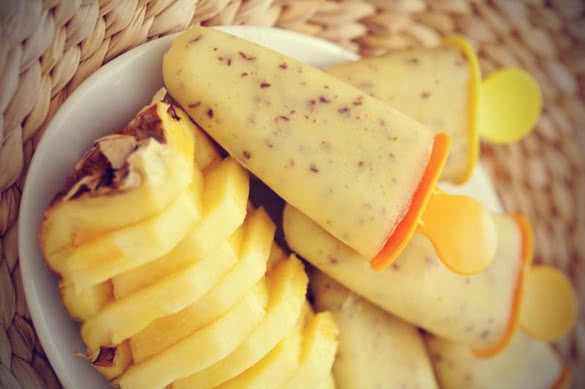 If you can't go to the tropics, bring them to you. This recipe comes from Imbibe magazine.
1 fresh pineapple, cored and cubed
1 (6 oz) can of pineapple juice
1 (15 oz) can cream of coconut
6 oz aged rum (I like the Caribbean spiced rum)
In two batches, blend the pineapple and pineapple juice until pureed. Pour the two batches into a large bowl and whisk in remaining ingredients. Pour into molds and freeze.
3. Coffee & Kahlua Popsicles
The Kitchenarian offers this recipe for a cold, caffeinated popsicle.
2 cups brewed espresso
1/3  cup chocolate syrup
6 TB sugar
¼ tsp cinnamon
2 tsp vanilla extract
¼ cup heavy whipping cream
3 Tb Kahlua
Blend all ingredients together, pour into molds and freeze.
4. X-Rated Mimosa Pops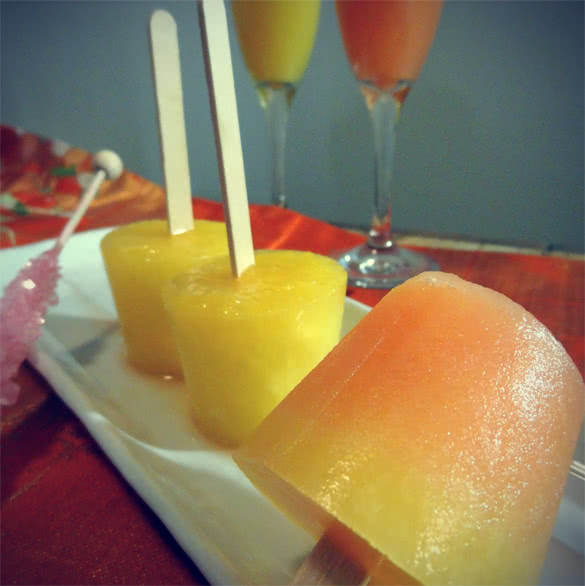 This one comes courtesy of Miss Mochi's Adventures blog.
1 cup orange juice
1 cup champagne
½ cup X-Rated liqueur (optional)
Mix all ingredients together and pour into mold. Top with orange juice to create a sunrise effect if desired. Freeze.
5. Strawberry Daiquiri Popsicles
Eat Drink Love provides this recipe for the perfect summer cocktail in popsicle form.
1 pound hulled strawberries
½ cup rum
Juice of 1 lime
¼ cup simple syrup or agave nectar
Blend all ingredients in blender until smooth. Pour into molds and freeze.
6. Frozen Tangerine Screwdriver Pops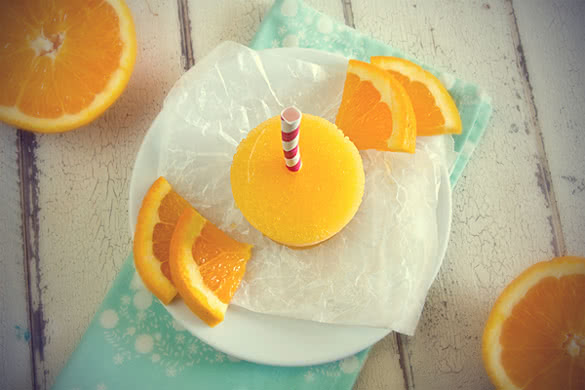 SheKnows came up with this great recipe. Play around with flavoured vodka for different combinations.
3 cups orange juice, fresh squeezed if possible
2 oz tangerine flavoured vodka
¼ orange, diced and segmented
Blend juice and vodka together. Put one orange piece in the bottom of each mold and then top with juice mixture. Freeze.
7. Frozen Cosmopolitans
This is another She Knows recipe.
3 cups cranberry juice
½ oz triple sec
1 oz cranberry flavoured vodka
1 oz lime juice, fresh squeezed if possible
Fresh cranberries
Combine all liquids together. Place a fresh cranberry or two in the bottom of each mold. Top with liquid mixture and freeze.
8. Frozen Margarita Popsicles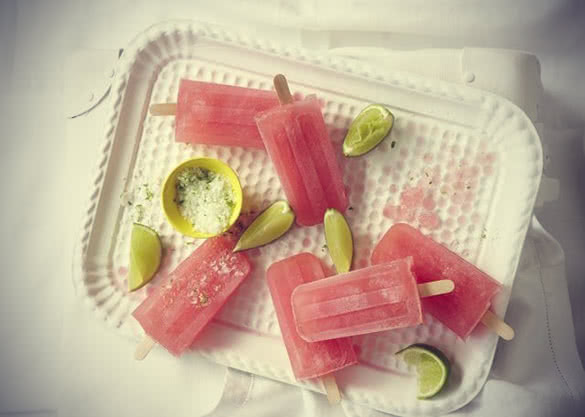 Confections of a Foodie Bride is also the author of this recipe.
½ cup sugar
1 cup water
1 cup fresh squeezed lime juice (approximately 8-12 small limes)
¼ cup tequila (silver if possible)
¼ cup orange liqueur
Heat water and sugar in a small pan until completely dissolved. Let it cool. Add remaining ingredients and mix thoroughly. Pour into molds and freeze.
9. Strawberry Champagne Pops
This recipe is courtesy of Brown Sugar.
¼ cup water
¼ cup sugar
2 TB lemon juice
1 pound fresh strawberries, hulled and sliced in half
1 cup champagne
Heat water, sugar and lemon juice until boiling. Continue a soft boil until all the sugar is dissolved. Let cool. Puree strawberries in blender. Add champagne and syrup mixture to berries. Mix, pour into molds and freeze.
10. Mojito Popsicles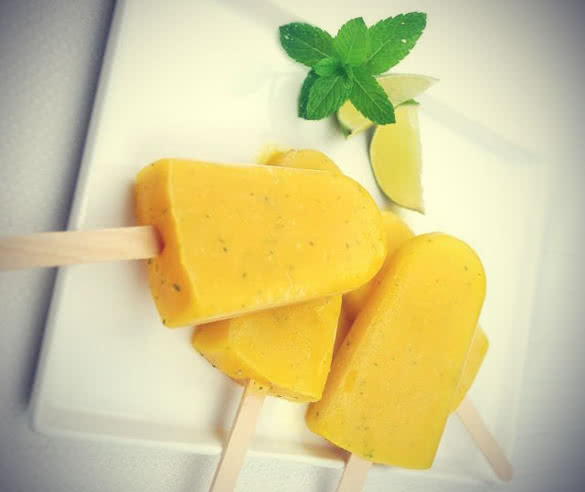 Mojitos are probably one of my favourite summer cocktails. This recipe comes from 52 Kitchen Adventures.
12 mint leaves
2 limes
3-5 oz rum (you choose how strong you want to make it)
7-10 TB simple syrup (again, you can choose how sweet you want it)
2 cups club soda
Muddle mint leaves with a muddler. If you don't have one, you can use the handle of a wooden spoon to mash the leaves into small pieces.
Juice the limes and add the juice to the mint. Pour into a bowl or pitcher and add rum and simple syrup to taste. Add in club soda and stir to mix. Pour into molds and freeze.
11. Orange Creamsicles
Oven Love created this recipe in a kid friendly fashion. Add some rum or flavoured vodka to give it an extra kick if desired.
1 cup orange juice
1 cup heavy cream or coconut milk
3 TB honey
¼ tsp orange extract
½ tsp vanilla extract
Mix all ingredients together. Pour into molds and freeze.
12. Vietnamese Coffee Pops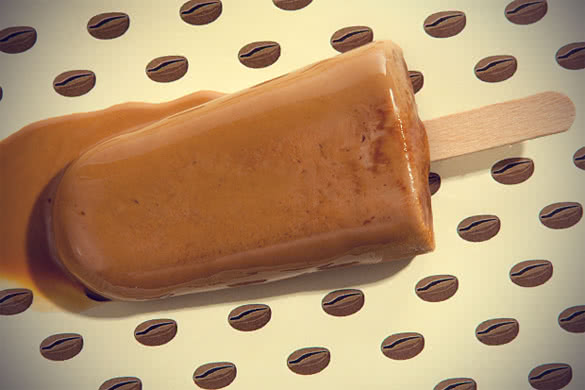 A Spicy Perspective provides this take on traditional Vietnamese coffee in a popsicle form.
2 cups very strong French Roast coffee, hot
1 (14 oz) can sweetened, condensed milk
¾ cup heavy cream
½ tsp vanilla
Pour 2/3 cup of condensed milk into a bowl. Add coffee and stir together until blended. Pour this into molds until they are about 2/3 full.
Freeze for an hour to ninety minutes until slushy in consistency. Mix heavy cream with remaining condensed milk and vanilla.
Pour one to two tablespoons of this mixture into each popsicle mold and freeze.
13. Dulche de Leche Lemon Popsicles
Fit, Fun and Delish! Created this recipe. It is kid friendly but you can add some lemon flavoured vodka for a more mature audience.
2 cups milk
1 can condensed milk
½ cup lemon (or lime) juice
A bit of lemon pulp
Mix all ingredients together, pour into molds and freeze.
While a summer cocktail can be very enjoyable, think of how much more fun you're going to have licking one off a stick. Enjoy!
Cover photo: passthesushi.com