Corn is one of the fall season's greatest treats. Although it is difficult to beat eating it on the cob, it is a versatile vegetable that you can make some great recipes with.
There is a reason that corn has been a staple in so many diets around the world. It's nutritious, relatively easy to grow, and very versatile. You can grind it into a meal to cook with (we'll explore that another day), eat it straight off the cob, or take the kernels and use them in a number of other ways.
True confession, I love corn on the cob. Although I love it with butter, salt and pepper, if you gave me plain cobs I would still consume them rapidly with glee. I look forward to fresh corn every fall. It's like pumpkin, the taste and aroma of corn scream "autumn is here" to me.
Before we get into recipes, let's discuss how to remove the kernels from the cob. Take a large bowl. Place a folded paper towel in the bottom of the bowl to help prevent the cob from slipping. Hold the cob by the stem, bracing the lower tip against the paper towel.
Using a sharp knife, slice downward from the stem to the tip to remove the kernels. Continue rotating the cob until you have removed all the kernels. When corn is not in season, you can use frozen or canned but whenever the opportunity presents itself, use fresh. It tastes much better.
Corn & Canadian cheddar souffle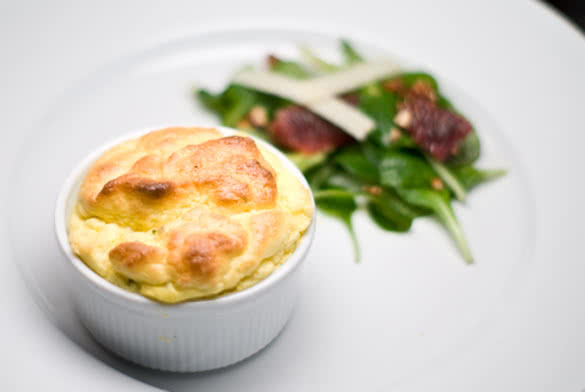 Reflecting my roots, we're going to start with a recipe by Andrew Chase of Fresh Juice that makes use of two great Canadian flavours. When chopping and seeding hot peppers, always wear gloves to avoid skin irritation.
4 cobs fresh corn, remove kernels from cobs
1/4 cup butter
1/4 cup fine cornmeal
1 tsp salt
1/4 tsp white pepper
Pinch nutmeg
1 ¼ cups  (300 mL) milk
1 or 2 green hot peppers, seeded and chopped
1 ¼ grated aged Canadian Cheddar cheese
2 green onions, very thinly sliced
6 eggs, separated
Pinch cream of tartar
Preheat oven to 425 F and butter and flour a 10 cup soufflé dish. In a large saucepan, over medium heat, melt the butter. Add cornmeal, salt, pepper, and nutmeg and cook for two minutes, stirring throughout. Slowly stir in milk and bring to a boil.
Add in hot peppers and corn kernels and simmer for 5 minutes, stirring very frequently. Add in cheese and continue to stir until melted. Scrape into a bowl and whisk in onions and egg yolks. On a separate bowl, beat egg whites and cream of tartar until it becomes stiff but does not form dry peaks. Fold one third into cornmeal mixture.
Gently fold balance into mixture and then place it in prepared soufflé dish. Place on middle rack of oven and reduce heat to 400 F. Bake until brown and poufy, approximately 40 minutes.
Fresh corn fritters
When I was younger, my grandmother used to make the best corn fritters ever. My grandmother is now 93 and no longer remembers her recipe and I cannot find it anywhere (she never liked to write things down) but this one by Lee Fitzmaurice tastes excellent.
1 cup all-purpose flour
1 tsp baking powder
3 ears fresh corn, kernels cut from cob
2 eggs, separated
½ cup heavy whipping cream
salt and freshly ground pepper to taste
1 quart vegetable oil for frying, or as needed
Whisk together flour and baking powder then mix in corn kernels. In a separate bowl, whisk together egg yolks and cream. Add this mixture to the flour/baking powder/corn mix, stir and season with salt and pepper. In a third bowl, beat egg whites with an electric mixer until stiff peaks form. Gently fold egg whites into main mixture, do not over stir as you do not want to lose volume.
Heat oil for frying, ideally with a depth of 3 inches of oil although I tend to use less oil and just move them around a lot for even cooking. Drop 2-3 Tb of fritter batter into oil at a time and cook until golden brown – approx. 2-3 minutes per side.
Mexican blackened rice
This side dish adds a nice bit of spice to corn and works well with a variety of dishes. It comes from CaliforniCajun at All Recipes.
4 slices bacon (optional), cooked and chopped
4 ears fresh sweet corn, kernels cut from the cob
1 tsp ground cumin
¼ tsp sea salt
¼ tsp ground cayenne pepper
1 small onion, chopped
½ small red bell pepper, chopped
2 cloves garlic, chopped
¼ cup beer
¼ cup crumbled cotija cheese
¼ cup chopped fresh cilantro
Heat a large skillet over high heat with the corn in it. Add in the cumin, sea salt, and cayenne. Stir periodically as it cooks. Add in onion, bell pepper, and garlic, and continue to cook and stir. Corn should begin to stick to the bottom of the pan and darken.
Add in beer to loosen it up and continue to cook for another twenty minutes or so until corn is dark and cooked and other vegetables are tender. Remove from heat and top with bacon, crumbled cheese (feel free to substitute your favourite cheese, either grated or crumbled), and cilantro.
Chipotle corn soup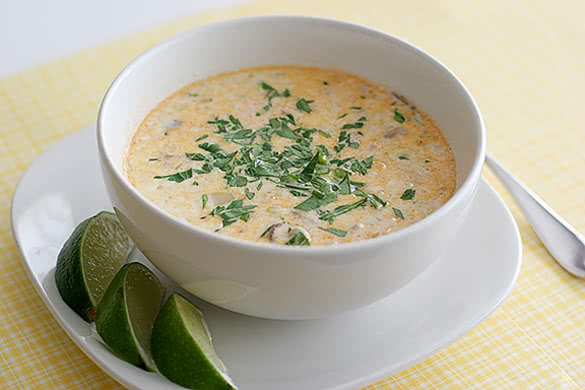 Corn soup is often overlooked for other vegetables even though it can be very silky and tasty, with a lovely texture. This smoky soup comes from Christine Gallary. Non-vegetarians can add some crumbled bacon at the end.
8 ears white or yellow corn, shucked – remove kernels and separate out ½ cup of them
2 TB unsalted butter (1/4 stick)
½ tsp minced chipotles in adobo sauce
2 tsp kosher salt
Freshly ground black pepper
6 scallions, thinly sliced (white and light green parts only)
1 ½ cups whole milk
1 ½ cups water
Melt butter in large saucepan over medium heat until foaming. Add in chipotles, ½ tsp of salt, pepper, and 2/3 of the scallions (set remainder aside for use as garnish). Cook, stirring occasionally, for approximately 3 minutes, until onions have softened. Add in corn (excluding the ½ cup you set aside), remaining salt, milk, and water and bring it to a gentle boil, increasing the heat to medium high. Lower temperature again to low, and simmer about 15 minutes or until corn is tender but not mushy.
Puree in batches and then strain out any solids as you return it to the pot. Stir in the remaining corn kernels you set aside at the beginning and season to taste with salt and pepper. Garnish with scallions and (if desired) bacon. You can serve it hot or cold.
Cover photo: tqn.com