He is eccentric, imaginative and different than all the guys you've ever been with. But, how to turn on an Aquarius man in bed is kind of a mystery, since they are quite unconventional.
Ladies, the Aquarius Man is the first man you will meet who is interested in brains more than your body! Think you've hit the jackpot and found Mr. Perfect? Not so fast…
How are you going to get him into bed if all he seems to want to do is have stimulating conversation with you? (You'd much rather him be stimulating that tingly spot just behind your ears!). Fear not, Scarlett's done the research, listen n' learn. Here's how to turn on an Aquarius man in bed.
First understand his personality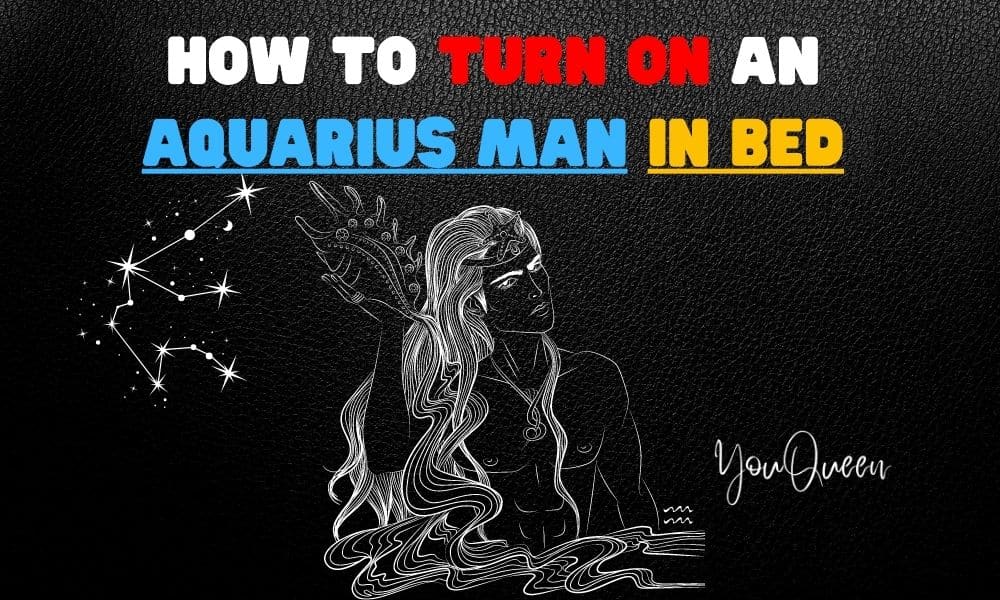 You're involved romantically (if you can call it that) with an Aquarius Man. I feel your pain…  I have been out with a number of Aquarian men in the past and I can confidently say that my main issue with each and every single one of them was their seemingly detached attitude towards the relationship. It drove me bonkers!
Just to check that I wasn't being biased in my opinion, I asked a few Aquarians about their attitude towards sex, and this is what I got…
"I don't let sex control my emotions."
"I guess we treat sex like we treat anything else."
And therein lies the wonderful challenge. The Aquarius man treats everyone and everything equally. He is a curious and adventurous creature, who wants to be free to go out into that big inspiring world and experience everything it has to offer.  Emotional demands hold him back.   
I guess there's your first big clue – don't expect too much from him. You probably hit it off as great friends before you became involved, and this is the approach you should continue to take if you want to get the best out of your Aquarius man, especially in the bedroom!
Leave your emotions at the bedroom door, you are entering a physical fun zone…
Know that he wants to talk!
When I say he wants to 'talk' I certainly don't mean about 'feelings', unless you don't mind him approaching it as an intellectual debate or topic of in-depth conversation that will possibly go on into the early hours of the morning, long after your knickers have dried up! You poor deprived little nymph.
Don't be put off by his feverish intellectual urge for conversation, you can use it to your advantage.  If you drive the conversation in the direction you want things to go – i.e. with plenty of erotic talk (just make sure you say the right words, or he may even get turned off) you will be lucky enough to experience what I like to refer to as the 'Aquarius Sexual Light-bulb Effect.'
A Light Bulb
Simply put, his sexuality is like a light bulb – he can turn it on at the flip of a switch, and when it's on it's electrifying – lucky you! But when he's turned off, he's off until his battery recharges.
Keeping this in mind, with a little bit of steerage and timing, what might have been a highly charged evening of conversation, can instantly become a highly charged and possibly acrobatic sexual session!
Let him share his thoughts on tantric sex, or the Kama Sutra, even indulge in a bit of debate if you have to; then take the initiative and challenge him to a sexual duel to illustrate his points.
His natural curiosity will lead him to some kinky experimental creative play. In fact, you may not quite be prepared for his enthusiasm once he gets going. He will want to try all the moves in the book!
My first sexual experience was with a virgin Aquarius. He was so excited and inspired by the discovery that he went straight out to buy me all sorts of gifts… when I opened the box I was staring at flavored condoms, ribbed condoms, a variety of lubes, and yes you guessed it, a little pocket book of the Kama Sutra!
He also popped in a packet of painkillers in case I was still hurting down there – don't ever say an Aquarius man isn't thoughtful, in his own odd little way, Bless!
Appeal to his spontaneity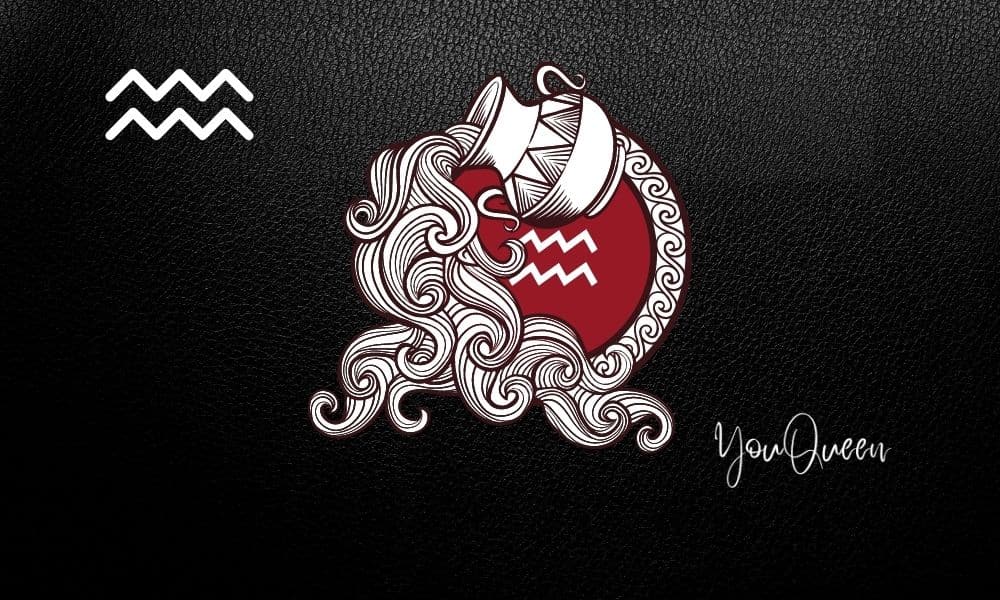 I'm going to tell you something, which is painfully obvious but key. Your Aquarius Man doesn't like routine!
If you want to turn on an Aquarius man in bed, you have to use your imagination, and be up for the most random sources of pleasure and opportunities for sexual exploration.
Play an active part, and be mentally prepared… for anything! Speaking from experience, if you're mentally prepared, his appetite for the unplanned and spontaneous won't stress you out as much, if you get stressed out by that sort of thing.
I suggest doing lots of research in your own time. Go online, watch some porn to get rid of your squeamish streak if you have one.
Gear Him Up With Dirty Talk
Of course, you'll need to turn on his mind before you can entice him to the bedroom or the other place for some sexy fun. Get explicit with him.
You'll need to approach it in a way that appeals to his preferences. If you're unsure of what that is yet, you can give some suggestions and observe his reaction. Observe his body language and facial emotions.
Finding out what interests him shouldn't be that difficult. You can recommend positions, try out different things, etc.
Surprise Him First
Read and educate yourself on all the sex positions you can, so that you can surprise him with a few hot tricks instead of being taken by surprise yourself – he will love the fact that you're knowledgeable and up for whatever kinky direction his imagination dares to take him!
But be aware that just because he is spontaneous, it doesn't mean he is going to pounce and ravish you, although he might, you never can tell. The Aquarius Man's approach tends to be more delicate and slow, mainly because he enjoys foreplay. He wants to investigate, explore and discover. With an Aquarius man it's always about further exploration, keeping it fresh and him wanting more of you. If you ever run out of fresh ideas, try one of these 100 hot sex games for couples. So you never have to wonder what's next. He'll love that he's not always the one that has to initiate something fresh. Then you just repeat cycles.
You may find that initially you need to take the sexual initiative, especially if he's about to get absorbed in one of his verbal marathons.
Once you are getting physical with him though, he'll like to be in control, so prepare to be flipped over into this position and that position, and be taken from all the angles under the sun – woohoo!
Oh… and a word on oral sex… Ladies, you will want to let this man go down on you!  Your vagina is going to be a major curiosity zone, don't deny him.  You can look forward to all sorts of yummy surprising sensations from his experimental tongue.  If he is inspired… lay back and let him go with it!
10 bonus sex tips to turn on your Aquarius man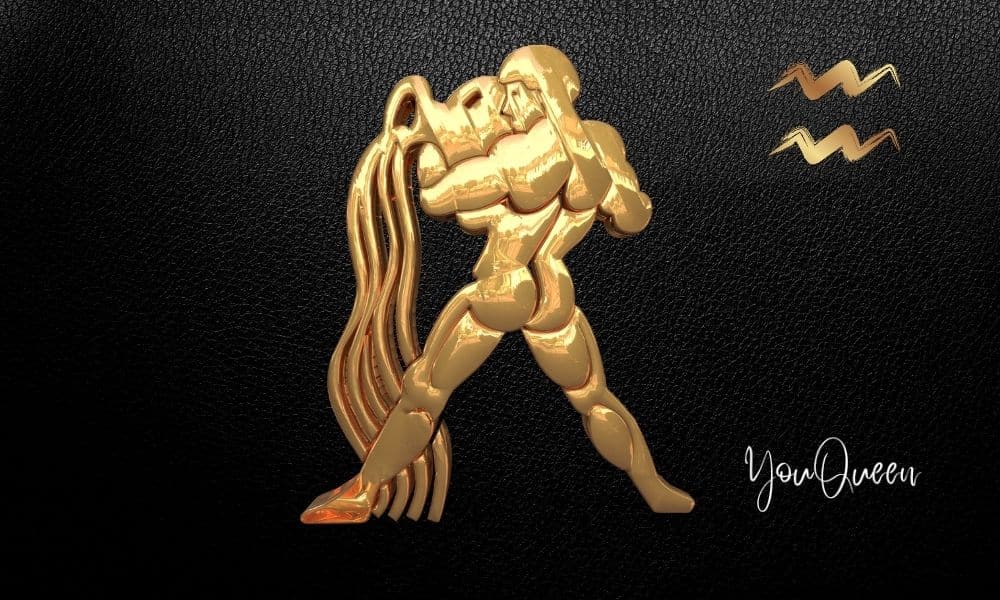 Don't ask, I have no idea.  But if I were you, I would offer him a massage and zone in on his calves… he might like his ankles being kissed and caressed… do it while going down on him… just a thought.
2)  Awkward about expressing emotions
Remember, he will be awkward about expressing his romantic feelings through physical contact.
So, don't get soppy, you will turn him off.  Focus on fun and physical pleasure, have a good time!
3) Go outside
Try having sex or indulging in some playful petting outside in the open air for that spontaneity he craves – that will excite him!
4) Role-playing is a key
Role play likely to rev up his imagination too.  Remember, his interest is in people, so be as many different people as you like.
5) Get him in the mood for whatever you have in mind by bringing it up in conversation first.
6) Be prepared for lots of foreplay
He needs plenty of it, otherwise your sex session is going to be a bit wham bam thank you mam!  Encourage Aquarius man to experiment with you, and make the most of his inquisitive and adventurous personality.
7) Expect to keep the lights on
this curious man is going to want to have a look!
8) He is unconventional and emotions freak him out
So don't expect a traditional Valentines with him.  Just be your open, quirky, intelligent self and don't let your romantic expectations get the better of you.
9) This goes for any day – not just Valentines
Your relaxed, carefree attitude will make him want to be around you.
10) Brush up on your knowledge of current events
It may sound like a random thing to do in order to turn a guy on, but an Aquarius Man will be impressed if you know what is going on in the world around you and can hold a stimulating conversation with him, and have an intelligent opinion.  If he thinks you're on the same wave-length with him, you're on to a winner… just don't fake it, he will see right through you.
Be yourself
Be yourself and don't get bogged down in the conventions and traditions of relationships.  An open-mind is what an Aquarius man will find attractive at the end of the day.
But, if you really want to seduce an Aquarius man and make him yours for good, you definitely must check out Aquarius Man Secrets, an amazing book  by Anna Kovach. She really goes into details and explains the deepest secrets of Aquarius men that will literally change your life. After I read this book, my Aquarius boyfriend went completely crazy about me and in a short amount of time he became my Aquarius husband! Check it out and see for yourself. Thank me later :)