The leaves changes color and suddenly the whole world looks like a better place to be. At least if you visit these romantic fall getaways! Check out our list!
Fall can be a gorgeous season filled with multicolored leaves, hot apple pies and pumpkin spice lattes, not to mention warm blankets and cozy fireplaces.
I've gathered some of the most romantic fall getaways I could find that will allow you to enjoy these things and more. So what are you waiting for? Run away with your lover boy today to one of these stunning places…
The Catskills – a Colorful Romantic Fall Getaway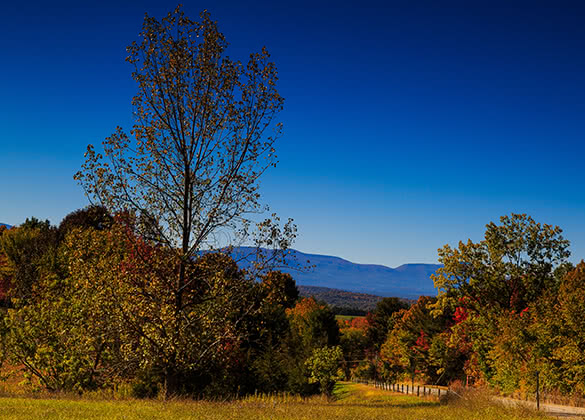 The Catskill Mountains have such a beautiful light and romantic nature they set off an artistic movement – the Hudson River School. Today you find plenty of artistic activity in Woodstock (which is actually little ways away from where the famous Woodstock Festival took place) and Phoenicia. For those who enjoy artsy things, hikes in amazing forests and a mountainous landscape it can be the perfect place to visit for your romantic fall getaway.
In Woodstock you can climb Overlook Mountain or the Shawangunk Mountains, visit the Bearsville Theatre, find gifts at the Mower's Flea Market (closes later in fall) as well as at several crafts and speciality shops, stroll through galleries, including the Elena Zang Gallery and visit the Sunfrost Farm (an incredible place for fresh produce and breakfast/lunch). If you feel like getting spiritual there's the Karma Tirana Dharmachakra Tibetan Buddhist Monastery, as well as the Holy Transfiguration Church – a tiny old church on a hill.
In Phoenicia, you can go hiking in the Woodland Valley State Park and by Mount Tremper. In Phoenicia, you also find Mystery Spot Antiques, the Empire State Railway Museum, the Schroeppel Historical Society and Tender Land Home, which is a unique gift store with plenty of artsy things.
If you are looking for a place to stay in Woodstock, the Enchanted Manor Inn offers a tranquil and romantic environment, inclusive of jacuzzis and fireplaces, whilst DeForest House is all around picturesque. Closer to Phoenicia there's the Phoenicia Lodge, which has plenty of charm and coziness to offer.
Luxurious Coziness in Vermont
Vermont offers a stunning scenery as the leaves change color and the Woodstock Inn is the perfect place to go if you're looking for the kind of luxurious coziness you thought only existed books.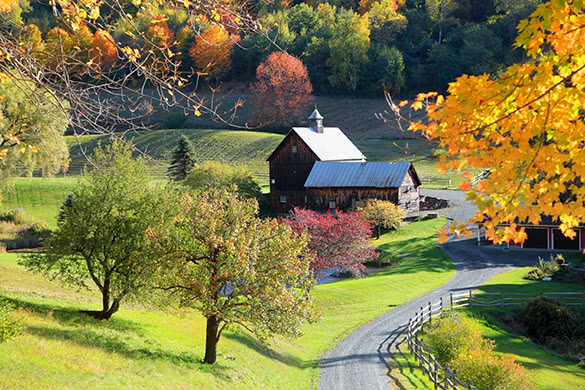 Roaring fireplaces, a rustic games room, and a spa to unwind in are only a few of the features that will make you swoon. The nearby cows grazing the fields may also add a touch of country charm…if you're a cow lover, that is!
Warm Autumnal Vibes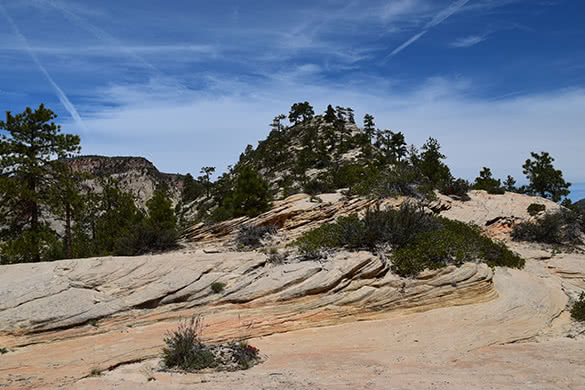 Now, if you are more of an "I like it hot" kind of person, then you do best to enjoy fall in a slightly warmer environment, like say somewhere around the Zion National Park in Utah, which is also conveniently close to the Snow Canyon National Park.
Both offer stunning vistas of sun-drenched red mountains – great for hiking in fall when temperatures are bearable. If you prefer horseback riding to hiking, this is also the perfect place to visit. You can even see it by air if you so like, as hot air balloon rides are available. Quite romantic, don't you think?
If you are looking for somewhere to stay with a breathtaking view you can visit the Red Mountain Resort, which practically has the mountains in their backyard. Romantic much? They also offer both wellness and adventure retreats. Perfect if you are looking to do some personal discovery to enhance your relationship, or want to reignite the fire with some adventure.
For an adventure, you should also check out canyoneering with the Zion Adventure Company, which happens to own a canyon that looks beyond stunning in fall. Oh, and did I mention there are ghost towns in the area too? Silver Reef and Grafton – the perfect excuse to hold someone's hand when visiting perhaps?
The Inn at Entrada is another perfect romantic getaway in fall, located in the Snow Canyon Country Club.
If you're more of a city person, St. George is the place to stay – here you will find plenty of museums, galleries, theaters and shopping centers. The town is plenty romantic, having the mountains and their warm, red, glow as its backdrop. If you still want a view you find Inn on the Cliff just outside town – a place which has gotten five-star ratings from visitors.
Jackson Hole – the Perfect Wilderness Fall Getaway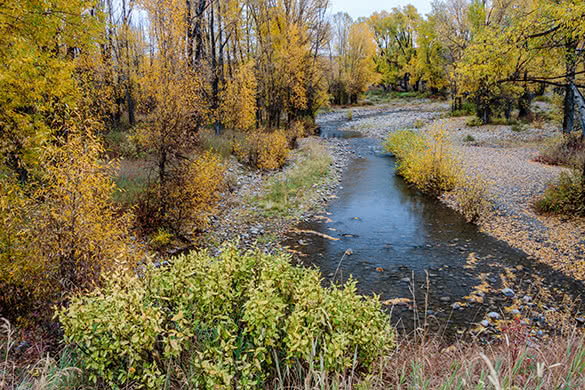 If you truly want time to yourselves, visiting Jackson Hole and going for strolls in the small town and surrounding mountains and valleys, can be blissful. Roaring fireplaces and cute log cabins in the middle of nowhere is nothing but peaceful.
If you want to do more than walking around staring into each other's eyes, you can go hot air ballooning, kayaking, golf and river rafting in early fall, or skiing, snowboarding and sleigh riding once the snow starts falling. For those seeking an adrenaline thrill, there's the Alpine Slide, where you slide down 2,500 feet of Snow King Mountain in a bobsled.
For somewhere cozy and romantic to stay, try Rusty Parrot Lodge and Spa. Quite a quirky name, but the place is pure old fashioned romance. Huff House Inn and Cabins is a bit more of a modern take on an old-fashioned style, but is just as charming and comes highly recommended by travelers, just as Rusty Parrot Lodge and Spa does.
Middleburg – Small Town Charm and Romance
If you want to combine visits to wineries and antique shops with a setting that oozes of natural beauty in fall, then Middleburg, VA, is a good choice. You can spoil yourself with dinners at the Red Fox Inn and Tavern as well as the Goodstone Inn and Restaurant – both places offer to lodge as well and have ample country charm. Middleburg Country Inn is another place for lodging.
It's the perfect romantic fall getaway if you want to relax in the countryside, but still, have a small town to explore.
The Big Sur – Romance Along the Coast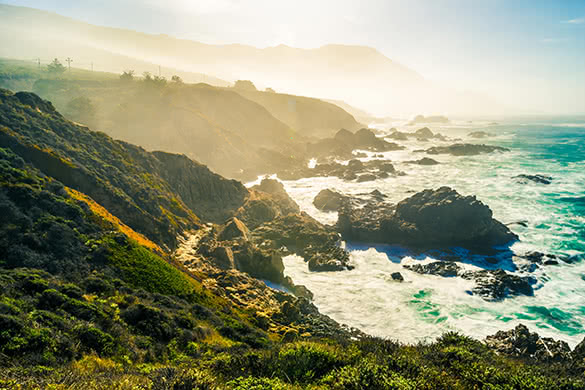 California will offer you plenty of sunny days, foggy mornings and gold colored leaves if you visit the right parts of the state in fall. The Big Sur is one such place and the coastal location offers splendid vistas. Make sure to visit Pfeiffer Big Sur State Park for romantic strolls along the coast.
If you're looking for somewhere romantic to stay then the Post Ranch Inn is probably as romantic as it gets – hot tubs, fireplaces and a view of the ocean. The place is stunning.
If you prefer something a bit more rustic in the middle of the Redwoods, check out Glen Oaks Big Sur and Deetjen's Big Sur Inn. The former is a more modern-retro (think 50's) take on rustic whilst the latter is as rustic as it gets and, in fact, it's a not-for-profit aimed at preserving the house.