It is timeless, versatile and covers everything from an effortless daytime to a red carpet ready look. Here are five fast, fun and fabulous ponytail styles you will love, and many celebs already do.
Different ponytail styles are a sure-shot option for a no-stress-bound-to-impress hairstyle.
Many celeb hairstylists and their clients are big fans and we are not surprised one bit!
There is an option you can choose from for pretty much every occasion, from a casual afternoon stroll around town to a glamorous event where you're planning to turn some heads.
We've narrowed down the list to five perfect ponytail styles to answer your hair styling dilemma.
1. Curly side ponytail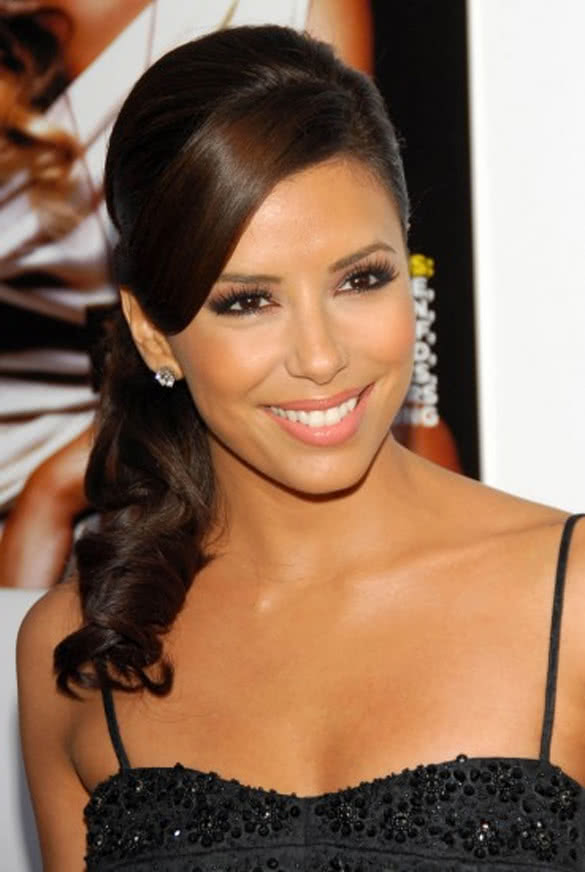 Celebs who love and wear this hairstyle:
Eva Longoria, Lauren Conrad, Rachel McAdams and many more
The appeal:
Apart from being easy to create, this ponytail style exudes a romantic yet sultry vibe. No wonder why celebs cannot get enough of this look.
How to make it:
After a blowout, brush your hair to one side and tie it into a low ponytail with an elastic band. Then take a small strand of hair, wrap it around the band to cover it and secure it with a pin.
If you have bangs, the best option is to brush them to the side of the ponytail.
Next, fire up your curling iron and create loose waves, trying to keep them as even in size as possible. Depending on your hair length, ensure that the ponytail is resting on your shoulder and set the look with a light coat of hairspray. Now, go out and dazzle!
2. Low twist ponytail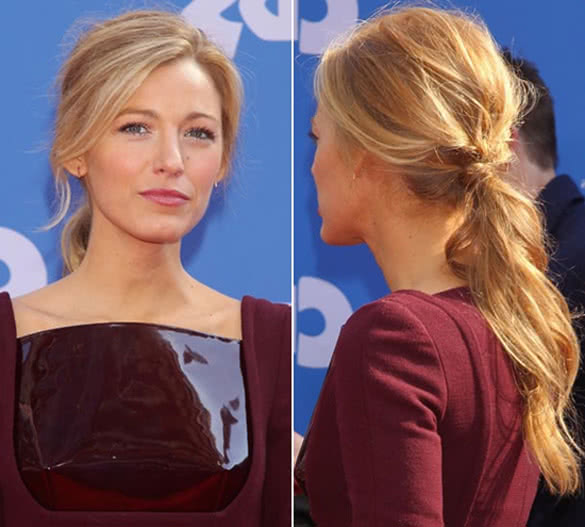 Celebs who love and wear this hairstyle:
Blake Lively, Giuliana Rancic, Rose Byrne and many more
The appeal:
Easy, sexy but, there's a twist! This ponytail option is super special because you can totally make it your own. It's all about being unique…one ponytail at a time.
How to make it:
Tie your hair up into a low ponytail, right above the nape of your neck. Now, you have the option of securing your hair in the middle or, if you wish, you may choose the side swept look again. Cover the elastic band by wrapping a strand of your hair around it.
Secure it with pins, as necessary. You may choose to sleek the top part of your hair, or, slightly tease the top, if you find that suitable for your face shape or simply like it better that way.
Spritz on a spray-on texturizer to the ponytail to create a matte, messy texture and complete the look with hairspray. Done and done!
3. The partial ponytail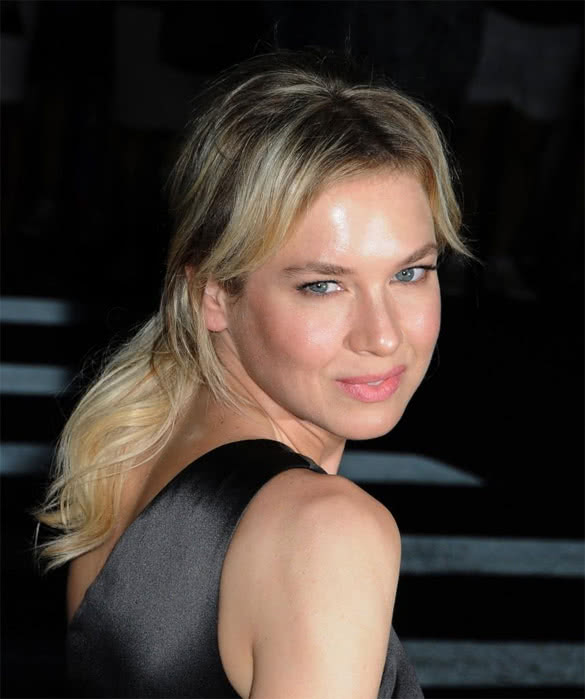 Celebs who love and wear this hairstyle:
Charlize Theron, Erika Christensen, Renee Zellweger and many more
The appeal:
This look creates a slight illusion that your hair is longer than it actually is. Also, the effort level is minimal and the comfort and wow levels can be quite impressive. You do the math.
How to make it:
Brush the sides and top of your hair to the back, while leaving the back part of it loose and falling down. You may choose to secure the gathered hair any way you like, wether with an elastic, an bedazzled clip or several bobby-pins. Totally up to you. If you feel the need, set the style with a light coat of hairspray. Finito!
4. Band or scarf supported ponytail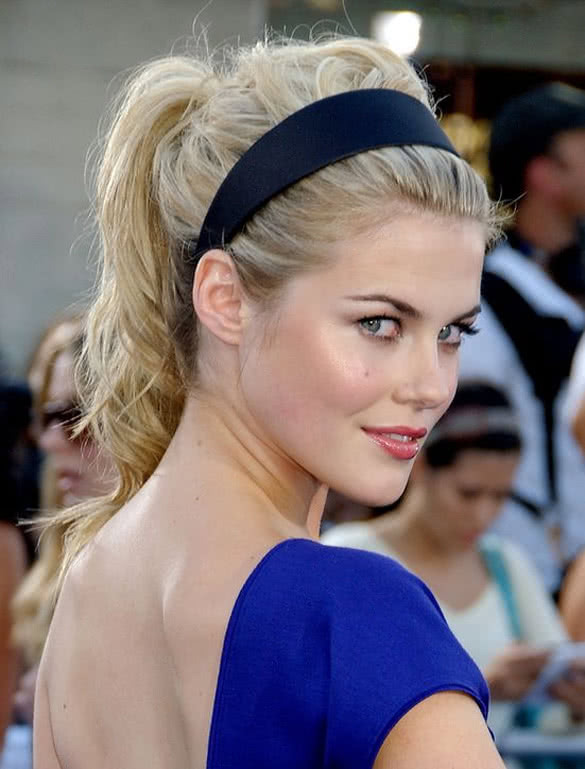 Celebs who love and wear this hairstyle:
Jennifer Lopez, Mila Kunis, January Jones and many more
The appeal:
One thing to be mindful of with this option is to carefully blend the hairstyle with your outfit. Apart from that, you may make it your own and enjoy the surge of compliments you're about to receive at every corner.
How to make it:
Dress up this ponytail style with a wide or thin headband, or your favorite colorful silk scarf. The style of the ponytail itself is entirely up to you, whether you want to twist it up, create some loose curls, swipe it to the side or leave it hanging in the back.
Secure the scarf with some pins if your hair is fine, to keep things in place.
This style needs to be worn with a nice bright, uplifting smile!
5. Funky ponytail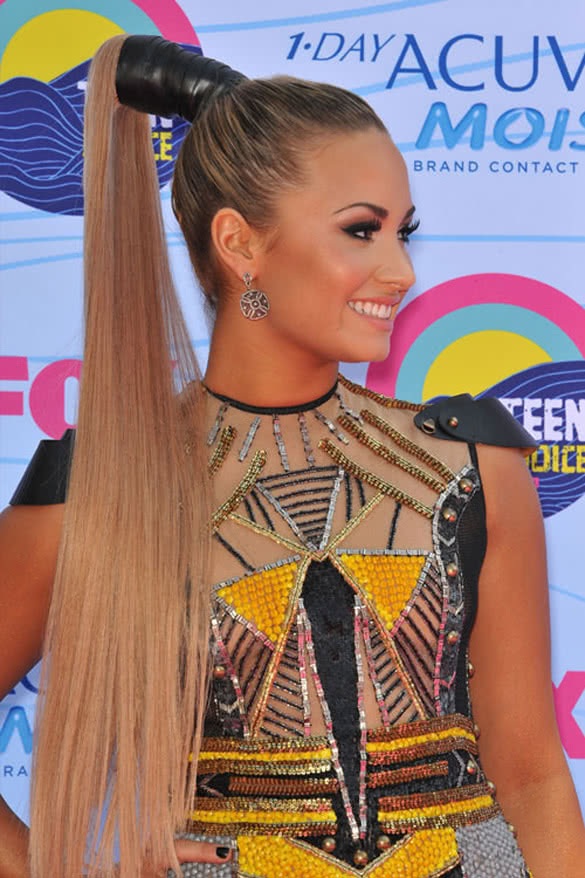 Celebs who love and wear this hairstyle:
Gwen Stafani, Fergie, Demi Lovato and yes, many, many more
The appeal:
Too many to list. Best one: It's fun!
How to make it:
The absolute best way to go about creating this look is to let your imagination run wild (up to your own comfort level, of course) and go with it. The point is to step out of the box and make a ponytail that says, "this is my funky ponytail style, yes, it looks a bit whacky, but I love it and own it!" Play around with pins, spike it up a bit, add your own flare and keep it light and fun!