Looking for a quick fix to your morning puffiness? A completely free, ice cold facial should do the trick.
When we think of facials, we envision laying on a soft table in a dimly-lit room listening to some calming music. Though this may be a great source for relaxation, there are benefits for your skin from doing the exact opposite: Dunking your head in ice water for 30 seconds.
Sure, it sounds a little terrifying and like a scene from a scary movie, but dunking your face in ice water and ice cubes in general can have some serious benefits for your skin. Not only will this trick leave you with a glow that looks like a million bucks, but its totally natural good-for-your-face benefits come for free.
I originally found this tip from one of my favorite beauty and health blogs: The Skinny Confidential. Basically, here's what you do:
Fill up a bowl with cold water
Top it up with ice cubes
Pin your hair back
Dunk your head three times for 10-30 second intervals
The benefits of this crazy cold remedy completely outnumber the average spa facial. While expensive facials may only target one issue with your skin, the ice facial can fix a bunch of issues in just a few minutes. Everyone from Real Housewife Sonia Morgan to beauty guru Lauren Conrad swears by the ice facial as the best quick-morning tip to fabulous skin.
Major Benefits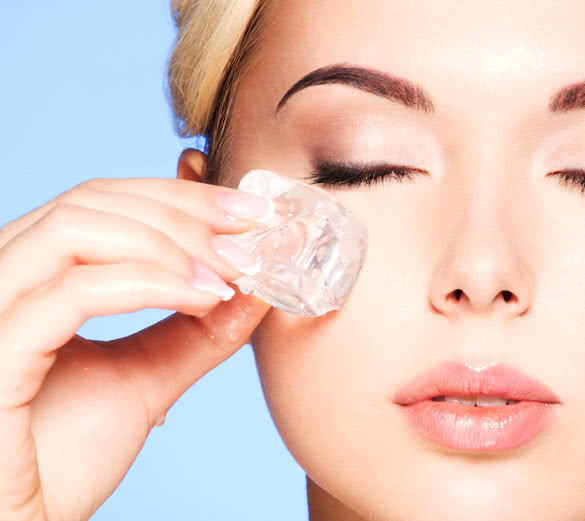 It de-puffs the eyes. Like many busy women balancing work, relationships, and a social life, I'm often running on three hours of sleep. Coffee might perk up my brain, but my face is usually a quick giveaway to what time I crawled into bed last night. A quick dunk into my bowl of ice in the a.m. really gets rid of the puffiness that creeps underneath my tired eyes. Now everyone thinks I get a full eight hours.
And get a load of all the crazy awesome benefits this trick can give you:
Eases Redness: Whether it is sunburn or a bad reaction to some skin cream, ice water will do the trick. My face has been a constant battle of finding a foundation that complements my weird undertones and doesn't make me look like a pink balloon. I've won quite a few battles by dunking my face in ice water before putting on my foundation. Not only does it ease the redness out of my face but it evens out all of my weird undertones as well.
Tightens the Skin: I don't know about you but I have huge pores and shrinking them is no easy task. Before the ice facial, I used to think it was near to impossible to get them down to the size that they are. Cold water really tightens pores and gives your face a smoother look. It actually has worked better for me than a few of the pore eraser creams I've tried.
Fights Wrinkles: If you're like me, wrinkles are the last thing on your mind. I mean, we're not supposed to worry about those until we're in our thirties right? Well, instead of preventing future lines with expensive wrinkle creams and retinol, dunking your face in ice water can actually fight lines on your face and keep you skin smooth.
Hides the Hangover: A long night out filled with drinks and partying can definitely show on your face the next morning. If you decide to meet up with your friends at a bar on a week night and things got a little crazier than expected, keep your boss thinking you got your full eight hours with this trick. And if you did only get a few hours of sleep, nothing will wake you up like some ice cold water on your face.
Keeps Your Face Looking Fresh and Clean: I'm still amazed, each time I use this morning trick, by how much cleaner my face feels. Even though I didn't pay for some expensive spa day or splurge on a name brand face cleanser, I still feel like a million bucks.
Pressed for Time?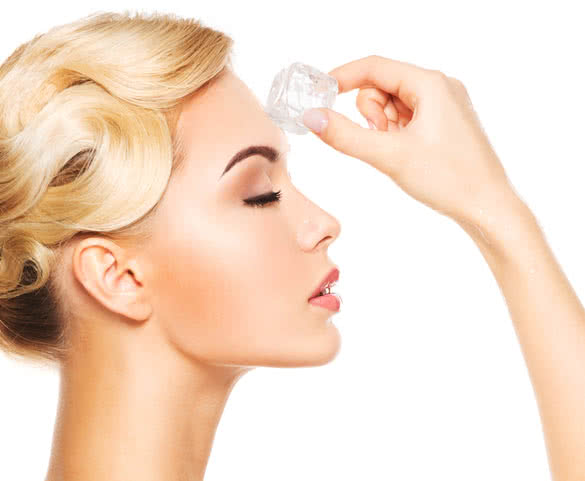 If you are rushing out the door and don't have time for dumping your face in ice water, there is another option.
Lauren Conrad suggests running an ice cube over your face while brushing your teeth or your hair to give your face a dewy, glowing look. The ice cubes smooth your complexion by combatting fat cells, easing wrinkles, fighting acne, and promoting blood circulation to heal blemishes. All of that from an ice cube!
If you do choose the ice cube trick, make sure to wrap the cube in a paper towel or a baggie because applying the cube directly to your skin can cause delicate blood vessels to break. And if you want to make your ice cube facial a little more chic, Conrad suggests freezing them with watermelon, lemon, or rose. Are we sure we're not at a spa?
Even More Options
Besides the now classic ice cube facial, there are other ways to get the most out of your frozen water. I found a few more awesome DIYs featuring ice cubes on IndianBeautySpot.com.
To get glowing skin, pour orange juice into an ice cube tray. Then rub the orange ice cubes on your face for one to two minutes to get a natural and healthy glow.
For a nasty sunburn, make aloe vera ice cubes to get instant relief from the sting.
To prep yourself for an eyebrow tweeze, numb the skin by rubbing an ice cube on your brows for a few minutes. This will also minimize the swelling, redness, and pain.
To calm down an angry zit, put an ice cube in a paper towel and hold it on the spot for a few minutes. This can drastically reduce the size and redness of a pimple.
Improve Your Skin's Elasticity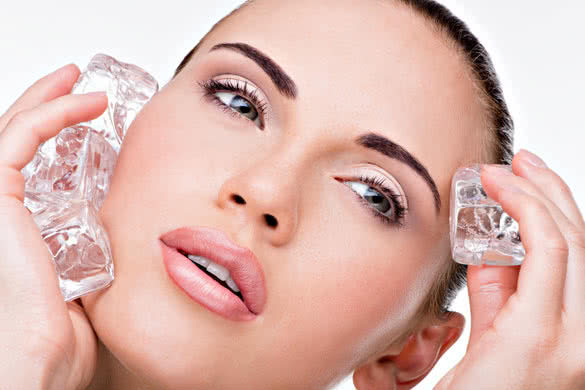 Here are a few other ice cube DIYs from the website that you can easily make to help improve the elasticity of your skin and reduce the appearance of fine lines and wrinkles:
Honey and Oil Ice Cubes: Whisk together honey and olive oil (the site had no instructions on the amount but I'm assuming ½ cup of each would do the trick) and pour it into an ice cube tray. Freeze and then massage the cube on your freshly-washed face and neck before going to bed. The honey will deep clean your pores while the olive oil will moisturize the skin and help to reduce acne scars.
Lemon and Honey Ice Cubes: Mix lemon juice and honey (again, I'm thinking equal amounts of each) and freeze. These can be used for a relief during an acne breakout because it treats redness and inflammation.
Essential Oil Ice Cubes: Wrap two or three ice cubes in a cloth and add a few drops of essential oil onto them. Lemon, lavender, and tea tree oil are known to be used for acne.
Anti-Aging Ice Cubes: Dilute apple cider vinegar with water and pour it into an ice cube tray. Then use the ice cubes all over your face for a mini face lift. Apple cider vinegar can unclog pores by removing bacteria and oil from deep within the skin. Also, the antioxidants can improve blood flow to areas of the skin, which helps clear out toxins while also giving the skin a rosy appearance.
Camomile Ice Facial
The options for things to add to your already killer ice facial process are literally limitless. Blogger Fashion Rolla shared her camomile ice facial routine about a year ago.
By combining the blood-circulating benefits of the ice facial with the soothing properties of camomile, she created a routine that leaves the skin feeling healthier and looking radiant.
She recommends using organic camomile only, which can be found at whole foods store. To make 36 ice cubes, add two tablespoons of camomile to your mixing bowl. Then pour in two mugs of hot water and let the camomile infuse and cool down. Fill the ice tray halfway with the mixture because you don't want your cubes to be too big. Once they have frozen, rub them gently on your face and neck. The blogger recommends keeping them in an extra clean plastic tray so they last longer.
Green Tea Ice Facial
Another popular Pinterest ingredient that can be used in an ice cube facial is green tea. Pinned on Pinterest by BeautyTips4her.com, this remedy will immediately take any swelling out of your face and give you a lasting glow all day.
Green tea contains tannins, which help to shrink swollen tissue. The caffeine from the tea also constricts blood vessels to reduce swelling and dark circles. Green tea is the bomb because it contains the same active ingredients as many commercial products that are advertised as a godsend for people will bland skin in need of a good glow. Though the products can make your skin look radiant, green tea is equally good. The tea will also give you a lasting glow all day.
Here's what you'll need:
1 glass of filtered water
1 bag of green tea
5 soft gels of Vitamin E
A toothpick
An ice cube tray
First, warm up the water in your microwave and add a bag of green tea. Let it sit for a minute to let the tea sink in and then add in the Vitamin E liquid by pricking the capsules with a toothpick. Stir it thoroughly and pour the mixture into the cube tray. Don't let the cubes freeze completely. You want to be able to poke a toothpick into each cube and put it back into the freezer.
Once they're frozen, take them out and wrap the cube into a paper towel before applying on your face. This will help to reduce morning facial swelling and help to constrict large pours without using chemical toners.
Don't Spend a Fortune
Who would have thought that all these benefits and creative DIYs could come from a simple ice cube? In a world where clear skin and flawless faces seem to come at the prices only a Kardashian could afford, it's nice to find a few beauty regiments that can literally be found for free in your fridge. Though there are some pricey beauty products that really do work, you don't need to shell out wads of cash for every item in your pretty girl tool kit. Balance is the key to everything and especially beauty.
I challenge you, dear reader, to keep an eye out for DIYs and routines that involve natural ingredients and keep as many chemicals off your face as possible. There are tons of ways to get the same results manmade products can give you by using natural remedies. You can clear acne, smooth wrinkles, shrink pores, brighten under-eye circles, and wake yourself up with simply using an ice cube. Imagine what else you could do with the hundreds of different foods in your fridge and pantry. Though drugstore beauty products may promise a natural glow, it really isn't as good as the real thing.
So, instead of emptying your wallet for a fancy eye cream or an expensive day at the spa, you can totally refresh your skin for free. Taking just a few minutes out of your day to add some serious beauty benefits to your morning routine will have your face looking fresh instantly. And really, nothing wakes me up like an ice cube on my face.
Also, think about how much money you'll save! I can't tell you how much of my paycheck goes to the newest and hottest beauty product that claims to be the "end-all." I'll give you a hint, it isn't. It never is. Instead of wasting your money on a product that will only disappoint you, try a few remedies for free that just might surprise you. You can find the perfect combination of products right in your own home.
The process may be a little chilly, but the results will leave you looking hot!