Get the style of one of the trendiest young Hollywood stars with these simple tips and outfit ideas!
The dark haired beauty embodies young Hollywood success and glamour. Selena Gomez is a great actress and singer, down-to-Earth and approachable. She manages to look great whether it's a red carpet event or just going to the movies with her boyfriend, who just happens to be Justin Bieber, THE pop star of today.
The coolest thing about her whole style is the fact that it looks like it's done in five minutes with no stress. Light make-up, a natural looking hairdo and simple pieces put together in a chic outfit are what Selena's known for.
Skin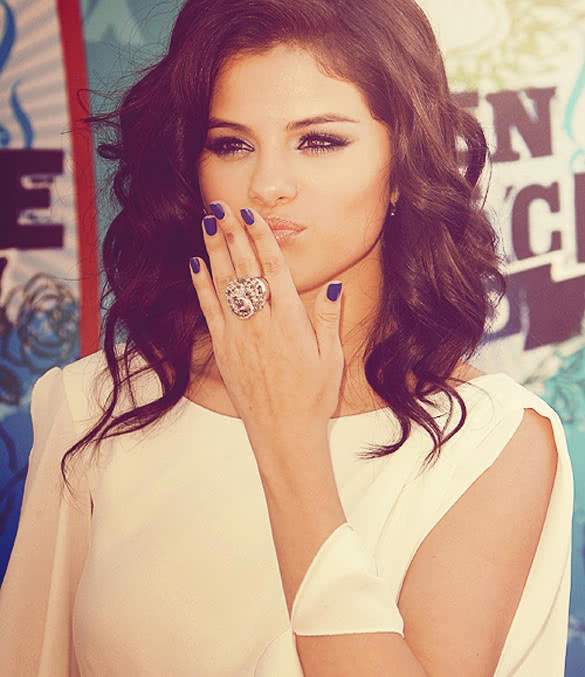 Selena says that it's a part of her job to wear a lot of make-up, so when she's not working she wears very little. Just even out your skin tone, put on black mascara and a nice gloss, and you've got that fresh-faced look! The actress is blessed with good skin and swears that one of her secrets is drinking plenty of water, but she also recommends Oil of Olay skincare products. Even though she's just 22, she uses a collection aimed for older audience, to get extra nourishment. This girl takes care of her face like a pro!
Hair
The long, wavy raven locks are Selena's trademark, and the good thing is you can copy her style easily if you have medium to long hair! Ask your colorist for a dark chocolate shade, and try extensions if you want that long look. Use large curlers or a curling iron for the relaxed wavy look. Wear down, in a side ponytail or a messy bun, which is one of her favorite styles.
Clothes
Selena loves designer outfits and high heels, but she is honest about not being able to look red-carpet ready 24/7. "I will wear a couture dress for an event, but when I'm not working, I'm a jeans and T-shirt type of girl", says the actress. She also loves Christian Louboutin shoes for formal occasions, but admits that they "hurt a little" and she would always rather wear flats or boots.
Another interesting thing you notice about her style is the fact that she rarely uses a lot of accessories. Selena doesn't really like jewellery, so she wears discreet pieces and focuses on bags and scarves instead.
For a casual outfit, Selena will go for leggings, boots, a simple top and a cool leather jacket. Keep yourself warm with a trendy scarf and add aviator sunglasses to the mix.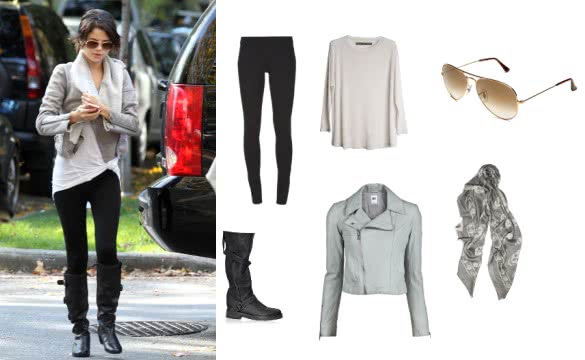 The Row knit leggings (farfetch.com)
Ann Demeulemeester Boots (shopmrsh.com)
Enza Costa top (pret-a-beaute.com)
NSF Bill leather jacket (farfetch.com)
Gold-brown Ray-Ban aviators (endless.com)
Alexander McQueen scarf (net-a-porter.com)
At this year's "Kids' choice awards", Gomez played it up with a sexier, pin-up inspired outfit. Pair a sequined metallic skirt with a neutral bustier top and add color with some two-tone shoes.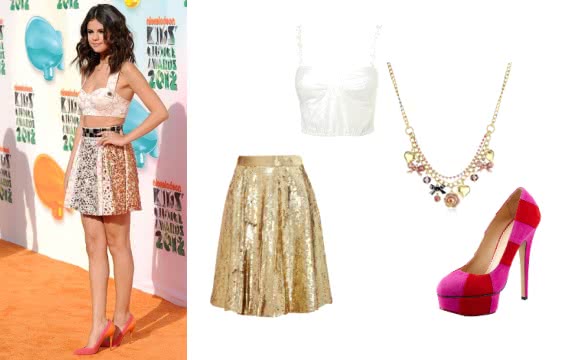 Temperley London skirt (net-a-porter.com)
Cassey by Goldie top (topshop.com)
Charlotte Olympie pumps (bergdorfgoodman.com)
Betsey Johnson necklace (amazon.com)
We often see Selena in purple, like in this red-carpet event when she went for a glamorous purple gown with neutral studded shoes and a gun-metal bag. She added a chunky ring and discreet earrings. This is a risky look because none of the pieces really match, but Selena still manages to pull it of!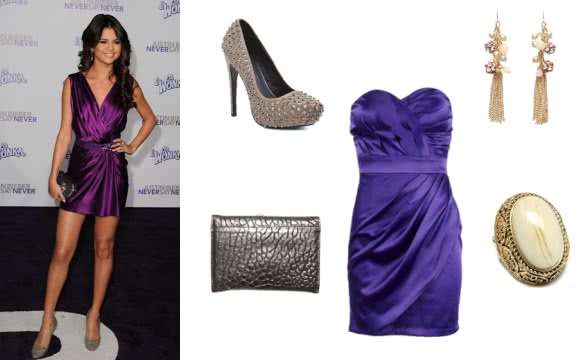 AX Paris dress (axparis.co.uk)
Rock and Republic shoes (heels.com)
Maison du Posh bag (luisaviaroma.com)
Ivory ring (fantasyjewelrybox.com)
Pearl cluster earrings (charlotterusse.com)
The everyday chic is cute and reliable for every occasion, and this girl is a master of mixing and matching wardrobe staples for a unique look! I have to say that the sequined skirt-bustier outfit is not my favorite look on Selena – the casual chic suits her way better – but she did make an interesting combo. What's this girl gonna wear when she's 30?! Can't wait to see!
Cover photo: http://weheartit.com